Genes News
Welcome to the new Genes Reunited blog!
We regularly add blogs covering a variety of topics. You can add your own comments at the bottom.
The Genes Reunited Team will be writing blogs and keeping you up to date with changes happening on the site.
In the future we hope to have guest bloggers that will be able to give you tips and advice as to how to trace your family history.
The blogs will have various privacy settings, so that you can choose who you share your blog with.
Genes Extras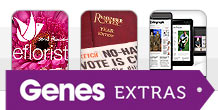 As a way of saying thank you to our subscribers, we have launched Genes Extras. You'll find exclusive competitions and discounts on family history magazines, days out and much more.
Published on 12 Dec 2012 14:40 : 10 comments : 1363 views
Today we have added the Pedigree view to the tree. This means you can see the root person plus their parents, grandparents and great-grandparents all on one page. You can see the pedigree view for any person in your tree. Click on a person in your tree and then select Pedigree from the list of views at the top.
There is the option to print this view out too. Just click on the printer icon in the top right hand corner of the tree.
In the near future we plan to add arrows to indicate if you can go further back down a particular line. This is a great way of easily seeing where the gaps are in your tree.