Genes Reunited Blog
Welcome to the new Genes Reunited blog!
We regularly add blogs covering a variety of topics. You can add your own comments at the bottom.
The Genes Reunited Team will be writing blogs and keeping you up to date with changes happening on the site.
In the future we hope to have guest bloggers that will be able to give you tips and advice as to how to trace your family history.
The blogs will have various privacy settings, so that you can choose who you share your blog with.
Genes Extras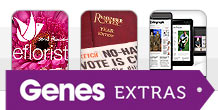 As a way of saying thank you to our subscribers, we have launched Genes Extras. You'll find exclusive competitions and discounts on family history magazines, days out and much more.
TV comic Alan Carr was born in Weymouth, Dorset, and grew up partly in Northampton where he went to Weston Favell School. His father is Graham Carr who used to be Northampton Town and Nuneaton Borough F.C. manager. On his father's side, his family hail from North East England. Carr has a younger brother, Gary. The show is said to examine whether Alan has any ancestors linked to football and fame.
Alan's Who Do You Think You Are? experience has been featured as bringing shock and distress as he discovers 2 of his ancestors were killed in the Tyneside pit mining Disaster on March 2, 1860. He is said to visit the village where the mining disaster happened and meets with retired miners and members of the community. They exchange stories of working in the colliery and reminisce about the village's mining community.
His episode is also going to delve into the name change on his mother's side of the family. It will explore his maternal great-grandfather, who changed his name in mysterious circumstances.
After a little researching through the census records I came across a few records of Graham's father Wilfred Carr.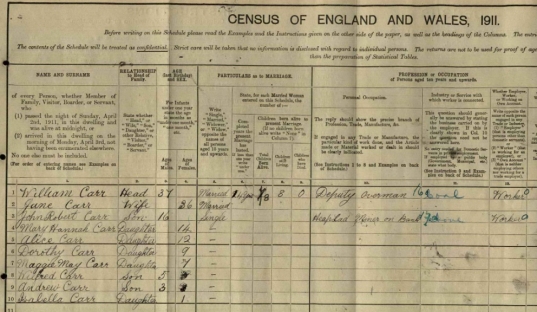 I also found William Carr in the 1901 census where we can see he was born in Burradon and worked in the mines.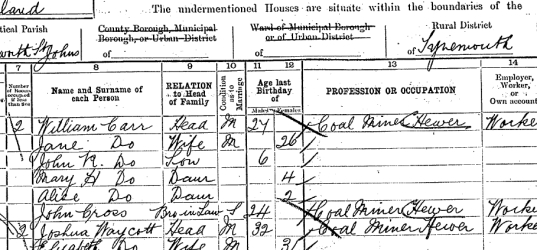 We didn't want to give too much away, but I think we are in for a tear jerking episode.
Don't forget to tune in to the show on Wednesday, 14th September at 9pm on BBC1 where Alan Carr will be faced with some truths about his ancestors lives. We will also be live on Facebook and Twitter during the show, so don't forget to join in the conversation.