Wallace - All Blogs
Welcome to the new Genes Reunited blog!
We regularly add blogs covering a variety of topics. You can add your own comments at the bottom.
The Genes Reunited Team will be writing blogs and keeping you up to date with changes happening on the site.
In the future we hope to have guest bloggers that will be able to give you tips and advice as to how to trace your family history.
The blogs will have various privacy settings, so that you can choose who you share your blog with.
Genes Extras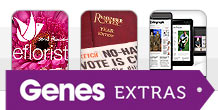 As a way of saying thank you to our subscribers, we have launched Genes Extras. You'll find exclusive competitions and discounts on family history magazines, days out and much more.
If you missed the second episode of Who Do You Think You Are, you missed an emotional one. Masterchef judge Gregg Wallace sets out to discover more about who his ancestors were. The story started off in Plymouth where he hopes to find clues to solve a long standing family mystery about the whereabouts of his great grandfather Henry Springett, who allegedly abandoned his family. After talking with his mother, it comes as a nice surprise to Gregg that Henry was a greengrocer by trade just like him.