Find Ancestors
Welcome to the Genes Reunited community boards!
The Genes Reunited community is made up of millions of people with similar interests. Discover your family history and make life long friends along the way.
You will find a close knit but welcoming group of keen genealogists all prepared to offer advice and help to new members.
And it's not all serious business. The boards are often a place to relax and be entertained by all kinds of subjects.
The Genes community will go out of their way to help you, so don't be shy about asking for help.
Quick Search
Single word search
Genes Extras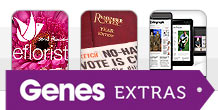 As a way of saying thank you to our subscribers, we have launched Genes Extras. You'll find exclusive competitions and discounts on family history magazines, days out and much more.
Icons
New posts
No new posts
Thread closed
Stickied, new posts
Stickied, no new posts
Francis Donley born 1884 Sheffiled
Profile
Posted by
Options
Post Date

Simon
Report
5 Nov 2009 19:14

The 3 boxes are on order!

Speak soon.

Simon x

June
Report
5 Nov 2009 20:20

could this be the marriage of Eda ?


Marriages Sep 1892 (>99%)
--------------------------------------------------------------------------------

Reid William Joseph Sheffield 9c 590
Whittaker Edith Sheffield 9c 590



June x

Simon
Report
5 Nov 2009 21:30

Hi June,

Yep we have that already i am afraid thats what started all the issues with her not been a Donley but she is Frances sister in law on the 1901 census.

Thank you for helping on this it is quite a thread now.

Kind regards Simon x

MaureeninNY
Report
5 Nov 2009 21:41

June just wants your chocs,Simon!!!
(grin)

Maureen

MaureeninNY
Report
5 Nov 2009 21:45

The only one I can cross off Dea's list is the last one-James Thomas WHITTAKER is the son of:
Marriages Jun 1876
Lord Martha Ann Oldham 8d 925
WHITTAKER James William Oldham 8d 925
(as per 1881 census).

Maureen

June
Report
5 Nov 2009 21:51

awww Maureen we can share the chocs lol



June x

June
Report
5 Nov 2009 21:55

another child Dea found



IGI Individual Record FamilySearch™ International Genealogical Index v5.0
British Isles
Search Results | Download | Print

--------------------------------------------------------------------------------


Louisa Whittaker
Female


--------------------------------------------------------------------------------
Event(s):
Birth:
Christening: 05 DEC 1877 Oldham, Lancashire, England

Death:
Burial:


--------------------------------------------------------------------------------
Parents:
Father: Whittaker Thorpe Whittaker
Mother: Sarah Whittaker


--------------------------------------------------------------------------------
Source Information:
Batch No.: Dates: Source Call No.: Type: Printout Call No.: Type:

C009417 Film


Sheet:




June x

MaureeninNY
Report
5 Nov 2009 22:53

That's an odd one,June. How many Whit* Thorp* Whittakers can there be??
1871 Ancestry
Name: Whttaker Thorp Whittiker
Age: 35
Estimated Birth Year: abt 1836
Relation: Head
Spouse's Name: Betty
Gender: Male
Where born: Rossendale, Lancashire, England
Civil parish: Oldham
Ecclesiastical parish: Glodwick
Town: Oldham
County/Island: Lancashire
Country: England
Registration district: Oldham
Sub-registration district: Oldham Above Town
ED, institution, or vessel: 10
Household schedule number: 79
Household Members:
Name Age
Whttaker Thorp Whittiker 35
Betty Whittiker 34
Amelia Whittiker 4
William Lettow 39
Ann Lettow 16
Daniel Lettow 6
Source Citation: Class: RG10; Piece: 4100; Folio: 98; Page: 15

In 1881 Betty's a widow and just has Amelia with her.

Confusing!?

Maureen
PS-I'll share but only if I can have the ones with caramel in them.

June
Report
5 Nov 2009 23:23

Maureen it is confusing hes from Rossendale and Sarah Bacup which is in Rossendale thats where i live lol


and we will share the chocs lol



June x

Simon
Report
6 Nov 2009 08:15

Morning Everyone.

Just to confuse more, Whittaker Whittaker would have bee aroud 39 years old when he is showing as husband to Sarah in 1877 and our Sarah would only be 26, oh thats not to badf, forget that a mailed.

It looks like we may be on to something, when it says Bety widow 1881, could that be he just left her, i will try and see if i can find a death for him after 1871.

Simon. xx oh my G.., how many boxes!!

Simon
Report
6 Nov 2009 09:30

Hi.

I have just found this Whittaker Whittaker maried Elizabeth Lord sept 1870 8c / 530. that will be betty.

Simon.

Simon
Report
6 Nov 2009 09:49

Hello all.

I think i have it!!!

Elizabeth Lord and Sarah Lord are sisters Eliabeth has a child Eda and when Sarah has Frances Donley, the two will be sister in laws as stated when Frances is 17 1901 and living with Eda Reid nee Whittaker.

But who is Sarah and Whittaker parents to Louise.

And why is Eda living with John and Sarar Donley ne Lord in Manchester in 1881.

Oh boy this is mad!

I will leave it to you as i am new to this!!

Simon.

Simon
Report
6 Nov 2009 10:02

Sorry i was wrong again on the last p[ost they would be cousins!!

It' driving me mad!!!!

I am even having sleepless nights!!

Simon.

Dea
Report
6 Nov 2009 10:11

This would appear to be the marriage you found:

Marriages Sep 1870 (>99%)
--------------------------------------------------------------------------------

Calderbank Jabez Bury 8c 530
HUNT Elizabeth Jane Bury 8c 530
LORD Elizabeth Bury 8c 530
Whittaker Whittaker Bury 8c 530
....................

Sorry Simon,

According to Lancs Bmd site, which is usually VERY reliable, Whittaker married Elizabeth Jane HUNT !!!

And,

Although I haven't found a marriage yet and I can't look until later (Grannie duties call!!), It would appear that the
Elizabeth on census with daughter Amelia was a TETLOW ??

Birth:
Lancashire Birth indexes for the years: 1867
Surname Forename(s) Sub-District Registers At Mother's Maiden Name Reference

WHITTAKER Amelia Oldham Below Town Oldham mmn....TETLOW OBT/74/270
....................

Haven't had a chance to look at that census image but there are others in the household who could well be Tetlow's ?

Speak later,

Dea x

HANG ON !!!!! ........... I think I have it sorted??

I have just looked again at what I have posted and this means Elizabeth Lord married a 'Calderbank'

I will have to check through my notes but I KNOW I was looking for a 'Calderbank' marriage to connect Sarah...

Dratt.......... - need more time..

Dea x

P.S. - Don't get TOO excited yet - had a quick look and that 'Calderbank' marriage I was looking for just may have been 'Calverley' ??

Keep 'fingers crossed' and I will look properly as soon as I can.

Dea x


Simon
Report
6 Nov 2009 10:49

Hi,

I have just quizzed my mother, her grandmother was Frances and she told my mum a long time ago that sarah Donley nee Lord had been roumered to have been married before she married John Donley, mum thought the name was Grey an American, now this could be a first or surname, or just all wrong or some of it, i just thought i should let you know.

Simon.x

Simon
Report
7 Nov 2009 10:56

Hi Dea.

Are you having any look because i seem to have hit a BRICK wall!

Simon x

Simon
Report
7 Nov 2009 18:38

Good Evening Dea,

Hope you are well and had agood day, my hands are now hurting hanging on!! joke!

Did you manage to get any more info on the trail of Sarah Lord / Rochford / Eda Whittaker.

Have a nice evening regards Simon x.

Simon
Report
8 Nov 2009 18:01

Hello to All.

This now seems to have gone cold, i hope i have not upset anyone!!

Simon.

MaureeninNY
Report
8 Nov 2009 18:15

Oh gosh no,Simon.!!! I think Dea's still wearing her "grannie hat". I've been cooking and raking leaves. (and June's probably been off plotting a scheme to get all of the chocolates for herself...)

I think we should settle back and wait for Eda's birth cert.

You don't have an "easier" side of the family to do do you? And not the Irish ones!!

Best,
Maureen

Simon
Report
8 Nov 2009 18:42

Hi Maureen.

Thank you, i just didn't want to lose such a good thread also i am really enjoying all of your help.

Just help me, wh vol and page and quarter do i oder for Eda Whittaker.

Thank you Maureen.

Simon.