Find Ancestors
Welcome to the Genes Reunited community boards!
The Genes Reunited community is made up of millions of people with similar interests. Discover your family history and make life long friends along the way.
You will find a close knit but welcoming group of keen genealogists all prepared to offer advice and help to new members.
And it's not all serious business. The boards are often a place to relax and be entertained by all kinds of subjects.
The Genes community will go out of their way to help you, so don't be shy about asking for help.
Quick Search
Single word search
Genes Extras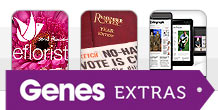 As a way of saying thank you to our subscribers, we have launched Genes Extras. You'll find exclusive competitions and discounts on family history magazines, days out and much more.
Icons
New posts
No new posts
Thread closed
Stickied, new posts
Stickied, no new posts
Derbyshire Parish Records
Profile
Posted by
Options
Post Date

Derek
Report
25 Jan 2017 00:59

No idea..ask GR..but I have had this thread for a very long time..so be very careful not to get it deleted.
Derek

Researching:
anything that anybody needs in Derbyshire /Notts?East Yorkshire.....but mainly Derbys

Sheila
Report
24 Jan 2017 18:23

Why is this Thread on with my Threads.

Someone could be looking for answers which are on the wrong Thread.

Sheila.

David
Report
17 Jan 2017 22:33

Hi Chrissy,

Many thanks for your reply - I'll have a good look at the Bridges families you mention.

I was aware of the marriage to Hannah Brooks, but hadn't looked at it in detail until earlier today. I see that one of the witnesses appears to be Charles Bridges. That is interesting, because I think that Charles and Rebecca Bridges were the parents of Mary Bridges (the lady who married George Wildsmith in 1810), who my second cousin is descended from. Rebecca Bridges was a witness to George and Mary's wedding. I accept that this doesn't really prove anything, but there might be a link there somewwhere!

Thanks for your offer of a copy of William's discharge papers, but I've already tracked it down on another genealogy website. And I have his enlistment details off another of the websites.

My search will go on - but I'm grateful for your comments, and I'll certainly try and explore the Bridges families you've mentioned.

Best regards,
David



Christine
Report
17 Jan 2017 13:55

Hi David

Like you it appears that I have made a few errors in posting to this Derbyshire list! I think I finally have it sorted now.

There was a John Bridges bapt 6 March 1777 parents John & Mary Bridges at Duffield ?

There were also Richard & Mary Bridges having children around the same time in Duffield + Thomas & Hannah Bridges ??

Have you looked at the marriage between William Bridges & Hannah Brooks 19/10/1801 ?

Your William Bridges was a Chelsea Pensioner which fits with (occupation - Indep Means on 1841 census). William's wife could have been a camp follower so you would have to look at where the Ragoons were from 1801 - 1828.

I have viewed William Bridges discharge record. If you would like a digital copy please contact me and I will send the document on to you

Hope I have been of some help to you

Cheers for now
Chrissy J
Sydney, Australia


David
Report
16 Jan 2017 14:55

Hello everyone,

I'm a newcomer to these message boards - and to be honest, I'm struggling to work out whether I'm posting in the right place or not! I hope this is appearing in the "Derbyshire Parish Records" thread - but I couldn't see how to click on the thread name - or how to give an actual title to my post!

Also, I ought to apologise at the outset for the length of this post - but as you'll hopefully see, my query is a little convoluted.

Anyway, assuming i've more or less found the right place, I wonder if anyone can please help me track down details of a William Bridges - who says he was born in Duffield, Derbys, in about 1783 - although I can't track down any birth or baptism .

I know that George Wildsmith and Mary Bridges, married in Duffield on 7th August 1810. From a second cousin, descended from George and Mary, I've been given sight of a small portrait of William Bridges, in his uniform of the Third Kings Own Light Dragoons. We assume that William must have been some sort of relation to Mary – but the problem is, we don't know what the connection was.

All I know for certain is that William enlisted with the Third Kings Own Light Dragoons in April 1811, when he gave his age as 28 yrs (pointing to the birth/baptism in around 1783), with a birthplace of Duffield, Derbyshire and an occupation as a Joiner. However, I cannot find any baptism record for him in 1783 or nearby years - either in Duffield or anywhere else in Derbyshire. I think I have tracked down Mary Bridges' baptism to Sutton-in-Ashfield, Notts (5th Dec 1790), and this made me wonder if William also actually hailed from S-in-A, but I find no records there either.

William was discharged from the Dragoons in 1828, and his discharge papers seem to indicate that he was discharged as a result of ill health (incipient phthisis), with his discharge papers saying that he is emaciated, much worn out and may not benefit from further medication. Because of this, I've no idea how long he survived after being discharged in 1828.

That said, I'm aware of the presence of a William Bridges living in Belper in both the 1841 and 1851 censuses (giving a birth date of about 1779) – showing him as of independent means and then a proprietor of houses and land. This could be my William – but I have no proof – and I wonder if anyone out there has any suggestions as to where else I might look to try and establish whether this is my William – or if there is another baptism I've overlooked.

I should say that I've found a baptism of a William Hole Bridges in February 1778 (illegitimate son of Dorothy Bridges), but I think this might be too early(?) – and from the 1851 Will of the William Bridges who appears in the censuses referred to above, I know that he had a brother named John Bridges and a nephew (John's son) named Richard Bridges. The Will refers to William as a Nailer – with a wife named Hannah. I've also found details of marriages between William Bridges and Alice Hall in Duffield in 1807 (Alice was a widow); and then between William Bridges and Hannah Hunt in Duffield in 1834 (both William and Hannah were widowed).

So, as you can see, although I've tracked down quite a bit of information about a William Bridges, there's nothing to link the Dragoon soldier to the later resident of Belper. And I haven't yet found details of any other members of his family - such as his brother John.

Any help anyone can offer (I've already received some helpful comments from Derek Gilchrist) – or any thoughts anyone may have as to where I might find some further information – would be gratefully received.

Thanks,
David


Derek
Report
15 Jan 2017 12:14

Hi Chris..thanks for your contribution....we'll see how useful it is if and when Christine sees it. It also highlights why it is beneficial for people to use the Thread rather than PM.... Thanks again.

Derek.

Researching:
anything that anybody needs in Derbyshire /Notts?East Yorkshire.....but mainly Derbys

Chris Ho :)
Report
15 Jan 2017 08:44

Just to add, for reference Alpheus, saw below, if any use!...

Chris :)

http://www.freereg.org.uk/

(also, not sure if any use to help as well on above link)


17 December 1869 - Derbyshire Advertiser and Journal - Derby, Derbyshire

Deaths.
Thacker —On the 11th inst., at Wilne, Mr. John Lovatt Thacker, eldest son of the late Mr. Alpheus Thacker, formerly of Ambaston Grange, in this county, aged 66

Thacker— On the 12th inst., at Wilne, Hannah Thacker, daughter of the late John Lovatt Thacker, formerly of Wilne Mills, in this County, in the 90th year of her age.



10 September 1845 - Derby Mercury - Derby, Derbyshire, England

Death
On Tuesday, Sept. 2, after a lingering illness, Mr. Alpheus Thacker, Park-street, Derby, late of Amberston Grange, it this county.



11 September 1850 - Derby Mercury - Derby, Derbyshire, England

Death
At her son's house, 16, Park-street, Derby, aged 74 years, Mary, relict of the late Mr. Alpheus Thacker, formerly of Ambaston Grange in this county, deeply regretted by all who knew her.


22 June 1836 - Derby Mercury - Derby, Derbyshire, England

Marriage
On the 7th Instant, at the Collegiate Church, Manchester, Mr. R.M. Storer, grocer, to Mary Ann, only daughter of Mr. Alpheus Thacker, both of this town.


(google search also bringing items!)

http://tinyurl.com/gqve85j

1815
At Wiln Mills, aged 71, John-Lovat Thacker, gent.


http://discovery.nationalarchives.gov.uk/results/r?_q=thacker+wiln

(items, John, National Archives)


(and because of Grange mentioned, if below relating in family anywhere!)

26 September 1860 - Derby Mercury - Derby, Derbyshire, England

Marriage
On Saturday the 22nd inst., at St. James Church, Shardlow, John William Graulich, Esq., of Barmen, Rhenish Provinces, Prussia, to y, Elizabeth Mackey, only daughter of Eggleston Thacker, Esq., of the Grange, Ambaston, in this county

Christine
Report
15 Jan 2017 04:24

Hi Derek

(I sent you this post via PM sometime ago because I couldn't work out how to send attachments to this message board !! I finally did decipher Hannah's surname as KIDDY)

I wrote:

I came across a will yesterday on FindMyPast for a Samuel STREET (wife Hannah) of Belper Lane End - attached.

I think Samuel & Hannah may be the parents of my Henry STREET.

Samuel and Hannah had 7 children all born at Belper Lane End and christened at Duffield:
John c. 1740
Anne c. 1742
Samuel c. 1745
Ellen c. 1748
Thomas c. 1750
Henry c. 25 April 1753 ( ? my Henry STREET)
Hannah c. 1755

I found the marriage record for Samuel & Hannah but I cannot decipher Hannah's maiden surname - attached. Help please !!!

What do you think of my theory ? The time frame fits ?

My Henry STREET was living at Wignall when he married Sarah BENNETT in 1777. It seems that they had 2 children at Horsley (Samuel & Thomas) before moving to Cromford.

Any help would be much appreciated

Cheers for now
Chrissy :-D :-D

Derek
Report
14 Jan 2017 22:57

Hello Christine..thanks for your PM....I have replied to you there, and have explained that It is more beneficial for everybody to actually communicate in an open forum such as my Thread..I hope you find your way back..
Ok.ALPHEUS THACKER is an old mate of mine..in a manner of speaking!

He was baptised in Aston on Trent 23.06.1776..son of John Thacker and Mary..two different indexes attest to the mother as being Mary..but there is no certainty as to who she was....
I have a marriage of john Thacker to a MARY BURGIN 19.08.1771 at Wilne..which I offer as a possibility
Alpheus married MARY EGGLESTON 22.02.1803 at Aston on Trent......the 1841 Census has Alpheus and Mary..with their son Arthur as yet unmarried....and shows Mary as NOT born in County.
I therefore offer a likely source for MARY EGGLESTON baptised Keyworth Notts 22.05.1784...an Independent Non conformist...
Arthur THACKER born 1815 married SARAH HILL 20.09.1851 at Elvaston..where he and most of his siblings were born.
As I have told you..Elvaston/Wilne/Shardlow/Ambaston are all covered by a postage stamp..and Aston on Trent is a few miles away.
Ib case you don't have them, here are the children of Alpheus and mary:
Mary 27.04.1806 -- 25.07.1806
Mary Ann 14.03.1809 -1868 (died in Cumberland)
Elizabeth 11.03.1809 -- 09.04.1809
William 10.09.1811
Richard 22.01.1813 -- 07.11.1813
Arthur 22'04.1815 -1882
Eliza 23.12.1818 -- 09.12.1820. Baptised 05.01.1819

Not a very happy story!!

JOHN THACKER 21.06.1744 Aston on Trent son of John and Dorothy is an obvious candidate as the father of ALPHEUS.....but there are several others.

Any further help I can give..just shout.

Derek

Researching:
anything that anybody needs in Derbyshire /Notts?East Yorkshire.....but mainly Derbys

Derek
Report
14 Jan 2017 22:05

Thanks Chrissie, and the same to you and yours x

derek

Researching:
anything that anybody needs in Derbyshire /Notts?East Yorkshire.....but mainly Derbys

Chrissie2394
Report
9 Jan 2017 20:25

Happy New Year to you too Derek xx

Researching:
Photo is of my nan celebrating her 102nd birthday with her gt gt granddaughter.

SylviaInCanada
Report
8 Jan 2017 20:42

Happy New Year, Derek xxxx

Researching:
Springtime view from my window ........................................ ......... ............................................................ To help us and to get better results, please post as much detail as you can, especially name, date(s) and place. Also say what you already know.

Jenniferjackson
Report
8 Jan 2017 20:36

thanks Derek,Think you are right with James Poxon and Hannah Baxter,and ive now got James with his Daughter FannyMorgan (Poxon) in the 1901 census. :-)

Derek
Report
8 Jan 2017 19:29

Hello Jennifer..thank you for your PM..as i have said in my reply, you must try and stay with the Thread rather than using PM.
Your problem is that Diseworth is in Leicestershire, not Derbyshire....no problem to me because I now it well, and at least one of the diseworth POXONS i have researched before.
HANNAH born c 1834..married SAMUEL POXON at Diseworth 30.11.1853.
Samuel died n 1914........I suggest this is the correct marriage because, in accordance with your information, their daughter Ann was born Diseworth 1867..along wiith five other childrem
Harriet 1854../ Fanny 1858.../ John 1861.../ Thomas1868.../ Samson 1872.....the gaps indicate there may have been others.
have records for Diseworth...will get back to you with more details if you require them

Derek.

Hmm......I cnnot find a marriage in BMD for Samuel and Hannah...but I HAVE found an 1853 marriage for JAMES POXON at Shardlow to HANNAH BAXTER..which seems to fit with their children......although Hannah appears without a husband in 1871..they are all on the 1861 and 1881.....more later

Researching:
anything that anybody needs in Derbyshire /Notts?East Yorkshire.....but mainly Derbys

greyghost
Report
27 Dec 2016 17:03

And all best wishes to you Derek.
I'm sure i might find something for you to help with in 2017 !

Derek
Report
27 Dec 2016 11:28

I missed Christmas unfortunately, but I'd like to wish all my many buddies on here a very Happy New year for 2017
Derek .

Researching:
anything that anybody needs in Derbyshire /Notts?East Yorkshire.....but mainly Derbys

Derek
Report
22 Nov 2016 21:07

Ho hum.......

Researching:
anything that anybody needs in Derbyshire /Notts?East Yorkshire.....but mainly Derbys

Chrissie2394
Report
28 Oct 2016 04:26

Hi Derek thanks for letting me know.

I do have the additional info you provided but I'm sure there willl be something else I need help with.


Chrissie x

Researching:
Photo is of my nan celebrating her 102nd birthday with her gt gt granddaughter.

Derek
Report
26 Oct 2016 00:30

Hello Chrissie...my Barlow Pr's don't actually go as far as 1903..but I have plenty of other stuff that is relevant..which you may or may not already have.
Ivy Kingston was born March 1903 and probably baptised in April....one of four children of Harry Kingston and Mary nee Key.
Harry Kingston of Sheffield married Mary Key 17.02.1890..Mary died in 1907 aged 37..and in 1911 IVY KINGSTON is living with her Maternal Grandparents....
WILLIAM KEY born 1843 died 1918..married BETSEY NEEDHAM in 1868..and had six children of which only three were alive in 1911.

nice to hear from you again..........keep it coming!!
Derek x

Researching:
anything that anybody needs in Derbyshire /Notts?East Yorkshire.....but mainly Derbys

Chrissie2394
Report
22 Oct 2016 18:45

Hi Derek,

Do you have the parish records of Barlow?

I am looking for the baptism of Ivy Kingston who was born on 18/3/1903 at Newgate Barlow, daughter of Harry and Mary.

Hope you are keeping well.

Chrissie.



Researching:
Photo is of my nan celebrating her 102nd birthday with her gt gt granddaughter.