Find Ancestors
Welcome to the Genes Reunited community boards!
The Genes Reunited community is made up of millions of people with similar interests. Discover your family history and make life long friends along the way.
You will find a close knit but welcoming group of keen genealogists all prepared to offer advice and help to new members.
And it's not all serious business. The boards are often a place to relax and be entertained by all kinds of subjects.
The Genes community will go out of their way to help you, so don't be shy about asking for help.
Quick Search
Single word search
Genes Extras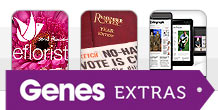 As a way of saying thank you to our subscribers, we have launched Genes Extras. You'll find exclusive competitions and discounts on family history magazines, days out and much more.
Icons
New posts
No new posts
Thread closed
Stickied, new posts
Stickied, no new posts
Lookup offer for Australia
Profile
Posted by
Options
Post Date

۞ Cherilyn ۞
Report
8 May 2013 09:07

Hi Patricia

Hannah SHERWOOD died in 1909 aged 76 in Melbourne South, parents James BRADLEY and Isabella GALLAGHER (reg 9797).

Can't see a marriage for Isabella but there is a child born to Isabella Lara FOGARTY and Joseph HALE in 1899 in Carlton?

Patricia
Report
8 May 2013 04:23

Hello Cherilyn,
I am looking for a death for a Hannah Jane or Anna Jane Sherwood in 1909 in Melbourne Victoria. Her parents were James Bradley and Isabella Gallagher. Also a marriage for a Isabella Fogarty to a Brown in Victoria somewhere between 1877 and 1930.
Any info would be greatly appreciated. Thank You.
Patricia.

۞ Cherilyn ۞
Report
7 May 2013 09:03

Thanks Gins, will take a look :-D

Gins
Report
6 May 2013 15:47

Cherilyn

Any chance you could take a look at this thread please. Ive searched for Charles Ing* b1867c and come up with a big fat zero for anything in Oz!

http://www.genesreunited.co.uk/boards/board/ancestors/thread/1324329

Thank you :-D

Researching:
You fill up my senses Like a gallon of Magnet Like a packet of Woodbines Like a good pinch of snuff Like a night out in Sheffield Like a greasy chip butty Like Sheffield United Come fill me again....Na Na Na Naa Naa Naaaaa, ooo! Sung to 'Annies Song' (Tune)

Charlotte
Report
3 May 2013 07:45

Hi Cherilyn,

Thank you again for all the material on Reginald's family. Maybe sometime someone will make an index to parents' names from death records and we'll find Marie. Yes, Reginald's middle name was Ebenezer for his father. Another senior moment.

Happy searching,

Charlotte


۞ Cherilyn ۞
Report
1 May 2013 09:11

No problem, Charlotte.

Very difficult without a surname. No chn born in WA to mother Mary or Maria BUDD.

The West Australian, Friday 29 November 1946
BUDD. W. J. C. (Jack), Flying-Officer, 406971.--Missing in flying operations, May 6, 1943, now presumed dead, eldest son of Mr. and Mrs. Reg Budd (Guildford).

I believe this is Reginald Ebenezer BUDD who died in 1948, late of Guidlford, aged 69. (You have Reginald Chas?) he was a garage proprietor and mechanic.

They also had a daughter named Irene. There is a photo of her here trove.nla.gov.au/ndp/del/article/59450387?searchTerm=guildford budd&searchLimits= She married in 1941 to Robt Theodore JOLLEY and died in 2007 aged 92.

They had another son named Reginald who was engaged in 1940 to Janet RAINSFORD (but they did not marry). This may be him?
BUDD WILLIAM HENRY REGINALD : Service Number - WX29131 : Date of birth - 09 Sep 1917 : Place of birth - MIDLAND JUNCTION WA : Place of enlistment - MOORA WA : Next of Kin - BUDD REGINALD

Mrs Florence BUDD (b. c1887) & Miss Irene BUDD (b. c1916) came to Fremantle in 1927 from London - can only assume this was a return from a trip to the Old Country? Then a Reginald E BUDD (b. c1879) to Fremantle in 1928.

Charlotte
Report
30 Apr 2013 20:23

Hi Cherilyn,

Yes, thank you. I had seen the responses and started a reply to you including another request where I had no place or surname. That got put in drafts and I have been off in a different direction, doing French Canadian for a client. So I have had to put my own lines aside for the time being.

In case you run across the name I think I will just give you this person. Maria Budd born 4 April 1847 in Clerkenwell, Middlesex, England to William Budd and Susannah Fountain Budd. She married in England and then went to Australia with her husband who was in poor health. He died and she remarried. Neither surname known and too many of this name in London area to pin anything down. The only clue to a possible place was that a nephew Reginald Charles Budd had a son (named for his brother) Wrinch Joseph Charles Budd born in Western Australia. This is what I have found in Ancestry for him.

BUDD WRINCH JOSEPH CHARLES : Service Number - 406971 : Date of birth - 22 Aug 1915 : Place of birth - MIDLAND JUNCTION WA : Place of enlistment - PERTH WA : Next of Kin - BUDD REGINALD

Flying officer, Australian in Australian forces, RAAF, 31st Squadron, on Ambon Memorial. Died in Netherlands East Indies (Indonesia). Cause of death flying battle. Service number 406971

His mother Florence Maggie Howes died 24 Apr 1961 in Western Australia. The uncle for whom he was named was killed in action in WW1 in Europe.

I do apologize for not getting back to you before this. Thank you so much for the information.




۞ Cherilyn ۞
Report
29 Apr 2013 01:45

and another

۞ Cherilyn ۞
Report
27 Apr 2013 04:32

nudge for Charlotte

۞ Cherilyn ۞
Report
22 Apr 2013 03:11

Her parents marriage:

Name: Richard Parton
Birth Date:
Birthplace:
Age:
Spouse's Name: Eliza Jackson
Spouse's Birth Date:
Spouse's Birthplace:
Spouse's Age:
Event Date: 27 Jan 1834
Event Place: All Saints,Forton,Stafford,England
Indexing Project (Batch) Number: M06087-1
System Origin: England-ODM
GS Film number: 417193, 426544
Reference ID:


There is an 1842 birth for Emma PARTON in Stafford :-)

۞ Cherilyn ۞
Report
22 Apr 2013 02:56

An Emma PARTON arrived in Queensland in Aug 1880 aged 38 aboard 'Shenir'. Not sure if same lady but no birth in Qld. No other PARTONs travelling with her.

That would make her the same age as Richard. May explain why they had no children!

Looking at her parents names in later censuses, I suspect she may be the Emma PARTON born in 1842 in Wellington, Shropshire (though there are a few other possibles).

۞ Cherilyn ۞
Report
22 Apr 2013 02:51

HI Charlotte

It appears they had no children.

All I can find is this:
The Birsbane Courier, Monday 1 December 1930
Name of Deceased Proprietor.-Emma Sharratt, late of Toowoomba, widow.
Date of Death.-30th May, 1930.
Name of Claimant.-The Public Curator of Queensland, as Devisee in Trust.
Description and Situation of Land. Subdivisions 19 and 20 of suburban allotment 54, county of Aubigny, parish of Drayton.
Estate Claimed to be Transmitted.-Fee simple.
Particulars of Will or Otherwise.-Will dated 18th March, 1924.
Date within which Caveat may be Lodged.-6th January, 1931.


۞ Cherilyn ۞
Report
22 Apr 2013 02:20

Lol thanks Quoy that would be great but I live in Perth :-) bit of a trek! sadly arifares within Australia cost more than going overseas to Bali etc...which is why so many Aussies (esp from Perth) go there instead! (I'm off in July actually with my daughter for some 'girly' relaxing/shopping time!)

Charlotte
Report
21 Apr 2013 21:48

Hi Cherylin,

For years all I knew about Richard Sharratt was his birth date and place and that he went to Australia. His father was my 2nd great grandmother's brother. Recently I found a marriage and death dates for him and wife. I'd like to find out if they had any children and their details.

Richard Sharratt born Islington, Middlesex to Richard Sharratt & Mary Sparkes on 26 Feb 1842. He married Emma Parton on 22 Jul 1885 in ____,, Queensland. She was the daughter of Richard Parton & Eliza Jackson. Do not know her birthplace or date. He died 3 Dec 1922 in _____, Queensland and she 30 May 1930 the same.

I really appreciate this offer.

Regards,

Charlotte Easter

Quoy
Report
21 Apr 2013 18:29

Thanks Cherilyn

the Spencer family are coming to England in August to meet my friends dad and he wanted to know where they fitted in to his family ,hence me doing his tree.

I will be in Australia when they come over so will not be able to meet them .

I will print this info off for him

Thanks once again.

Hey we could have a mini meet if you are any where near Brisbane or Mackay





۞ Cherilyn ۞
Report
19 Apr 2013 01:00

and another :-)

۞ Cherilyn ۞
Report
17 Apr 2013 08:38

nudge for Quoy

۞ Cherilyn ۞
Report
15 Apr 2013 03:45

Not sure if your friend's dad is interested in Frank Spencer's line but just found the death and funeral notices for his mother Amelia SPENCER in the newspaper at Trove; she died 17 Sept 1925, aged 65, widow of the late James SPENCER, formerly of Derby England, and mother of 9 children (including Frank & 4 of his brothers in WA, plus 2 brothers in Canada and 2 sisters in England!). The clue was that her remains left from 13 Sherwood St in Maylands! Sadly it appears the house no longer stands.

Frank (b. c1895, the youngest) along with his mother (?b. c1863) and brothers Ernest (b. c1884, d. 1963), Arthur (b. c1888, d. 1967) and James (b. c1891, d. 1968) arrived in Fremantle in 1912. Fred (2nd eldest) may have arrived alone in 1911. Sisters Ethel (m. Jas Edw STONE in 1908 in Derby) & Agnes (m. HARRIET) remained in the UK. Brothers Wm (eldest) & Arnold went to Canada.

۞ Cherilyn ۞
Report
15 Apr 2013 03:10

There is an emigration for N YOUNG (female) b. c1894 arriving in Fremantle in 1919. But I don't see Alice with her, though there is an Alice b. c1889 arriving in Fremantle in 1922 aboard Barrabool? Appears to be travelling alone but shows as 'Mrs".

It would seem the story has got changed over time and it was actually the sister Nellie who married Frank S. Did they definitely both come to WA I wonder...

Did neither of the sisters have middle names? I can see no marriage for Alice without a middle initial. Thought I had found her death as Alice YOUNG, perfect match agewise but then found her marriage to YOUNG (ie this was not her maiden name). :-(

۞ Cherilyn ۞
Report
15 Apr 2013 02:53

Ah I see, THIS Frank was a Flight Sgt and airman, killed in action but in WWII, he was the son of Frank & Nellie, b. 1923 as originally posted:

SPENCER FRANK GEORGE : Service Number - 427360 : Date of birth - 22 Feb 1923 : Place of birth - MAYLANDS WA : Place of enlistment - PERTH : Next of Kin - SPENCER FRANK

He was only 19 when he enlisted in WWII, a jnr draughtsman. He was reported missing during air operations over France, presumed dead by July 1944. Big lad at 6' tall, 11 stone 6lbs. Father's address was 13 Sherwood St, Maylands; his occupation was stores packer. Frank George attended Perth Modern School 1935-1940 and Perth Technical College 1940-41. There are a few small photos of him in his dossier at www.naa.gov.au/collection/search/

The West Australian, Thursday 18 July 1946
SPENCER (F/Sgt. Frank George).-In loving, memory of our beloved son, lost over France, July 18, 1944, loving brother of Ken and Elsie. Sadly missed.
SPENCER, Frank (Flight-Sergeant). In loving memory of our dear brother, killed In air operations over France, July 18, 1944. Inserted by his loving brother Ken, sister-in-law Molly, and Kenneth John.
The West Australian, Friday 18 July 1947
SPENCER.-In loving memory of our beloved son, F/Sgt. Frank George Spencer, lost over France. July 18, 1944. Sadly missed by his parents and sister.
[From NLA Trove]


Brother Ken was born as Kenneth in 1920 (no middle name), he married Edith Mary THOMAS (known as Molly) in 1945 in Perth (reg 540). He died 5/10/1980 aged only 60. Molly died 22/12/2006 aged 90. They had a daughter b. Oct 1950 but no name given in birth notice.

Sister Elsie J was born in 1928 in Perth (reg 2566), she married Raymond Chas ILES in 1949 in Perth (reg 930). Raymond died 16/5/2009 aged 81. It appears Elsie may still be living (see www.whitepages.com.au, residential search). :-D

The West Australian, Saturday 16 April 1949
The marriage of Elsie Joy, only daughter of Mr. and Mrs. F. Spencer, 13 Sherwood-street, Maylands, to Raymond Charles, eldest son of Mr. and Mrs. E. Iles, 44 Chelmsford-road. Mt. Lawley, will take place this Saturday, April 16, at St. Alban's Church, Beaufort street, at 5 p.m.