Find Ancestors
Welcome to the Genes Reunited community boards!
The Genes Reunited community is made up of millions of people with similar interests. Discover your family history and make life long friends along the way.
You will find a close knit but welcoming group of keen genealogists all prepared to offer advice and help to new members.
And it's not all serious business. The boards are often a place to relax and be entertained by all kinds of subjects.
The Genes community will go out of their way to help you, so don't be shy about asking for help.
Quick Search
Single word search
Genes Extras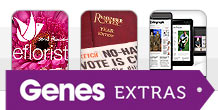 As a way of saying thank you to our subscribers, we have launched Genes Extras. You'll find exclusive competitions and discounts on family history magazines, days out and much more.
Icons
New posts
No new posts
Thread closed
Stickied, new posts
Stickied, no new posts
Lookup offer for Australia
Profile
Posted by
Options
Post Date

Cherilyn
Report
19 Sep 2014 06:05

Found her!!! She died in NSW. Looks possible she moved there with the younger children soon after Joseph died. She is buried at Woronora Cemetery.

This is her death notice:
The Sydney Morning Herald, Wednesday 9 April 1924
BOWATER.—April 8, 1924, at the Home of Peace, Marrickville, Sarah Ann, dearly loved mother of Mrs. A. P. Hubbard, Mr. and Mrs. E. Gillow, and Mr. and Mrs. H. Christ, aged 78 years 10 months. At rest.

The daughters mentioned above are Adelaide Phoebe (m. Chas E HUBBARD in 1909, d. ?), Florence Emma Melba (m. Edward W GILLOW 1920, d. 1967) and Lillian Maude (m. Hy A CHRIST in 1912, d. 1975). All 3 married in Marrickville, NSW.

Cherilyn
Report
19 Sep 2014 05:56

Can't find much more - no trace of Sarah's death. You could order the marriage cert above for A$21?

Here is a son's obit: http://nla.gov.au/nla.news-article81213546


Cherilyn
Report
19 Sep 2014 05:37

This MAY be his arrival in Victoria, via New Zealand (age fits anyway)

BOWATER J [aged] 19 [arr] MAY 1862 [aboard] CITY OF HOBART [dep] N 032 001

Cherilyn
Report
19 Sep 2014 05:32

Hi Christine

This marriage in Vic shows his birthplace
Digger - Pioneer Index. Victoria 1836-1888

Surname: BOWATER
Given Names: Joseph
Event: M
Spouse Surname: WIMBLE
Spouse Gvn Names: Sarah Anne
Birth Place: WORCESTERSHIRE
Year: 1868
Reg Number: 1175

Her birth place is shown as the same, not convinced both are correct. Still looking...

EDIT: Rural Qld death for Joseph (age is different):
1911 / C2297/ Joseph Bowater / - / - ** born England aged 71 years

There are 2 Joseph BOWATERs born in 1841 in Dudley to choose from (and one born 1840 but suspect died that one as a baby in same year).

CrystalTips
Report
18 Sep 2014 13:56

Hi Cherilyn,

Thanks for nudging your thread, it reminded me that there is some information I need checking out.

I don't have world wide Ancestry membership, so I would be grateful if you would have a look at Queensland death indexes to confirm the following information. A few trees on Ancestry have Joseph Bowater who died in Charters Towers on 29/6/1911, age 69. They also have his wife Sarah (nee Wimble) who also died on 29/6/1911, age 60. I expected to find something in Trove newspapers seeing as they both died on the same day, but so far have only found information about two of his sons being the executors of his will.

Also would you please check their marriage - would it name Joseph's father? Again, according to some trees, Joseph Bowater married Sarah Ann Wimble on 12/4/1868 in Buninyong, Victoria.

Many thanks in advance,
Christine

Cherilyn
Report
18 Sep 2014 13:03

nudge

Cherilyn
Report
1 Sep 2014 03:55

nudge

Cherilyn
Report
23 Aug 2014 04:48

Thanx, Gins :-)

Gins
Report
12 Aug 2014 18:17

Cheri.....your expertise please :-)


http://www.genesreunited.co.uk/boards/board/ancestors/thread/1343562

Researching:


Cherilyn
Report
8 Aug 2014 02:06

My pleasure, Dolly, happy to have helped a little.

Dolly
Report
1 Aug 2014 17:46

Thank you so much for looking all this up for me. Edmund Charles ( Chas) Heavens born England 1903/4 is my uncle he married Sylvia May so defo rellies.
Daughter Ruth is obviously my cousin as was Edmund Maurice Heavens who died in 1980, same year as his father.

I didn't know Edmund Charles had been married before. I didn't know his marriage date to Sylvia. Sylvia according to my cousin was an orphan, how true that now is I don't know.

Also according to my cousin here in the UK, Edmund Maurices wife did move to Tasmania + children, but then she may not have kept her married name? This all hearsay to me and not solid evidence.
Unfortunately I don't know the name of Edmund Maurice's daughter.

All the info so far matches up and I can see what goes where on my tree now. That is Sylvia's death over the page.

Edmund Maurice, Just Maurice to us in the UK did get married and as far as I know his wife is still alive.
I think alot of things are kept quiet and its been difficult with the older generation to dig too deeply, although my cousin here in the uk who is in her 80s, some 30 years my seniour knows alot about our family and has told me alot, but I needed concrete proof that is the case.
By the way, my cousin here in the UK and I found each other through GR!! how fab is that! we have now been in contact for nearly 10 years!

Thanks again for all your help from both you ladies.
Best wishes Dolly xx


Researching:
Ward, Eden, Barret(t), Heavens, Gaut.

Cherilyn
Report
1 Aug 2014 10:58

Hmm what is the daughter's name MC?

Here is his burial details

Springvale Botanical Cemetery
Wall Niche Wall AC Niche 27
CREMATION 07/11/1980
Given Names EDMUND MAURICE
Surname HEAVENS
Religion UNITING CHURCH
Date of Service 07/11/1980
Date of Death 04/11/1980
Age 48
Burial Type CREMATION
Location Details Brind - Wall Niche Wall AC Niche 27
Public Grave Y/N N
Tenure Date 31/12/2005

MarieCeleste
Report
1 Aug 2014 10:23

On Edmund Charles (or Edward Charles as he seemed to prefer to be known as) - he seemed to stay at the same address (Broad Street, Diamond Creek, Victoria) from 1936 onwards.

From 1936 to 1941 he's listed as a driver but by 1954 (when a daughter also makes a brief appearance on the electoral rolls) he's become a clerk. Sylvia May is listed with him to 1968 and then in 1977 he's listed alone.

You asked which ship he arrived on - he's listed on a few crew lists

Western Australia, Australia, Crew and Passenger Lists, 1852-1930
Name: E Heavens
Rank: Ordinary Seaman
Arrival Port: Newcastle
Departure Date: 19 Jan 1921
Departure Port: Albany
Vessel Name: Baldina

Western Australia, Australia, Crew and Passenger Lists, 1852-1930
Name: E Heavens
Rank: Ordinary Seaman
Nationality or Origin: British
Arrival Date: 8 Feb 1922
Arrival Port: Bunbury
Departure Port: Albany
Vessel Name: Baldina

New South Wales, Australia, Unassisted Immigrant Passenger Lists, 1826-1922
Name: E Heavens
Estimated birth year: abt 1904
Age: 18
Port of Departure: Port Adelaide
Port of Arrival: Sydney, New South Wales
Voyage Arrival Date: 23 Feb 1922
Vessel Name: Baldina
Origin Location: Surrey (eng)

MarieCeleste
Report
1 Aug 2014 09:47

Sorry, I should have said there was no listing for Alma Maria with Maurice - here she is:

Australia, Electoral Rolls, 1903-1980
Name: Alma Maria Heavens
Gender: Female
Electoral Year: 1977
State: Queensland
District: McPherson
Subdistrict: Nerang

Occupation hairdresser, living in an area called Surfers Paradise.

MarieCeleste
Report
1 Aug 2014 09:37

Just following on from the info Cherylin found on Edmund Maurice .....

This is him on the Electoral Rolls:

Australia, Electoral Rolls, 1903-1980
Name: Edmund Maurice Heavens
Gender: Male
Electoral Year: 1963
State: Victoria
District: deakin
Subdistrict: Heidelberg

He's a contractor, living 37 Dobson Avenue, N22. At the same address is Alma Maria, a hairdresser. They're both at the same address with the same occupations in 1968 & 1972.


Different scenario in 1977

Name: Edmund Maurice Heavens
Gender: Male
Electoral Year: 1977
State: Victoria
District: Templestowe
Subdistrict: Ivanhoe

He's now living 8/59 Green Street and is a director. No listing for Alma Maria

Cherilyn
Report
31 Jul 2014 09:50

This MAY be Sylvia's first marriage - but no death found for husband 1927-30:

Family Name: EDWARDS
Given Name: Alex Wm Chas
Spouse Family Name: MCLEISH
Spouse Given Name: Sylvia May
Registration Year: 1927
Registration Number: 5102
Event: M

Fits with this birth, which fits her age at death:

Digger - Edwardian Index. Victoria 1902-1913
Surname: MCLEISH
Given Names: Sylvia May
Event: B
Father: Jas Jno Pritcha
Mother: Annie Flor COX
Birth Place: MELBOURNE SOUTH
Year: 1908
Reg. Number: 21029

It is quite possible the informant on her death has mixed up some surnames I'd say!

Edmund Chas & Sylvia are certainly indicated on Edmund Maurice's death as his parents and the timing fits too (they married in 1930). Perhaps you knew all this tho.

Cherilyn
Report
31 Jul 2014 09:32

OK so Doris was Edmund Chas HEAVENS wife - sad she died so young

Digger - Marriage Index. Victoria 1921-1942
Family Name: CUFFE
Given Name: Doris Mary
Spouse Family Name: HEAVENS
Spouse Given Name: Edmund Chas
Registration Year: 1927
Registration Number: 4936
Event: M

and Sylvia was his 2nd wife

Digger - Marriage Index. Victoria 1921-1942
Family Name: HEAVENS
Given Name: Edward Charles
Spouse Family Name: EDWARDS
Spouse Given Name: Sylvia May
Registration Year: 1930
Registration Number: 3495
Event: M

PS I know this says Edward Chas but there were really only these HEAVENS in Victoria so I do believe it is the same person. Plus they lived and died in the same area as per my earlier posts. Oddly now there are none in Victoria, most live in Western Australia (where I am!) and a few in NSW. None in Tasmania either.


Cherilyn
Report
31 Jul 2014 09:11

Hi Dolly

Ok so here is Chas Maurice's death:

Digger - Death Index. Victoria 1921-1985
Surname: HEAVENS
Given Names: Edmund Maurice
Father: Edmund Charles
Mother: Sylvia
Death Place: HEID
Age: 48
Year: 1980
Reg Number: 26238
Event: D

His death certificate will tell you his wife's name, when and where they married and any children they had (names and ages in 1980). You can order from https://online.justice.vic.gov.au/bdm/index-search?action=purchaseImage

I wonder if this is his mum's death? She was in the same area as the other Edmund and place name matches the engagement notice above too:

HEAVENS Sylvia May
Death notice
05SEP1976 Death late of Greensborough
Heidelberg Leader
08SEP1976

Her death reg (22553) shows her as age 68, no father's name and mother as Sylvia OWEN!!! Very odd.

The only other HEAVENS death is a Doris Mary Grace HEAVENS, daughter of Jas Francis LUFFE and Mary Grace DURHAM, who died in 1929 aged only 24 - also died in Heidelberg. Must be a connection.

EDIT - found Doris' birth as CUFFE - in 1904 in Brunswick, Victoria (reg 15932), parents as above.

Cherilyn
Report
31 Jul 2014 09:07

Thanks MC :)

Hm Dolly so both Edmund HEAVENS died in 1980 in Victoria?

From Ryerson Index - http://ryersonindex.net/search.php

HEAVENS
Edmund Charles (Ted)
Death notice
02JAN1980 Death at Cabrini Hospital, formerly of Heidelberg
Heidelberg Leader
23JAN1980

The problem here is privacy laws mean no public access to the marriages in the period Edmund Maurice would have wed.

There is this engagement notice from NLA Trove:
The Argus, Saturday 8 January 1955
OWEN-HEAVENS.-The engagement ls announced of Alma, younger daughter of Mr. and Mrs. Joseph Owen, of Wordsworth ave., Heidelberg West, to Edmund, only son of Mr. and Mrs. Heavens, of Greensborough.

Note this is only an engagement so the marriage may not have proceeded.

Still looking...

Dolly
Report
30 Jul 2014 22:39

Marie, Thank you for all that fantasticm info. Also the other bit you sent me. Thats was invaluable to my hunting. I now know alot more about him.
Many Thanks.
Dolly x


If by chance you do have a spare bit of time,( I was going to say 5 minutes lol but that would be rediculous)
Can you possibly look up the other Oz thing I wanted below?.

Edmund Maurice Heavens, he was born in Melbourne 11th September 1933, mothers maiden name was Heavens. As far as I know the family had only lived in the Glen Waverley area of Melbourne, he died in November 1980. I also want to know his wifes name. I know she went down to Tazmania with I think 2 children they had.

Cheers for now,
Dolly x

Researching:
Ward, Eden, Barret(t), Heavens, Gaut.