Find Ancestors
Welcome to the Genes Reunited community boards!
The Genes Reunited community is made up of millions of people with similar interests. Discover your family history and make life long friends along the way.
You will find a close knit but welcoming group of keen genealogists all prepared to offer advice and help to new members.
And it's not all serious business. The boards are often a place to relax and be entertained by all kinds of subjects.
The Genes community will go out of their way to help you, so don't be shy about asking for help.
Quick Search
Single word search
Genes Extras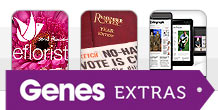 As a way of saying thank you to our subscribers, we have launched Genes Extras. You'll find exclusive competitions and discounts on family history magazines, days out and much more.
Icons
New posts
No new posts
Thread closed
Stickied, new posts
Stickied, no new posts
JOHN COSBY
Profile
Posted by
Options
Post Date

Raymond
Report
27 Sep 2010 08:38

not stopped using it.
Cant remember were I got to with you.
John was registered dead in Bury Lancs in a vicarage, whilst giving a London address? death was report by his wife, ETHEL EMMA nee Payne, they got married in 1931, he was 74 she was 46. His first wife Mary was still alive and not divorced and his long tern lover Annie was still alive. IK t looks like when John did live in London with Annie, starangley Ethel was living just around the the corner, still very young, and then later they got hitched.

Janice
Report
26 Sep 2010 16:04

He's been in America; only just got back.

Astra
Report
25 Sep 2010 17:07

Well there you go! He seems to be a real bad lad.
Has Ray stopped using the thread! He hasn't posted for a while.

Researching:
More in hope than expectation!

Janice
Report
24 Sep 2010 18:30

Hi Astra,

Ray has bought that marriage cert and John J declares himself a widower - which he wasn't of course. He was in his 70s though and Ethel in her 40s!
Janice

Astra
Report
20 Sep 2010 15:26

Now there's a surprise. It's not that far from me either! I used to live in Boston then moved a little further to the north of the County.

Researching:
More in hope than expectation!

Raymond
Report
20 Sep 2010 08:32

So there is little liklyhood of them having children, so no extended family? or is there if my maths is correct she was 46 when they married and he was 73?
How strange, Holbeach is not more than 10 miles away from me, and my son is seeing a girl from there.

Astra
Report
17 Sep 2010 19:47

She was born in Lincolnshire

Births Dec 1888 (>99%)
--------------------------------------------------------------------------------

PAYNE Ethel Emma Holbeach 7a 743

There is a mistake with the registration and it doesn't look as though it is Holbeach. It's just a case of finding out where it was!
Looking at the image I think it reads Holborn.


This is her baptism in London birth date given of November 13th 1888

Ethel Emma Payne
Record Type: Baptism
Date: 9 Dec 1888
Father's Name: George William Payne
Mother's Name: Mary Roda Payne
Parish: St Dunstan and All Saints
Borough: Tower Hamlets
County: Middlesex


and the family in 1911giving her birth place as Clerkenwell

PAYNE, George William Head Married M 48 1863 Compositor Printer Lambeth London VIEW
PAYNE, Mary Rhoda Wife Married
30 years F 47 1864 Miole End Old Town VIEW
PAYNE, George William Son Single M 20 1891 Compositor Printers Clerkenwell London VIEW
PAYNE, Ethel Emma Daughter Single F 22 1889 Boot Machinist Clerkenwell London VIEW
PAYNE, Benjamin Harry Son Single M 18 1893 Machine Manager Printers St Lukes London VIEW
PAYNE, Ellena Alice Daughter F 16 1895 Hand Sticker Brace St Lukes London VIEW
PAYNE, Thomas Frank Son M 12 1899 School Walthamstow VIEW
PAYNE, Theresa Violet Daughter F 9 1902 School Walthamstow VIEW

--------------------------------------------------------------------------------


Registration District:
West Ham Sub District:
Walthamstow Enumeration District:
50 Parish:
Walthamstow

Address:
39 Fairfield Road County:
Essex




Researching:
More in hope than expectation!

Janice
Report
17 Sep 2010 17:37

This looks like Ethel's death

Ethel Emma Cosby
Birth Date: 13 Nov 1888
Death Registration Month/Year: Apr 1984
Age at death (estimated): 95
Registration district: Waltham Forest
Inferred County: London
Volume: 15
Page: 783

She lived to a ripe old age!! That death is London though so wonder if they went to Bury to get away from the bombings. Address was a vicarage so maybe the vicar was a friend, or perhaps the rectory was taking in evacuees.

She was almost 30 years younger than him and I don't think she had been married before because the marriage entry doesn't give two surnames for her.

Astra
Report
17 Sep 2010 13:14

Welcome back Ray.
I can't remember if this has already been posted. (It's an age thing!!)
It looks as though that death relates to this marriage. So is it the same John J?

Marriages Mar 1931 (>99%)
--------------------------------------------------------------------------------

>>Cosby John J Payne Pancras 1b 70
Harrup Leonard J Margree Pancras 1b 70
Margree Rosaline Harrup Pancras 1b 70
>>Payne Ethel E Cosby Pancras 1b 70


Researching:
More in hope than expectation!

Raymond
Report
17 Sep 2010 11:56

Right we have the death cert for a John Cosby, living in London but death was registered in Bury by his wife, ETHEL EMMA, is this the right guy? Suppose we could do with a death cert for Annie?

Raymond
Report
7 Sep 2010 20:47

Welcome back Astra, as you see we were busy whilst you were away, I am now in the States. but I hearf I have a pile of certificate to go home to, so hopefully we will have a lot of this nailed, but there is still mileage in this family.

Astra
Report
3 Sep 2010 16:08

Hi Ray and Janice
I've just had a quick look at the new information on the thread but I will give it a good read-through later. Pleased to see that you are moving on with the family and now I am back from my break I hope to be able to spend some time with you even though I am back to work on Monday my evenings should be relatively clear. Any news to pass on that isn't on the thread?

Researching:
More in hope than expectation!

Janice
Report
31 Aug 2010 19:28

If these are John junior's children, they would be Daisy's nieces and nephews. John was obviously close to Daisy - he had Daisy tattooed on his arm! - so it would be surprising if Ted doesn't know about them. Or is it just that he can't find out when John junior died?


This looks like a death for Margaret, so it looks as though they stayed in the area.

Margaret Cosby
Death Registration Month/Year: 1966
Age at death (estimated): 71
Registration district: Woolwich
Inferred County: London
Volume: 5e
Page: 767

Oh, this could be him in the same year!

John J Cosby
Death Registration Month/Year: 1966
Age at death (estimated): 82
Registration district: Woolwich
Inferred County: London
Volume: 5e
Page: 771


Edit: just been back to the images and they died in the same quarter as well, only 4 entries apart. Wonder what happened to them. Does Ted have a death cert for Margaret?

Janice
Report
31 Aug 2010 18:22

Hmm, thinking now that that marriage to Margaret Jones is John junior because a search for Cosby children with MMN Jones throws these up:

Norah M Cosby Apr May Jun 1918 Lewisham

Margaret Cosby Jan Feb Mar 1920 Lewisham

Daisy L Cosby Jul Aug Sep 1921 Lewisham

John J Cosby Jul Aug Sep 1923 Woolwich

They are such Cosby family names aren't they! These would also be your mum's cousins.

Janice
Report
31 Aug 2010 17:41

Has Ted seen John Joseph Cosby's army service record on Ancestry? The date of birth is slightly out but it's definitely him:
Mother Mary
Father John - address unknown
Sister Daisy Washford
Address St Germain Villas Lewisham
He was in the Royal West Kent Regt
Number 8325
He signed up in 1906
Discharged physically unfit for war service in 1915
Served in Singapore, India and with the BEF

Said he was born in Tottenham for some strange reason.

Raymond
Report
31 Aug 2010 17:28

My wife also is at school as the cover supervisor, so she is back this week. I will keep you up to date, and if it is ok by you will email any thing I get through. You have been so good, it has been a great few days. I will see my mum tomorrow. Dont forget, when your bored and nothing to do........
Speak to you soon

Janice
Report
31 Aug 2010 17:23

Hi Ray,
No, still around but not for much longer. I'm a teacher and it's back to school on Thursday.
Waiting for that John Joseph Cosby marriage cert to see which John it is. If it is junior then we might be able to make some progress. What is Ted struggling with exactly? Does he know anything after the birth?
My friend's Purchases were from Hardington Manderville so not the same lot. Pity that, as she has done tons of research!
Have you shown your mum the photos yet?
If you are trying to track down those Hertfordshire boys, try the person who has the electoral roll discs and offers lookups - think her name is Jean but I may be wrong. Her thread is usually kept bumped up to the first or second page but a search should locate it.
I'll let you know if I see anything more of interest. Ted was a good find wasn't he!!
Back later,
Janice

Raymond
Report
31 Aug 2010 17:10

if you get bored, maybe we can help Ted out, see if you can find out what happened to John jnr?

Raymond
Report
31 Aug 2010 16:42

hey without you and Astra, I would be nowhere. You are not giving up on me are you? I know we are waiting for some certs, which may open up more revelations, but I need you to keep digging into my deep and murky past, especially any info we can get about the living still in Hertfordshire. I dont know if you are allowed to email me your home adddress, but I am sure you have earned a big box of choccies!!!!! When i get back from the States, maybe we can have a look at my mums ,mums side, it looks really small and I am sure there is more to it, and again I would love to get some more photo's. Look at your email, Johns birth cert coming through.

Janice
Report
30 Aug 2010 21:00

Thanks for sending the photos. You've come a long way in four days!