Find Ancestors
Welcome to the Genes Reunited community boards!
The Genes Reunited community is made up of millions of people with similar interests. Discover your family history and make life long friends along the way.
You will find a close knit but welcoming group of keen genealogists all prepared to offer advice and help to new members.
And it's not all serious business. The boards are often a place to relax and be entertained by all kinds of subjects.
The Genes community will go out of their way to help you, so don't be shy about asking for help.
Quick Search
Single word search
Genes Extras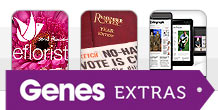 As a way of saying thank you to our subscribers, we have launched Genes Extras. You'll find exclusive competitions and discounts on family history magazines, days out and much more.
Icons
New posts
No new posts
Thread closed
Stickied, new posts
Stickied, no new posts
Martha Elizabeth Goouch
Profile
Posted by
Options
Post Date

MarieCeleste
Report
5 Feb 2013 19:35

Jayne, it's not impossible that a lad who was just 17 in 1901 could have grown a few inches by 1916. I honestly don't think the first record is your Alfred Holder (but I might be wrong).

I'll compare the records.

EDIT: Hmmm - the son of Thomas and Leah says in 1916 that he's never served before .....

JayneB
Report
5 Feb 2013 19:06

Just wondering:

Earlier in this thread I found an army record

First name(s): Alfred
Last name: HOLDER
Calculated year of birth: 1884
Parish of birth: Leytonstone
Town of birth: Stratford
County of birth: Essex
Age at attestation: 17 years 5 months
Attestation date: 7 August 1901
Attestation corps: ESSEX REGT
Attestation soldier number: 8318
Discharge rank:
Discharge corps: Essex Regiment - 44th & 56th
Foot Discharge soldier number:
The National Archives reference: WO96 / 766 / 410

Which we decided belonged to a different Alfred Holder (b 1884 parents Thomas and Leah, living at home in 1911 census)
On these records his physical description is 5ft 5 3/4 with scars on the back of his neck.

I have just found another service record,

Name: Alfred Holder
Estimated Birth Year: abt 1884
Age at enlistment: 32
Residence: 31 Beatrice St, Barking Rd Plaistow Ldn E
Document Year: 1916
Regimental Number: 28308
Regiment Name: Royal Fusiliers
Number of images: 40

This one is definitely the wrong Alfred Holder (ie it is the Alfred Holder parents Thomas and Leah...I checked the images) but the physical description is 5 ft 8 3/4 inches.

Clutching at straws but maybe they are not the same person? Could the first one be my Alfred after all?

JayneB
Report
5 Feb 2013 18:02

I wonder if this could be anything to do with Alfred Holder?

British Army WWI Service Records, 1914-1920 about Alfred Holder

Name: Alfred Holder
Estimated Birth Year: abt 1884
Age at enlistment: 32
Residence: 31 Beatrice St, Barking Rd Plaistow Ldn E
Document Year: 1916
Regimental Number: 28808
Regiment Name: Reserve Lab Coy
Number of images: 2

EDIT - It is not my Alfred, it is the other Alfred from the 1911 census with parents Thomas and Leah

JayneB
Report
5 Feb 2013 16:08

Today's visit to Stratford has given me nothing.

I visited West Ham cemetery in the hope that the grave might give me some clues, however Alfred Holder was buried in the one small part of the graveyard which was reclaimed for burials during the blitz and is no longer visible. If there ever was a gravestone it was laid flat and now has at least 6 feet of earth piled on top of it.

On to Stratford Archives where I searched the West Ham Board of Guardian Minutes from 1908 - 1914 looking for any mention of Pitt, Holder, Naptin or Goouch. There was only one mention where the committee recommended that "Proceedings for neglecting to maintain their families be taken against(amongst others) the husband of Elizabeth Pitt.

I will go back next week to search the electoral roll.

I have two more possible chances to resolve this.

If the National Archives have the correct records I may be able to trace Alfred Pitt back through time starting with the ship record MC found for 1914, although going back to 1905 may prove difficult.

My other hope is that Alfred Holder remained in the Army after 1919 as I believe that this would mean his records are currently sealed. If that is the case then hopefully one day I will be able to access them.

Apart from ordering the relative certificates to prove that Alfred Pitt (Wivenhoe) is the same Alfred Pitt who married Martha/Elizabeth I am not sure where else I can go.

Two more questions though.

I can't find a death for Alfred Pitt but surely Martha/Elizabeth would have had to prove that she was either widowed or divorced when she married Vandersteen in 1960?

If Alfred Holder was in the army in 1914 is he really the father of Albert b 1914, Violet b 1915, Richard b 1917 and George b 1919 or is Martha/Elizabeth just putting his details on the birth certs?

MarieCeleste
Report
2 Feb 2013 15:25

Well Jayne, at least they don't seem like hardened criminals!

Poor Elizabeth was probably just trying to keep her family warm.

JayneB
Report
2 Feb 2013 15:16

This won't help with the search but thought I would add them anyway.

Found in the Essex Chronicle, Friday August 24th 1906, pg 8:

Elizabeth Pitt, 23, married, of 41 Rendell Road, Tidal Basin, was charged with stealing between July 19th and August 18th 2,40j cubic feet of gas, the property of the Gas, Light and Coke company. It was alleged that the meter had been tampered with, and the prisoner admitted using the gas, and said "I turned the gas on, put a penny in and used it again". Fined £2 or 1 month imprisonment


The Newsman, Saturday 19th January 1929

Runaway Lorry - Frank Holder, Brooks Road, Plaistow was summoned for driving a motor lorry without effective brakes - PC Smy stated that the lorry ran backwards down Brook Street Hill for between 400 and 500 yards and, before coming to a standstill, collided with a motor car and a stationary lorry. - Defendant, who wrote that his transmission gear broke as he was going up the hill was fined £2

MarieCeleste
Report
1 Feb 2013 18:53

Jayne - most of these were from Ancestry Worldwide.

JayneB
Report
1 Feb 2013 14:10

JannieAnnie - Nothing yet. The person I need is on holiday so I have emailed him all of the details. He should be back on Monday.

MarieCeleste - How on earth do you find these things? I spent hours searching last night without success. Thank you.

MarieCeleste
Report
1 Feb 2013 13:27

Just closing the gap a bit between 1894 and 1922:

New South Wales, Australia, Unassisted Immigrant Passenger Lists, 1826-1922
Name: Alfred Pitt
Estimated Birth Year: abt 1868
Age: 46
Port of Departure: London Via Melbourne
Port of Arrival: Sydney, New South Wales
Voyage Arrival Date: 18 Jun 1914
Vessel Name: Makarini

He was an AB, born Wivinho

There's an almost identical record for 31 July 1914, so it looks like he spent time in the southern hemisphere. It's most likely he just worked from one ship to another and there's not much chance of finding records if they were foreign shipping companies.

JannieAnnie
Report
1 Feb 2013 10:50


Just reviewing - any news from Stratford Registrar re notes on death cert?

JayneB
Report
31 Jan 2013 19:51

Emma Lake has 3 children in the 1881 census, the last being born in 1872. She also says she is widowed.

I have searched for an Alfred Pitt death between 1871 and 1881 who was born 1843 +/- 2 tears and only found 2. One in Tarragona, Spain and one in Wangford, Suffolk.



JayneB
Report
31 Jan 2013 19:02

What a surprise, I come home from work to find all of these brilliant finds. I am so pleased to be on the way to solving part of the mystery and am very grateful for all of your help so far.

I would agree with MC that Alfred snr is Alfred jnrs father and will order the certificate to check.

I have had a quick look but have not found a death for Alfred snr, however if he was also a mariner he could have died anywhere.

I have a long list of ships which Alfred Pitt served on, mostly from the cards that MC found. There are 2 ships in 1891, one in 1894 and then a gap until 1922. I guess the key is to find out whether he sailed sometime between 1905 and 1908. That could explain why Martha/Elizabeth set up home with Alfred Holder instead.

Depending on dates it could also explain who Frank Holders father was. Although his birth cert reads Holder, father Alfred Holder I think he may have been a Pitt child. That could explain why he was in the workhouse as Holder may not have wanted children who were not naturally his, which included the Naptin children.

My other reason for thinking that he may really be a Pitt was mentioned earlier in this thread. The first born son was usually named after the father. Frank was the first born child with a Holder surname but the second son, born in 1911, is the one named Alfred.

As for who was Alfred Holder, as he and Martha/Elizabeth never married and his Army records appear to have vanished I guess I will have to wait for the 1921 census release to get any clues. :-(

MarieCeleste
Report
31 Jan 2013 16:15

I think Alfred snr really was Alfred jnr's father. Alfred snr must have died and then Emma married his brother Thomas.

Alfred jnr possibly thought of Thomas as his father, or just put him on the marriage certificate because he was his stepfather.

Obviously this is subject to verification.

JannieAnnie
Report
31 Jan 2013 12:01

Well, well, well

More excellent finds MC. When I posted the Thomas Pitt Lexden birth I was thinking along the lines of a liaison - if Albert and Thomas were brothers/cousins - if both were on the scene. I tried working out any time lapse between marriage and birth. Gave up as it all became too convoluted in my head.

Just a question, first born sons were often called after their father (so Albert Snr would call his first son Albert), why then was Albert's (jnr) father named as Thomas on his marriage cert - unless he was his father, even though his birth cert showed Albert.

Off to think about it all ...........



MarieCeleste
Report
31 Jan 2013 08:33

Sorry, must dash to work - will look more later

MarieCeleste
Report
31 Jan 2013 08:32

There is an Emma Pitt on the same page for this marriage:

England & Wales, FreeBMD Marriage Index, 1837-1915

Name: Thomas Pitt
Date of Registration: Jul-Aug-Sep 1884
Registration district: West Ham
Inferred County: Essex
Volume Number: 4a
Page Number: 113

MarieCeleste
Report
31 Jan 2013 08:29

Found him on ships in 1861 & 1871. I think this may be him in 1851 and he has a brother Alfred

PITT Benjamin Head Married M 44 1807 Bricklayer Wivenhoe, Essex VIEW
PITT, Sophia Wife Married F 40 1811 Wivenhoe, Essex
PITT, Caroline Daughter F 11 1840 Scholar Wivenhoe, Essex
PITT, Alfred Son M 7 1844 Scholar Wivenhoe, Essex
PITT, Thomas Son M 5 1846 Scholar Wivenhoe, Essex
PITT, Benjamin Son M 2 1849 Wivenhoe, Essex
PITT, Robert Son M 0 (10 MOS) 1851 Wivenhoe, Essex

Piece: 1782 Folio: 34 Page: 30
Registration District: Lexden Civil
Parish: St Marys Wivenhoe

Address: West Street, St Marys Wivenhoe County: Essex

MarieCeleste
Report
31 Jan 2013 08:18

1901:

PITT, Thomas Head Married M 56 1845 Able Seaman Wyvenhoe, Essex
PITT, Emma Wife Married F 60 1841 Hadleigh, Essex

Piece: 1582 Folio: 158 Page: 36
Registration District: West Ham
Civil Parish: West Ham

Address: 39, Lansdowne Road, West Ham County: Essex

MarieCeleste
Report
31 Jan 2013 08:08

Here's that Thomas and Emma in 1911, look who the sister- in- law is!

Name Relation Condition /
Yrs married Sex Age Birth Year Occupation Where born Image
PITT, Thomas Head Married M 65 1846 Night Watchman Wivenhoe Essex
PITT, Emmer Wife Married27 years F 68 1843 Hardles Essex
BELAVY, Jane Sister Widow F 73 1838 Old Age Pension Thorp Essex
BUCK, Marra Sister Widow F 65 1846 Poor Reset Thorp Essex

RG number: RG14 Piece: 9496
Reference: RG14PN9496 RG78PN508 RD188 S4 ED26 SN386
Registration District: West Ham
Sub District: Canning Town
Enumeration District: 26
Parish: West Ham

Address: 57 Lansdowne Road Tidal Basin E County: Essex

The original says that Emma has had no children born alive. I don't trust anything this family says on census! Likely she means either none at home or any she had were dead.

JayneB
Report
30 Jan 2013 23:24

Is ok, I got it :-)

Name: Thomas Pett
[Thomas Pitt]
Age: 45
Estimated Birth Year: abt 1846
Relation: Head
Spouse's Name: Emma Pett
Gender: Male
Where born: Wivenhoe, Essex, England
Civil parish: West Ham
Ecclesiastical parish: St Luke
County/Island: Essex
Country: England
Street Address:

Occupation:

Condition as to marriage:

Education:

Employment status:

View image
Registration district: West Ham
Sub-registration district: West Ham
ED, institution, or vessel: 18
Neighbors: View others on page
Piece: 1320
Folio: 38
Page Number: 70
Household Members:
Name Age
Thomas Pett 45
Emma Pett 48

EDIT - forgot to say, Thomas occupation is listed as a Mariner


So is it possible that Emma Lake married Alfred James Pitt and had son Alfred jnr. When her husband died she married his (brother/cousin?) Thomas Pitt who Alfred Jnr names as his father when he marries Martha Elizabeth?