Find Ancestors
Welcome to the Genes Reunited community boards!
The Genes Reunited community is made up of millions of people with similar interests. Discover your family history and make life long friends along the way.
You will find a close knit but welcoming group of keen genealogists all prepared to offer advice and help to new members.
And it's not all serious business. The boards are often a place to relax and be entertained by all kinds of subjects.
The Genes community will go out of their way to help you, so don't be shy about asking for help.
Quick Search
Single word search
Genes Extras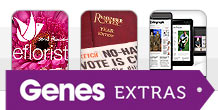 As a way of saying thank you to our subscribers, we have launched Genes Extras. You'll find exclusive competitions and discounts on family history magazines, days out and much more.
Icons
New posts
No new posts
Thread closed
Stickied, new posts
Stickied, no new posts
Arthur (Lewis) Jones went to America.
Profile
Posted by
Options
Post Date

MarieCeleste
Report
10 Feb 2013 16:26

Oh Frances, that's fantastic - I'm so pleased for you.

This is exactly why we do what we do.

Frances
Report
10 Feb 2013 15:25

FOUND THEM!!!
I am so so grateful to you all. Each little bit of information took me forward to thenext.
The one breakthrough was the disability claim and the name of Peter Hodiak. We were stuck at this stage -apart form the little jaunt to Bartlesville and I didn't know where to go from there.
Hodiak was quite easy to follow and soon we saw that David Thomas Jones was his father-in law. We were also able to google Hodiak and I have just spoken to my 2nd cousin in Woodbine Maryland!
He had no idea of my existence but knew his grandfather was Welsh.
He was able to tell me the one thing I still wanted to know which is that he is buried at Fort Lincoln in Washington.
I am quite humbled that so many of you spent so much time trying to help me - a stranger.
I thank you so much. If I can ever help you in return I hope I will be the first on your calling list.

MarieCeleste
Report
10 Feb 2013 11:03

mgnv - what a star!

I've been boggle eyed trying to find David Jones, never thought of Hodiak.

Frances, do let us know outcome.

mgnv
Report
10 Feb 2013 01:07

name: David Jones
titles & terms:
event: Census
event year: 1940
event place: Riverdale, Election District 19, Prince George's, Maryland, United States
gender: Male
age: 52
marital status: Married
race (original):
race (standardized): White
relationship to head of household (original):
relationship to head of household (standardized): Father-in-law
birthplace: Wales
estimated birth year: 1888
residence in 1935: District Of Columbia
enumeration district number: 17-72
family number: 27
sheet number and letter: 2A
line number: 31
nara publication number: T627
nara roll number: 1558
digital folder number: 005461120
image number: 00524
Household Gender Age Birthplace
head Peter Hodiak M 30 Michigan [Chemist]
wife Minnie Hodiak F 33 England [Telephone Operator]
daughter Marie Hodiak F 2 Maryland
son Paul Hodiak M 0 Maryland
father-in-law David Jones M 52 Wales [Carpenter]
mother-in-law Lucy Jones F 46 Wales
Citing this Record
"United States Census, 1940," index and images, FamilySearch (https://familysearch.org/pal:/MM9.1.1/K7FK-K13 : accessed 10 Feb 2013), David Jones in household of Peter Hodiak, Riverdale, Election District 19, Prince George's, Maryland, United States; citing enumeration district (ED) 17-72, sheet 2A, family 27, NARA digital publication T627, roll 1558.

Click on link, then view image in left column.
[addy=500 Ashland Ave, so they move by 1942 (WW2 draft card)
Peter & Minnie were in Mt Rainier WA in 1935
Mt Rainier serves as a local weather forecaster in Seattle - if you can see Mt Rainier, it's going to rain, and if you can't see Mt Rainier, it's already raining]


Frances
Report
9 Feb 2013 21:29

Arising out of the disability claim I am now on the trail of Peter Hodiak named in it and I think I have now traced the family. Trying to place a call to the States ls we speak!

Frances
Report
9 Feb 2013 21:29

Arising out of the disability claim I am now on the trail of Peter Hodiak named in it and I think I have now traced the family. Trying to place a call to the States ls we speak!

MarieCeleste
Report
9 Feb 2013 19:27

Oh Frances, I'm afraid that death looks like it was another coincidence. I've found this:
http://www.findagrave.com/cgi-bin/fg.cgi?page=gr&GSln=Jones&GSfn=David&GSby=1888&GSbyrel=in&GSdy=1976&GSdyrel=in&GSob=n&GRid=63379913&df=all&

I suppose with such a common name it would figure that someone else had the same birthdate.

Frances
Report
9 Feb 2013 18:58

No it is an absolute complete coincidence and a major one because Bartlesville is not on the tourist trail!
A good friend of mine who has daughters the same age as mine, has a husband who worked in London for Phillips Petroleum. Bartlesville is the headquarters of Phillips and the family was moved out there for two years.
We had never been to the States and we were invited out for Christmas. I am currently trying to see how close to the postcode shown on the information you have found,is to where we stayed.
We are wondering why he would have moved there after becoming disabled. Both my husband and myself thought that there may have been a disability training centre but we are probably adding 2+2 and making 5. Because many years elapsed between the disability registration and his death he is just as likely to have moved to be near family

MarieCeleste
Report
9 Feb 2013 18:40

Frances, I found that on Ancestry worldwide but here's a link to the same record on FamilySearch:
https://familysearch.org/pal:/MM9.1.1/J12M-Y6Y

I'm afraid I personally don't know how to get the death certificate but I'm sure someone who has more knowledge of US records will be along ....

May I ask, is it a complete coincidence that's where you went in 1992, or was there a family connection?

Frances
Report
9 Feb 2013 18:30

No! I can't believe this! My very first visit to the U.S. was to ............ Bartlesville Ok. in 1992. May I ask how you found this and can I find out for example who reported the death-ie who was the next of kin? Can I apply for a death certificate?
I cannot tell you how grateful I am for your help. I am feeding all this information to my parents- both in their mid 80's and my Aunt who is nearly 90. They are enthralled by this.

MarieCeleste
Report
9 Feb 2013 18:16

This death matches the birthdate on the draft cards:

Social Security Death Index

Name: David Jones
SSN: 447-18-4185
Last Residence: 74003 Bartlesville, Washington, Oklahoma, United States of America
Born: 29 Jan 1888
Died: May 1976
State (Year) SSN issued: Oklahoma (Before 1951)


Frances
Report
9 Feb 2013 16:51

Yes I agree the date of immigration is too late but I'm thrilled with what you are turning up.
Imagine being a carpenter and loosing your hands

MarieCeleste
Report
9 Feb 2013 16:41

Not sure if this is the right chap in 1930? The location matches the WW1 draft but the occupation doesn't:

1930 United States Federal Census

Name: David Jones
Gender: Male
Birth Year: abt 1887 [abt 1888]
Birthplace: Wales
Race: White
Home in 1930: Scranton, Lackawanna, Pennsylvania

Marital Status: Married
Immigration Year: 1925 << Would be too late
Relation to Head of House: Head
Spouse's Name: May Jones
Father's Birthplace: Wales
Mother's Birthplace: Wales

Occupation: Labourer (coal mine)
Education:
Military Service:
Rent/home value:
Age at first marriage: 33

Household Members:
Name Age
David Jones 43 [42]
May Jones 33
Norman Jones 8 b Wales
Jeddie Bryant 35 (lodger)

No, this can't be them but will leave for elimination purposes.

Frances
Report
9 Feb 2013 16:35

Yes that is what I had found this afternoon. I feel that there is now a foot in the door as without knowing where he went in the States this was a needle in a haystack.
Its moving on from here that I now need to do. Its not surprising that every David Thomas Jones I'm turning up was born in Wales! Apparently Scranton has the largest Welsh graveyard in the world!

MarieCeleste
Report
9 Feb 2013 16:31

This must be the draft card:

U.S., World War I Draft Registration Cards, 1917-1918
Name: David Thomas Jones
City: Scranton
County: Lackawanna
State: Pennsylvania
Birthplace: England
Birth Date: 29 Jan 1888
Race: Caucasian (White)
Draft Board: 2
Age: 29
Occupation: Carpenter
Nearest Relative:
Height/Build:
Colour of Eyes/Hair:

https://familysearch.org/pal:/MM9.3.1/TH-1971-26637-5847-26?cc=1968530&wc=M9MT-RJT:n1317503658

_____________________________________________________________

By WW2 he lived in Maryland and had two artificial arms:

https://familysearch.org/pal:/MM9.3.1/TH-266-11879-171-98?cc=1861144&wc=MMRW-TJ7:n1472798619

Frances
Report
9 Feb 2013 16:20

Please ignore the title. I have now discovered that the name of the person who went to the States was David Thomas Jones born 1888. His parents were Lewis (born 1864) and Sarah Jane Evans(born 1863). He and they were born in Llanarthney.
Since starting another thread this afternoon I seem to have found him on the familysearch site. He was in Scranton Pennsylvania and drafted in 1917. He had a wife and two children.
I am in the process of reading more than 9000 entries to try and find out more. Have read 30 pages so far!
As you can tell my computer skills are limited! I can't find a refining function.
I really want to find out what family remain in the States now.
I need his wife's name - I understand that she was Welsh from Carmarthen. I presume they were married before he left the U.K.
I need his children's names although I believe he had a son Arthur. His daughter in law was a librarian in Washington. Someone had a maiden name of Abel.
I would like to know where he is buried.
I would be very grateful indeed if anyone could point me in the direction of the sites I need.

Frances
Report
7 Feb 2013 22:26

Can anyone help with how I can try and find Arthur in America?

Frances
Report
6 Feb 2013 23:03

I have just realised that Pant Awel is not a house but a street and Lewis and Sarah Jane lived next door to each other!
What I have also seen is that in the 1891 census, Sarah Jane's sister is named as Esther Arthur which is a little odd. It wouldn't be today but it was then So I looked at the handwritten copy and I think that it says " Arthne" as in Llanarthney. It appears then that she adopted or was using the name to show that she came from Llanarthney. I wonder whether my grandmothers brother Arthur was also Arthne- except that he still doesn't appear and the family would not have called him Arthur as they could say Arthne perfectly well.

Marie Celeste- the combination of 6 and 5 is a bit of a conundrum because my Aunt knew nothing about a child who had died.
I am hoping that my parents will visit the graveyard in Llanarthney soon to see whether there is any mention on Lewis and Sarah Jane's gravestone.
Sorry about Aunty Mary's name-I've only just found out about the Blodwen and obviously written it down wrongly.
I am extremely grateful to you all.

MarieCeleste
Report
6 Feb 2013 22:39

If the 1911 says they'd had 6 children and 5 still alive, then is that not the 5 shown on the 1901? Unless there was a birth and death between 1901 & 1911?

It also looks like the children's names are consistent on census. Note that there isn't a "Mary Blodwen" - it seems they are Mary Jane and Nellie Blodwen.

Frances
Report
6 Feb 2013 22:28

That Sarah Jane is certainly very likely to be the one.
The later census return has the Jones family living in Pantawel Villa so it is too much of a coincidence that they would move in by choice to a house where another Sarah Jane had lived.
In that case I would have thought it very likely that they married in Llanarthney as well - this was within the Carmarthen rregistaration district.