Find Ancestors
Welcome to the Genes Reunited community boards!
The Genes Reunited community is made up of millions of people with similar interests. Discover your family history and make life long friends along the way.
You will find a close knit but welcoming group of keen genealogists all prepared to offer advice and help to new members.
And it's not all serious business. The boards are often a place to relax and be entertained by all kinds of subjects.
The Genes community will go out of their way to help you, so don't be shy about asking for help.
Quick Search
Single word search
Genes Extras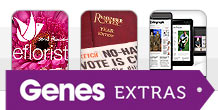 As a way of saying thank you to our subscribers, we have launched Genes Extras. You'll find exclusive competitions and discounts on family history magazines, days out and much more.
Icons
New posts
No new posts
Thread closed
Stickied, new posts
Stickied, no new posts
Where did they go after 1861?
Profile
Posted by
Options
Post Date

Lorraine
Report
8 Jun 2013 09:30

Can anyone help with finding Harry Boulton & his sister Mary Ann after 1861 as they don't appear on the census with their mother.

This is them in 1861:




1861
Ann Boulton
[Ann Williams]
Age: 45
Estimated birth year: abt 1816
Relation: Daughter
Mother's Name: Mary Williams
Gender: Female
Where born: Slough, Buckinghamshire, England

Civil parish: Kensington St Mary Abbott
Ecclesiastical parish: St Mary Abbott
Town: Kensington
County/Island: Middlesex
Country: England

Street Address:

Occupation:

Condition as to marriage: View image

Registration district: Kensington
Sub-registration district: Kensington Town
ED, institution, or vessel: 19
Neighbors: View others on page
Household schedule number: 229
Household Members: Name Age
Mary Williams 76
Ann Boulton 45
Harry Boulton 5
Mary A Boulton 4 MO






MarieCeleste
Report
8 Jun 2013 09:37

Hello Lorraine, have you looked for deaths for them?

Have you found Ann in 1871?

What were Harry and Mary Ann's birthplaces?

EDIT: Harry was born Slough and Mary Ann born Kensington.

GlitterBaby
Report
8 Jun 2013 09:38

Was Harry registered as Harry or Henry ?

Researching:
PLEASE DO NOT: send me information concerning your thread on the board as it should be posted on your request where all members can see it. PLEASE DO NOT: ask me for help with lookups as they should be placed on the boards to get the best possible result. PLEASE DO NOT: open your tree just because I have posted information on your thread as I will not be related. THANK YOU. Researching Carter, Cass and Walker in England. Researching Caven, McKill, Sutherland and Will in Scotland.

Reggie
Report
8 Jun 2013 09:55

How did you work back to these two?

Researching:
I am in no way related to anyone for whom I do lookups To acknowledge any info I may post, please DO NOT CLICK ON MY NAME. There is a large white box entitled 'Add your reply' for the purpose.

patchem
Report
8 Jun 2013 09:58

?
1871 England Census
Mary Boulton Age: 11 Estimated Birth Year: abt 1860
Relation: Servant
Gender: Female Where born: London, England Civil Parish: Kensington
Ecclesiastical parish: All Saints County/Island: London Country: England
Registration District: Kensington Sub-registration District: Kensington Town
ED, institution, or vessel: 39 Household Schedule Number: 27 Piece: 46 Folio: 6 Page Number: 6
Eleanor Carneross 44
Gustav Stifel 24
Mary Boulton 11
Source Citation: Class: RG10; Piece: 46; Folio: 6; Page: 6; GSU roll: 824568.

patchem
Report
8 Jun 2013 10:06

Harry's birth?
Births Jun 1856
BOULTON Harry Eton 3a 340

Lorraine
Report
8 Jun 2013 10:20

Marie Celeste, I've looked for a death for them but haven't found anything so far. I have Ann Boulton ( their mother in 1871 but not with either child.

Reggie: Ann Boulton is the mother of my grt grt grandfather. I have her obituary, Harry's birth cert , all census with her on & my grt grt grandfather.

Patchem: I've never come across that on 1871 before, thanks its worth looking into Yes that is Harry's birth, I have the cert .

Thanks everyone for your help so far



MarieCeleste
Report
8 Jun 2013 10:26

The Ann Boulton on the 1861 census above is attached to a tree on ancestry as the daughter of a Mary Ann Williams born 1785 Wootton Bassett, who was baptised in both Wootton Bassett and London, who married a John Shaboe 1808 in London and then (as Mary Williams) a John Dearlove in 1813 in London. Mary Ann Williams/Shaboe/Dearlove then died as Mary Williams in London in 1849. She is then shown on the 1851 census in Wales and the above census in 1861.

If Lorraine is trying to follow the same family I wish her all the luck in the world.

MarieCeleste
Report
8 Jun 2013 10:30

Lorraine - who is your gg grandfather? Is it Harry and you just haven't found him on the census?

Lorraine
Report
8 Jun 2013 10:43

I don't know how they came to that conclusion Marie Celeste as Ann's mother Mary was married to John Williams from Cornwall on 1851 census & was living with her daughter & 2 grandchildren, one of them being my gg grandfather.

My ggg grandfather alters between being Francis George or George F on census & I have as much info as I can on him, including him living with an uncle who I can't work out how he is related.


I have all details on him apart from his birth which has proved impossible to find after getting lots of certs so I am trying a different way of working out Ann Boulton & her family & wanted to see if there was a line from either Harry or Mary Ann that might help.

Thanks for the help so far I really appreciate it


patchem
Report
8 Jun 2013 15:15

Just putting that 1851 census:
1851 England Census
: Ann Boulton [Ann William] Age: 29
Estimated Birth Year: abt 1822
Relation: Daughter
Father's Name: John William Mother's Name: Mary William
Gender: F (Female)
Where born: Burnham, Buckinghamshire, England
Civil Parish: Kensington
Ecclesiastical parish: St Mary Abbots
County/Island: Middlesex Country: England
Registration District: Kensington Sub-registration District: Kensington Town
ED, institution, or vessel: 3 Household Schedule Number: 60 Piece: 1468 Folio: 108 Page Number: 12
John William 55 Buryane, Cornwall,
Mary William 55 Wodersbart, Wiltshire,
Ann Boulton 29
Wm Geo Boulton 8 Kensington
Geo F Boulton 4 Kensington
Source Citation: Class: HO107; Piece: 1468; Folio: 108; Page: 12; GSU roll: 87790-87791.

It appears to say that she is unmarried. Who married who, and when?
Thanks

Added:
Is this the correct census, as the ages of Mary and Ann are significantly different?

MarieCeleste
Report
8 Jun 2013 15:23

The 1851 gives 8 year old son as William Geo but I thought this was interesting:

London, England, Births and Baptisms, 1813-1906

Name: William John Boulton
Record Type: Baptism
Baptism Date: 12 Mar 1843
Mother's Name: Ann Boulton
Parish or Poor Law Union: St Mary Abbots Church, Kensington
Borough: Kensington and Chelsea
Register Type: Parish Registers

Image says born 23 Sept 1843 but think they must mean 1842. Doesn't say anything about illegitimacy but no father mentioned.

Lorraine
Report
10 Jun 2013 08:03

Yes Patcham that is the correct census, Ann has on her obituary that she was the widow of Charles Boulton who died in the Crimean War & it states father of George F on his marriage cert is Charles Boulton a soldier but there doesn't seem to be any sign of a marriage that I can find.

Marie Celeste I keep being drawn to the birth of a William John Boulton in 1842 too but am trying to find something that will help me more as it doesn't help that George F birth can't be found to match it against.

I will keep looking & thanks again

patchem
Report
12 Jun 2013 07:05

Is this the wrong George F marriage, as this states his father is William (deceased)?

George Francis Boulton
Estimated Birth Year: abt 1848
Age: 23 Bachelor, Coal Porter
Spouse Name: Emma Adkins
Spouse Age: 23
Record Type: Marriage
Event Date: 26 Nov 1871
Parish: Barnsbury St Andrew
Borough: Islington
Father Name: William Boulton
Spouse Father Name: Robert Adkins
Register Type: Parish Register

Witness: Mary Ann Boulton

Lorraine
Report
12 Jun 2013 09:05

Hi Patchem

Yes he married Anne Gibbs 1st in 1866 & then Eleanor Silvester in 1924. Have no idea why he waited until 1924 to marry Eleanor as he was with her at least from 1873 as their 1st child was born then. I haven't found a death for his 1st wife either & haven't found her living with her parents. This has to be the most confusing family ever & it unfortunately it happens to be mine.