Genealogy Chat
Welcome to the Genes Reunited community boards!
The Genes Reunited community is made up of millions of people with similar interests. Discover your family history and make life long friends along the way.
You will find a close knit but welcoming group of keen genealogists all prepared to offer advice and help to new members.
And it's not all serious business. The boards are often a place to relax and be entertained by all kinds of subjects.
The Genes community will go out of their way to help you, so don't be shy about asking for help.
Quick Search
Single word search
Genes Extras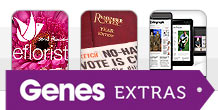 As a way of saying thank you to our subscribers, we have launched Genes Extras. You'll find exclusive competitions and discounts on family history magazines, days out and much more.
Icons
New posts
No new posts
Thread closed
Stickied, new posts
Stickied, no new posts
WHO ARE WE LOOKING FOR IN LEICESTER (NO NINETEEN
Profile
Posted by
Options
Post Date

littlelegs
Report
24 Feb 2009 18:45

hi mike thank you very much all the best lorraine

Researching:
allsorts

Gary
Report
24 Feb 2009 23:35

Have heard a certain Mike is the man when it comes to looking things up in Leicestershire and have been given this address - hope I'm right. Looking for a Francis Webb born in Hinckley in 1852, any help would be great

Gary

Gary
Report
24 Feb 2009 23:58

Sorry being stupid - ignore the last one - Francis Webb born Hinckley but 1752 not 1852 - sorry...

Gary

Mike. The Leicester Lad.(GC)
Report
25 Feb 2009 23:54

(¯`*•.¸ (¯`*•.¸F.A.O. LYNNE…… UP NORF ¸.•*¨) ¸.•*¨)

Greeting's again. Lynne.

Sorry but trawled all the main Parish Churches at the time both in Loughborough and Whitwick for Harry's Marriage …….
But I'm afraid I drew a blank….
Just wonder if it was a Registry Office Marriage ?

I tried to come from a different angle via Baptism records for again Loughborough drew a blank and Whitwick…….

Oh My….The plot thickens ! ! ! …….

Fiche No'. D E 1760./ 21.
St: John's Parish Baptism register
WHITWICK.

Reads thus :-

Baptisms :~ 1895.
Page, 118.

Entry No'. 944.Dated. 22.nd. December. 1895.

Harry. SON of ABEL & SARAH Hall.
Cadman Street. Whitwick.
Collier.

Entry No'. 945.Dated. 22.nd. December. 1895.
JOSEPH. SON of ABEL & SARAH Hall.
Cadman Street. Whitwick.
Collier.

Cadman Street was the Street Abel & Sarah was living in on the 1891. Census returns

SO.. Was Abel telling " Porkies"….. on the 1901. Census returns ?
because they could not have children of their own as part of the tenancy
of the Pub " The Boat Inn " Silver Street...

Anyway will continue the search next time I'm at the Records Office
I'll have a look at Loughborough Baptisms this time.

MIKE.


Mike. The Leicester Lad.(GC)
Report
26 Feb 2009 00:32

Greeting's & Welcome. …Garry.

" Now who's been telling tales about me out of School then ? " ….loll. :0)))

I have given it a whiz around my database but drew a blank……

I do not know what information you are hopping to get from this early event ?

But I usually find they are very basic I call them " One Liners "

They go along theses lines :~

ANNO DOMINI BAPTISMS : ~ 1752.

Francis, Son of X & Y Webb….Bapt. with date within that year.

But I can but give it a go at the Records Office next time I'm there

MIKE.


John
Report
26 Feb 2009 07:50

Greetings Mike
Thanks to the 1911 census I'm back to the research after a break.
Seeking any details of Death or Burial of a child born in Hinckley in Sept 1907, The child may have been stillborn and was the twin of George Stephen ARMER. Any info would, as always, be much appreciated.
Jon O'Kent



Gary
Report
26 Feb 2009 08:03

Thanks Mike

yes - I gathered it probably would be a one liner - just really wanted a couple of parents' names to go on from - don't waste a lot of time trawling through the records at the records office though - I've done pretty well to get back that far

Once again thanks

Gary

Lynne From Up North !!
Report
26 Feb 2009 18:47

Thanks Mike for taking the time to look.

Regards

Lynne

Researching:
Balmer, Hullock & Dewis in Westmorland - Riley in Cumberland

Sarah
Report
3 Mar 2009 14:19

hi mike

can you lookup up a marriage plz of a

john clarke b abt 1830 to a mary (unkown)
marriage about 1851 sept woodhouse leicester

many thanks

Mike. The Leicester Lad.(GC)
Report
5 Mar 2009 01:19

(¯`v´¯)
`*.¸.*´
¸.•´¸.•*¨) ¸.•*¨)
(¸.•´ (¸.•´ .•´ ¸¸.•¨¯`•.• F.A.O. DEWDROP. ……

St: Paul's parish Church.
WOODHOUSE EAVES.

Page. 22.
Entry No' 43.
14th. September. 1851.

John Clarke. Full age. Bachelor. Frame Work Knitter..
Abode. Woodhouse Eaves.
Father. :~ Thomas Clarke. Frame Work knitter.

Mary WHATNALL. Full age. Spinster. Woodhouse Eaves.
Father :~ William Whatnall. A Potter.

Married by Banns. By R.W. Close. Curate.

John signed by own signature.
Mary by her Mark …X

In the Presence of :~

Robert Vestty. Mary Clipson. By her Mark …X

MIKE.

...........................
........ ~ .....~ ......
......( o )...( o )......
--o000--(_)--000o---



Anne
Report
5 Mar 2009 01:52

Hi Mike,
I hope you can help me. Marriage details of William Flint and Anna Maria (Maria Anne) Brumley. Beauchamp Kibworth abt 1821 and if there were any other details for this.
Any information on a Sarah Ann Wakely with surname variations parents Francis & Elizabeth. Census says born Swithland.
The death of Francis Wakerley he seems not to be registered. He died between 1841- 1851 census.
Then if there is any more on the Flints it might be a big ask. It would be greatly appreciated.
Thanks for your time

Anne

EileenMD
Report
5 Mar 2009 15:13

Hello Mike - I hope you can find a birth/baptism of a William H/Ogden about 1817 in Leicester. His father's name was James H/Ogden and I would like to find his (William's) mother's name too.

In about 1819 the family were living in Bond Street, Leicester and, if possible, it would be nice if you could find William's siblings.
Many thanks for your help, Eileen

Researching:
Suffolk, Essex, Leicester, London

Mike. The Leicester Lad.(GC)
Report
5 Mar 2009 22:20

(¯`v´¯)
`*.¸.*´
¸.•´¸.•*¨) ¸.•*¨)
(¸.•´ (¸.•´ .•´ ¸¸.•¨¯`•.•F.A.O…….ANNE.

Greeting's & Welcome……Anne.

Temp Loan Fiche 9.
St: Winifred's
Kibworth Beauchamp.
Page. 29.reads thus :~

MARRIAGE. :~
Entry No'. 87.

William Charles Flint. Bachelor. Of the Parish of Marston Trussell
in the County of Northamptonshire.

ANNA MARIA BRUMLEY. Spinster. Of this Parish.

Married in this Church by Banns This Nineteenth Day of November.
One Thousand Eight Hundred and Twenty One.
By me :~ John Goodman. Curate.
Both signed the register in their own signatures
N. B. ……….. Anne Maria signed as : ~ BRUMBLEY.

In the Presence of :~
Ann Lundal. Jno Clark.

I need to give the parts of your inquiry some digging about & Thoughts.
But I see that William came from Northamptonshire there fore I'll not have records of any events ....Sorry.
And get back to you.

MIKE.



Mike. The Leicester Lad.(GC)
Report
5 Mar 2009 22:59

(¯`v´¯)
`*.¸.*´
¸.•´¸.•*¨) ¸.•*¨)
(¸.•´ (¸.•´ .•´ ¸¸.•¨¯`•.•……F.A.O…….EILEEN.

Greeting's & Welcome……… Eileen.

Just using the resources I have to hand & the information you gave
Here is my closest matches ……..

MARRIAGE. :~

James Ogden. ~ Sarah FINCH.
St: Martin's Parish Church.
LEICESTER.
1802.( No Dates yet…)
By Banns.

ALL Saints Parish Church. Leicester
Baptisms to James & Sarah Ogden :~

1804.
James. Born 6th. March. Son of James & Sarah Ogden…Bapt. 7th. March.

1806.
William. Born 20th. July. Son of James & Sarah Ogden. Bapt. 23rd. July.

1814.
Sarah. Daughter of James & Sarah Ogden……Bapt. ..2nd. April.

But I need to check the above out against the Parish Registers
held at the Records Office next week…..
Hopefully I'll get the address & Occupation of James so to match up…….
And report back on this thread with my findings……

MIKE.


Anne
Report
5 Mar 2009 23:03

Thanks Mike,

I dont know what we would do without people like you.
Probably tear our hair out.
Williams son John Flint married Sarah Wakley there about 1849. Dont worry about the Northamptonshire side. I think they were travelling between tthe two. There is one child that I know of for them Eliza Jane born march 1850 Leicester. Any information on them would be great.
Cheers
Anne

EileenMD
Report
6 Mar 2009 14:33

Many thanks for that Mike. I am not sure that is the correct one as 'my' William was said to be the youngest of five children. Also the date of 1806 is much earlier than I was expecting.

However, if you can prove that William's father James was a Hatter (sorry forgot to mention this fact) - then that clinches it!

I appreciate your time spent on this - Eileen

Researching:
Suffolk, Essex, Leicester, London

Sarah
Report
6 Mar 2009 16:59

thanks mike for the info

could you lookup a thomas clarke b abt 1826 woodhouse leicester parents i think were thomas and ann (nee harriman ) brother to john clarke

many thanks

Mike. The Leicester Lad.(GC)
Report
7 Mar 2009 01:14

(¯`v´¯)
`*.¸.*´
¸.•´¸.•*¨) ¸.•*¨)
(¸.•´ (¸.•´ .•´ ¸¸.•¨¯`•.•……F.A.O…….DEWDROP.

How sure are you that it's Thomas Clarke & Ann née Harriman
Being the parents of Thomas b c 1826. in Woodhouse.

Thomas Clarke & Ann Harriman Married in 1811
at St Mary's – in – the Elms Parish Church Woodhouse
By Banns.

There fore 1826 is 15 years after Thomas & Ann got married
So would they still be producing children ? .

More likely to be the following :~

1826.
St Mary's – in – the – Elms Parish Church Woodhouse.

Thomas Son of George & Sarah Clarke …Bapt 30th.?
Sorry I can not read the Month.

George's Occupation was a Labourer. Living in Woodhouse Eaves.

George Clarke Married ......Sarah SOARS
1825.
St Mary's - in - the Elms Woohouse

MIKE.


Sarah
Report
7 Mar 2009 15:00

hi mike

im not sure about thomas but if you could find john clarke b 1830 woodhouse leicester and find his siblings his parents were thomas and ann

many thanks

Chrissie2394
Report
7 Mar 2009 22:56

Hi Mike,

I would really appreciate your help, I am trying to confirm who the parents and siblings were of Elizabeth Potts who was baptised on 1/9/1811 at Breedon on the Hill. I have a copy of the parish record which appears to read Elizabeth Pea l d of Hannah Potts. The copy isn't very good. Others who have read it think the middle name was Pearl. I thought she was illegitimate as no father was mentioned.

On finding the extracted record on Familysearch there are no parents name nor mention of a middle name. When I click on the batch number for baptisms with the Potts surname there are 15 results which include:

Mary Potts 17th Nov 1811
Mary Pott 5th May 1814 mother is Hanah Pott
Mary Pott 29th Sept 1816 John Pott and Hanah
John Potts 8th Aug 1814 John Potts and Hanh

The other entries are late 1700's. My Elizabeth was married to John Dakin on 17th Sept 1832 at Breedon on the Hill, Is there any way of finding out who her parents and siblings were? Hope you can help.

Thanks

Chris



Researching:
Photo is of my nan celebrating her 102nd birthday with her gt gt granddaughter.