Genealogy Chat
Welcome to the Genes Reunited community boards!
The Genes Reunited community is made up of millions of people with similar interests. Discover your family history and make life long friends along the way.
You will find a close knit but welcoming group of keen genealogists all prepared to offer advice and help to new members.
And it's not all serious business. The boards are often a place to relax and be entertained by all kinds of subjects.
The Genes community will go out of their way to help you, so don't be shy about asking for help.
Quick Search
Single word search
Genes Extras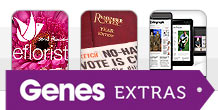 As a way of saying thank you to our subscribers, we have launched Genes Extras. You'll find exclusive competitions and discounts on family history magazines, days out and much more.
Icons
New posts
No new posts
Thread closed
Stickied, new posts
Stickied, no new posts
Tip of the day...Fact or fiction?
Profile
Posted by
Options
Post Date

Kense
Report
29 Oct 2014 08:46

Nudge

Kense
Report
27 Oct 2014 07:57

Nudge

bob
Report
13 Nov 2012 19:58

Further to my last message, I should have said the year of his birth. Bob

bob
Report
13 Nov 2012 19:54

I went with a friend to register the death of his son-in-law. When we took a copy home his widow informed us that we had got the year wrong. We went back to the Registrar, who told us it couldn't be altered. Bob

Elizabeth2469049
Report
13 Nov 2012 14:07

Another risk of checking confirming records. I have an inherited family tree which as it goes back to 1450 is a bit short of documentary proof, though where I have been able to check it has been pretty good - the odd hiccup! So when l found many of the same names on an Ancestry tree I wrote asking for sources only to find that his source was me! - the hazards of having a Public Tree. Since then the same names crop up elsewhere on Ancestry, I suspect from my tree. I am reluctant to give up my public tree as I have had some very useful contacts through it.

Researching:
Dominy & Croom in Dorset, Rutherford & McElhatton in Northumberland. Dendy and Thorp

Jonesey
Report
13 Nov 2012 08:36

3 years on and it is still a very valid question to ask.

Researching:
Don't put off until tomorrow doing what you can do today. If you like doing it today you can do it again tomorrow. Be kind to your children for it is they who will decide which care home you end up in.

AuntySherlock
Report
20 Nov 2009 22:22

And I was given an old bible which contained several flimsy sheets of paper. I never paid much attention to it. One day I looked at this dusty book which sat on a shelf. It contained a family history written onto the end papers of the bible, and on these pieces of paper. My family history, tracing ancestors back through my grandmother to Bristol 1756.

Since becoming involved in this researching I have cross checked the information and it is all accurate. I still have no idea who actually wrote the information, or how they managed to find out all the details. The bible seems to date from the early 1900s. This will be the third side of my triangle.

Ozibird
Report
20 Nov 2009 21:53

And never forget to google! Google their names, their place of birth, place of residence, their parish. It's amazing what comes up.

One of my 3rd pieces of evidence was an insurance document at National Archives that named my ancestor, his address and his occupation. I only had his name and occupation from his daughter's marriage cert and his name from her parish record baptism. The address was the same one as she was at in 1841. He died prior to 1841.

Another 3rd piece was from a court case at the old Bailey that named another ancestor and his address. He was a witness in a trial.

Another ancestor came up in Parish Minutes as being given some money towards his teaching pupils. He was in the 1841 census as a schoolmaster.

All very useful information.

Ozi

Madmeg
Report
20 Nov 2009 21:39

Well, we have to have a sense of reason about collecting evidence. I assume that my mother is my mother cos I have a birth certificate, and she and the family confirm that she gave birth to a child on my birthday, and was ill for about a month afterwards. I assume also that my father was the lovely man I lived with till I married and if anyone dares suggest otherwise they will regret it for the rest of their lives!

But when you get further back into the unknown, then you must take more care. At the very least you want certificates. Birth and marriage, and possibly death. Census records. And Parish Records.

NEVER assume that anything that someone else has found for you is true. Use it as a starting point only. And a great starting point.

But when you get to putting your tree together for posterity, remember that triangulation rule. You want at least:

- a birth record, preferably the certificate
- a marriage record, preferably the certificate or even better perhaps an entry in a church register
- a death certificate
- evidence on census records to tie it all up.

If you are looking at people born slightly before registration, you need at least:

- census records
- marriage and death records
- IGI records
- original parish registers

If they are older than that, try:

- IGI records
- other sources if available
- burial records

Ozibird
Report
19 Nov 2009 08:11

I also believe in 3 pieces of evidence. I was told to do that in my very early years of researching. The further you go back the harder it is, but oh, the satisfaction!

Ozi

GranOfOzRubySlippers
Report
19 Nov 2009 01:44

I have been pulled up by people following the same lines as me, I love it when they say I am wrong. WHY? Usually I have not yet purchased the cert, and the information is slightly off, they have saved me money by not purchasing the wrong certificate. I have gone down many wrong tracks and have many useless certificates. My money is better spent on the correct information.

Gail

SylviaInCanada
Report
19 Nov 2009 01:08

I've always believed that one can only be certain of the mother of the child





......... but then of course you do have cases where the grandmother claims to be the mother of the baby ............... thus allowing her daughter to appear to be an "innocent" young girl




I'm not sure that even marriage certificates can always be trusted

what about fathers who don't exist, or don't have the names or occupations claimed for them

wrong ages of bride and/or groom


etc etc




sylvia

Researching:
Springtime, and the cherry trees are in full flower ........................................ ......... ............................................................ To help us and to get better results, please post as much detail as you can, especially name, date(s) and place. Also say what you already know.

AuntySherlock
Report
18 Nov 2009 22:42

I have also had it pointed out to me that of historic BDM records only the marriage records can be fairly trusted. Surprising!! It goes like this.

With the birth the mother and father can coerce to present incorrect information.

With the death. Well everyone knows that death certificates are highly suss and only as good as the information given by the informant.

Marriage certificates are about the safest bet. The reasoning behind this is that in order to falsify those records the bride, groom, their witnesses and generally both sets of parents and the minister or celebrant, all have to agree to what will be presented as the facts.


I would have thought that birth certificates were the most accurate but obviously research has shown that this might not be the case.

SylviaInCanada
Report
18 Nov 2009 22:36

Hi Margaret

I agree with you on that .... having been involved in research myself!


the problem for me on here is that people so often think that if they get 3 responses showing child (a) with parents living in xxxxx ....... then that is absolute proof


even if all 3 responses are the same from the, eg, 1851 Census


thta isn't proof ....... it's 3 people having found the same piece of evidence!


I even saw someone today saying they must accept something because they now had had the same bit of information from several others.


Now if the "same bit of information" is actually from several different sources showing that James and Joan are the parents of Jane ..... then that's fine.


But I think it was in fact several helpers finding the same information from the same place ................. which is not proof that it is correct!.




sylvia

Researching:
Springtime, and the cherry trees are in full flower ........................................ ......... ............................................................ To help us and to get better results, please post as much detail as you can, especially name, date(s) and place. Also say what you already know.

Madmeg
Report
18 Nov 2009 22:05

Auntie Sherlock and everyone else, a standard research approach for University researchers is known as "triangulation" which means getting evidence from 3 different sources before assuming any accuracy. Obviously 3 sources isn't always possible, but 2 is the minimum.

Margaret

SylviaInCanada
Report
18 Nov 2009 21:00

Thanks AuntyS




We have an interesting problem with my gt grandfather's family


Samuel SCHOFIELD is born in 1846 in Oldham. 1851 not initially found (it was among the damaged records), so all I knew was that mother was Sarah from the 1861 Census, father dead

Some indication from the 1841 that her husband MIGHT be Benjamin ....... later proved when the 1851 was deciphered and put on line.


Well, that has all been sorted out now, especially after I got in touch with a Hot Match.


BUT what we (or Ann) found was that Benjamin came from Birstall Yorkshire ........ and the family was originally Scholefield.

Only Benjamin changed his name to Schofield, and then kept it that way through the generations.

One other of Benjamin's siblings is also found in Oldham as Schofield, but then one of his sons later changed back to Scholefield


so we have this connection to several lines ........ and we each think our spellings of the surname is the correct one!!


If only we could discover exactly when and why the spelling was changed. It might even have been Benjamin's father who moved to Oldham and changed it (a little bit of unsubstantiated evidence there!)



sylvia

Researching:
Springtime, and the cherry trees are in full flower ........................................ ......... ............................................................ To help us and to get better results, please post as much detail as you can, especially name, date(s) and place. Also say what you already know.

Elizabeth2469049
Report
18 Nov 2009 20:57

It is not always possible to check the information - but when it seems likely I do add it - and I always give the source in my notes - e.g." place and date of death from X's tree", or even "family rumour".

I've had the same frustration about no replies - on Ancestry I recently wrote to someone who had confused names in a census - two James father and son - how they thought James aged 10 in 1881 was identical with James born 1844 I can't think! but no acknowledgement though the Ancestry note says they have visited the site in last wee4k.

Researching:
Dominy & Croom in Dorset, Rutherford & McElhatton in Northumberland. Dendy and Thorp

AuntySherlock
Report
18 Nov 2009 20:04

Sylvia. That is a most pertinent point. I have heard a story from elsewhere where a well meaning volunteer (and quite truthfully I have no idea of which site they were on), provided the researcher with information on a family question.

The volunteer got it wrong and the researcher went on her merry way branching out with the wrong family.

No matter what the source of your information. Check and double check.

I am also wary of when I find information in other trees which conflicts with mine. This is another occasion when you need to find more than one source of confirmation. Don't immediately assume that yours, or theirs is correct.

SylviaInCanada
Report
18 Nov 2009 19:35

I also used to make a point that people should not take at face value the information that WE find for them on here.


Some of them seem to think that if two helpers find the same person in the same census, and post that information ...... that amounts to verification


For 2 or 3 years, I used to add a statement on all of my such postings that my information MUST be checked with other sources, especially certificates.


I got fed up with posting that sentence .

................. and with the feeling that no-one was paying any attention to it because someone else had found the "same" information, so they had their "proof"!




sylvia

Researching:
Springtime, and the cherry trees are in full flower ........................................ ......... ............................................................ To help us and to get better results, please post as much detail as you can, especially name, date(s) and place. Also say what you already know.

AllanC
Report
18 Nov 2009 14:41

Further to Kate's comment, some "aunts" (and "uncles") may not have been related at all! It was common for children to address or refer to adult friends of the family as "Aunt Mary", "Uncle Fred", etc. Simple Christian names would have been shockingly disrespectful but "Mrs Smith" etc too formal.
Several people I first knew as aunts or uncles were not in fact related - and it felt quite strange in adult life making the transition to simply using their Christian names.