Genealogy Chat
Welcome to the Genes Reunited community boards!
The Genes Reunited community is made up of millions of people with similar interests. Discover your family history and make life long friends along the way.
You will find a close knit but welcoming group of keen genealogists all prepared to offer advice and help to new members.
And it's not all serious business. The boards are often a place to relax and be entertained by all kinds of subjects.
The Genes community will go out of their way to help you, so don't be shy about asking for help.
Quick Search
Single word search
Genes Extras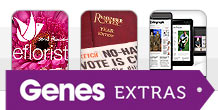 As a way of saying thank you to our subscribers, we have launched Genes Extras. You'll find exclusive competitions and discounts on family history magazines, days out and much more.
Icons
New posts
No new posts
Thread closed
Stickied, new posts
Stickied, no new posts
Birth or Marriage Certificate - Which is best?
Profile
Posted by
Options
Post Date

JohnDoe
Report
29 Jun 2013 13:01

Ok. Yesterday I ordered the Marriage Certificate. Once I take a look into that then I will think of further purchases.

SylviaInCanada
Report
28 Jun 2013 21:54

I'm still in a state of wonderment that you can get back to the 1500s, using ONLY your cousin's work. You should only be taking that information as "advisory", and then re-doing it all.


Cautionary tale ...................

OH is is half Welsh, on his mother's side.

I know very little about Welsh names (places and people), or history.

OH has a cousin who has a PhD in history, has taught history for 40-odd years at English universities, and who specialises in the history of manor houses in Brittany.

He said he had one half of OH's maternal tree back to the 1300s, and offered to give it to me ............... but only after I "had proved to him that I was serious, and that I did my own research "properly" ".

It took 2-3 years for him to be convinced that I did know what I was doing .......... well. I have never actually met him face-to-face, only exchanged Christmas cards for 45 years


Have I ever been disappointed!


I have pages of his research into that family going all the way back to the 14th century, and including some very well known names in Welsh history, and he did say that he had done most of the work 25-30 years


BUT ........ I have been slowly going back with the lines that involve OH, checking every detail very carefully, and .............................

I have found serious mistakes in every generation ............. and I am only back to the late 1800s

He even had wrong (very wrong) birth dates for many of his own cousins, aunts and uncles, not to mention for his own grandparents.

I have the birth certificates as proof :-D :-D


He says he visited all the Parishes, has seen original documents, etc etc

.......... and I can only do my research on the internet because I live overseas.

But I dare not trust any more of his work as he gets farther back beyond what I have seen so far.




If asked which certificate I would buy ........

.......... I consider the marriage certificate to be less reliable than the birth certificate, and the death certificate to be the least reliable of all.


The information on too many of the fathers is wrong ............... from fathers declared dead when they are alive or not declared as dead when they are, false names provided, either because "dad" disappeared when child was too young to remember or because child was illegitimate and a name was made up (or taken from grandfather / relation / local well-known man, etc)


I've been on too many wild goose trails when trying to find information for people convinced that the information on a marriage is correct.

ideally, you need both the marriage, and the birth certificates.

Researching:
My father, ca 1926/1927........................................ ......... ............................................................................... To help us and to get better results, please post as much detail as you can, especially name, date(s) and place. Also say what you already know.

JohnDoe
Report
28 Jun 2013 19:45

Thanks for the help again.
But, my distant cousins have backed up and found evidence.
One in particular (not naming due to privacy) has I assume been researching his/our history for maybe 30 odd years. He stated to me that he has been to various family history centres, churches to see official documents and much more. He has OVER 97,000 relations on his tree alone. It will be hard, but you need to be network savvy as thats how I have found my history. I am only young and have only been doing it 3-4 years but thanks to my computer savvy, communication and networking, I have managed to find distant cousins who share vital information.

Potty
Report
28 Jun 2013 16:31

DC

I can find what I think is the baptism of my ancestor, and a marriage for his parents, and, from middle names of some of his children, I am pretty sure I have the right parents. It is the grandparents I am not sure about. Going back I have wills which take the line back to early 1700s. If I could find just one more will to tie up the father and grandfather, I would be certain I have the right line but there were a few families with the same surname and Christian names.

DazedConfused
Report
28 Jun 2013 16:17

Potty - surely if you find someone who you are 100% certain is your ancestor on the 1841 census then depending on their age if over 41 you are back into the 1700's. Which is about as far back as I have gone or wanted to go.

For me it is approximately 1760.

But as said before, unless nobility or family remained in same village/town/hamlet for 100's of years, all children were baptised/christened and all couples married in the local church then how can you be 100% certain that any names you find are yours. As the vast majority of us are of 'poorer' stock then our ancestors are the least likely to have ever been recorded, And the farther back you go the least likely to have married.....

Researching:
We are all of us in the gutter, but some of us are looking at the stars. Oscar Wilde New avatar, my dad age about 3/4 months, could have been worse, it could have been the awful nude on a rug!!

Potty
Report
28 Jun 2013 15:32

Try Google - there are a few hits.

JohnDoe
Report
28 Jun 2013 15:22

So I will have to get the marriage certificate then, can I then find BMD indexes for Belgium to see the marriage of the Grooms parents too???

Potty
Report
28 Jun 2013 15:21

I agree with NanaSue, how has your cousin proved the lines so far back (unless you come from a noble family). The furthest I can go back on one line with definite proof is 1801. I am pretty sure I can take the line further back but how can I prove that an 1801 baptism is of my ancestor when I have no other documents naming his parents? And how can I prove that the parents on that baptism are the couple whose marriage I have. I have marriages but father's weren't named in most (if not all) parish records until 1837.

One very experienced lady who used to post on here (OldCrowHolden - I think it was) never added anyone to her tree without 3 pieces of documentation.

Inky1
Report
28 Jun 2013 14:00

At the moment I write this DJH has made 76 posts since Aug 2011. That is not a lot?

If you want to see how many posts can be made:

http://www.genesreunited.co.uk/boards/board/general_chat/thread/1327143

Again at this moment one member on that thread has made 57,416 posts since Feb 2007. I make that an average of just under 25 every day.

As to the question: I don't think there is a right/wrong answer. Over the years I have collected nigh on 200 BDM certificates. Some of them were completely wrong, but there are occasions when that is the only way to prove/disprove a link.

JohnDoe
Report
28 Jun 2013 10:55

Not related to this post whatsoever, I make a lot of posts therefore there is more information, but this post is just asking what certificate is better to get...

Chris Ho :)
Report
28 Jun 2013 10:53

http://www.genesreunited.co.uk/boards/board/ancestors/thread/1327046

(anything to do with above?)

Chris :)


JohnDoe
Report
28 Jun 2013 10:50

Thank you all for the people who are actually helping, I think i will get the Marriage Cert and see where we go there...

For the people who are dopey - Proven research with sources have been traced by my distant cousins. One ancestor goes back to 1500s, and another goes back to 1500s, others ancestors go back to 1600s, others go 1700s, and there are other direct ancestors that I AM STILL IN PROGRESS OF SEARCHING FOR, thats why I am looking for the lineage of a particular person in my tree who is ANOTHER ONE of my great-grandparents... JEEZ. You do realize that the human family tree is HUGE...

CupCakes
Report
28 Jun 2013 10:21

Everything I wanted to say has been said so I'll just keep watching. I'm also curious how somebody can go back to the 1500 and prove it.

Reggie
Report
28 Jun 2013 09:58

How have you got back to the 1500's without having already found which certs are best?

That apart, the answer, really, is that it depends on the circumstances...............which info you are unsure of in any given case

If it's the child's parents...............buy the birth cert, if one exists, and pre-1875 there may not be one.................if it's the parentage of a couple getting married, buy the marriage cert, so that you can look for the family in censuses, then trace the marriage of the parents.......assuming there was one.

As you will obviously have found out, not all 'fathers' named on marriage certs actually existed

And, of course, many births were illegitimate, so the father can't be traced.

Researching:
I am in no way related to anyone for whom I do lookups To acknowledge any info I may post, please DO NOT CLICK ON MY NAME. There is a large white box entitled 'Add your reply' for the purpose.

Graham
Report
28 Jun 2013 09:55

What I did was to start with my parents marriage certificate (since I knew who my parents were). That told me their fathers names. I then got my parents birth certificates which gave the names of all my grandparents. If the fathers name had been wrong on one of my parents birth certificates, then I would have known I had the wrong birth certificate. Having the right birth certificate is essential since it tells you the persons parents. One way of knowing you have the right birth certificate is to compare it with the marriage certificate. So I would say both types of certificate are important.

Researching:
Gnomenculture

Gwyn in Kent
Report
28 Jun 2013 09:49

Not sure if I am understanding correctly,......

You know person A married person B and you don't know whether to order their marriage certificate or either birth certificates of A and B....?

I would order their marriage certificate.
There just might be someone with the same name, you could order the wrong birth certificate, then follow that line only to find out years later that it is not correct.
If there was a church marriage, you might find a copy of the register at the archives local to that area. After 1837 the information there would be identical to a GRO certificate.

Gwyn

littlelegs
Report
28 Jun 2013 09:14

hi djhill
if they had children and you know that child is connected to you then i would do the birth cert first so i knew i was doing the right parents

hope this helps
take care
lorraine

Researching:
allsorts

JohnDoe
Report
28 Jun 2013 08:59

I want to order a certificate to try and trace more ancestors but which ones can give you better leads? On the Marriage Cert it can stated the fathers names for both but not the mothers... But the Birth will show the father and mothers name but that would be of one person.... Can't decide!