Genealogy Chat
Welcome to the Genes Reunited community boards!
The Genes Reunited community is made up of millions of people with similar interests. Discover your family history and make life long friends along the way.
You will find a close knit but welcoming group of keen genealogists all prepared to offer advice and help to new members.
And it's not all serious business. The boards are often a place to relax and be entertained by all kinds of subjects.
The Genes community will go out of their way to help you, so don't be shy about asking for help.
Quick Search
Single word search
Genes Extras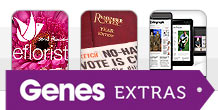 As a way of saying thank you to our subscribers, we have launched Genes Extras. You'll find exclusive competitions and discounts on family history magazines, days out and much more.
Icons
New posts
No new posts
Thread closed
Stickied, new posts
Stickied, no new posts
Family History - DANGER!!
Profile
Posted by
Options
Post Date

Merry
Report
30 Apr 2006 09:14

See below in a mo.......

Merry
Report
30 Apr 2006 09:15

I looked in the mirror this morning (bad idea!) and GOOD HEAVENS! I am turning into my granddad.....Have I been doing too much research? Is it the gentle smiling face? Noooooo Is it the fantastic artistic ability? Noooooo Is it the lovely black hair? Noooooo It's the Dennis Healey eyebrows.................Aaagggghhhhhhhhhh!!.................LOL **Rushes for the tweezers!** Merry

Michaela
Report
30 Apr 2006 09:18

be grateful.......he could have had a beard!!! the cleanly shaven Michaela

Unknown
Report
30 Apr 2006 09:39

Do you do that often Merry..............look in the mirror???? pmsl!!!

Merry
Report
30 Apr 2006 09:43

No, it was by mistake Rebs......the mirror usually cracks, and I can't afford to keep getting new ones when I want to by certificates instead! Mostly I have the bad bits from everyone: Granny's nose Father's chin Granddad's eyebrows Prince Charles' ears........Oops, sorry, he's not my relation (but you might think he was! LOL) Merry

Unknown
Report
30 Apr 2006 09:49

Not to worry hon, at least there's no doubt as to your parentage. lol!!! *wonders if Prince Charles ears can be used to monetry advantage-useful for purchasing certs etc.*

Merry
Report
30 Apr 2006 09:54

Thanks Rebs! I'll send him an email........ **Dear Charlie, If you know what's good for you, please send me 1,000 cheques made out to the Superintendent Registrar, before the end of the week......Your Distant Cousin, Merry** That should do it...... Merry

Phoenix
Report
30 Apr 2006 09:59

Far better that the rest of you don't know what I look like, or if we met you'd be staring at each feature, thinking hmm, see what she meant. (I have one friend who could cut bread with her nose and I'd swear I hadn't noticed till she mentioned it.) All I will say is that a kind distant cousin sent a photo of one of my dad's great grandfathers, and now I know who to blame.

The Ego
Report
30 Apr 2006 10:07

Talking of looking like the royal family- have you heard about the bloke from Newcastle (or close) who is claiming to be the lovechild of Prince Philip from the time that he was at sea about 60 years ago?.....he doesnt half look like him,if you look at the critical features,and was told by his gran and aunt that it was kept a family secret for years and that he came from somewhere special-he has had private meetings with royal secretaries about it aswell !!!

JoyDean
Report
30 Apr 2006 10:15

*** turning all mirrors face away now :-) ***

Researching:
Sadd - Suffolk, Newton - Buckinghamshire, McCusker - Galway and Fermanagh, Brooks - London, and many others

Paul Barton, Special Agent
Report
30 Apr 2006 10:15

Years ago we put on a comedy sketch show at work and I dressed up in drag for one of the sketches. Horror of horrors.... I looked just like my mum!

Heather
Report
30 Apr 2006 10:18

It is scarey isnt it, even when I look down at my hands typing this, I see my mums hands - the little brown patches are starting to appear aswell! I can see myself in my dad and my mum. And when I scream hysterically at the youngest boy I can hear my mum too. Its strange how you can be a mix, as Im defo an Hanson in height and build but people say they can hear my dad (Dixon/Cheal)in my tone of voice and see him in my mannerisms. Its a miracle.

The Ego
Report
30 Apr 2006 10:21

Meeting my birth father a few years ago was very spooky,and after seeing a picture of his father-I made sense-the first time i had seen anyone that looked like me.....bizarre.

Unknown
Report
30 Apr 2006 10:22

LOL Heather, you're turning into your parents. Beyond help now. *shakes head sadly*

Heather
Report
30 Apr 2006 10:28

In some ways its a comfort, isnt it? In others - SCREAM - you feel you have no control over your reactions as you are a copy of them.

Linda in the Midlands
Report
30 Apr 2006 10:30

I look like my Dad, but since having teenagers I sound more like my Mom 'Turn that row down, you can't call THAT music' 'if you fall off that and break your leg don't come running to me!' 'do you think I have a money tree growing in the garden?'

The Ego
Report
30 Apr 2006 10:34

merry- have you checked if you are related to the Healey Dynasty ?pmsl.

Rachel
Report
30 Apr 2006 10:37

Don't they say that if a man wants to marry a women, he should firstly look at his future mother in law? Well, I think that I'm turning into my Mum. Not a bad thing though, thankfully my husband gets on well with my Mum! I love looking at old photos of my my parents, grandparents and great grandparents, trying to work out who looks like who. My 2 year old daughter is the spitting image of me at the same age and I can see so much of my Mum in her too. I often wish that I could have photos of previous generations (if only the camera was invented earlier!). But then I think if we're carrying on their genes then I must be looking at them in my family.

Unknown
Report
30 Apr 2006 10:38

Not sure Heather. My parents didn't bring me up, that was left up to anyone else whose doorstep we got dumped on. I don't look like my father, but his mother once said I had my mothers legs. Never did work out if that was a good thing or not. lol!!

The Ego
Report
30 Apr 2006 11:18

Fathers rounded shoulders Fathers same tooth on lower jaw indented! Fathers same morose attitude Fathers same artistic bent (ooer) Fathers same obsessiveness with collecting Grandfathers forehead with exact same indents above the eyebrows,making me look a bit devious ! I have studied the eye area and it is identical in my father,aunt,and grandmother Height from my mothers father Long fingers from my mother Bad feet from my mother and her mother! My mothers ability to build up in rage and let rip ! My mothers side through her mothers father-we all share an ability to scribe well - adept at handwriting. Its incredible how influential genes are.....I reckon that if I had known my father from birth I would have tried to not be like him,but as we spent most of our lives separated,the genetic tendencies flourished and were not affected by nuture .