Genealogy Chat
Welcome to the Genes Reunited community boards!
The Genes Reunited community is made up of millions of people with similar interests. Discover your family history and make life long friends along the way.
You will find a close knit but welcoming group of keen genealogists all prepared to offer advice and help to new members.
And it's not all serious business. The boards are often a place to relax and be entertained by all kinds of subjects.
The Genes community will go out of their way to help you, so don't be shy about asking for help.
Quick Search
Single word search
Genes Extras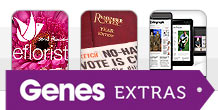 As a way of saying thank you to our subscribers, we have launched Genes Extras. You'll find exclusive competitions and discounts on family history magazines, days out and much more.
Icons
New posts
No new posts
Thread closed
Stickied, new posts
Stickied, no new posts
WHO ARE WE LOOKING FOR IN LEICESTER(PART NINE)
Profile
Posted by
Options
Post Date

Lindsey
Report
13 Aug 2006 16:23

Hi Mike Unfortunately, I haven't been able to find John's marriage either on familysearch. His first child was born in 1835 so there would be no certificate. I have already got the other information that you sent but thank you very much anyway. I will check the thread in a couple of weeks time. Thank you for going to so much trouble it will be brilliant if you could find John's parents. I now live near Newcastle upon Tyne so am unable to look up the parish records myself. Incidently, my home along Elmesthorpe Lane was one of the bungalows at the bottom opposite the old farm house. Lindsey

Beverly
Report
13 Aug 2006 16:09

Just to say im starting part Ten so please use that thread Bev

Wendy
Report
13 Aug 2006 15:41

Hi Mike, I look forward to hearing what you find. Many thanks again for the other info. Wendy

Mike. The Leicester Lad.(GC)
Report
13 Aug 2006 15:12

Greeting's Again…….. Wendy Ummm..? Having looked at the 1841. Census returns for Duns Lane. (Thanks for the pointer as to where they were ) It's difficult to tell if Jane was the Wife That's one of the downsides to early Censuses. It doesn't include the relationship to Head of the Household. If I get time next time I'm at the Records Office at Wigston I'll have a look at the Marriage Registers for those Marriages, and hope ages are given then that should clear up the question as to whether there was two marriages ? MIKE.

Wendy
Report
13 Aug 2006 13:54

Fantastic Mike. That looks very much like mine. Thank you. I found Joseph at Dunns Lane, St. Mary's Parish, Leicester in 1841. Wendy

Mike. The Leicester Lad.(GC)
Report
13 Aug 2006 12:59

Greeting's Wendy……. Sorry I'm having difficulties finding the two Joseph's You found on the 1841. Census. I'll have to trawl through each page for St. Nicholas Parish. As They are not showing up on the search…:0((( But will continue this after Lunch….. But to answer your second question Re:- Two Marriages for a Joseph to a Jane ? ? In 1826 & 1800. ish….Within the Borough of Leicester. 1st.Marriage :- Joseph Jacques. ~ Jane Loveday. 21st. September. 1796. St. Nicholas Parish Church Leicester. Following Banns. 2nd Marriage :- Joseph Jacques. ~ Jane Walker. 1826. St. Nicholas Parish Church Leicester. Following Banns. Christening's Found :- Alice Jacques. Born 17th. August. 1812. Christened 18th. August. 1812. St. Nicholas Parish Church Leicester. Father :- Joseph Jacques. Mother :- Jane. Joseph Jacques. Christened 1st. March. 1827. St. Nicholas Parish Church Leicester. Father Joseph Jacques. Mother. :- Jane. Jacques burials found for St. Nicholas Parish Church Leicester. Names. / Dates./ Age. / :- Jacques Eliza 22 Dec 1847 20 Jacques Hannah 08 Jan 1837 5 JACQUES JANE 27 FEB 1820 48 Jacques Joseph 15 Nov 1846 76 Is this Jane née Loveday Burial ? The Joseph burial could be the Father of Joseph jnr. ? Off now to cook Lunch…….. Back soon…… MIKE.

Wendy
Report
13 Aug 2006 11:48

I would be grateful if you could possibly help me with my GG Grandfather Joseph Jacques. He appears on the 1841 census (born 1827 Leicester) with Joseph (c1771) and Jane Jacques (1799) who I assume are his parents. (I know his father is Joseph a FWK from his marriage certificate) However this Jane is a lot younger than Joseph and she is a widow in 1851. It is possible that Joseph married twice. Could you see if there is a marriage for Joseph Jacques and Jane about 1826 in Leicester, and perhaps a possible one about 1800. Hope you can help. Regards Wendy

Mike. The Leicester Lad.(GC)
Report
13 Aug 2006 08:24

Greeting's Again Lindsy…….. Thanks for the confirmation it was in deed the right John I was tracking I hope to get to the records Office by Thursday So.. This will not fit into your timetable for this week so I'll keep the results On ice so to speak and post them within the next two weeks The only fly in the ointment is that we could then be on Part TEN …. So next time you manage to get back on here look for either Part Nine or TEN Or.. click on my name and send me a private message Have you thought of putting the find board on your favorites short cuts ? Elmesthorpe Lane…Know it well just round the corner from my Brother on Belmoral Road…..Daughters on Park Road next to what was the Old Folks Home. Do you have Johns marriage certificate or details.? I have not found any ref to it yet. That could be another way to find out both Fathers names….. I hope you'll manage to get back to pick up this message…… Do have a stress free move and hope you'll get fixed up with internet connection soon & have a restful holiday. … MIKE. UPDATED….. Not sure if you have the below already ? :- BIRTH / CHRISTENING'S July.~ Aug.~ Jun. Qrt. 1839. John Haswell. Certificate No. XV. 69. Hinckley District. Christening. George Haswell. 24th. February. 1842. Burbage. Father:- Jon. Mother:- Elizabeth. Certificate No. XV. 71. Oct.~Nov.~Dec.Qrt.1841. Hinckley District. Christening Sarah Haswell. 19th.Nov. 1843. Burbage. Father:- John. Mother:- Elizabeth. Certificate No. XV. 71. Apr. ~ May. ~ Jun. Qrt. 1843. Hinckley District. MIKE.

Lindsey
Report
12 Aug 2006 23:19

Hi Mike So sorry for the delay in replying. I've been to work all day and getting my daughter off the computer at night is - well impossible. You have the right John Haswell. He was married to Elizabeth who was born at St margarets, Leicester. It would be brilliant if you could get the information of his birth from the records for me thank you very very much. There's just a slight problem though. I am moving house on Tuesday and I won't be able to get broadband for three or four days. Then I am going on holiday on Friday so it may be a couple of weeks before I can look at your thread. I'm just hoping that I will be able to find it. Incidently, I used to live down Elmesthorpe Lane with my parents if you know that area. My home is in Newcastle upon Tyne now though. Thanks again Lindsey

Mike. The Leicester Lad.(GC)
Report
12 Aug 2006 22:14

Leicestershire Foxes are 20 x 20 Cricket Champions again…… Beat Nottinghamshire by 4 runs in an exciting finial ….. Well Done.. MIKE. :0)))

Mike. The Leicester Lad.(GC)
Report
12 Aug 2006 08:01

Greeting's & Welcome...... Lindsey…. Great Village Earl Shilton……. Elder Brother & my Daughter live there….. Due to the early birth date of your John (c1818.) I'll have to look him up in the Parish Registers at the Records Office this week……. To get the answer you are looking for……… Is it the John Haswell who marries an Elizabeth ? She was born St. Margaret's Parish Leicester. I have a John & Elizabeth Haswell found on 1841, Censuses ( 1851, Has Kasah) & 1861.Elizabeth as a Widow Within either Aston Flamville & Burbage Parishes. Just wonder if he is the son of John Haswell & Hannah née Croft Who were married 2nd Sept 1803. Claybrooke Magna By Licence. ( Claybrooke is only 7.9 miles from Burbage ) Haswell Burials found for Burbage:- Names. / Dates. / Ages.:- Haswell George 23 Oct 1857 16 Haswell JOHN 18 Nov 1860 48 Haswell Elizabeth 21 Nov 1867 11 Haswell Elizabeth 14 Jan 1868 Inf Haswell Betsy 4 Nov 1879 26 Haswell John 26 Mar 1883 43 Await your confirmation this could be the right John his birth date was not the same through out the Census returns went from 1814 ~ 16. Before I look at the parish Registers At Wigston Records Office. MIKE. ( Just a back room worker on Bev's thread....lol :0))) )

Lindsey
Report
11 Aug 2006 22:28

Hi Mike Someone has directed me to your thread which I am finding very interesting as I come from Leicestershire, Earl Shilton in fact. I am hoping that you can help me. I am looking for the baptism of John Haswell, born in 1818 in Burbage and am hoping that this will give me the names of his parents. Lindsey

Mike. The Leicester Lad.(GC)
Report
10 Aug 2006 20:09

Jon O' Kent .... Scan winging it through space via your server ... Sue O' Linc's .... Nice to see your name on here again spotted this one trawling through early Sileby Parish Marriages:- Richard Ringrose.of St. Margaret's Parish Leicester. Ann Dawson. of Belgrave Parish Leicester. married in Sileby 21st August. 1749. By Licence. Welcome back to the fold Eliane ....... MIKE.

Sidami
Report
10 Aug 2006 18:55

Hello Mike..... Nice to see you back......... Sue.........x

Researching:
Ringrose from Countesthorpe Lord and Burley from Countesthorpe...Dixon Dawson Wood and Wilkinson from Caistor ,Starkey and Wood from Edendam. Hare from Horncastle.

John
Report
10 Aug 2006 18:24

Mike Many thanks indeed, my email remains the same. Jon O.Kent

Willsy once more
Report
10 Aug 2006 18:17

Hi all hoping to join in again more now that I have finally moved and BT have EVENTUALLY reconnected me Elaine

Mike. The Leicester Lad.(GC)
Report
10 Aug 2006 15:03

' Your very welcome Tom ' That's what this site is all about..... Coleorton is well spread out !!!! If I can help you again you know where to find me. Good Luck with your searches MIKE.

Right said Fred
Report
10 Aug 2006 15:00

Greetings Mike! I went to Coleorton and Ashby De La Zouch yesterday and had a great time! Found loads of family graves ( 6 in Coleorton) (6 in Ashby) which gave me loads more info and confirmed some names, all thanks to your search telling me where people were buried. Thanks, tom.

Mike. The Leicester Lad.(GC)
Report
10 Aug 2006 14:58

*** F.A.O. *** Jon O' Kent……. BINGO !!! …. Page Three Leicester Evening Mail. Monday 30th. September 1846. ½ inch bold headlines.reads :- ENGINE CLUE REVEALS WHETSTONE RAIL DEATH. The Driver of a London ~ Leicester Express which reached the LNER. Leicester Central Station early yesterday morning Noticed blood stains on the engine and a search Of the line was ordered. Whilst the search was in progress Plate layers going to work along the line Found the badly mutilated body of George. S.Armer. (39) a Midland Red Bus Conductor, Who's home address is Jarrom Street. Leicester. Laying near the permanent way outside Whetstone Station. Armer, an ex Serviceman who is understood to have started Work with the Midland Red on Monday last Was due to complete a tour of duty late on Saturday Night. He did not return home and his wife, Alarmed at his absence Was making inquiries when she was informed of his death. ========================================= Not sure if I have your current e-mail address So I can send you a photo copy of the above. Click on my name if it's different to your Freeserve address which I have. ? Hope this is of help to you…… MIKE.

Jan
Report
9 Aug 2006 09:10

nudging up for someone who may need it!