Genealogy Chat
Welcome to the Genes Reunited community boards!
The Genes Reunited community is made up of millions of people with similar interests. Discover your family history and make life long friends along the way.
You will find a close knit but welcoming group of keen genealogists all prepared to offer advice and help to new members.
And it's not all serious business. The boards are often a place to relax and be entertained by all kinds of subjects.
The Genes community will go out of their way to help you, so don't be shy about asking for help.
Quick Search
Single word search
Genes Extras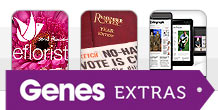 As a way of saying thank you to our subscribers, we have launched Genes Extras. You'll find exclusive competitions and discounts on family history magazines, days out and much more.
Icons
New posts
No new posts
Thread closed
Stickied, new posts
Stickied, no new posts
anyone want to swap an ag lab?
Profile
Posted by
Options
Post Date

Pippa
Report
11 Apr 2006 23:27

Well just found this for all you trekkies: Vulcan = Blacksmith

Chris in Sussex
Report
12 Apr 2006 00:24

My lot Country......All Ag Labs except one who was a Beer House Keeper. His daughter (my GGAunt) married a man from a family who were leaders in an obscure religion totally against the evils of alcohol and he was ostrecised (sp?) from his family. I have recently found out that GGUncles father was removed from his position as leader of the fold for having an inappropriate relationship with a female member of the congregation. He was in his sixties at the time and living with his wife! Double standards at work here methinks!! :))) Town.....All Labourers except one Parish Beadle. His wife had her own school and are therefore the most 'elite' couple in my tree! The line from them reverts to their humble origins...Labourers. Just remembered one Lighterman who didn't pass the living on to his son, my direct line. Do have two 'criminals' in the late 1700s. One who got away with a two month sentance in Newgate for theft and another who really did get away with murder :))) I won't swap my Parish Beadle and I must admit to being quite attached to the 'old rogue' from the obscure religion and to the one who got away with murder. So, for a swap, that leaves........Ag Labs, Town Labourers, a Lighterman who was hacked off with his first born and a thief.....Any takers?????? Chris

Researching:
'Take nothing on its looks, take everything on evidence. There is no better rule' Charles Dickens, Great Expectations. 'A brickwall is a problem that you haven't solved yet' Dave Annal http://media.nationalarchives.gov.uk/index.php/brick-walls-and-lost-ancestors/

Unknown
Report
12 Apr 2006 00:33

I have many ag labs, a marsh lab and plenty of just plain labs. I do get to have one of the last beadles in England though. Husband's Welsh lot are all miners or workers in tin/iron works. his London lot are a good mix - no ag labs there - Jewish fishmongers/fried fish sellers publicans/beer retailers paper stainers general dealers furniture brokers My ag labs in Warwickshire - 4 brothers moved to London and worked in the dairying business (one of them kept cows in Camberwell - hard to imagine now!) My Norfolk ag labs - 4 brothers became policemen and my grandfather had a picture framer's shop in Stoke Newington church street. nell

Sharon
Report
12 Apr 2006 00:49

Thanks for giving me a giggle and for the information on the Ag Labs :D Makes you think even more fondly of them!

Unknown
Report
12 Apr 2006 01:14

Husband also has fancy box makers!

Elizabeth
Report
12 Apr 2006 02:09

Anyone can swap some of my 'gentlemen'. According to the court cases they weren't very gentle, and I 've got no idea if I'm really related to half of them. The things they got up to. My kids are angels. Hey, does anyone know what a 'tindal' is? I've got one of them.

Katharina
Report
12 Apr 2006 04:19

I've got heaps of bricklayers and journeymen, 'general labourer's (how imaginative), carpenters, etc. I do have a 'ship carpenter' and a 'mariner', that's kind of exciting. I do have some shoemakers a 'boat finisher', a 'local engine driver' and 'truck driver' too. Question though, in doing a whole bunch of voluntary census transcription for Devon, I've come across soooo many 'yeomen'. What is a yeoman?? I get this hazy picture of a pooncy guy, lolling about hypothesising and occasionally going off to seek his fortune or embark on some kind of adventure, but that's all I can conjure up. Can anyone give me the real definition of a yeoman?

Unknown
Report
12 Apr 2006 07:02

mums side - a manure manouverer (living next door to an Italian Confectioner) dads side - 2 of his aunts were jelly slippers (they did some form of transfer glazing in a pottery) even though it did look like jolly slappers on the census. his mother - my gran - and several of her sisters - worked down the pit - this was common in private mines in Scotland until the early 1900's Pauls side - his gt gt granda an ag lab/collier/milkman/horse dealer/general trader. A bit of a lad - the twinkle in his eyes in the photos we have of him lol his gt x 3 granda - gentleman farmer and parish clerk for over 60 years at the local church (So from 1798 to 1859 the records are in his hand) married 3 times, one wife sitting bolt upright in bed at 6 am saying - 'oh I am dying' then keeling over stone dead . The third wife - being a widow woman, gave 9 of his houses away to her own children. ( last year one of the houses was sold for just short of a cool million) We are lucky with his side - especially his dads - as they never threw anything away - we have copies of letters dating back to the early 1800's and copies of wills dating back to the 1500's when they were minted and titled. And when photography started - blimey!

Heather
Report
12 Apr 2006 07:56

YEOMAN_ 1) Farmer who owns his own land rather than a tenant farmer; qualified to serve on juries and vote for shire representatives. More Info. Also See. 2) Assistant to an official. 3) Crewmember (Navy petty officer) in charge of ship's stores.

Heather
Report
12 Apr 2006 08:04

Elizabeth - where is your tindal on a census so we can check it out? This is the only ref I could find vaguely connected, an essay on Victorian Billingsgate Market: Sprats are sold on board the ships by the bushel. A "tindal"is a thousand bushels of sprats. When we come to consider the vast number of these oily, savoury little fishes that a bushel will contain, the idea of a "tindal" of them seems perfectly Garagantuan; yet many "tindals" of them are sold every week during the winter season—for the consumption of sprats among the poorer classes is enormous.

Colin
Report
12 Apr 2006 08:44

I've just stumbled over this area of the site. You've hit my weak spot! humour..... Love the chat going on and it's well worth a browse for a smile. Where do you guys get such in depth information? I can raise a 'purse maker', but she could not be a 'purse nicker' because her father was an Irish born policeman intent on populating the country by himself. I have one serious farmer who could take on some of your Ag labs? Well, he could have, but as he farmed in the Stoke upon Trent area, he probably had his farms turned into coal pits, ironworks, and potteries. One minute in the middle of the countryside, and suddenly in the middle of Hell. Also got a 'glass mixer' but not sure whether making glass, or making cocktails before the cocktail shaker was invented. Col Inn p.s. I thought a Yeoman was someone with military experience who could be called up in times of crisis? Like when Francis drake was playing Bowls?

Jennifer
Report
12 Apr 2006 09:40

Hi I have had a chuckle reading this thread. Most of mine were Ag Labs or coal miners, or Ag Labs that became coal miners with the occasional brickmaker and sawyer thrown in for good measure. I also have hand loom weavers and cotton spinners. With a little bit of imagination I like to think that with that combination of skills if they all got together they would self sufficient. Brickmakers build the house, sawyers do the joinery, coal miners provide the fuel, ag labs feed the houshold and clothes provided by the hand loom weavers and cotton spinners. What more would anyone want. I do have one odd one though. He was a .....'Whimseyman'. ,,,,,,,, What could he be? Did he do things only when the whim took him? ........ Did he sell trinkets? .......No, much more boring than that........and related to coal mining. He worked the whim at the top of a mine shaft. A whim was a large wheel with ropes attached that was used for winding men and ore/coal up and down mine shafts. I am not swapping him though. Jenny

Vicky
Report
12 Apr 2006 09:40

I've got another snob (so that's where my dad got it from LOL) who in his will of 1799 describes himself as ''statesman'' he was a copyholder farmer and left estate valued at under £600 (not swapping because his will was useful!)

Joy Kentish Maid
Report
12 Apr 2006 09:57

'tis, Jess, but am not saying where :-)

Researching:
Sadd - Suffolk, Newton - Buckinghamshire, McCusker - Galway and Fermanagh, Brooks - London, and many others

Heather
Report
12 Apr 2006 11:19

Old Joy being coy again! (Just realised we could mistranscribe you as that, couldnt we - and ancestry very probably will) Colin, what in depth info? Google is my favourite saying - anything you want to know - try google - Ive even found two trees that matched in with mine doing that. Old occupations - google it - there are several sites which list and explain occupations. Only just found this board Colin - well, its the best! The info about how our lot died is from buying their death certificates. A sudden death/suicide - inquests or local newspapers reporting same. Kew has military records - some can be downloaded for a fee. Erm, apprenticeships - all over the place! you can try British Origins - pay to view. Or check out sites for a particular skill to see if you can buy books or cds of apprenticeship bindings. Lots of professions have records somewhere, even publicans had to get a licence. The info about what they got up to - well National Archives has wills and stuff to download or you can check to see if they left wills at your local main library and then buy them. Erm, what else was there? Court cases - A2A, Old Bailey online and google. Really clever people (who know who they are - I dont want to be accused of being a creep) look up things like Manorial Records and Parish Chest stuff and bastardy bonds and settlement certificates/examinations.

Heather
Report
12 Apr 2006 11:23

Hey Merry, we could have had Val with her prairie fork maker on here!

Jess Bow Bag
Report
12 Apr 2006 11:30

from me being bored, this is actually turning into something quite interesting! all those occupations....

MaryfromItaly
Report
12 Apr 2006 12:30

I love Sheila's manure manouverer. They call them 'shit stirrers' where I come from.

Merry Monty
Report
12 Apr 2006 12:35

I have a whole lot of..... Chocolate Factory Hands Hope they didn't stand too near the fire? Merry

Linda in the Midlands
Report
12 Apr 2006 12:40

I did a look up for someone the other day and he was a 'professional cricketer' How jealous was I? I would swap my pianist, rivetter boilers wife and about 10 of my miners for that one!!