Genealogy Chat
Welcome to the Genes Reunited community boards!
The Genes Reunited community is made up of millions of people with similar interests. Discover your family history and make life long friends along the way.
You will find a close knit but welcoming group of keen genealogists all prepared to offer advice and help to new members.
And it's not all serious business. The boards are often a place to relax and be entertained by all kinds of subjects.
The Genes community will go out of their way to help you, so don't be shy about asking for help.
Quick Search
Single word search
Genes Extras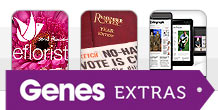 As a way of saying thank you to our subscribers, we have launched Genes Extras. You'll find exclusive competitions and discounts on family history magazines, days out and much more.
Icons
New posts
No new posts
Thread closed
Stickied, new posts
Stickied, no new posts
Birth Certs,Adoptions and index question.Latest ne
Profile
Posted by
Options
Post Date

Vicky
Report
26 Jan 2006 10:02

Hi again everyone, I'm not adopted and I'm still finding this thread fascinating, for all the different issues it has brought up. Off topic again I know, but in this case the law is an ass & all that... this appears to be another instance of this Govt deciding what's best for 'us' without considering there might be special cases. And I don't remember ever reading anything about consultation measures either. This law (about proving nationality) was brought in by stealth before most people realised the implications of it. Sounds good in principle but in practice its raising too many issues about privacy. Perhaps we are no longer entitled to privacy?

Slinky
Report
26 Jan 2006 11:23

I was adopted. I sent for my original birth cert and on the side it was written.. 'adopted' I also purchased my adoption cert as I knew who my birth famil was and when and where I was adopted. So it was made easier for me... hope you have luck with your search. Anne :)))

Glen In Tinsel Knickers
Report
26 Jan 2006 12:36

Hi all Nothing to report back as yet. Janet i don't think anyone was offended or upset by your use of the words special need,certainly i wasn't Vicky you have hit the nail on the head,as ever the law is at fault and the way it is applied is not always correct. Now this leads me to a real hum dinger of a question. How on earth will ANYBODY prove IDENTITY Tto obtain an identity card (if and when) they ever become required? It seems to me that it is not possible,the nearest way i could prove it is count my teeth,none at birth and next to none now. Off topic? No not really,i think some very important things have been brought up. Just to summarise where i stand at the moment with my situation, I am not prepared to disclose a long cert to the employer ,as i don't think the extra info regarding my parents, or references to court and adoption orders have any bearing on my suitability for the job he wants me to perform. Glen xx

Sheila
Report
26 Jan 2006 13:20

Hi Glen. I agree with you Glen a lot of issues brought up here, if we are all going to be required to oder long versions of our birth certificates, there could be a lot of skelatons rattled out of their cupboards :O( By the way what job are you applying for ? bodyguard to the Queen or Prince William? would have thought the references, Driving licence and short cert, would be proof enough who you are, maybe they would like you to leave your first born with them as collateral ;O) Fingers crossed it all turn out well in the end, before we all have our gast's flabbered ! Sheila ps. Janet I also did not take any offence to your comment, take care.

Glen In Tinsel Knickers
Report
26 Jan 2006 13:54

Hi Sheila It's actually for an HGV driving job,something i have done for the last 13 years.He knows my previous employer personally,has taken up references from 2 more employers,these take him back to the early 1990's. The job itself is a niche within the driving jobs out there,you couldn't actually put a 'standard' hgv driver straight onto it without specialist training,i have several years of this type of work under my belt,so he gets all my experience for free so to speak. Perhaps that might work to my advantage,i will definitely know tomorrow,as it is supposed to be my first day. CAB have just phoned,they can find no instance in any paperwork they have where a birth cert short or long, has to be produced for ANY reason connected to employment. All they can find is an employer must only employ a person if they can legally work in the country,and must verify the elligibility of the applicant. How that is to be verified isn't specified. Glen xx

Janet in Yorkshire
Report
26 Jan 2006 14:12

Hi All, Thankyou for your kind comments. I am very thick-skinned and it takes a lot to offend me, but I am always aware how an inappropriate or misguided choice of word may, unintentionally, cause offence to others. That's all I was concerned about !! Jay

Glen In Tinsel Knickers
Report
27 Jan 2006 19:29

Thanks Dorothy,if you ever fancy taking over from my boss let me know. Today i started the job and no mention either way about this certificate nonsense at all. I also spoke to a colleague from the old firm,when he registered for benefits,(his first time and in his fifties) he couldn't remember his NI number. The clerk asked him if he had a driving licence,(which he does) and from his driver number the DSS or whatever they are called now could get his NI number and a report on his stamp payments,including a shortfall he had from 20 years ago. So knowing that,does anyone need my cert short or long? Glen xx

Eileen
Report
27 Jan 2006 23:29

hello to adoptees and other interested partys re-reading all of this thread, a memory drifted into my mind - many years ago, probably when I was 18 or so - my adopted mother mentioned something or other about getting me a 'long' birth cert. so people would not know I was adopted. It might have been when I was about to go into nursing training. As I am pushing 62 you can see why the memory took a while to drift in (lol) It would appear that at that time a short cert. was a dead giveaway as to ones legitimate - or rather not - status. I don't appear to have a long cert. If I did I have probably lost it. Or maybe I never had it. I have a long cert which looks like an ordinary birth cert, except that when you read the smaller print it says it is a copy of the entry in the adopted child register. Life has many odd turnings, and adoptees turnings seem to be odder than most

Geraldine
Report
31 Jan 2006 09:52

Hi Glen Just for everybody's information it's not against the law to access anybody's Certificate of Adoption (either short or full) provided you can give the name of the adopted child and surname of the adoptive parents. You can download the application form from the GRO website and send it in by post, phone or fax and pay by credit card. Overseas applicants (that's me) have to send a cheque made out with address of a London bank. If you can provide the name with a GRO refererence the certificate is 8 pounds 50p but without the GRO reference it will cost 11 pounds 50p. Edit. I also should add anyone can search the Index of the Adopted Children Register. (ACR) This can only be done in person in the public viewing room at the Family Records Centre (FRC) in London. This information is not on-line. I understand all adoptions post 1969 are now computorised. The Register goes as follows: Surname in ADOPTIVE name Year of birth First names Date of Entry onto the ACR No of Entry and Volume No (GRO reference) The details on an Adoption Certificate are: No of entry. Date of birth, Name and surname of child. Sex of child, Name and surname, address and occupation of adopter or adopters. Date of adoption order and description of court by which made. Date of entry. Signature of Registrar. In my brothers case it showed country of birth at that was the law in 1957... not sure if it's changed. Hopes this helps everybody. Cheers Gerry Brindle

Gillian
Report
1 Feb 2006 20:21

Under the Asylum and Immigration Act 1999 you are required to provide an employer with specific proof of identification. There are various combinations of documents that meet this legal requirement and a P45 and a copy of your full birth certificate or passport will meet this. There are other various combinations and but can't remember what they are, if you need confirmation leave me a posting and I will come back to you. I would have thought that an adoption certificate would suffice instead of a birth certificate.

Glen In Tinsel Knickers
Report
3 Feb 2006 20:47

Hi all. Well the first week is finally over,and it seems the P45 and refusal of production of a long cert have worked,(for now at least). Thanks to all for your help,advice and support. Just bear in mind that now the boards will be more quiet in the week,i'll only be around at the weekends. Thanks again Glen xxx

Jess Bow Bag
Report
3 Feb 2006 20:52

well done Glen, for fighting the beaurocrats ( sp?) for us all!! Jess - any spelling corrections gratefully recieved!!

Alek
Report
3 Feb 2006 21:00

what a great read Glen! l changed to a photo driving license recently and despite having held a license for more years than l care to remember, I had to provide, birth, marriage certificates and a signed reference from a professional person so surely your driving license( l take it yours a photo one) is more than adequate proof of your identity.