Genealogy Chat
Welcome to the Genes Reunited community boards!
The Genes Reunited community is made up of millions of people with similar interests. Discover your family history and make life long friends along the way.
You will find a close knit but welcoming group of keen genealogists all prepared to offer advice and help to new members.
And it's not all serious business. The boards are often a place to relax and be entertained by all kinds of subjects.
The Genes community will go out of their way to help you, so don't be shy about asking for help.
Quick Search
Single word search
Genes Extras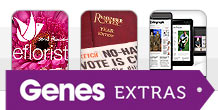 As a way of saying thank you to our subscribers, we have launched Genes Extras. You'll find exclusive competitions and discounts on family history magazines, days out and much more.
Icons
New posts
No new posts
Thread closed
Stickied, new posts
Stickied, no new posts
WHO ARE WE LOOKING FOR IN LEICESTER (PART EIGHT)
Profile
Posted by
Options
Post Date

JoanC
Report
6 Mar 2006 22:52

Hi Mike, Thanks for looking. They must have sold out I guess. Joan

MaryfromItaly
Report
6 Mar 2006 23:15

This seems to be your relative, Joan: Wright's Directory, 1899, page 250: Thomas, Joseph Cadwallader, draper (Hancock and Thomas), 4 Haymarket. http://makeashorterlink(.)com/?B2AA560CC (remove brackets) Use 'Thomas Cadwallader' (without the inverted commas) as your search term, and it'll take you straight to p. 250.

MaryfromItaly
Report
6 Mar 2006 23:33

Thanks a lot for the additional information, Mike. < curtsies > Cloth on table, huh? I suppose a plastic one won't do? Is there anywhere I can find out definitely who Maud Charlotte Maddocks' parents were, or am I stuck with buying her birth certificate? My sister lives locally - if I send her along to the records office to look up the things I can't find, is it easy to do? If I have to buy all the birth certificates I need to sort out queries, I'm soon going to go bankrupt.

Mike. The Leicester Lad.(GC)
Report
6 Mar 2006 23:41

' You Rang M' Lady ? '...... May I have a look for you this week during my weekly visit to the Records Office ... I Hope I will find it under christenings St. Peter's Parish Belgrave ... Don't drop your standards M' Lady re Plastic cloth. Mike. ...Walks back wards >>>>>>>>>

MaryfromItaly
Report
6 Mar 2006 23:47

I suspect we can rule out Isabella Heygate; someone of that name died in 1859, although the age isn't given; the death was registered in Barrow on Soar. If you'd like to have a look for Maud, that'd be great. Mind you don't trip over while you're backing out of my illustrious presence.

Mike. The Leicester Lad.(GC)
Report
6 Mar 2006 23:58

So we're back to Plain .....M ' Duck then ? ..... Time permitting I'll have a look at that burial for Oct Qrt 1859 Barrow Upon Soar Cert No. 7 a 90. Isabella Heygate Barrow Upon Soar is the right District for Roecliffe Hall & Newtown Linford... Cheers M' Duck .... Still Walks back wards >>>>>>

Willsy once more
Report
7 Mar 2006 07:42

Hi Mike That would be a big help In 1851 in Newark Reuben Ward Head 41 Butcher and Fishmonger Born newark Elizabeth Ward wife 38 Born Newark Sarah J Ward Dau 15 Born Newark Emma Ward Dau 10 Born Newark Harriet Ward Dau 8 Born Newark Ann Ward Wife's sister 31 Born Newark George H 9mths Elizabeth Lister 17 Servant Born Collingham Found a Pigots List for 1830 and only Jonas is on that as fishmonger in Newark, no idea if Reuben is related but found this after a death cert of Jonas's dau had an Elizabeth from Newark as present at the death and narrowed it down to this one due to the sister who is with them and her age. Am hoping this long shot pans out as they are not in Newark 1841 Thanks Mike Elaine

JoanC
Report
7 Mar 2006 09:44

Hi Mary, Sorry I didn't get back you last night. Many thanks for the websites. I have found him and the shop. Once again thanks for your time in finding these it is much appreciated. Reagrds Joan

Sheila
Report
8 Mar 2006 14:39

Mike For the sake of completeness this is the message I posted some time ago. Arthur Bradbury is causing me some problems. In fact I have double trouble as there are two of them. I want one of them to be the son of Samuel and Emma(nee Friswell) who were at 1 Harrison Road in 1901. I have two births and one marriage as follows: Births SQ 1884 7a 229 DQ1883 7a 206 Marriage (spouse Louisa Bramley) SQ 1906 7a 763 Mike had a look in some parish registers (sorry Mike - hadn't realised it would be such a herculean task) and suggested I should get the marriage certificate. I did and have now been able to establish that the Arthur Bradbury who married Louisa Bramley at St Mark's Church on September 29th 1906, was my great grandmother's brother. Of course if anyone else is browsing through this thread in pursuit of the Bradburys from 1 Harrison Road, I would be delighted to hear from them. Cheers Sheila

Mike. The Leicester Lad.(GC)
Report
10 Mar 2006 23:37

Greeting's Again June .... Is this the one who's Mother Elizabeth gave us the run about following Thomas's ( Needle Maker ) Death ? Closest I can come up with via 1837 site is Jan. Feb. Mar. Qrt. 1847. Sarah Hopwell, Leicester. Cert No. XV. 139. (it's not on the FREE BMD site faded image.... but could make it out ) Hope this helps ? MIKE.

MaryfromItaly
Report
11 Mar 2006 02:12

Hi Mike, I seem to remember you said you could do look-ups for St. George's Church, Leicester. If that includes christenings, could you check this one when you have time? James Ort Raymur Smith, born in the last quarter of 1852 according to BMD. IGI has transcribed him as James Octraganer Smith, christened 13 Feb 1853 at Saint George, Leicester, mother Mary Smith. No father mentioned, so presumably she was unmarried or widowed. The name is so unusual I assume he must be related to Ort Raymur Brewin and his nephew Thomas Ort-Raymur Mallett, but I can't see how he fits into the family.

ken from Hunua
Report
11 Mar 2006 09:35

Hi All, Can anyone please help me, I am looking for the street /roads and street/road numbers of my grandparents shops. I believe that one was in Constance Road, another in Saint Saviours Road or Charnwood. They were known as Timsons and they were Newsagents, Stationers and Tobacconists. I have a photo of one shop with the shop next door showing no 10, so their shop would have been either 8 or 12 (very sharp this lad!!). Thanks Ken.

Willsy once more
Report
11 Mar 2006 09:40

Hi Ken Any particular year? Will be back a little later though, got to start painting LOL Elaine

MaryfromItaly
Report
11 Mar 2006 11:07

Ken, depending on the dates you're interested in, you may find something in the trade directories for the period: http://www.historicaldirectories(.)org (remove brackets from link)

Mike. The Leicester Lad.(GC)
Report
11 Mar 2006 16:18

Greeting's Ken..... Can I help you .. I live six streets away from Constance Road ... Constance Road is four streets up on the Right hand side of St. Saviors Road from East Park road. It runs through to Gwendoline Road...... the shop will be at the St. Saviour's Road end... MIKE. UPDATED 20.00 Hrs. From Wrights Trade Directories 1916. CONSTANCE ROAD. ( St. Saviour's Road end ) No. 2, Timson. John & Alfred. New's Agents 1906 ~ 1911. CONSTANCE ROAD. No. 2. Alfred Timson. New's Agent. No. 8. was a Boot & Shoe Repairers Shop George Lowe.

Mike. The Leicester Lad.(GC)
Report
11 Mar 2006 19:20

Greeting's Again Mary.... For the moment I can only confirm what you already have found out But if you wish I'll take a look at the Parish Registers at Wigston next week whist I'm there Hope they will give more information on the Parents names ? . MIKE.

ken from Hunua
Report
11 Mar 2006 20:42

Hi Everyone Thanks for your quick replies. I forgot the important thing the date, put it down to a senior moment!! Between 1900 and 1930. Mike I think that you have hit the spot with Constance Road I did not realise that it was on the corner with St Saviors. The photo that I have with no 10 next door appears to be 1916 as one of the signs out side talks about the second year of the war. Number 10 has the name Wesson's on the door and the words CASH, DRUG AND STRE cant see all of the lines could be additional words. Thanks Ken

MaryfromItaly
Report
11 Mar 2006 22:23

Thanks Mike, that'd be great if you have time. By the way, have you ever heard of the Lawyer's Arms pub in Lee Street? Some ancestors of mine apparently used to run it in about 1881.

Willsy once more
Report
12 Mar 2006 08:39

Hi all Someone posted a link about pubs and brewries yesterday, here's a link to Leicester pubs he had catalogued with pics and some licencees names in the 1800's http://www.midlandspubs(.)co(.)uk/leicester/belgravegate.htm worth a look (remove brackets) Elaine

ken from Hunua
Report
12 Mar 2006 08:47

Hi Mike Thank you for the information re the Timsons Constance Road shop, my grandfather was Alfred his father and cousin were John and wife Elizabeth. The second shop could have been in Charny as we called it when kids, Charnwood street/road. It is nearly 50 years since I emigrated so my knowledge of Leicester not quite as clear as it was!! I had an idea that Charnwood was somewhere near Wharfe Street? Which I believe has been flattened and rebuilt. Are the houses in Constance Road still the old Victorian ones or has the area been renewed? Regards, Ken, Hunua, NZ.