Genealogy Chat
Welcome to the Genes Reunited community boards!
The Genes Reunited community is made up of millions of people with similar interests. Discover your family history and make life long friends along the way.
You will find a close knit but welcoming group of keen genealogists all prepared to offer advice and help to new members.
And it's not all serious business. The boards are often a place to relax and be entertained by all kinds of subjects.
The Genes community will go out of their way to help you, so don't be shy about asking for help.
Quick Search
Single word search
Genes Extras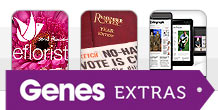 As a way of saying thank you to our subscribers, we have launched Genes Extras. You'll find exclusive competitions and discounts on family history magazines, days out and much more.
Icons
New posts
No new posts
Thread closed
Stickied, new posts
Stickied, no new posts
NEW BRICKWALL THREAD FOR 'Hard to find rellies'
Profile
Posted by
Options
Post Date

Dea
Report
11 Feb 2008 15:33

Claire,

I was just about to say that !!

I have noticed over the past week or so, there have been MANY threads brought up from 2004 or thereabouts !!

The queries on this threar may well have been answered over the past 3 years and it is a waste of our time researching them over again.

Could we please ask people to start a new thread, or if there is someone in the old thread who they can connect to - to send a PM - These people may no longer be members and therefore would not see a reply on such an old thread anyway !!

Dea x

Perhaps GR could put an automatic 'lock' on threads which have not been answered for e.g. 12 months. - That way, surely it would be possible for someone to PM but NOT to bring to life something which is well out of date ??

Dea x

°o.OOº°'¨Claire in Wales¨'°ºOO.o°
Report
11 Feb 2008 14:56

*******************************************************

This thread has not been used for the last 3 years

*******************************************************

Charlene
Report
11 Feb 2008 14:24

I'm looking for Emily Corner (Nee Crump) born 11 Mar 1859 in Eaton Bishop, Madley, Herefordshire, ENGLAND. Emily is my great-grandmother. She and my great-grandfather James Corner married 03 Dec 1883 in Hastings, Sussex. They had two children Daisy Louise (my grandmother) born 13 Jan 1886 and Cissie Emily born in 1887. They divorced in 1897 (I have the divorce papers). She appears in the 1891 census living with James and their two daughters but disappears after that. The divorce papers states that she committed adultery with a William Allistone (a shoe salesmen). I searched for William and he seems to have married someone else.

Thanks



Michael
Report
27 Aug 2005 19:15

I have one brick wall which is about 20ft high with barbed wire on top, armed sentries and Rottweilers on patrol: Sarah Crouchman, my ggg-grandmother. Married March 1851, Narberth, Pembrokeshire, to Thomas Protheroe. Eight children born between 1851-1860, moved to Swansea where she was recorded on the 1871 census and where she died in 1875. Tracing her after her marriage is not a problem - tracing her before it is. She was born in Chipping Ongar, Essex, sometime between 1826-1833 - hard to tell exactly because she kept changing her mind about it between censuses. I've contacted several other people who are researching Crouchmans in Essex, and no-one has any record of her. A GR member who did a look-up at the Essex RO for me failed to find any record of her baptism. The only clue I have is this, from the 1841 census: HO107/336/15 schedule 12, page 18 Tan Yard House, Chipping Ongar William Burrill, 41, labourer Rebecca Burrill, 47 Emma Burrill, 9 George Burrill, 7 Jane Burrill, 5 Elizabeth Crouchman, 19 William Crouchman, 15 Sarah Crouchman, 15 My best guess is that Sarah's parents had died and she and her brother and sister were living with their aunt and uncle. If anyone can help me with this I will be eternally grateful. Thanks, Michael

Star
Report
27 Aug 2005 18:29

nudge to see if anyone can help any of us with brickwalls Star

Patience
Report
22 Aug 2005 13:21

My brickwall name is Kay – specifically John Kay, my 2Great grandfather, born around 1831-1833 in Leeds, Yorkshire. I would like to find his birth/christening/mother's name/any brothers or sisters or any other family. Facts 1. First marriage to Jane Gray (nee Wall) 26th December 1866 age 35 address Hills Yard. Occupation Hair dresser no father's name. Parish Church, Leeds. Leeds Registration District 2. 1871 census address 43 Sweet Street, Holbeck, age 39 occupation Hair dresser other members of household -step children John William Gray and Ellen Gray (down as Kay – but Ellen definitely appears later as Gray) one visitor and three lodgers (professional theatricals) 3. Second marriage to Maria Robinson (nee Swales) 26th February 1872 age 39 address Holbeck occupation Hair dresser at Holbeck Church, Parish of Leeds, Hunslet Registration District no father's name. 4. Birth of daughter Emily 23rd April 1872 address 47 Sweet St, Holbeck occupation Machine Smith (that threw me – I had to try and find more details before I was sure it was the correct certificate) 5. 1881 census address 56 Sweet Street, Holbeck age 48 occupation Hair dresser Other members of household - wife Maria, step daughter Ellen Gray, step son Walter Robinson and children Fred Kay, John W Kay and Mary Kay (Emily living on next street, as a lodger with Mary Swales - her grandmother) 6. Death 23rd September 1884 age 52 address 56 Sweet Street, Holbeck I haven't found him on earlier census returns, but I have assumed he was probably in Holbeck or Leeds. The 1851 census for Holbeck that I have seen is extremely faint, - hardly readable. I have been trying to find out more about John Kay for the last two and a half years – since I found his name and occupation on my great grandmother's marriage certificate. Other people including GR members have tried to find him on the 1851 census for me, but had no success due to the faint writing, plus the fact that John Kay is not an unusual name. Janet

The Ego
Report
22 Aug 2005 09:57

DAVID HANNAY>>>>>>>>>>> Theres a good chance that that is her,I did notice that entry,and put it on the back burner. She probably declared herself as 21 for marriage.?? Also ages were sometimes rounded up or down to the nearest 5 on censi.

Elaine
Report
22 Aug 2005 09:45

Hi Nell, Who are Emilys parents? Elaine x

David
Report
22 Aug 2005 00:12

Alter Ego, Thanks again for the info, I agree that Sykes is a Yorkshire name there are thousands of them! Ablack earthenware manufacturer sounds promising. The only birth in cheshire that I can find is, 1846 June qtr. Mary Ann Sykes Wirral xix 371 but the date is wrong unless she lied about her age on her marriage cert. and kept the lie up for the rest of her life. The only reason I can think of is to appear younger than her husband. David

Unknown
Report
21 Aug 2005 23:40

One relative, can't find in 1881. I have all details from her birth to her death, but in 1881 she is gone. EMILY ESTHER SMOOTHY born Richmond, Surrey 18 March 1862. 1871 with parents and siblings 1881 - not at home. Elder sister is in service working in Speldhurst, Kent. 1891 mistranscribed as Emily Timothy working in Paddington as a kitchen maid. 1901 with elder widowed sister in Wandsworth. I am sure Emily would be in service somewhere in 1881 but can't find her despite searching all Emilys born surrey etc. Very grateful to anyone who can help. nell

The Ego
Report
21 Aug 2005 23:22

DAVID HANNAY>>>>>>>>>>>>>>>>>>>>>>> Only thing i've come up with so far is a link back to Yorkshire. Sykes seems to be a predominantly Yorkshirename,and suspect that marys stay in New Brighton was short. Leeds and Bradford,Yorkshire area Directory & Gazetter: John Sykes,black earthenware manufacturer,Beeston Road,1853. (sort of Gores Directory) She seems not to be around in Ancestry under the name given,theres a chance that there is a badly transcribed entry somewhere. On my travels earlier spotted a woman entered being 50 months old !!

David
Report
21 Aug 2005 23:00

Alter Ego, Thanks for the info, I should have told you Mary Ann died 1884 in Sunderland but I was rushing to get to work. Sorry. I would be grateful if you could find her before her marriage to David on 30/7/1871. David

Star
Report
21 Aug 2005 14:59

Hi All this is my brickwall, this all the info i have, hope someone can help MIL knew her gran was called Nellie Edwick. 1901 census Nellie Edwick age 14, mother Rose Edwick age 39 born St Austell, Harry Edwick head age 28 Hairdresser all living at 3 Bramley Rd Hammersmith 1891 census Rose Hoare head widow age 35 Hairdresser, daughter Ellen S Hoare age 5 born hammersmith, servant Harry Edwick age 22 hairdresser address 18 Bramley Rd Hammersmith Have reference for a Charles Hoare death age 39 march 1890 Have Ellen Sarah birth cert 1885 address 18 Bramley rd hammersmith father Charles Hoare hairdresser mother Rose Ellen Hoare formely Hill That is all the info i have, there is a Rose Ellen Hill born cornwall with parents Charlotte and George but it is not mine as in 1891 census she is not married and living with her parents, whereas as above mine is widowed. If anyone can find a possible marriage a) Rose Ellen Hill to Charles Hoare B) ROse Ellen Hoare to Harry Edwick or any more ceusus help i would be grateful or any advice where to look. i do look in everyday so will reply as soon as i can if anyone can help Star

William
Report
21 Aug 2005 14:35

Many thanks for the reply,Harriet did in fact marry William Cartlidge,and of course the problem is with her Parents,they may have died before the 1861 Census. Regards William Russell Jones Cefn Mawr Wrexham.

The Ego
Report
21 Aug 2005 13:33

RESULTS FOR DAVID HANNAY>>>>>>>>>>>>>>>>> Mary Ann Hannay death 1884 aged 34 Sunderland (only death found for this name from 1881>1911) This would explain why I cant find her in 1891 or 1901. david didnt stand still........... He married Louisa Thompson December 1884 Leeds 9b 810 Here is the family in 1891>>>>>>>> David Hannay Head 41 Mar. Machine Fitter born Belfast Ireland. Louisa Hannay Wife 31 mar. William 13 son>his Gertrude 10 daug>his Clara Thompson step daug 9>hers Nellie Thompson step daug 8>hers Alexander son 5>theirs David son 4 months>theirs 16 Lom Street st marys parish hunslet

David
Report
21 Aug 2005 12:45

Alter Ego Mary Ann's birthplace is given as New Brighton in 1881 census. Thanks David ps going to work now so won't be back till 11pm.

Dea
Report
21 Aug 2005 12:27

GGGGGGGGGGRRRrrrrrrrrrrr These 'brick walls' are so B**** high ! - Wouldn't you think that someone on this site would have the same 'brick wall' as you ?????????? Dea x

The Ego
Report
21 Aug 2005 11:55

William Russell Jones>>>>>>>>>>>>>>> Is this your lady ? Marriage June 1852 Stoke on Trent 6b 154 Harriet mountford to either George Hackwood or William Cartledge. Having this marriage cert would verify the parent-as you probably know-IGI isnt 100% reliable. SHELTON HANLEY?- they seem to be 2 places,maybe the shelton is part of hanley. If you go to the Staffordshire County Council Site-there is a broad menu and search facility to narrow down the info source-they have an archives section.Dont think they are part ofthe Online parish clerk system yet.

William
Report
21 Aug 2005 11:41

I have two people who are one of my biggest brickwalls.I have in my direct Bloodline,a Harriet Mountford born in Shelton Hanley Staffordshire in 1830.On the IGI it states her Parents to be John Mountford and Ann Bishop.As I am keen to expand my Tree,I would welcome any thoughts on this matter. Regards William Russell Jones Cefn Mawr Wrexham.

The Ego
Report
21 Aug 2005 11:29

DAVID HANNAY-I have access to local records for that area. But its Sunday!!.....what evidence New Brighton?-later census?