Genealogy Chat
Welcome to the Genes Reunited community boards!
The Genes Reunited community is made up of millions of people with similar interests. Discover your family history and make life long friends along the way.
You will find a close knit but welcoming group of keen genealogists all prepared to offer advice and help to new members.
And it's not all serious business. The boards are often a place to relax and be entertained by all kinds of subjects.
The Genes community will go out of their way to help you, so don't be shy about asking for help.
Quick Search
Single word search
Genes Extras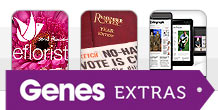 As a way of saying thank you to our subscribers, we have launched Genes Extras. You'll find exclusive competitions and discounts on family history magazines, days out and much more.
Icons
New posts
No new posts
Thread closed
Stickied, new posts
Stickied, no new posts
1891 lookups
Profile
Posted by
Options
Post Date

Emma
Report
16 Sep 2003 22:35

Can do 1891 census lookups if anyone's interested. Emma.

Melba64
Report
16 Sep 2003 22:41

Hi Lucy. Can you see if there is a Gerrard or Winstanley family at 48 or 50 John St in Pendleton, Salford please. They keep moving up and down the street but they were at those addresses in 1861 and 1881. Cheers, Mel.

Emma
Report
16 Sep 2003 22:47

Hi, Can't do address searches I'm afraid - do you have a forename I can search for? Emma.

Melba64
Report
16 Sep 2003 22:51

Try Richard or Martha Gerrard and Israel Winstanley. Thanks. Mel

Emma
Report
16 Sep 2003 22:59

Hi I've found this family at 50 John Street, Pendleton Alfred Winstanley, Head, mar, 30, Baker Pendleton Elizabeth Windstanley, Wife, mar, 31, Pendleton Ellen Winstanley, daur, 8, scholar, Pendleton Alfred Winstanley, son, 6, scholar, Pendleton Edith Winstanley, daur, 4, Pendleton Florence Winstanley, daur, 2, Pendleton Emily Winstanley, daur, 1 month, Pendleton Lillia A Sharp, cousin, 13, Accrington Piece RG12/3203, Folio 64, Page 6 Pendleton, Lancashire I'll have a look for those other names for you now. Emma.

Paul
Report
16 Sep 2003 23:02

Thank you for the kind offer Emma. Could you look up these people on the 1891 Census? I found them on the 1881 Census, but would like to see what they are doing in 1891. Living at Thorngate, Barnard Castle - Samuel BAKER 45 Barnard Castle, Joiner In The Mills; Rachel BAKER Wife 40 Barnard Castle, Grocer & Provisions Dealer; Robert Thos. BAKER Son 14 Barnard Castle; William BAKER Son 11 Startforth, Yorkshire; Annie Jane BAKER Daur 9 Startforth, Yorkshire. Living at 109 Moss Lane West, Hulme, Lancashire onthe 1881 Census were - William BAKER 43 Barnd Castle,Music Seller; Sarah BAKER Wife 40 Barnd Castle; Robert W. BAKER Son 20 Barnd Castle, Proff Music; Arthur G. BAKER Son 6 Darlington. Thnx in advance Paul

Melba64
Report
16 Sep 2003 23:05

Thanks Lucy. I think this is Israel's eldest son. You might not find Richard and Martha as she was quite old in 1871 and I couldn't read his age in 1861 census. Haven't found him in any of the others. I know they had a son Richard too so he might turn up. They also had a daughter Martha married to Henry Moore and Martha had a son William Gerrard. I can't remember any of the other family names at the moment. It is getting a bit late for my brain to be that good. Thanks for the help. Mel

Melba64
Report
16 Sep 2003 23:07

Sorry. Just realised, it's Emma isn't it. Told you my brain isn't focussed. Mel

Yvette
Report
16 Sep 2003 23:07

Lucy Thanks for your kind offer of lookups, could you please do one for me, i have had conflicting advice on a search, is it possible for you to look up the following for me. RG12/593 Folio 147 Pages 59 and 60 to see what Elliff names you can find on there for me please? Yvette

Emma
Report
16 Sep 2003 23:09

Mel, Piece RG12/3206, Folio 64, Page 33 20 Upper Gloucester Street, Pendleton, Lancashire Israel Winstanley, Head, mar, 56, Cotton Warper?, Wigan Ellen Winstanley, Wife, mar, 57, Pendleton James Winstanley, son, sing, 21, stamp maker, Pendleton Emma Winstanley, daur, sing, 19, confectioner, Pendleton Catherine Winstanley, daur, 16, machinist, Pendleton Sarah A Winstanley, daur, 14, Cotton Winder, Pendleton Emma.

Emma
Report
16 Sep 2003 23:10

Mel, Nothing obvious for Richard & Martha, sorry. Emma.

Melba64
Report
16 Sep 2003 23:11

Thanks again Emma. You're a star. Mel

Melba64
Report
16 Sep 2003 23:20

Richard and Martha could both be dead by 1891. Thanks for the other information though. It's great. I really appreciate you taking the time and effort to do this. Take care. Mel

Emma
Report
16 Sep 2003 23:23

Paul Piece RG12/4080, Folio 74, Page 20 Thorngate, Barnard Castle, Durham Rachel Baker, Head, wid, 50, Grocer & Provision Dealer, Barnard Castle Durham Robert Baker, Son, mar, 24, Provision Dealer Asst., Barnard Castle Durham William Baker, son, sing, 21, ? Flax Mill, Yorkshire Startford Annie Baker, daur, sing, 19, Yorkshire Startford Emma Baker, daur in law, mar, 22, Middleton Durham Mabel Baker, G/daur, 10 months, Middleton Durham Walter Hooker, nephew, sing, 20, N.E.K. clerk, Yorkshire Startford There are also some lodgers listed if you need these too let me know Emma.

Paul
Report
16 Sep 2003 23:26

Yes plz. It's always nice to see the lodgers. Just in case they are distant cousins or future partners. It's nice to see a granddaughter too. Do you know what NEK means? Thnx

Emma
Report
16 Sep 2003 23:40

Yvette, 42 White Horse Lane Wm Elliff, Head, mar, 38, Carman Alice Elliff, wife, mar, 35 Annie Elliff, daur, 12, scholar Alfred Elliff, son, 9, scholar (the place of birth for the above is missing) Frederick Elliff, son, 5, Croydon Arthur W Elliff, son, 3, Croydon Frank Elliff, son, 1, Croydon at the same address: John Elliff, Head, mar, 44, carman, Croydon Emma Elliff, wife, mar, 42, Croydon Bertha Elliff, daur, 7, scholar, Croydon George A Elliff, son, 1, Croydon Emma.

Yvette
Report
16 Sep 2003 23:44

Thankyou Lucy that matches what i was given on this site before so it must be right, my 'information'(not from anyone on GC)earlier today was obviously defective, lol. Yvette

Emma
Report
16 Sep 2003 23:48

Paul, Others with Rachel Baker are: Robert Dickinson, boarder, sing, 22, Draper's Assistant, Middleton Durham Robt. J Hotter (not sure of H at beginning of Hotter), boarder, sing, 14, Draper's Apprentice, Cleatham Durham Thomas Kaine, boarder, sing, 15, Draper's Apprentice, Newbiggen Durham Edith Allinson, servant, sing, 17, General Servant (Domestic), Middleton Durham Having a bit of trouble finding your other Bakers so bear with me. Emma.

Annie
Report
16 Sep 2003 23:56

Hiya Any chance you could look for any clerihews .. there shouldn't be many. They have disappeared off the face of the earth. If you need first names then I am looking for William John. Isabel Mathilda (or somthing like that) and John and Mary. Where did they go? They were living in Gibraltar in 1881. Puzzled of Cardiff

Emma
Report
17 Sep 2003 00:15

Hi Ann, Piece RG12/441, folio 80, Page 2 10 Pinsbury/Finsbury Terrace (not sure which), Clapham London Mary A Clerihew, Head, wid, 67, Living on own means, Ireland Waterford Isabella M Clerihew, daur, sing, 30, Gibraltar Wm J Clerihew, son, sing, 26 Turner Projectile/Projectite (in pencil next to it is the word fire) Gibraltar There is also a Walter Clerihew, Lodger, mar, 33, Vetinary Student, Scotland at 69 Charrington Street, St. Pancras. Emma.