General Chat
Welcome to the Genes Reunited community boards!
The Genes Reunited community is made up of millions of people with similar interests. Discover your family history and make life long friends along the way.
You will find a close knit but welcoming group of keen genealogists all prepared to offer advice and help to new members.
And it's not all serious business. The boards are often a place to relax and be entertained by all kinds of subjects.
The Genes community will go out of their way to help you, so don't be shy about asking for help.
Quick Search
Single word search
Genes Extras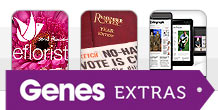 As a way of saying thank you to our subscribers, we have launched Genes Extras. You'll find exclusive competitions and discounts on family history magazines, days out and much more.
Icons
New posts
No new posts
Thread closed
Stickied, new posts
Stickied, no new posts
Deeds to your House
Profile
Posted by
Options
Post Date

Bobtanian
Report
15 Jul 2008 19:59

our daughter, has all the documentation for her house( ex 1914 wesleyan school) right from the original sale of the plot of land, all the trustees info etc..
right opposite her house is the wesleyan chapel, one hundred years older than hers........

our house was registered with the Land registry, so the deeds are like Our HARD copy......(in the bank)

Bob

Researching:
just give us the money........s*d the job! and hoping that the miserable RR 'er will get his/her just desserts <<<........I'm not the one with the Bouquet!

Trish Devon
Report
15 Jul 2008 15:37

Sorry I'm late getting back to you all,
thank you for all your replies,
it has made interesting reading.

Thanks again,

regards
Trish
xx

Researching:
Webber,Strong. ( Watchet,Minehead,Somerset)Drake,(Plymouth Devon)

Gwyn in Kent
Report
14 Jul 2008 22:11

If anyone wants the deeds to their prpoerty please do ASK.
I have a distant memory of seeing the deeds to my parents property, probably when they finished paying the mortage.

In 2006 Mum died and I specifically asked the solicitor dealing with the sale, for the deeds as I knew they are often got rid of. I was not executor, so not my solicitor, As the bungalow had not been registered, - parents had bought it new in 1936, I was told they would be needed to complete the transaction...

What happened.?.. they went to Hertfordshire and I never even saw them and are now considered to be the property of the purchaser.

Gwyn

InspectorGreenPen
Report
14 Jul 2008 22:09

As long as the property is registered with the Land Register, then the deeds have no monetary value, other than for research purposes.

So, keep them as you would any other valuable document, but don't pay a bank, solicitor or building society to do it for you.

If the property is not registered at the Land Registry, i.e if there has not been a change of ownership for say 50 years, then the deeds do need to be held in a secure place, as they are the only proof there is of ownership.

LindainBerkshire1736004
Report
14 Jul 2008 21:50

Hi Trish
We are in the same position as you. Actually found out today the Endowment will be paid into our account by Wednesday !!!! Yippeee.

So after living here for 17 years and having the endowment for 25 years and being married for 35 years we will be FREE.

We will go to the buiding society on Wednesday and give them a cheque and take their advice as to how best to store our "deeds"

I will add to this and let you know what happens

Linda :o)

Researching:
Peryer(Winchester), Barber(Norfolk), Franklin(Oxford), Sadler(Marylebone), Davies(Hammersmith/Northampton), Rance(Wokingham), Hedley(Gateshead/Lincolnshire), Wilson(Derbyshire/India), French(India/Ireland), Luffman(Wiltshire), Barnett(Brixton/Lincolnshire)

DIZZI
Report
14 Jul 2008 20:14

WE WERE WITH
HALIFAX

WE STILL OWE £100
BY DOING THIS THEY KEEP DEEDS SAFE
& CAN APPLY FOR INSTANT LOANS

ALSO CHEAPER THAN DEED BOX

Researching:
FINCH+LOCK+WEAVER+HALES+BROOKINGS+MANSFIELD+HOOK+TITCHENER and STEVEN & ISRAEL WEAVER c1735

Kay????
Report
14 Jul 2008 20:02

we have our at home, safe,,,,,not worth any history as we are only the second owners,

Harpstrings
Report
14 Jul 2008 19:49

Hiya Trish
We have just finished paying our mortgage off too - well last October - we still cannot get used to it and it is a most wonderful feeling that all the bricks and mortar are ALL yours! lol

Ann is correct in that its the peace of paper from the Land Registry is the important piece of paper. Deeds as such are worthless, which is a shame.
Mine are at home as I have not yet given them to my sister who can have them stored free of charge at her office (Solicitors).

Congratulations again when it happens.

Tina xx

JustJean
Report
14 Jul 2008 19:32

We left our deeds with the building society for safety
The deeds told us everthing as they were very old
, then the society phoned us to say they have had
a fire, and deeds were destroyed, they had managed to get a smaller version, all the old details have been lost and to top it all they asked for £70 for the new one!!! after much arguing they waived the cost. now we keep them at home.

Jean x

Elisabeth
Report
14 Jul 2008 17:25

Trish,

Just thought, back to your original question. It is probably a good opportunity to have your property registered - then Deeds are not such a vital document in any future sale. It does cost a little, but is necessary for the future.

Elisabeth

Elisabeth
Report
14 Jul 2008 17:22

We have our deeds and Mum-in-law's too. They are not really needed now as both properties are on the Land Registry computerised lists.

It is such a shame when people don't opt to keep their paper deeds, though our local Land Registry office did say that if people don't want them back, they usually deposit them with the local archives.

Ours are in a fireproof safe with our wills, passports etc. Hopefully the next owners of the properties will be pleased to have these original documents, but maybe not everyone is as interested in these pieces of history as we all are!

Elisabeth

Rambling Rose
Report
14 Jul 2008 16:52

Trish.....I am in the middle of selling house, no mortgage but the deeds were with the bank...they lost them as they are not kept in local branch but sent off (never to be seen again apparently!).

..my solicitor who kept some of the land registry papers still had them in the same drawer they were stored in 15 years ago!
He told me that it is so common for the banks (all of them ) to lose the deeds...I would not put them with a bank in future thats for sure, it has added time and money and stress to the sale! (they still didn't find them so 'office copies' from land registry had to be got instead)

Rose xx

Researching:
Fishlock, and the lost Harriet Louisa Whetman. These are my research interests and do not constitute part of any reply I may post on your thread :-)

Lorraine
Report
14 Jul 2008 15:58

all deeds now are on disc so the paper ones are not needed you should be given them even if you still have a mortgage on property



Researching:
derry,breakwell,kinnish,wadlow,penny,smith,woodward,cartwright.

Merlin
Report
14 Jul 2008 15:54

Just Think Joan,When you,ve finally got them,you can "Jump up and down and wave your,er,Deeds in the Air" Best Wishes.**M**. :o))))>.

Researching:
Vlad the Impaler and Dracula. Wend,Prickly,Island,GG.+CC.+DIZZY & Mersey.

ann
Report
14 Jul 2008 15:50

Our deeds are with the building society.Dont make interesting reading anyway.The house is only 8 years old and we are the first owners. Annie

Trish Devon
Report
14 Jul 2008 15:35

Joan thats also interesting,
especially you say,not sure how much of that paperwork we will actually be allowed to have.

I just spoke to someone at the Land Registry,
and he said most Building Societies nowadays,
dont have the storage facilities, they either destroy,or pass them on to the present occupier.

Regarding coming to the end of a Mortgage,
BS then contact Land Registry,and they release the documents.

Researching:
Webber,Strong. ( Watchet,Minehead,Somerset)Drake,(Plymouth Devon)

Merlin
Report
14 Jul 2008 15:31

Joan,If they are available you should be able to have all of them,The land on which our house stands goes back to "King Offa" and as it was at one time "Church Lands Etc" the History in it makes Facinating reading. There is even a section relating to part of the land being let out for "One Peppercorn per Annum,If Demanded.**M**.

Researching:
Vlad the Impaler and Dracula. Wend,Prickly,Island,GG.+CC.+DIZZY & Mersey.

Trish Devon
Report
14 Jul 2008 15:28

Merlin I keep jumping up and down,at the thought of being able to say
It's ours,at last,
must contain myself. lol!!!!!!!!!!!!

Trish
xx

Researching:
Webber,Strong. ( Watchet,Minehead,Somerset)Drake,(Plymouth Devon)

Merlin
Report
14 Jul 2008 15:22

Trish,When You Get Them You will feel" B"Marvelous ,knowing "Its All Yours" best wishes,**M**.xx.

Researching:
Vlad the Impaler and Dracula. Wend,Prickly,Island,GG.+CC.+DIZZY & Mersey.

Mauatthecoast
Report
14 Jul 2008 15:19

We're quite happy Tina to have our papers etc.with building society,but if they chose to close the account we would take them to solicitors,to be kept with our wills.


Researching:
In my own little world where everybody knows me... ..... best thing about happy memories is making them....