General Chat
Welcome to the Genes Reunited community boards!
The Genes Reunited community is made up of millions of people with similar interests. Discover your family history and make life long friends along the way.
You will find a close knit but welcoming group of keen genealogists all prepared to offer advice and help to new members.
And it's not all serious business. The boards are often a place to relax and be entertained by all kinds of subjects.
The Genes community will go out of their way to help you, so don't be shy about asking for help.
Quick Search
Single word search
Genes Extras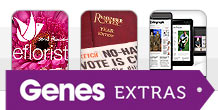 As a way of saying thank you to our subscribers, we have launched Genes Extras. You'll find exclusive competitions and discounts on family history magazines, days out and much more.
Icons
New posts
No new posts
Thread closed
Stickied, new posts
Stickied, no new posts
Wattle Club Number 4 for the Aussies and anyone wh
Profile
Posted by
Options
Post Date

~¤§ Lara Linga Longa §¤~
Report
31 Oct 2008 12:03

Hi Everyone here we again and we are going into out our 5th. year of our group and I wish one and all a Happy Birthday . Everyone is welcome to join in with us but we don't have any arguing thanks just happy wattling

Lara

~¤§ Lara Linga Longa §¤~
Report
31 Oct 2008 12:04

hello have to be first love to all

Lara

edith clace
Report
31 Oct 2008 19:34

Congratulaions on no.4, Hope you have as happy a move as we did on the Canadian site.

Edith from Canucks International.

TonyOz
Report
31 Oct 2008 21:06

Morning.....:>))

New Wattle thread....sooooo will bookmark with a little "Baby Boomers".. Limerick.


Washing trough's, Grandfather clock's,
Football boots with wooden stocks.
Skipping ropes, Velvet soaps,
Woolen scarf's and overcoats.

Men in spats,Old top hats,
Shingled roofs with tiled slats.
Old tin sheds,Wire beds,
Outside dunnys where the papers read.

Woodfire stoves,Ragged clothes,
Scratched your hives and picked ya nose.
Girls in frocks,Old Hopscotch,
Platted hair with Bobby socks.

Pony tails,Boys with snails,
Cubby house with Rusty nails.
Cracker night,At Twilight,
Every girl and boys delight.

Hot tar roads, Frogs and Toads,
Wooden pegs for washing loads.
Lino floors,Jacks and Taws,
Wooden homes with broken doors.

Trey's and Zack's,Chimney stacks,
Hobnailed boots with metal tacks.
Big gum trees,Bleeding knees,
Vinegar for itching fleas.

Old Jack frost,Cold ice blocks,
Cod-liver oil and Vick's for coughs.
Dr. Thars,Two inch scars,
Vaseline in little jars.

School Kit-bags,Sheep with dags,
Sisters hair in knotted rags.
Bonfire night,Brown paper kite,
Flying high right out of sight.

Gas Balloons,Golden tunes,
Stary nights with silvery moons.
Lovers lane,Tattooed name,
Hickey necks if you were game.

Buttoned shirts, Pleated skirts,
Pink Mohair jumpers for the flirts.
Pool and Darts, Hoods with Tarts,
Cruisin in their motor cars.

Brylcreamed hairs,Pants with Flares,
Spin the bottle...Truth or Dare's.
Rock or Jive,Your alive,
Record nights with 45s.



Tony.....:>))

Researching:
Hull,Williamson,Hales,Sadd,Langton,Bateman -"Essex"...Copley,"Sussex" - "Yorkshire" Richardson -"Yorkshire"...Barnes - "Wiltshire" ...Coglan - "Lancashire"... McCarthy & Walsh ( Ireland )"Limerick & Kilkenny"

Lewella
Report
31 Oct 2008 22:31

Morning Wattlers. I suppose I should wamp up a new batch of purple pills to celebrate the new thread, pmsl. Line up, line up and open wide for Dr Lew Lew's very special pretty purple pills, lol.

Dr Lew Lew xxx

Lewella
Report
31 Oct 2008 22:32

PMSL Tone. I remember having rags in my hair and looking like Shirley Temple the next morning :-)))

Aussiegirl
Report
1 Nov 2008 02:47

Morning all,, cor,,I am late its afternoon

Thanks for the new thread Lara..Didnt like the last one..looked like we all took our bats and went home..and left nothing to read..lol

Hope the others can find us and dont go looking for the old thread..

Having a lovely relaxed day so doing some fh..

Another masterpiece form the pen of Sir Tone..Hope you are collecting them Tony.. and put them in a book some day..ya might be able to retire early...

Love Mary xxx

Researching:
Cull.....Bartlett....McCall...Page...Paterson..

Gwenda
Report
1 Nov 2008 06:46

Hi Lara - thanks for starting another thread - like Mary said all looked a bit funny - lots of posts but nothing said - and that's not like us Wattlers - lol

Glad you and Mike had a nice break away - hope Mike's knee is okay.

Tony - lovely reminiscing - I had my hair in rags once but it still came out dead straight and I could sit all day with hair in curlers and still nothing - hair was so fine then.

Dave gets back tonight from his travels - hope he's coped with Darwin's humidity.

Time to look at menu for Vietnamese and get it ordered.

Good luck, fingers, toes and whatever else crossed for lotto tonight.

Gwenda



JALimestonePlains
Report
1 Nov 2008 06:53

Thanks Lara for our new thread.

Sir T brillient as usual -waiting for the book of the poems - soon please
Hi Edith, thanks for the congrats pop in when you can
Hope Dave arrives home not too washed out gwenda
~~~~~~~~~~~~everyone else
JA

Researching:
Armitage, Dean, Smith, Allen, Taylor, Kendrick, Brett, Evans, Ellis, Bradley, Walters

Yvette
Report
1 Nov 2008 07:24

Yooo hooooo, haha, see I do come in every now and then,
congrats on number 4 Lovely Lara.

We still have one lino floor - i love lino
xxxxxxxxxxxxxx

Researching:
Woodbridge(Suffolk Swaffham) Dale ,Mann (London)Gadd, Rhodes(Surrey), Baldwin(Worcester), Davey(Surrey), Beckenham, Beckingham (Wiltshire, Surrey),Brooks, Derrick, Harbour(Somerset)

~~~Hz by the River~
Report
1 Nov 2008 10:49

Good work Lara, was getting a bit confused. Is Ancestry off line too, butter, had a quiet evening tonight as the Show is on, fireworks out my window, will have to go and pick up a car load soon, this year DD and friends had their own hard-earned cash to spend lol. All well here but OH has had asthma all week, very dry and dusty with temperatures up and down like the Aussie dollar! We all get to sleep in tomorrow, so catch you all later, ~~ Hz

Jane
Report
1 Nov 2008 10:58

Hi all
Just returned from a 3 day conference in Adelaide- beautiful city at this time of the year, especially when a couple of us bunked off for a couple of hours and caught the tram to Glenelg.
Hope everyone is well
Janey

JALimestonePlains
Report
1 Nov 2008 11:15

Adelaide is a beautiful city Star -my Australian home, and good for you bunking off to Glenelg
HZ -commiserations to OH for asthma - he and I would have been bad company all week -my worst for the dreaded a for many years . Hope the kids had a great time
~~~~~~~~~~~goodnight to Wattlers all
Blessings for the week ahead

JA

Researching:
Armitage, Dean, Smith, Allen, Taylor, Kendrick, Brett, Evans, Ellis, Bradley, Walters

JALimestonePlains
Report
1 Nov 2008 11:16

And take care of you HZ xx

Researching:
Armitage, Dean, Smith, Allen, Taylor, Kendrick, Brett, Evans, Ellis, Bradley, Walters

~¤§ Lara Linga Longa §¤~
Report
1 Nov 2008 11:28

Well folks here we are in our new home and just checked the lotto I found two lines with three and the sup anyone find any more the numbers are 23,21,5,35,11,30, and the supps 39,17 three numbers and the sup on row M on the 36 line ticket on its own
nothing on Ron's ticket and on the ticket with 2 lots of 36 lines,had Line 15 with three and the sup too is that all we had? feel like there was more but that's all I had printed ?
I have had a really bad day today so glad its nearly over
Just wanted to say hello and swend my love to allof you especially pearly merlie hope things are looking up and to all I haven't seen here for while Ny Night love Lara


Lewella
Report
1 Nov 2008 20:26

Your forgot my tickets, Lara, and they yielded nought (grrrrrr) Sorry to hear that you're not having a good time. Hugs to you.

Well, tomorrow is going to be a very trying day. For those you missed the message, our Hank (aged 30) lost his battle with a brain tumour on Wednesday and the funeral is tomorrow. His wife Kellie and 6 weeks old Isabella will need lots of Wattler support, so please send all your positive thoughts their way.

Off out to brunch this morning, so I'll check in later

Hugs and pills for you all

Dr Lew Lew xxx

~¤§ Lara Linga Longa §¤~
Report
2 Nov 2008 03:14

Lew so sorry to hear about Hank what a sad thing to happen to such a young man with so much to live for sincere sympathy Lew to his wife and family and thought and prayers to all
wont be around for a couple days folk a lot to do before going up to Cassie's as my right hand man has met with foul play and is out of action (Josh ) love to all especially Merle and any one not well Love Lara sorry re your tickets too Lew thought I had more but have filed away somewhere hahah teee hee desk looks like a mad woman's breakfast as me mum used to say

Aussieone
Report
2 Nov 2008 03:22

Afternoon Wattlers

Aaah a nice new thread and to celebrate going into our 5th year as Wattlers whoo hoo.

Feeling a bit tired now as didnt sleep last night. We had Tamikas boyfriend Tim's 18th Birthday party, for those who dont go into sandpit, we hired a hall and put on music and light etc, no major problems which was good, there was about 25 there, no gatecrashers, damage, fights and so forth so we are lucky. Tims is feeling a bit worse for wear but he will get over it :-)

No a lot else has happened here so just a ~~~ and big hello to all.
Have and nice day :-) Cheers Sue

~~~Hz by the River~
Report
2 Nov 2008 06:02

Prayers for Kellie and Isabella coming threefold from this family (HzBzSz) - a sad sad story, but highlighted by faith, trust and courage. Blessings to you Lew supporting your friends so strongly and deeply.
Tassie well done with the celebration of Tim's 18th and a good time had by all, good to show that fun can be had just by being together, good music and a bit of energy and everyone can join in.
Lara darling, you are a champion to get away to Warnambool with Mike, he must really have loved the change of scene plus you got to explore cemeteries etc lol. Glad you got a contact out of your article - pity no more info YET - it might take longer but at least you will meet up with one more pair of eyes and ears trying to crack the puzzle of the Days/O'Days - every bit helps.
We have been having a transtition period at the shop since June and I have dropped off the radar somewhat, due to staffing and other issues, but in a couple of weeks we should be all clear with newbies trained up and a regular roster again. Most importantly DD is settled into Yr 12, got her subjects, is gung-ho on her projects and is organising her own time to a much greater degree. This included the local Show this weekend, went twice with two sets of friends, but managed her own budget (with a bit of a boost from dad's wallet of course) and is this afternoon hitting the keyboard doing English essay, Drama essay and Legal studies project, only asking for FOOD lol.
My brother stopped by for an overnight stay recently
so I got the nitty-gritty low-down on how Dad and Phyllis his friend are coping still at home at 90+, all is better than good, they are frailer but happy and managing well.
Horribly hot and dry wind here, they said it might rain today but someone else is getting it as usual. I am only watering selected veg and am thinking about a fabulous autumn garden for next April, because it won't be worth keeping anything going past Xmas this year unless we get a decent deluge.
We have had the cooling on already for several days a week - oh except for the days last week where we needed the heater cos it was -2 at Rutherglen
lol.......

better stop blethering ( love that word which I have adopted from Jilly McMad! )

take care all,

~~~~~Hz

Ps Tones, do you take commissions ! I reckon you could earn a healthy living writing ditties for particular functions, I might hire you! - you have a Gift my friend!

Aussiegirl
Report
2 Nov 2008 06:06

Hi everyone

LAra Sorry to hear that things have not been to good in Yarra.. Big hugs for you my lovely..HAve a nice time up north,, Are you flying or taking the van..Hope MIke is going ok still and has no more setbacks..xxx

Merle How is that leg going Have you had any more results from the blood tests..Rest it as much as you can,,I know,,better said than done.. Is Noeline home yet..big hugs for you to lovely..xxx

Well am very tired today,,dont know why. but am off to bed early tonight hoping to catch up on some sleep...

Lotsa love Mary xxx

Researching:
Cull.....Bartlett....McCall...Page...Paterson..