General Chat
Welcome to the Genes Reunited community boards!
The Genes Reunited community is made up of millions of people with similar interests. Discover your family history and make life long friends along the way.
You will find a close knit but welcoming group of keen genealogists all prepared to offer advice and help to new members.
And it's not all serious business. The boards are often a place to relax and be entertained by all kinds of subjects.
The Genes community will go out of their way to help you, so don't be shy about asking for help.
Quick Search
Single word search
Genes Extras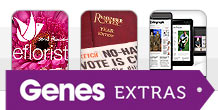 As a way of saying thank you to our subscribers, we have launched Genes Extras. You'll find exclusive competitions and discounts on family history magazines, days out and much more.
Icons
New posts
No new posts
Thread closed
Stickied, new posts
Stickied, no new posts
Just Jean
Profile
Posted by
Options
Post Date

Deborah
Report
20 May 2009 12:06

Hi everyone. Oh Sallie, what wonderful news, let's hope that it all turns out well. But as Huia said, be wary to start with. I wish I could help with the phone book check but I don't know anyone in NZ at all who would be able to do that. I hope you manage to verify all the facts. Good luck.

What a shame we have to even doubt people these days. I was reading another thread where people were recalling awful things that had happened as a result of them posting information on this site. It really is quite scary that there are some people around who like nothing better than to disrupt other peoples lives.

Life here is well. Just spent 2 hours walking with a good friend. We try to go every Wednesday. The countryside at this time of the year is simply spectacular, and we walked the lanes, only meeting tractors and riders on their horses.

Gotta go, loads of paperwork to catch up on. Happy Wednesday to everyone.

DEBBIE

GRMarilyn
Report
20 May 2009 12:12

Afternoon All,

Cant understand why anyone cant be genuine Huia that would be awful if it was not for real.....fingers crossed for John.

MO, I had to delete Shimms thread it went pear shaped and I was having none of that, it was not why I put up the thread for.....but just wanted members to know that I had an Email from her to say she had left GR.

I was and still am really upset about it........but life goes on !!
I am in touch with her, so that's good.

Out in the garden today as its a really sunny one,hubby has cut the grass and makes me more determined to potter around out there..

Look in tomorrow ,have a good day all of you.




Researching:
Tregaskis- Blatchford- Bunker- ONeil.... Cornwall & Devon ( Ingram) Dorset .Bean Kent & Norfolk

Sallie
Report
20 May 2009 13:46

Hello everyone,

Yes, it is really John's sister! After all the searching around the Willesden area, with no results, it turns out that the adoption did take place there.

Just shows how easy it is to miss things, doesn't it?

I've received a PM from John, so now know that it is genuine. Both him and his cousin Louise are over the moon.

Three of us that kept posting on John's thread, had some trouble with one or two people ordering us not to make anymore posts on it, then she deleted our posts and reported us to GR. There was nothing on the posts that shouldn't have been, so we could see no reason to stop.

Debbie, so pleased the children did so well in the fun run. I know what you mean by elasticated walls - there was always somebody or other here. They were good days though - make the most of it, it goes by so quickly

Marilyn, I am really sorry that Shimms has left GR, she's a nice lady, always kind and considerate. I did see her thread - it's a shame that she has been forced to leave by a certain person.

Huia, thank you for your concern about John. I know what you mean't -- it's sad that there are some people that would do that kind of thing. Hope you and your hubby are alright.

Hello to Mo and Jean , hope you are both having a good day.

My daughter has been to the hospital today, she's now waiting for a date to start the new treatment. She'll go into the hospital every eight weeks, because she has to have the medication through a drip, which will take two hours, then she has to stay there for another two hours, just in case she gets a reaction to it.

Well, I think I'd better go and start preparing the veg. ready for our dinner this evening.

Best wishes to you all.

Sallie.

Mo in Kent
Report
20 May 2009 15:37

Hi girls.
Oh Sallie,I was watching Johns thread,and saw you adding to it. What a great result,I bet he and his cousin are thrilled. I wonder if they will ever meet each other. With Johns sight going,I hope his sister sends him some photo's soon,so that he can see her.
I hope your daughters treatment goes well,and that she doesn't suffer to many side effects.
I am glad you have heard from Shimms, Marilyn. I hope she is o.k. She did not deserve the comments she received,from a certain party,and that she continues with her kindness to others.There are some nice people around still,we are not all tarred with the same brush,fortunately.
I hope you got your potting done,and did not overdo it.
Goodness Debbie,you are energetic. Two hours walking,thirty minutes is enough for me,and then I am exhausted. Mind you it takes me,thirty minutes to walk up town,and thirty back,so I guess It's not to bad at my age
Hello Huia,hows you mate. O.k I hope. As you said earlier,I hope that John's sister is the real thing,and not one of the nasty B--g--s around.
We have not heard from our Jean for a couple of days,I hope she is alright
I will send her a pm shortly to make sure. She has had a lot on her mind lately,bless her.
My OH has to go for a scan on Friday. He's not happy about it,as he has to drink two pints of water,before hand. We have a good thirty minutes drive to the hospital,and with all that fluid floating around in his bladder,he's worried he will need the loo. I have said he should only drink a little and
have the rest,when we get there. But you know what men are like,still if he wont be told,it will be him with the wet trousres,not me.
It's been a lovely day here again,we are so lucky here in the south east.
Well,I will speak to you all soon. Love Mo xxx

Huia
Report
20 May 2009 20:43

Hi all.
Sorry I sounded such a doubting Thomas about Johns sister. I used to take it for granted that everybody was nice and what they said they were but the goings on on this site have made me a bit suspicious about people and their motives. Sad isnt it?
Huia.

Researching:
Avatar: Photo of the lunar eclipse tonight, but I managed to jerk the camera.

Mo in Kent
Report
20 May 2009 20:54

Hi Huia,this site does make one have doubts,about others honesty,so don't worry about what you said.
I am just wondering how long it will be,before we get whooshed from the
general site. As ann of green gables thread on gen,got whooshed last night. Someone reported it,and said it should have been on chat,and not on general. And as we are all chatting,and catching up on each others news,we could be next to go. I do hope not,but will have to wait and see.
I caught up with you on the carers site Huia. I hope you get a good result
at your demonstration. Power to the people that count. Mo xxx

sue
Report
20 May 2009 23:24

Hi Everyone

Just been catching up on all the news.
Hope all goes well tomorrow for your OH Jean thinking of you both at this time.
Like a few of you I have been ill with a cold virus, made me feel really washed out. But now my OH is getting it so that will be hell for the whole house.

My youngest has brought two broad beans home from pre school and with have now got green stems. He thinks it is going to grow like in Jack and the bean stalk( hopeing for the goose that lays the golden eggs).
He is having his leaving photos taken tomorrow. Starts school in september.

Take care all hope everyone has a good week,speak soon.
Sue


Mo in Kent
Report
21 May 2009 14:27

Jean,I hope everything,went well today for J.
I sent a pm the other day ladies,and she is still not on top form. Please get well soon jean.
Oh Sue bless your little one. Just make sure you guard that broad bean plant,with your life. And when the tiles on the roof start to rattle,get out quick,as it will be that,that is loosening them. I dont fancy you having to face the giant though.
Hope you feel better soon Sue. Hi to everyone else,did not mean to ignore you.
Speak to you soon. Mo xxx

JustJean
Report
21 May 2009 14:41

Hello, folks, J went for his pre-op, and has to go back tomorrow to give some more blood.... He has to go in on Tuesday next week, ready for the op on Wednesday, but.......He has to ring up first on tues morning to see if there is a bed available !!!.......really praying there will be one, I dont know wether its the tension , but all I want to do is sleep. so if I go missing I am prob having a kip which is where I am going when I finish this,thank you everyone for your love and concern , means a great deal to us both.... so off to get some zzzzzz.

Love Jean x

Sallie
Report
21 May 2009 19:42

Jean I've just read your message - hope everything will go according to plan for next Tuesday and Wednesday. The sooner the operations over,
the better.

I'm sure it's tension that is making you want to sleep. It isn't easy standing by watching a loved one having to go through what they have to.

You take care of yourself too, Jean. Please give my regards to your hubby, I will be thinking of you both.
Speak to you soon.
Best wishes, Sallie.

Mo in Kent
Report
21 May 2009 19:48

Hi Sallie,I have just been reading John thread. Why the heck did GR remove it,surely not just because he said his mum was an unmarried woman. In this day and age,we probably have more unwed mums,than they had back then. And especially as she passed away,so long ago.
Hope you are well. Mo xxx

GRMarilyn
Report
21 May 2009 19:57

Hi everyone,

Seems any thread goes missing these days good or bad.!

Jean I do hope your coping,its such a tiring time for you, at least fingers crossed he will have a bed waiting for hm.

Sue, ahwww.. the little one I can remember the beans in blotting paper in a jar when my boys were small.
Then they had watercress in egg shells........Oh memories !!

I have been very busy today making a pelmet for my new curtains.
looks lovely .....well hubby made it with my instructions LOL

Researching:
Tregaskis- Blatchford- Bunker- ONeil.... Cornwall & Devon ( Ingram) Dorset .Bean Kent & Norfolk

Mo in Kent
Report
21 May 2009 20:07

Hi Marilyn.
You are lucky to have a OH who kind of takes orders. I would have to blackmail Roly,to do it.
He bought two bedside cabinets,about three months ago,they are still sitting there waiting to be put together.
Keep your chin up Jean my lovely,we are all rooting for you both,and will be on tender hooks till we get news of J's op next week. God bless you both.
Love to all Mo xxx

Huia
Report
22 May 2009 01:17

My OH used to be a great handyman. Ask him to do something and it was done straight away. These days I have to supervise and help him. I am not too unhandy myself, having helped my parents to build a house when I was a teenager, and then helped OH build our house. It would be quicker to do some jobs myself these days but I have plenty of other things I should be doing. If I leave OH doing a job he seems to lose interest or forgets what he was doing. He seems to have trouble mowing the lawn these days. Have just spent $165 on repairs to the mower and when he tried to mow yesterday he had problems. I had previously been thinking it was time we paid somebody to do it for us and this time he suggested it! For somebody who is very independent and a keen DIYer that surprised me greatly.

Huia.

Researching:
Avatar: Photo of the lunar eclipse tonight, but I managed to jerk the camera.

Deborah
Report
22 May 2009 10:42

Morning all, I hope you are all well and looking forward to a restful weekend (Bank Holiday for those of us in the UK and surrounds). Jean I thought of you yesterday and was wishing that all went well with the pre-op. Good luck for next week. The sooner it is over the quicker you can heave that huge sigh of relief and start getting your life back on track.

Sue, I remember the beans, cress, potatoes and other "beautiful creations" that used to come home from school. Every single one of them so very special in their own way. My youngest is now 6, but having 3 older brothers she is quite a tomboy and very independant. Still, even my 13 year old can still make me cry by saying or doing something so beautiful, it makes me thankful I had children.

Mo, Daniel is all ready to hit your part of the world, so I hope you have organised some lovely weather for him. They fly out at 4.15 today but his race isn't until 6.05 tomorrow evening (!), so, one of the dads who is going has arranged to hire a car and will take the late competitors out for a few hours. I think most of the Jersey people are competing later in the day so they have decided not to get to the stadium at the crack of dawn. If he gets through his heat the final is on Sunday at 12.30.

Huia, my F-in-L also suffers as your OH does. The family had to make the very difficult decision to place him in a secure unit in April as he started wandering and was a danger to himself and others if he walked around the roads. Unfortunately his wife died a few years ago so there was nobody in the house to keep an eye on him. The place where he lives is lovely, but nothing can beat home comforts. His health and attitude have gone down since he has been there, which is a great shame. It is such an awful illness. My thoughts and prayers go out to you.

Am off to the dentist for an emergency appointment today, raging toothache kept me awake most of the night. I was lucky to get into see her so quickly. Here's hoping for a pain free weekend.

Wishing you all a sunny weekend :-)))

DEBBIE

Mo in Kent
Report
22 May 2009 15:39

Good afternoon ladies.
Debbie,we have glorious weather at the moment,so Daniel is in luck.I just
hope it last's all weekend for him. Is he at Ashford this weekend?
Are they coming over by ferry?
My god Huia,how big is your lawn mower.Judgeing by the cost of repair
it must be a big one. Thank goodness,your OH realised that you need some help with the garden.
I tackle a lot of the houshold chores myself as well. I am now pretty good at wallpapering and painting. and have also had a go at doing artexing
before now. I am by no means an expert,but I get by. But I would never dream of touching the electrics,only the plugs. But my daughter,who is on her own,does everything herself,and then gets myOH to check she has done it right. He is an electrician by trade.
Hi Marilyn,Sallie and of course our Jean. I hope you are well.
I will speak to you over the weekend,as we have nothing planned to be doing. It's the same as any other day when you are retired.
Love and best wishes to you all. Mo xxx

Mo in Kent
Report
25 May 2009 13:42

Afternoon girls.
Thought I would pop on to wish Jean's OH J,all my best wishes,as he goes into hospital tommorow,for his op.
You are both in my prayers,and god willing J will be home safe and well very soon.
Please can you all add your good wishes for them.
I hope you are all well,and enjoying the weekend.
Speak to you soon. Love Mo xxx

Sallie
Report
25 May 2009 17:11

Hello everyone,

Just looked in to wish Jean's hubby all the very best for tomorrow. Hope they have a bed available - it will be wonderful when the op is over and done with.

I'll be thinking about the both of you.

Good Luck.

Sallie.

Deborah
Report
25 May 2009 19:30

Hi All, please may I add my best wishes to Jean and Hubby for tomorrow. My thoughts will be with you both, and hope that J makes a full recovery. Take time and look after yourselves.

Been a busy weekend here, problems with F-in-L's house. What are Bank Holiday weekends for if not to have to sort out family issues. Ones we could rather do without.

Mo, Daniel loved your stadium there and did very well. He beat his previous personal best at 1500m and actually beat the other boy from our athletics club here-that is a first and a huge psychological boost for Daniel. Luckily they are very good friends and can both learn from the race.

Must go, got to get the little ones to bed. Hard when it is still so light outside.

All the best
DEBBIE



Mo in Kent
Report
25 May 2009 19:48

I am glad Daniel liked the stadium Debbie. He did really well didn't he.
And luckily for him,the weather held out.
I hope you managed to sort out F-in-L 's house out.
Hi Sallie.