General Chat
Welcome to the Genes Reunited community boards!
The Genes Reunited community is made up of millions of people with similar interests. Discover your family history and make life long friends along the way.
You will find a close knit but welcoming group of keen genealogists all prepared to offer advice and help to new members.
And it's not all serious business. The boards are often a place to relax and be entertained by all kinds of subjects.
The Genes community will go out of their way to help you, so don't be shy about asking for help.
Quick Search
Single word search
Genes Extras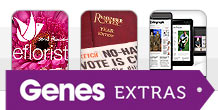 As a way of saying thank you to our subscribers, we have launched Genes Extras. You'll find exclusive competitions and discounts on family history magazines, days out and much more.
Icons
New posts
No new posts
Thread closed
Stickied, new posts
Stickied, no new posts
For Aussies......and friends
Profile
Posted by
Options
Post Date

SueMaid
Report
15 May 2016 12:55

Crazy that Australia is in the Eurovision Song Festival. I hope we won't be voting to join the E.U. before long...now that would be silly :-0

We had a lovely day today. We drove to an Orchid Show about 2 hours away...well worth the drive. I may have bought a plant or two. Then we had lunch in a pub in a nearby small town before driving to a botanical garden in the Blue Mountains. The weather was quite mild so we were able to enjoy a very nice walk around the gardens and admire the Autumn colours.

LindainHerriotCountry
Report
14 May 2016 23:40

Phew, we don't have to redraw the map of Europe, Australia only came second

LindainHerriotCountry
Report
14 May 2016 21:06

I am watching the Eurovision Song Contest and Australia are in it again :-S

What would happen if they won? Would the whole of Europe have to go down under for the show next year?

SueMaid
Report
13 May 2016 00:04

Sounds like the little one may be on the mend if he has been sent home. I hope so.

Aimee and Joel are IVF twins. No twins in the family but my grandfather was one of triplets. Eeeek :-0

I hope Tec gets the right antibiotic soon. That infection needs to be cleared up quickly before it drags him down.

Sylvia- we are having glorious sunny days with little rain. Everything is so dry and it is unseasonably warm for May although it's starting to cool down now.

LindainHerriotCountry
Report
12 May 2016 22:43

The mums car appeared back on the drive tonight, so they must have let him come home.

We have no shortage of water here, the reservoirs were all full when I drove past them at the weekend

SylviaInCanada
Report
12 May 2016 20:21

Do hope the twins improve ............. it will be better with daddy home.

There seems to be no history of twins in teh famiyl enxt door either ....... her family is still in northern China, and mother has no knowledge of any. But W also said that many cousins and other family members have moved away and there is no contact with those.

They were prepared for a 3rd child, so twins was a definite shock for them as well!


Sorry to hear that Tec still has the infection. I do hope that they can find the right antibiotic. Please give him my love when you speak to him.

It's hot here again ............ and I'm just listening to a radio programme saying we another another low snow pack this winter, and the water in the reservoirs is lower than at this time last year. :-(

I guess we'll have the highest level of water restrictions start even earlier. It also makes the forest fire situation even more worrying.

Researching:
Springtime, and the cherry trees are in full flower ........................................ ......... ............................................................ To help us and to get better results, please post as much detail as you can, especially name, date(s) and place. Also say what you already know.

LindainHerriotCountry
Report
12 May 2016 17:47

I spoke to Tec this afternoon. He said that it was very hot there, he had gone into the garden to feed his fish, but it was too hot to stay out. He still has his infection despite two lots of antibiotics. The nurse went off clutching a sample this morning, so I hope they can get the correct antibiotic this time

LindainHerriotCountry
Report
12 May 2016 17:44

I am not surprised you swore Sylvia

There is no history of twins in either side of the neighbours family,so it came as a real shock when she found she was having twins.

I sat in this morning as twin two ws asleep while grandma took the three year old to collect daddy from the station. Twin one is still in hospital as he has a bacterial lung infection as well as a virus. it is odd that the other twin just has a bad cold and he hasnt got the secondary infection as well

SylviaInCanada
Report
12 May 2016 00:54

that amde for a long day for you ................

makes my complaints about being woken at 6:30 am by the "this is Microsoft. Your Windos program hs problems" call seem trivial.

never mind ... I blasted Michael with the Indian accent, even using some swear words I didn't know I knew ;-) before putting the hand set back on the cradle!

I do hope the twins will be better soon.

Our neighbour has 2 little girls, 6 and 3 ............... yesterday she told she's expecting again .......... they decided they wanted another baby, and could afford it. Nope ............ she's got twin boys in there :-0 They're due end of September / early October.

She's already worried about the expense ......... especially as she doesn't think she can pass down the girls' baby things. She's Chinese, from the mainland, he was born in Canada of parents who immigrated from Hong Kong .......... and boy vs girl clothes and play still mean a lot to them.

He's the one whose parents bought the house next door several months after we bought ours, lived there for about 6 years or so, then built a house elsewhere in the city .......... but held on to this one as potential for one of their sons. Their renting out of it gave us some interesting neighbours over the years :-S :-D

This son wanted to come back into this neighbourhood, but the old house needed too much work, so they knocked down and built a new one, moving in about 6 years ago. The other son wanted another house the parents had bought in the eastern part of the city, and moved there.

They're good neighbours ........... I hope the house will be big enough for 4 children, so they don't move away.

Researching:
Springtime, and the cherry trees are in full flower ........................................ ......... ............................................................ To help us and to get better results, please post as much detail as you can, especially name, date(s) and place. Also say what you already know.

SueMaid
Report
12 May 2016 00:19

I feel for your neighbour and her mother. What a great neighbour you are although I am not surprised at the help you are giving <3

Hopefully they will all be much better soon.

I don't have sawdust in my head :-P The wind whistles around because there is nothing there ;-)

LindainHerriotCountry
Report
11 May 2016 15:40

It was the three year old who gave the cold to the twins.

The first twin had to go back to hospital mid morning as he was ill again, he is still there. In the meantime the second twin was ill, so his grandma took him to the doctors. I stayed with the three year old while she did that.

I have just got back from taking my old lady shopping, I will go and help out next door in a while, it is all go

Sue, don't be silly, the wind can't whistle through your head, the saw dust will stop it :-D :-D :-D

The first twin had to stay in over night, so I had to go back to the hospital this evening to take clothes Nd provisions for them, so I have done 120 miles for them today. Never mind, that is what neighbours are for. He is responding to the antibiotics so they should be home tomorrow. The father doesn't get home until tomorrow morning, so poor old grandma has the other two to look after overnight.

SueMaid
Report
11 May 2016 13:46

A long day for you them, Linda :-(

Poor little one - there is nothing worse than listening to a child trying to get their breath. Joel gets croup although he seems to have outgrown it now. It was awful listening to him. I do hope both twins are feeling much better soon and their big brother doesn't come down with their chesty colds.

It's been very windy here so I have gone to bed with a headache and sore ears. Strong winds always affect me like that. I think the wind must go in one ear, whistling around my head before leaving through the other ear ;-)

LindainHerriotCountry
Report
11 May 2016 08:20

It wasnt too bad, but we have had an early start this morning. The door bell rang at 6.10am, so I had to spring into neighbourly action. One of the little twins from next door had been taken into hospital in the middle of the night with breathing difficulties. His mum was told to take him to the local hospital twelve miles away to have him checked out. As his oxygen levels were very low, they decided that he had to be admitted, but the children's unit there has been closed overnight and at weekends, so they blue lighted him to the main hospital thirty miles away.

He was fine this morning, he just has a horrible chesty cold acquired from his three year old brother. They discharged him at 6am, but his mums car was at the other hospital,so she had no way to get back. The husband is away on business for a couple of days, so her mother was staying to help. She was going to drive to get her while I sat in with the three year old and the other twin who were asleep, but the twin woke up just as she was going to leave. he sounded very ill and chesty as well, so I thought it would be better if she stayed to look after him while I did the driving.

We collected her car on the way back, so all is well, or will be once they get the second twin to the doctors. I could do with some more sleep though :-(

SueMaid
Report
11 May 2016 00:14

It seems parking at hospitals is a world wide problem. So are long waits for appointments. One delay and the whole day is thrown off.

I hope the day was better for you.

LindainHerriotCountry
Report
9 May 2016 20:15

Aghh, the appointment took ages, then it took me twenty minutes to get out of the car park before I could take him home, so in all, I was away from home for five hours. Typical that it was such a lovely day as well. I have to take someone to the fertility clinic in the same hospital tomorrow afternoon. last time I took the same couple, their appointment lasted two and a half hours, so I am not looking forward to tomorrow either.

LindainHerriotCountry
Report
9 May 2016 14:26

I am now at the hospital doing the first of three community drives this week. This old chap insisted on being picked up far too early, so we were half an hour early for his appointment. Now there is a delay so there will be a 90 minute wait :-(

Your Mother's Day sounded fun Sylvia but it could have been a bbq in the rain. We have lots of power cuts here, I hate putting all the flashing clocks right.

The fires have been dreadful, but it sounds like they are more under control now thank goodness. I think it said that 20% of the town had gone, that is so sad for the people who have lost their homes.

SueMaid
Report
9 May 2016 12:42

Sounds like a very busy weekend - no wonder you are exhausted. I hope you enjoyed it.

Thank you for passing on our birthday wishes :-)

LindainHerriotCountry
Report
9 May 2016 10:19

I am here Sue.

We had a very nice weekend, although it was hard work.

My sister had hired the local Brownie hut for the party. It used to be the village school, but has been converted so that it has a large hall, excellent kitchen, leaders bedroom downstairs and two bunk rooms upstairs where lots of little Brownies can sleep. It is very well equipped and has lots of play stuff as well.

We went down on Friday and were staying in the house. Her daughter and granddaughter were there as well, plus one of his sons who lives in France now. My sister had managed to keep the sons arrival secret ,so while she went off "to meet the caterers" we kept him occupied, he had a real surprise when she came back with his son. Another couple were staying in their campervan in the grounds, so I made a huge Lasagne with side dishes and took it all down with me,so she needn't prepare anything.

Just as well because apart fom the party arrangements, she had hosted 22 ladies for a plant exchange the previous evening. An annual event which just clashed with the party this year.

Another family group of eight arrived late evening, but they had already eaten thank goodness, they were all sleeping at the hall, but it was late before they went down there.

On Saturday morning, the ladies all went to the hall to set up the tables and put decorations up before the caterers arrived. Once they had delivered everything, they left, but we managed to get everything done before the fifty guests arrived at 12.30pm.Some of the food needed to be put in the oven and then onto serving platters.there was a lot to do during the meal, plus all the washing up, so two of her oldest friends and me acted as staff. It all went extremely well and lots of alcohol was consumed.

It was about five pm before the last local guests left. All the family who had arrived from far flung places then went back to the house and made an evening of it. We took the spare food with us to feed everyone.

On Sunday morning the hall had to be cleared up and left ship shape, so I was very tired by the time I got back home last night, it was worth it though.

I did pass on your birthday wishes to him Sue.

Must rush next door to play with the twins, I will catch up with everything else later on.

SueMaid
Report
9 May 2016 06:47

Well that was an ....er....interesting Mothers Day, Sylvia :-D

My day was nice. Son in Hobart rang in the morning and Aiden rang from his Mum's too. Quiet for the rest of the day and then family over for dinner. Just as I like it :-D

Raining here and definitely a chill in the air.

Where are you, Linda....you know I worry :-|

SylviaInCanada
Report
9 May 2016 04:41

The power was off from about 11:30 am to 5:15 pm .............. just under 6 hours.

The fridge freezer was not opened, the standing freezer in the basement was open for a couple of minutes while OH got the lamb out.

The fridge was opened 4 or 5 times for 1 or 2 minutes a time ......... but we don't have many spoilables in there.

I think we're OK ...... even the ice cream in the fridge freezer had not softened when I got it out after dinner.

I think we're fine ............... they usually say 48 hours for a full freezer, 24 hours if it is half-full. Both the fridge freezer (below the fridge) and the big freezer are about 90% full.

The time for a fridge is about 4 hours according to most experts ......... but I still think we're OK. I'll smell my cold meat tomorrow before I make my lunch sandwich!

Researching:
Springtime, and the cherry trees are in full flower ........................................ ......... ............................................................ To help us and to get better results, please post as much detail as you can, especially name, date(s) and place. Also say what you already know.