General Chat
Welcome to the Genes Reunited community boards!
The Genes Reunited community is made up of millions of people with similar interests. Discover your family history and make life long friends along the way.
You will find a close knit but welcoming group of keen genealogists all prepared to offer advice and help to new members.
And it's not all serious business. The boards are often a place to relax and be entertained by all kinds of subjects.
The Genes community will go out of their way to help you, so don't be shy about asking for help.
Quick Search
Single word search
Genes Extras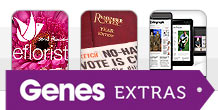 As a way of saying thank you to our subscribers, we have launched Genes Extras. You'll find exclusive competitions and discounts on family history magazines, days out and much more.
Icons
New posts
No new posts
Thread closed
Stickied, new posts
Stickied, no new posts
For Aussies......and friends
Profile
Posted by
Options
Post Date

Persephone
Report
18 Mar 2016 11:03

maybe they just did not have time to come back, they are an hour away up north, believe it or not in Huntly. The two lads that did the job knew that we sort of had a mini kitchen set up in the laundry. I have tried to have a set up that works until we can get the renovations done.

At the moment with one of the rentals being given a bit of a face lift so that we can get the insulation done underneath that property. We had built an extra room on the deck up there ages ago to eventually become a laundry and the tenants have used it for storage except for our latest lot in there (over 2 years or so now) they cook in there on a gas barbecue and apparently the walls are pretty bad so they have been told to clean them. They don't hold with cooking in the kitchen. Our builder is making the now laundry into a bigger bathroom and the bathroom is to become a small child's room or office. Now we have found that one of the waste pipes was not running out properly and some parts are rotten. Once you start fixing something, something else always crops up. The house will then have a toilet in the bathroom and a separate toilet (existing to remain). He has come home and said he thinks we might sell that one when its finished. Will paint it outside as well etc. I am quite pleased it's quite a good place in that it is safe for children to play, no traffic worries. Also whenever I mention selling one I always get told about the income.

OH was in hospital in Norway and our youngest daughter is named after a nurse's aid from there only we spelt the name differently and not the Norwegian spelling. When she was a teenager she said she wished she had the other spelling, but everyone calls her by the second half of her name and some people have commented on when she signs things as first name begins with an A and not a G... and then she has to explain. She had her full name all through school until about the last year or so except her English Teacher who loved her name.

Hope everything goes well for your brother Linda.. I am still shaking my head re his wife not going with him.

Stress Sue... given that up and will let the wheels grind slowly and eat out even if it is just Subway for tea tonight followed by Maccas waffle ice-cream.

I have really had to look at what can be done with this place and see what it will be and remember that there are others that live in a lot worse conditions even if the shower here really annoys me.

Researching:
The latest tree member our Grandson, Stellan born 09/12/14

LindainHerriotCountry
Report
18 Mar 2016 10:11

Goodness Persie, what a tale. It sounds as if they have spun the job out to make more money, but it is a huge hile in costs.

If they havent been back yet to finsh off, it may be chaeaper to replace the lock and take the plastic off yourselves while you sort the bill out.

I am glad that you are cooler Sue, I dont like to think of you being hot and sweaty - not a pretty image :-D

The saga of my brother goes on. The insurance company have decided it would be too dangerous to move him before the operation, so they want him to stay there, that could be anything up to a month. He is quite happy about that, , the doctors there seem to be under the impression that the NHS is good and dont understand why he doesn't want to go to his local hospital. Having had both my parents in the local hospital for long periods of time, I understand only too well why he doesn't want to go there .

One good thing is that he is diabetic and at home his blood sugar levels are crazily high (his own fault). Yesterday they had got them down to five which is nothing short of amazing. He doesn't seem to be eating much, partly because he has no idea of what anything is. He has two slices of bread with cheese and ham for both breakfast and dinner, with a hot meal of some sort at lunchtime. The hot meal seems to be inedible, but with all the morphine he is on, he isnt hungry. He is very overweight, so if he looses lots, that will be a good thing.

Last night he said that the doctors there had written to the insurance company saying they want to move him, but unless they pay for an air ambulance, that wont happen. I wondered if maybe they could move him to another larger hospital inside Norway as they use small air ambulances all of the time. He had his mind settled on staying there until after the operation, so was a bit fed up of being used like a ping pong ball.

His wife is due back in the UK this morning, she just has to drive the length of the country in a car she has only had a quick drive of. She is also a technophobe so cant use the sat nav.

We have had a few glorious days here, really warm, but it is overcast this morning. I have Meals on Wheels to do. It is the first time since they moved the production from a cafe in the town, to the new community cafe in the new old peoples home which also has the new library in the same building. It will be interesting to see if the quality of the food is any better.

SueMaid
Report
18 Mar 2016 09:04

Oh my, Persie....what an ongoing saga. Are you stressed? I would be.

The toaster :-D

It has cooled down here and we have had some blessed rain thank goodness. Our front lawn was yellow :-(





Persephone
Report
18 Mar 2016 07:02

How weird of your sister-in-law to send useless items Linda. My bloke would be lost without me making sure he has everything at least the hospital might have a sleep apnoea machine That would be the first thing that I would make sure that it was sent to the hospital though, I would also probably abandon ship and go with him.
Surely they have travel insurance to cover this sort of thing. The trouble with her carrying on with the cruise means that they would not get the trip again together because she has blown it.

Glad Tec has seen his lovely lady wife that should cheer him up.

And me will you know I am at sixes and sevens with this move.

We have just had the asbestos removed from the ceiling in the porch, this has meant that the kitchen has sealing plastic down the doorway and the problem is we would be without our fridge and washing machine and the magic toaster for a day. That was yesterday (Thurs) today Fri the tester man came and put a pump of some sort in the area and then later he came and took a sample and I was chatting to him, this was early afternoon and I said and will someone come later and remove all the sealing plastic.. to which he said yes. He had my spare back door key in his hand which he used to let himself into the porch and said that he had wanted to return the key to me but Brian the boss had said no he was to bring it back to the office. I thought fair enough as might need to get in and I might be out.

In the meantime himself has been to the company and wanted the job costs itemised 1) because they said it was a two day job and should be a 1 day job of removing asbestos (they also did the garage). Amazingly they left this small strip down the side of the garage and a chap came today and did that and would have taken less than an hour.
2) himself likes to know where it all gets spent etc because what had originally started as $2k for the porch now became $6K which included removing a bit from around the bottom edge of the garage and a bit in the apex front and back. They would also need concrete cutters.

Today OH struck a Mrs Jobsworth and whilst himself was talking she came out of her office said excuse me for interrupting but we have never had anyone come in here querying before and off she went. Whatever OH said, she would retaliate with his own words back to him sarcastically etc .. when he related it to me it sounded like a Monty Python sketch.

OH said to her I am happy with the two guys that came, I am happy with that woman over there sitting quietly and I will be paying the cost and I will happily use the company again when it is under new ownership. Mrs Jobsworth is the owner's wife.

OH is now assuming that Madam up there has said we won't pay and that is why the key went back up North. When he told her he assumed something she said so you assume do you and this is how it went back and forth.

Well at least life is interesting but in the meantime I may have no access to fridge or washing machine, toaster etc Why is the fridge in the laundry; because there is no room in the kitchen for a fridge. I do not think much of the stove and will need a pneumatic drill to clean the inside of it so have the microwave, kettle, electric frypan, crockpot and sandwich maker all along the counter tops to use.. looks like I am running a café. Besides stove has no light in the rangehood and the range hood is illegal as the duct does not go out through the roof. It is very dark in that area... This house was built in 1944 and no one has modernised the kitchen.

Researching:
The latest tree member our Grandson, Stellan born 09/12/14

SueMaid
Report
16 Mar 2016 11:32

It's like a television show about nightmare holidays. It would be good to get him home...at least you would know what's going on. Sounds like his wife doesn't have a grasp on the situation :-0

LindainHerriotCountry
Report
16 Mar 2016 10:09

We didn't give you permission to go away Sue :-|

I hope you had a nice time though.

My brother has been reunited with his passport. His nutty wife sent the smallest hand luggage bag they had, packed with outdoor walking boots and outdoor clothes, but nothing he could actually need in the hospital.

They gave now said it could take weeks for the swelling to go down before they can operate,so they want to send him back to the UK. The insurance company seem to be trying to get him to come by scheduled flights. That entails four separate planes. He has a cast fro ankle to groin which is so heavy he can't lift it. When he needs to move someone has to lift the cast for him. Plus he is on lots of morphine, an air ambulance costs a lot, so they don't want to sanction it

SueMaid
Report
16 Mar 2016 09:05

Wow...I seem to have missed some news. That's what I get for being AWOL.

How awful for your brother, Linda....I hope all works out well for him. Not sure I could have continued with the cruise ;-)

I love Madame Butterfly...such a sad story but so beautiful. We saw it a number of years ago at the Sydney Opera House.

It is nice that Tec has seen the Duchess...he will have peace of mind.

All is well here - we've been away but are back now. It has been very hot and humid here especially for March but today we have had rain. Badly needed and it has also cooled down.

SylviaInCanada
Report
14 Mar 2016 21:17

I am so glad that Tec has finally managed to go see the Duchess, and to know that she is doing well, and is looked after.

That must have put his mind to some rest.

Researching:
Springtime, and the cherry trees are in full flower ........................................ ......... ............................................................ To help us and to get better results, please post as much detail as you can, especially name, date(s) and place. Also say what you already know.

LindainHerriotCountry
Report
14 Mar 2016 20:52

The opera sounded to be excellent Sylvia. It is a good job that you couldn't here the drums from the rugby

I spoke to Tec today, he had managed to sit out in the garden yesterday for a few hours as it was so nice, but not today as there was a cold wind.

He finally managed to go and see the Duchess. She was fine, she seems to be in good health apart from her memory. He thought that she knew who he was and he was happy that she is contented where she is

SylviaInCanada
Report
14 Mar 2016 00:20

we went to the Opera last night (Saturday) in absolutely pouirng rain.

Full house, for what we think was one of the best opera productions we have seen in all these years.

It was Madam Butterfly, done traditionally, but with a superb cast who could also act .............. so Pinkerton, the American who "marries" a Japanese girl and then carelessly discards her, really was portrayed as the "cad" by a guy with a terrific tenor voice. He was booed and then cheered at the curtain call!! The American Consul was played by another good actor who managed to display the contempt he has for Pinkerton at the end, again with a superb voice ..... and he was encouraging the booing at the end!

They got a well-deserved standing ovation.

Unfortunately, this is the last season for the Opera Company ...... they're going to a Festival Event next year, with 3 weeks of opera and other music events in April, instead of a winter season.


At the same time last night, the World Rugby Sevens was taking place at the stadium close to the theatre, and there were 2 Fan Zones almost next to it. Fortunately, the auditorium is fully sound-proofed :-)


It's pouring again ............. we've had a series of Pacific Express storms going through here all week. There's a few hours of "dry" between each one.

Researching:
Springtime, and the cherry trees are in full flower ........................................ ......... ............................................................ To help us and to get better results, please post as much detail as you can, especially name, date(s) and place. Also say what you already know.

SylviaInCanada
Report
14 Mar 2016 00:06

oh dear!!!

The saga gets worse

One has to laugh, even though it isn't a laughing matter.

I do hope everything turns up ...... especially the passport!

Researching:
Springtime, and the cherry trees are in full flower ........................................ ......... ............................................................ To help us and to get better results, please post as much detail as you can, especially name, date(s) and place. Also say what you already know.

LindainHerriotCountry
Report
13 Mar 2016 23:39

It is worrying Sylvia especially as he is diabetic, but he can't control his blood sugar, so I hope the hospital can sort him out
His wife has continued with the cruise :-S She sorted out a bag of clothes for him, with his medication and the machine he has to use for his sleep apnea plus his passport . That was given to someone on the boat who was going to take it to the harbour master who was going to arrange for it to be taken on the two hour trip to the hospital. Needless to say, it has not turned up

SylviaInCanada
Report
13 Mar 2016 21:07

gosh .......... what a terrible thing to happen, especially on holiday. Sending all best wishes to your brother x

Researching:
Springtime, and the cherry trees are in full flower ........................................ ......... ............................................................ To help us and to get better results, please post as much detail as you can, especially name, date(s) and place. Also say what you already know.

LindainHerriotCountry
Report
13 Mar 2016 17:02

It has been a lovely day here, so we went out and did some gardening. We had to stop because the bin was full

I have just been talking to my brother on messenger. He is on a Northern Lights cruise in Norway. As part of it, they went dog sledding, but the sled over turned and came down on top of his leg with his wife on top of that
He had to be airlifted to the nearest hospital at the very top of Norway. He has broken both the bones in his lower leg and his ankle. He has to wait for a few days for the swelling to go down before they can operate to pin it.

LindainHerriotCountry
Report
11 Mar 2016 17:08

Are you still hot and bothered Sue? The heating is on here and it is only mid afternoon

LindainHerriotCountry
Report
10 Mar 2016 21:28

There isn't much work in the garden going on here either, but that is because it is so cold

Yes it is a Civia, good job you can remember

I just watched a very interesting family history TV programme. It followed the families of three sisters from a very poor part of London in the 1830's.

One was transported to Van Diemen's Land. Only two generations down her grandson and his brother became the prime minister and attorney general of Tasmania, the current generation are judges etc.

One sister was transported to Sydney, her descendents ended up in Newcastle, what you would call working class families

The last sister stayed in Shoreditch, all her descendents contineud to live in the poorer areas of London

It was very interesting and about different from the normal looking back type of programme

SueMaid
Report
10 Mar 2016 21:03

Hello :-)

Good to hear Tec is well :-)

The plant that Tec gave you is a clivia. I'm so pleased it is doing well.

I'm sick of our weather. It is hot and steamy day after day. The garden is largely neglected because it's too hot to do much work outside.

SylviaInCanada
Report
8 Mar 2016 19:34

I've been spending my time back in WW1 ......... I offered to help someone with info on a guy who was born in the UK but served with the OZ forces. He was wounded but survived and was invalided back home ......... 78 pages of records. His life well documented ................ except he disappeared in 1923. Left work but didn't arrive home. News reports of that for several weeks, then nada

I've been trying to find his death but he just seems to have gone to that alien spaceship, while wife and children continued with their lives!

I think I have to call a halt and call it "a mysterious disappearance, has to be presumed dead by now" :-D


Good to hear that Tec is fine. The increased morphine will help, as long as it doesn't make him too woozy. Please give him my love when you next speak to him.

<3 <3 <3 Tec, in case you look in.




The Pineapple Express is running again .............. storm after storm rolling in from the Pacific bring rain, more rain, and more rain. We do get a few brief hours of cloudy but dry in between the storms.


Re teeth ............ it used to be common for parents to pay to have their daughters' teeth removed and dentures made before they got married. This was apparently so that any prospective suitor was assured that he would not be faced with any big bills. I gather this went on at least until the 1920s or 30s

My parents both wore dentures from a young age ..... I think from at least early in their marriage if not before.

Researching:
Springtime, and the cherry trees are in full flower ........................................ ......... ............................................................ To help us and to get better results, please post as much detail as you can, especially name, date(s) and place. Also say what you already know.

LindainHerriotCountry
Report
8 Mar 2016 16:19

I had a nice chat with Tec this afternoon. He is fine, having had his morphine increased quite a bit.

He has been sorting out his fish tank, putting new plants in and is having some new fish delivered later in the week to replace some which have died.

Last time Sue and I went to visit him, he gave me a cutting form one of his houseplants. Of course I have forgotten the name. I split it in two as it had a side branch coming off it. Both plants are thriving and take turns in flowering. They have large orange flowers which last for a long time. I have one on the hearth and keep the other in the study, but swap them over as they flower. I always think of our lovely time with him when I see it

I took an 86 year old gentleman to the dentists this morning to have a filling in a wisdom tooth replaced and the gums cleaned. He wasn't looking forward to it. His wife who came as well said that having all hers out when she was 21 was the best thing she has done. I am not so sure about that, but my if I last that long, I may agree with her as my back ones are starting to fail

LindainHerriotCountry
Report
7 Mar 2016 23:08

I have been playing up my tree this evening. I have just added lots of records to my tree from the 1939 register.
One of the families had twelve children and they were all on the register as adults.