General Chat
Welcome to the Genes Reunited community boards!
The Genes Reunited community is made up of millions of people with similar interests. Discover your family history and make life long friends along the way.
You will find a close knit but welcoming group of keen genealogists all prepared to offer advice and help to new members.
And it's not all serious business. The boards are often a place to relax and be entertained by all kinds of subjects.
The Genes community will go out of their way to help you, so don't be shy about asking for help.
Quick Search
Single word search
Genes Extras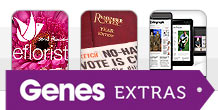 As a way of saying thank you to our subscribers, we have launched Genes Extras. You'll find exclusive competitions and discounts on family history magazines, days out and much more.
Icons
New posts
No new posts
Thread closed
Stickied, new posts
Stickied, no new posts
Endometrosis - New Update 2nd Aug xx
Profile
Posted by
Options
Post Date

Ice ~ Ice ~ Baby
Report
3 Sep 2010 19:49

Jean (Monmouth)

I was not around in the fifties but times have certainly changed - I am glad your experience wasn't to bad

And i hope your ok now

Yes they used to do Hysterectomy's but apparantley they do something similiar now :-

Although my doc has said the proceedures have changed now so i will know more after the scan

Ice ~ Ice ~ Baby
Report
3 Sep 2010 19:53

JaneyCanuck

Yes you are right getting the right diagnosis will be half the battle

I am sorry you had pelvic inflammatory diease - but regarding myself they have done all the tests

And pelvic inflammatory diease has been ruled out all tests have come back negative

So i guess it is carry on playing the waiting game until they find out what the problem is

Barbra
Report
3 Sep 2010 20:35

Dont worry about things its easy to say ,but if you have a positive attitude , it will help you, I myself had op 2wks ago & never had one before . it was a hysterectomy. but things are so much better these days, at one time you couldnt get out of bed for two wks, i was home the fourth day after my op . Take care & look after yourself , Barbra xx from PM

Ice ~ Ice ~ Baby
Report
3 Sep 2010 20:40

Barbara

Are bless you mate and thank you - i hope you have a speedy recovery from your operation

I have only had an operation and that was when i two never had one since

The only time i have been in hospital after that was to have my children

x

JoyBoroAngel
Report
3 Sep 2010 20:59

good luck claire
i am sure you will be fine xxx

Researching:
the birth of Middlesbrough

Ice ~ Ice ~ Baby
Report
3 Sep 2010 21:03

Joyboro Angel

Argh bless you and thank you mate

xx

SueMaid
Report
3 Sep 2010 21:09

I hope all goes well for you, IIB.

S x

Ice ~ Ice ~ Baby
Report
3 Sep 2010 21:10

SueMaid

Are thank you x

TheLeithLassie
Report
3 Sep 2010 21:51

Hi mate. Just read this, and glad you getting scan soon.
My daughter was told she would get the vaginal scan, but as her bladder was full, the woman decided against it lol
Her pains have started up again, so she needs to be checked out.
They said it could be endomitriosis but the only way they would know was to operate, and they didn't want to subject her to that at that time.
Will catch up with you soon.
Glad you got my txt ok.

Take care mate

xx

Ice ~ Ice ~ Baby
Report
3 Sep 2010 21:54

LeithLassie

Are bless her well they want me two drink 2 pints of water an hour before i go to hospital

Are sorry your daughter still in pain and hope they sort her out soon mate

Yeh thanks for text got no credit at moment hun

x

Helen1959
Report
3 Sep 2010 22:28

I had one of those before I had my op Claire, don't worry too much, they do let you go to the loo after the external scan. If they hadn't with me, there would of been a puddle. The internal one is abit like having a smear, I didn't really feel anything. Hope it goes well. xxxxx

Researching:
Booth's and Hughes from Birmingham

Ice ~ Ice ~ Baby
Report
3 Sep 2010 22:36

Brummiehelen

Are thanks hun and i am glad your ok

Glad i can go loo after frst scan i will need it

As for second one i shall just close my eyes as dont even let my oh see my body as i hate it

:-(



Ice ~ Ice ~ Baby
Report
7 Sep 2010 11:47

Hi Everyone

I thought i would just let you all knows have got all the pains come back :)

They decided they would come back late last night so spent most of the night crying which is embarassing to say

so today in total agony not sure where to put me self and only had an hours sleep

Oh what joy listening to the rain all night and the rest of the household snoring there little heads off

x



Barbra
Report
7 Sep 2010 12:01

Aw dear sorry you are not well nothing worse . when you cant sleep
have you got pain tablets off GP or been in touch with them
try & have a rest,, cuddle a hot water bottle & Take care Barbra xx

Helen1959
Report
7 Sep 2010 12:19

Claire so sorry to hear the pains are back again, have they given you codeine phosphate tabs to take with paracetamol, they were brilliant in relieving my pain after my hysterectomy. Did you have a look at that website I told you about?
Hugs hunny
Helen xxx

Researching:
Booth's and Hughes from Birmingham

Ice ~ Ice ~ Baby
Report
7 Sep 2010 13:10

Barbra

Are thanks for your message sorry it took a while to come back to this

I hadn't put enough money in the electric metre so it ran out

Grrrrrrrrrrrr

oh what a good day i am having Not

Thanks for your message have took me painkillers but they aren't touching pain today

Although must admit probably the lack of sleep is not helping

Ice ~ Ice ~ Baby
Report
7 Sep 2010 13:12

Brummie helen

Yes thank you i did look at the link mate

They haven't give me the codeine tablets just the ones i mentoned in the thread

Guess it juust a cse of playing the waiting game

Thankfully scan on the 20th i am just hoping it shows whatever the cause is up

I know i won't get the results that day but if it don't nothin shows up in the scan then i have no idea what will they will do next ?

Jean (Monmouth)
Report
7 Sep 2010 19:34

Get back to your GP and ask for co-codamol tablets for the pain. There are three different stregths available. They are codeine and paracetomol mixed, with 500mlgm of paracetomol and either 8, 15, or 30 mgm of codeine. If you are crying in pain like that you need the stronger ones as long as there is no medical reason why you should not have them. Ask if he would like to have the pain.So easy to say try and bear it when its not something they are likely to suffer1

Ice ~ Ice ~ Baby
Report
7 Sep 2010 19:53

Jean(Monmouth)

Thanks for your advise have tried to get into see my Doctor - but she is away till next week

So there is only a local one and to be honest he is not very caring

I have got a water bottle on my stomach at the moment.

Sorry it has took a few minutes to reply to you mate but it raining heavy at the moment infact sky looks ready to thunder and i hate it

ladylol
Report
7 Sep 2010 19:59

hope you feel better soon ive heard how very painfull this condition is xxxxxx

Researching:
raising awareness for fibromyalgia.