General Chat
Welcome to the Genes Reunited community boards!
The Genes Reunited community is made up of millions of people with similar interests. Discover your family history and make life long friends along the way.
You will find a close knit but welcoming group of keen genealogists all prepared to offer advice and help to new members.
And it's not all serious business. The boards are often a place to relax and be entertained by all kinds of subjects.
The Genes community will go out of their way to help you, so don't be shy about asking for help.
Quick Search
Single word search
Genes Extras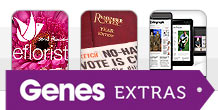 As a way of saying thank you to our subscribers, we have launched Genes Extras. You'll find exclusive competitions and discounts on family history magazines, days out and much more.
Icons
New posts
No new posts
Thread closed
Stickied, new posts
Stickied, no new posts
Do You Live In * $parkling * WALES?
Profile
Posted by
Options
Post Date

Von
Report
24 Apr 2014 11:12

Bore da- morning everyone

I've excelled myself today and done the ironing :-0 :-0 :-0

The sun is shining so I'm off to see what other mischief I can get up to today. Had enough domesticity so I'll probably venture outside into the garden.

Take care
<3 Von

Diane
Report
23 Apr 2014 23:59

Hello all :-)

Shaun lack of exercise can make the muscle's weak but don't over do thing's :-)

Jude I'm ok, I am back on ESA ( the sick ) even though I lost my appeal against ATOS it is over 6 month's since I failed my assessment so I am able to claim ESA again :-) My Dr couldn't believe they found me fit for work, he said how do they expect you to get to a job every day with your problem's.
I hope the meeting on the 28th re your sister resolve's thing's about her welfare <3

I'm sorry not to mention everyone but it is getting late and my concentration isn't to good at the moment.

Take care everyone :-) <3

Von
Report
23 Apr 2014 21:00

Asleep on my swing indeed :-0 :-0 :-0
I've been working in the garden recently and needed a day off today.

Waggy finger now - make sure you still rest or else!!!!

Take care
<3 Von
Off to watch last episode of Jamaica Inn. Hope I can hear it ;-) ;-) ;-)

MagicWales
Report
23 Apr 2014 19:57

Hello You Lovely lot.

Dose anyone know who sells " Computers that run on Gas ? "
That would be very useful a Gas Computer :-)

Tec~~I was thinking>>>>>get a trout tank :-D
There was no romantic dinner by candle light, but we did have a round of toast and marmite . Thinking of your good lady Tec, it must be hard for you both.

Jude~~we are prone to power cuts that's why we have a gas cooker and lamp , along with the candles. Happy to read that you had a lovely Easter with your children:-)

Mersey~~I'm so chuffed to know that your NOT BEHAVING, you little tinker:-)

Von~~there you are:-) you have had the time of your life by the looks of it:-) and I had visions of you fallen asleep on your swing-seat :-) now I'm in trouble :-( ;-)

Well folks I'm putting my " Determination Cap " on tomorrow, I'm p>>>>d off with all this bed rest, no wonder my legs are so weak, they need exercising , the longer I'm on my bed the worse I'm going to get sooooooooo It's time to move.

~~~~~~~~~to friends not mentioned.
Got a PM to check out then bed.

You all take care.

Shaun

Researching:
Avatar ; St. Davids Cathedral, Pembrokeshire.

Von
Report
23 Apr 2014 18:59

~~~~~~~ to everyone.
Shaun - I've just got back from a trip to London town.
We went to an exhibition at Somerset House then walked across Waterloo Bridge to the station.
London's skyline has changed so much it's difficult to recognise all the buildings.
Got on a train to Bond Street then went ducking and diving bobbing and weaving down Oxford Street. :-D :-D :-D
Tea and cake at JL.. I've given up sugar so now I can eat cake with a clear conscience :-) :-) :-)
Do hope everyone has had a good day
Take care
<3 Von

Mersey
Report
23 Apr 2014 15:38

Helloooooo all

Shaun of course im not behaving.........

Special ~~~~~ to Tec and Duchess <3 <3 <3

Researching:
Pay it Forward!! Random Acts of Kindness....No matter how big or small, do good and good will come to you :)

MagicWales
Report
23 Apr 2014 14:37

Hello Everyone.

Still wet and windy here.

Sylvia~~hope all the physio helps you.

Tec~~it's great to see you posting about what your up to in your garden.
A fish tank will be good for you, it's very relaxing to watch the fish skipping and darting about.

Ann~~we are lit but don't know how long for, but got plenty of candles.
Sounds as if you had a good day in Malvern.

Sallie~~did you get those photos I sent? hope you are all ok.

Mersey~~thank you for your PM, hope you are behaving.

Von~~where are you and what you up to?

Jem~~we are not to bad, hope you are all ok.

Jude~~hope you are managing ok.

Diane~~how are you getting on.

Yvonne~~hope you have got reed of that flu/bad cold.

Hazel~~hope things are getting easier for you.

AnnC~~hope you are ok and also that your son as improved since is op.

~~~~~~~~to friends not mentioned.

That's my lot.

You all take care.

Shaun



Researching:
Avatar ; St. Davids Cathedral, Pembrokeshire.

~`*`Jude`*`~
Report
23 Apr 2014 14:23

Afternoon everyone:)

The weather first thing 7.30 ish was quite nice and l thought we were going to have a nice day...thought wrong did'nt l :-0 :-|

Tec...you have been busy in the garden, but don't over do it?? So pleased you went to see the Duchess, but feel for you when she is confused and upset!
Did you have the company of next doors dog last week, or is it this week?? Good luck with the fish. Your 3 wheelchairs sound like a very good buy

Shaun...blinky electrics, that is sooooo annoying is'nt it. Thats great your mates organised the garden with rest station to the p/tunnel for you. Hope your weather changes soon so you can get out there and potter :-)

SylviaCanada...take care of that leg and yes a t-shirt sounds a good idea. Never been interested in fish other than looking at them in garden centre's....too much faffing about with em!!

Jem...how are you and your OH today. Sounds like you do alot of running around for the granchildren, take it easy??
Re...dieting...l tend to weigh myself first thing, have always done that, surely by 11.30 ish l would beheavier??

AnnG...never been to the Malvern grounds,l always forget to check whats going on there. Nephew and his partner love the Craft weekend. How are you both?

Sallie...good to see you, hope you are well. Poor old Dutch and especially Jan, l do hope one of her family visit soon, she said maybe this weekend!!

Diane...hows you, l do hope you have protested about going back to work? Take care x

SilverBuddy.....hope that blinkly bug has well and truly gone now and you are all well??

Had a lovely Easter Monday with the grandchildren, wore me out though...we took them to a fair (very small) and park, went to feed the ducks and most of the water had gone... the workmen are re doing the paths and putting safety fencing up, but they have been working there for months and months...we want our pond back!!:-P :-P :-P :-P

Sister...well she's not going off on walk abouts at the moment thank goodness, we think that may have happened because of a urine infection (detected yesterday), l managed (at last) to see the carer that takes her out twice a week (not allowed to text or phone her when she's not with sister and reception are getting to the end of their tether re sister so don't phone them unless l have to), was telling her of all the things sister has been up to and she suggested a u/test!!
Latest thing though is her electric keeps going off and we think she is messing about with switches, so again reception and electrician are getting a bit frayed round the edges....:-(
Big meeting 28th April, sister knows about this and is concerned because her son has told her about some of the issues they want to address...Hope to speak to her son this evening, l have to keep texting him to give and get updates...grrr


Had very sad news last week about a lad that my 2 used to play with, he would be 40 or 41yrs old now but he committed suicide Sunday 17th April. RIP....N

Ok must get a move on new shed arriving tomrrow and family on Fri:))))
The decking starts 30th June...quite a long wait still but atleast we have a date :-)

~~~~~~~~~~~~~to everyone especially those not mentioned:)

jude x

Researching:
Meninsky, Menin, Heather, Pettit, Butler, Ratcliffe. Russia.USA, Sussex,Kent, London.

SylviaInCanada
Report
23 Apr 2014 01:40

Hi Shaun, and everyone

It turned out to be a lovely day today ............ not the forecast rain, but sunny and quite warm :-)


Tec ................ I love watching tropical fish ............... we were not successful the one and only time we tried to have a large tank. We set it up in the family room, and just could not keep it clean of algae.

Later we discovered why ................. the room has windows that face east and south, plus a skylight

Too much sun :-)


Daughter was very successful with Siamese Fighting Fish kept one at a time in a small-ish fish bowl in the room that faces north. We had a total of 3 of them .. and they were all a lot of fun!



I was at the physio today and discovered that I have another problem with my knee .................. a sports injury :-)

The physio thinks I should get a T-shirt with "I have a sports injury" on the front of it
:-D :-D

I have a hamstring problem

It all makes sense after he'd explained it ................. think of the old spiritual song,

Ankle bone connected to the shin bone
Shin bone connected to the knee bone
Knee bone connected to the thigh bone
Thigh bone connected to the hip bone
Hip bone connected to the back bone
Back bone connected to the shoulder bone

---------
In my case, the hamstring that runs down the outside back of the thigh connects near the top of the fibular.

I have had a displaced fibular for weeks ................ and this has now affected the hamstring

He massaged and pummeled away at it today .............. and said it would help if OH could do something similar starting on Thursday. He said I would probably be bruised, so OH would know where to "massage hard" :-) :-)


At least, it isn't more osteo-arthritis



take care everyone




s
xx

Researching:
My father, ca 1926/1927........................................ ......... ............................................................................... To help us and to get better results, please post as much detail as you can, especially name, date(s) and place. Also say what you already know.

Tecwyn
Report
22 Apr 2014 22:59

I'm not sure that there is such a list here AnnG, but someone from the village Garden Club may be willing to help. Otherwise I could pay a teenager to help, under supervision :-)

AnninGlos
Report
22 Apr 2014 22:44

Fish are so restful to watch Tec. That is resourceful having 3 wheel chairs. Maybe you could ocasionally get somebody in the help with the garden that you can't get to. Some areas have lists of people who can be trusted to help out with things like that for those who can't manage. :-)

Researching:
Photo Luke 9 months. Researching Somerset, Dorset, Hampshire, Derbyshire, Staffs, Devon, Glamorganshire. Ingram, Masters, Tamblyn, Knight, Warner, Bate, Allen, Riggs, Dominey, Duffin

Tecwyn
Report
22 Apr 2014 22:32

Romantic dinner by candlelight Shaun? :-D

Rained on and off all day here, but not cold. What a contrast to yesterday.

AnnG - It was lovely to spend yesterday in the garden. I have bought another wheelchair, specifically for the garden. It is surprising what can be done from a wheelchair, but there are areas that I have no hope of getting to, so they will have to fend for themselves (have to close my eyes :-D)
I may be able to cope with some weeds by cutting then down with a hoe.

Fortunately, I don't have a lawn to cope with. The lawn area was paved soon after we had two black Labradors, years ago. They soon churned it up in the first wet winter :-D.

Today a man called to see if it's possible to have a short length of stair lift to get me up the two steps on the landing. If this were done then I could get to the bedrooms.
What was the dining room is now my bedroom. So it would be good to be able to use the bedroom upstairs again, and reclaim the dining room.

I do have a stairlift up the main staircase. I had that put in a few years ago for OH as she had problems with arthritic hips.
The bathroom is upstairs, so I transfer from the wheelchair onto the stairlift at the bottom, and transfer again onto a wheelchair at the top. Fortunately we have a large bathroom.
Now I have three wheelchairs - quite a fleet :-D, but they get me places.

Don't know if I've already mentioned this, but I've decided to have a tropical fishtank. Not the same as having a dog I know, but fish don't need walking
:-D
My neighbour has offered to set it up for me, but once set up I will manage it. We did have tropical fish many years ago.

Hope everyone is well - lets hope the weather improves :-)
Take care,
Tec :-)

AnninGlos
Report
22 Apr 2014 20:23

Hope you stay lit up Shaun.

Tec it is so good hearing you talk about enjoying your garden. :-)

Researching:
Photo Luke 9 months. Researching Somerset, Dorset, Hampshire, Derbyshire, Staffs, Devon, Glamorganshire. Ingram, Masters, Tamblyn, Knight, Warner, Bate, Allen, Riggs, Dominey, Duffin

MagicWales
Report
22 Apr 2014 19:45

Hello Everyone.
Got quite a large post almost finished about 5.30 ish then lost our electric. Power back on 20 minutes ago.

Heavy rain , thunder and strong winds over the mountain.

Lights still dimming so not going to hang about.

Don't know when I will be able to catch up with you all.

You just look after yourselves .

Shaun <3

Researching:
Avatar ; St. Davids Cathedral, Pembrokeshire.

Tecwyn
Report
21 Apr 2014 21:38

It was a lovely hot day here too AnnG, So I spent the whole day in the garden. A large area of my garden is paved, so I cleared the weeds and moss that had accumulated over the winter. Surprising what a difference that made.
All it needs now is pressure washing to remove grime and algae. My SIL did the front garden yesterday.
I potted up two things that I bought on Wednesday that I want in tubs - now I need more compost :-)
Glad you enjoyed the Flea Market at Malvern, if a little tiring. We aren't used to the heat yet :-D

Tec :-)

JemimaFawr
Report
21 Apr 2014 21:32

Hi Ann :-) :-)

That sounded like a good day out! and back just in time!

Hope the flooded areas dry out soon!

Researching:
Jemima Nicholas- Welsh Heroine of The Last Invasion Of Britain 1797

AnninGlos
Report
21 Apr 2014 21:17

We went to a giant flea fair at Malvern showground. So many stalls we din't get to see them all as we were shattered. The sun shone and it was hot, clouded over at 1pm. It didn't rain until we were home, well quite a long time after we got home actually, about 5.30 we had a tremendous thunder storm. Our patio was flooded and even the end of the cul de sac which has never ever flooded before. Think it is ok now. :-)

Researching:
Photo Luke 9 months. Researching Somerset, Dorset, Hampshire, Derbyshire, Staffs, Devon, Glamorganshire. Ingram, Masters, Tamblyn, Knight, Warner, Bate, Allen, Riggs, Dominey, Duffin

JemimaFawr
Report
21 Apr 2014 20:39

ALL QUIET ON THE WESTERN FRONT :-S :-S :-D :-D :-D

You are obviously all out enjoying Easter Monday :-D :-D.. or watching the holiday films!

Grandson 1 has gone with his friends to see the remake of Spider-man 2. He had a Spider-man themed bedroom for many years!

Hope you are all ok- Love Jem <3

Researching:
Jemima Nicholas- Welsh Heroine of The Last Invasion Of Britain 1797

Sallie
Report
21 Apr 2014 19:23

Just looking in to say a quick hello to you all and hope that you have all enjoyed the Easter weekend.

Take care everyone wherever you are and whatever you are all doing.

Love and best wishes.

Sallie.xx

SylviaInCanada
Report
21 Apr 2014 01:23

Hi Shaun, and everyone


a belated Happy Easter to you all
xxx

Researching:
My father, ca 1926/1927........................................ ......... ............................................................................... To help us and to get better results, please post as much detail as you can, especially name, date(s) and place. Also say what you already know.