General Chat
Welcome to the Genes Reunited community boards!
The Genes Reunited community is made up of millions of people with similar interests. Discover your family history and make life long friends along the way.
You will find a close knit but welcoming group of keen genealogists all prepared to offer advice and help to new members.
And it's not all serious business. The boards are often a place to relax and be entertained by all kinds of subjects.
The Genes community will go out of their way to help you, so don't be shy about asking for help.
Quick Search
Single word search
Genes Extras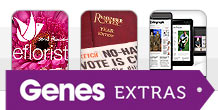 As a way of saying thank you to our subscribers, we have launched Genes Extras. You'll find exclusive competitions and discounts on family history magazines, days out and much more.
Icons
New posts
No new posts
Thread closed
Stickied, new posts
Stickied, no new posts
Strictly Come Dancing 2012
Profile
Posted by
Options
Post Date

Silly Sausage
Report
14 Oct 2012 19:40

Awwww Poor Johnny Ball looked devastated ....... my eyes filled up for him....I so want his partners frock :-(

BrendafromWales
Report
14 Oct 2012 20:01

Felt sorry for Johnny Ball ,wonder why the public have kept Jerry Hall in?
Probably so they can squirm and make fun of her next week.
As a musician myself I do like the band.
As Mau says...Victor Sylvester was great...always wanted to have had a dance with him.It is easier for the woman I think with a good male lead...ah those were the days!!
Danced to Joe Loss while on holiday in the Isle of Man where he had a summer season.

MotownGal
Report
14 Oct 2012 20:07

FIX!!!!!!!!!

I thought it would be between Michael and Jerry. Both were really bad.

Poor old Johnnie, he did not deserve to go.

Zoe will interview him on Take Two on Monday, and introduce him as My Dad. Aaaaah, that is so sweet.

Didn't Tess look enormous next to tiny little Claudia?

:-0

Researching:
Hitsville USA!!

Mauatthecoast
Report
14 Oct 2012 20:29

Well I guessed wrongly :-( and poor Johnny he didn't put a step wrong :-S....

Is it me being grumpy or what? but Bruno is getting on me nerves :-P....what a ham actor he is!! :-|

Looking forward to Hollywood next week :-D ahh

Researching:
In my own little world where everybody knows me... ..... best thing about happy memories is making them....

Silly Sausage
Report
14 Oct 2012 23:05

I love the judges and more so when I saw Darcy and Craig chair dancing ... :-D

MotownGal
Report
18 Oct 2012 08:43

I think Jerry has Nancy Syndrome. She is sooooo deluded!

Was moaning last night that when they were dancing, the audience were calling out to Anton and not her.

He is the professional dancer love! He has been on there from day one. You are just holding onto him and posing.

She was saying she did not deserve the marks she got, because she got the steps right!!

Oh dear.
:-0

Researching:
Hitsville USA!!

Diamonds-R-A-Girls-Best-Friend
Report
20 Oct 2012 20:24

Oh how I would like to dance with Louis Smith ;-) <3

Researching:
The Family

AnnCardiff
Report
20 Oct 2012 21:51

Louis Smith was quite awesome tonight, as was Lisa Riley!!!

I think Jerry Hall has to be in dance-off - she's rubbish

Researching:
Breakspears of Berkshire and Cardiff, Williams and Harman of Whitchurch, Melingriffith &Tongwynlais,Glamorgan WE HAVE NO CONNECTION Do not share your tree with me

Mauatthecoast
Report
20 Oct 2012 22:16

I loved Hollywood night and couldn't sit still :-D ......most dancers are getting better.

Lisa Riley makes me smile she's a bundle of fun isn't she? and if Louis could just move those hips a bit more ;-) :-D he stands a good chance of winning.

I reckon it could be Michael,Jerry or Sid (didn't he look huffed?) for dance off....but was wrong before soo ....looking forward to tomorrow night!






Researching:
In my own little world where everybody knows me... ..... best thing about happy memories is making them....

MotownGal
Report
20 Oct 2012 23:10

Loved Lisa Riley tonight, again. Louis was good too.

Jerry Hall waste of time, she really does think she is good. Anton can hardly keep a straight face.

Fern was lacklustre as far as I am concerned. She still thinks she is something special, but there was no content in the dance.

Poor old Sid may well be going. Michael too was a bit stilted.

Put me in charge.......................I'll show em how its done!!!!


:-) :-) :-) :-) :-) :-) :-)

Researching:
Hitsville USA!!

Silly Sausage
Report
20 Oct 2012 23:29

I think Jerry has Nancy Syndrome. She is sooooo deluded...MTG Ive been saying that for ages she is this years Nancy, who was in the crowd,

I just love Louis and simply adore Flavia, as Mau says if he could just relax them hips a little ...loved them tonight...

I felt proper sorry for Sid he looked so depressed after his dance bless him....
Kimberley did well so did Lisa and Denise is very good..

Her that dances with Colin, when she does Argintinian tango she always manages to look like she is crawling from part of her partner wonder she isnt done for assault.

Fern is boring Zzzzzzzzzzzzzzzzzzz :-D :-D :-D :-D :-D :-D

Julia
Report
21 Oct 2012 08:41

The only good thing about Fern's appearance on this programme is that her dress got better last night. Other than that, she was aweful.
Yes, looked bored to death when leaning over the balcony later.
Wished I had half the energy that Lisa Riley has, and I'm only half her size. LOLOL

JUlia in Derbyshire

Researching:
Turner Cambs/.Northants, Singapore and Penang,Trengrove Singapore and Penang, Arnull (Champion Race Horse Breeders & Trainers 'Oleander')Germany and Denmark

MotownGal
Report
21 Oct 2012 08:51

Note to Brucie, cut out the shuffle at the start of the show, it's has become passe now.

And................................just retire quietly, all those fluffs and squinting at the autocue.

Craig................just loving you DAHRLING!!!!!!!! Love his 'Maiden Aunt' expression.

:-D :-D :-D :-D :-D :-D :-D :-D :-D

Researching:
Hitsville USA!!

'Emma'
Report
21 Oct 2012 11:53

With you on Fern but also think Victoria needs to get her
act together.

And wish Len would give up on the Gold medal and cycling
stuff he goes on about, I don't think it helps her confidence.

Emma

Researching:
Nerrlie....my big frustrating brick wall.

GlitterBaby
Report
21 Oct 2012 11:58

Please can the cricketer go tonight.

Love Craig - Fabulous

Jerry is being kept in by Anton fans.

Researching:
PLEASE DO NOT: send me information concerning your thread on the board as it should be posted on your request where all members can see it. PLEASE DO NOT: ask me for help with lookups as they should be placed on the boards to get the best possible result. PLEASE DO NOT: open your tree just because I have posted information on your thread as I will not be related. THANK YOU. Researching Carter, Cass and Walker in England. Researching Caven, McKill, Sutherland and Will in Scotland.

TessAkaBridgetTheFidget
Report
21 Oct 2012 12:23

I thought that Sid looked out of sorts even before the dancing started. I thought that he was supposed to be a pirate in that costume (not a rock star). His eyes already looked a bit sore and I wondered if the eye makeup was the cause.

It's a shame when they are marked down by all the judges for not having enough chc-cha, tango, or whatever dance they are doing in the routine, as that is down to their professional partner.

I know that Len is an old fuddy-duddy and likes them to "get on with it" and to have a lot of the actual dance steps/moves etc. So I am in full agreement that he marks them down for not sticking to the traditiona steps.

But some of the other judges used to mark for performance, musicality and timing. This now seems to have dropped off.

This isn't just a Dance competition, if we wanted that we would still be watching Come Dancing. (Perhaps now we have got used to seeing Strictly, some of us would love Come Dancing back on the small screen).
Strictly is an entertainment programme, with people learning to dance, but bringing their own personality and attitude.
It is great to watch the learning curve, as well as the mistakes, the difficulties and the costumes.

I like Darcey, but she gave Fern, Michael and Jerry, one point more than she gave Victoria. She also gave Dani and Lisa the SAME points as Jeryy, Michael and Fern!

Have no idea who will be going tonight, will be watching to find out. But feel a little sorry for Sid being at the bottom of the points board.



Researching:
Woodhouse and Trilloe from Herefordshire; Lockyear and Date from Somerset, Thomas and Edwards from Glamorganshire and Monmouthshire, also Argyll, Tipperary, Limerick, Cork

MotownGal
Report
21 Oct 2012 18:18

I really like Len. He is a professional dancer from the Old School,and he knows what he is talking about. I am more likely to listen to his comments than some of the others.

Bruno is pure genius in the comedy stakes. He is camper than Christmas, and getting more so every weeks. Craig also knows what he is talking about, he choregraphs West End shows. Darcy is a professional dancer too. Although she was a prima ballerina, she did a show with Katherine Jenkins where they toured with a song and dance format.

I just hope that people vote on the dancing, rather than on the popularity of the dancer. That young bloke from Westlife was not much good, but I think he has a big following amongst the young girls.

Sooooo, who will it be? Beggered if I know!!!!!


:-D :-D :-D :-D :-D :-D :-D

Researching:
Hitsville USA!!

MotownGal
Report
21 Oct 2012 20:05

Thank Gawd, sense prevailed.

Jerry has gone. She looked surprised!!!!!!!

:-0 :-0 :-0 :-0 :-0 :-0 :-0

Researching:
Hitsville USA!!

BrendafromWales
Report
21 Oct 2012 20:33

I'm glad too...sorry for Anton...he always gets them doesn't he?

Silly Sausage
Report
21 Oct 2012 22:09

Im not over struck on Anton he is abit gobby....I am glad Jerry has gone her dancing is abit like her personality a bit limp...