General Chat
Welcome to the Genes Reunited community boards!
The Genes Reunited community is made up of millions of people with similar interests. Discover your family history and make life long friends along the way.
You will find a close knit but welcoming group of keen genealogists all prepared to offer advice and help to new members.
And it's not all serious business. The boards are often a place to relax and be entertained by all kinds of subjects.
The Genes community will go out of their way to help you, so don't be shy about asking for help.
Quick Search
Single word search
Genes Extras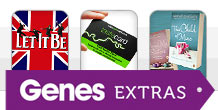 As a way of saying thank you to our subscribers, we have launched Genes Extras. You'll find exclusive competitions and discounts on family history magazines, days out and much more.
Icons
New posts
No new posts
Thread closed
Stickied, new posts
Stickied, no new posts
Women Bishops
Profile
Posted by
Options
Post Date

Cooper
Report
22 Nov 2012 10:07

Hallo Eldrick :-D, I'm not here for the debate but saw your name.

Nice to see you back

Teresa

Researching:
looking foward to FTEs return in three weeks time :0)

Dermot
Report
22 Nov 2012 10:07

Men & women are equal but different - thank God!

Researching:
Amadán; Galah or Gomerel?

JohnLovesFletcherofMadeley
Report
22 Nov 2012 10:08

Eldrick You want men in frocks at your funeral? Was that a typo?

If you chase the "certainties of science" suspect you wil chase and chase all your days. Good job you have an excellent intellect. I feel I have most of the answers and someone with very little intelligence indeed can grasp Christianity.

My great uncle was a distinguished scientist and a brilliant man. He was a Professor at Edmonton in Canda in 1924 aged 21 and later was Watson Watt Professor of Electrical Engineering at St Andrews. Also an Anglican churchgoer.

Einstein's theory of relativity was challenged by him in several books. My dad told me his uncle was a shy man who did not want to get involved in any public debate on the subject. But I look on the internet today and, although I have absolutely no idea what they are talking about, it seems that half agree with Einstein's theory and half don't.

So how is science ever going to be anything other than shifting sands. Why not at least put one foot on solid rock like Pascal. If you went into the bookies and were offered 11/8 against winning on both of the only two horses in a race, would you not put all of your bounty from your world tour on both horses?

Or is the scientist in you too blind and irrational?

Researching:
Whatever Rose says

Eldrick
Report
22 Nov 2012 10:29

lol

Half the people don't believe in relativity? That will be the half that believe in talking snakes, then. Well, that accounts for a few. I have no idea where you get this half thing from. Attribution anywhere?

Go on, then, tell me why Einstein was wrong. I'm waiting for the Nobel prize winning revelation. You clearly have no understanding of the nature of science, whereas I have a good understanding of both religion and science. I do understand relativity and I do understand the natural and proven order of things. I understand the laws of physics and understand where Einstein takes over after Newton leaves off. If you want to, you can make the effort yourself or wallow in revelation. Free choice.

I'm afraid you put it succinctly. Someone with very little intelligence can, indeed, understand Christianity or any other religion. Nothing more need be added.

But anyway, back to women bishops. The Anglican version of christianity may well, at some future date, realise they have no option and will allow them. No chance of the catholics ever doing that. Can you ever imagine a pope Kylie III? Now that would be pretty cool. Can't ever imagine an ayatollah anistasia either. But if there was, perhaps they would all be less eager to kill each other over whose god is the bestest?


Researching:
Windsor, Tudor, Cholmondely, Hanover, Smith.

Cynthia
Report
22 Nov 2012 11:54

Your modesty does you credit Eldrick my friend. So, you have a good understanding of religion?


Well yes, you have a good biblical knowledge - especially for the more horrid parts.

You are able to quote chapter and verse on various religions and find them all wanting.


The only thing you DON'T understand about religion is the main component. Faith. You still battle with the age old conflict between faith and logic.


Mind you, as has been mentioned before, there are many scientists who still manage to balance faith and science - happily. :-D


Back to women bishops..........I think the issue will become less decisive given time. I certainly don't envy the new Archbishop of Canterbury trying to bring the Anglican communion together over this though. Could be interesting times ahead for the church as a whole.


Cx


:-D

Researching:
ADVICE: Click on 'My Threads' over on the left to find your replies. Please respond to your replies by typing in the Add Reply box at the bottom of the page. Enjoy!

Eldrick
Report
22 Nov 2012 12:23

Actually, I do understand faith. I understand why people convince themselves that there is some omniscient being that watches them every second of every day and will reward them according to their conduct throughout life. Who rules by the imposition of fear – 'you won't go to heaven unless you believe in me'. I understand why some people need to have this belief. Just include me out of it. I don't need it and I don't need patronising priests telling me at funerals that he who believes will meet god and that entire clap trap. I don't need clergy in the government and I don't need any of the associated manufactured rituals and self serving pompous oafs like benny ratbag or whatever he's called telling me what's good for me. No one does. We are better than that; we are children of the 21st century, not desert dwelling illiterate peasants who know nothing of the world around them

Having said that, tell me what is wrong with a society that allows total freedom of belief but does NOT attempt to force it down anyone's throat by means of religious classes in schools, bishops in the house of lords and songs of praise instead of top gear? What is wrong with a secular society that keeps religion at a personal level? Why is the CoE so wound up about women bishops but never a squeak about the Ugandan Christians that want to kill all gays and burn witches? Which is higher on their list of priorities?

Do you separate the nasty from the nice in the bible? Choose to believe the pink fluffy bits and ignore the incest, sacrifice and stoning? If so, why not produce a new bible that misses all that out....? No one can ever answer any of these points, it always returns to 'you just have to have faith'. Well, no I don't and neither does anyone else if the truth were laid down in black and white.

So – yes, worship away with my blessing, all good and dandy. Just keep it all out of my face and behind the doors of the churches, temples, mosques and synagogues. Then we can all be happy and get along just fine.

Oh – I believe the figure is in the region of 80% of scientists have no religious belief. If you restricted that to the sciences of physics, medicinal research and biology then I believe the figure is nearer 100%. One thing's for sure - if my surgeon who was about to do a operation on me started praying at my bedside, I would politely decline the offer and tell him to ...go away, or words to that effect.
:-D :-D :-D

Researching:
Windsor, Tudor, Cholmondely, Hanover, Smith.

Cynthia
Report
22 Nov 2012 17:11

Having been this way so many times before........... :-D


Nope..... you know what the word 'faith' means via the dictionary. You don't know what it means to 'have' faith because that needs to be experienced. ;-)


Cx

Researching:
ADVICE: Click on 'My Threads' over on the left to find your replies. Please respond to your replies by typing in the Add Reply box at the bottom of the page. Enjoy!

Eldrick
Report
22 Nov 2012 18:29

In that case i am glad, happy and content that i dont know what it means. By the same token, you have never experienced logic and rational thinking so you dont know what that means.

Touche

:-D :-D :-D

Researching:
Windsor, Tudor, Cholmondely, Hanover, Smith.

AnnCardiff
Report
22 Nov 2012 18:51

Eldrick blind/irratonal - I don't be thinking so

Researching:
Breakspears of Berkshire and Cardiff, Williams and Harman of Whitchurch, Melingriffith &Tongwynlais,Glamorgan WE HAVE NO CONNECTION DON'T SEND ME MESSAGES Do not share your tree with me

Neubie
Report
22 Nov 2012 19:09

Genesis 2:21-23 (KJV)
21 And the LORD God caused a deep sleep to fall upon Adam, and he slept: and he took one of his ribs, and closed up the flesh instead thereof;
22 And the rib, which the LORD God had taken from man, made he a woman, and brought her unto the man.
23 And Adam said, This is now bone of my bones, and flesh of my flesh: she shall be called Woman, because she was taken out of Man.

so ...painless child birth .. if this worked so well why aren't men the recepticles for procreation?
Sorry I forgot .. woman was responsible for the fall from grace in Eden so was punished by blood once a month and painfull childbirth after the blokes and their 'snake' had had a pretty good time
In fact apart from being 'companions' for men there was not much use for a WO .. MAN , surely it would have been easier for god to have scrapped his idea of a Barbie for Adam after the Serpent incident and gone with the Rib idea?
:-S

Researching:
A new way of looking at life XXX

Cynthia
Report
22 Nov 2012 19:10

Touche indeed.......I know the words but rarely experience them ....how sad am I?


I am an 'out of the box' thinker with a reasonably good, imaginative and inquisitive mind. Am fairly good at gauging people's feelings and emotions and admit that I don't always act rationally - especially when attempting to make people happy.


I leave all the logical, rational and sensitive stuff to my husband - who is more than that way inclined at times. Oooooops, should have said ........he's a Christian too. :-D



Researching:
ADVICE: Click on 'My Threads' over on the left to find your replies. Please respond to your replies by typing in the Add Reply box at the bottom of the page. Enjoy!

SylviaInCanada
Report
22 Nov 2012 19:32

To go back to the original question


This is all such a non-issue for me


Anglicans in Canada elected their first woman Bishop in ......... 1993 !!!!!!


from wikipedia ('cos I couldn't remember the exact dates) ..................


Following the first ordinations of women as priests in 1976, the first woman bishop in the Anglican Church of Canada was the Right Revd Victoria Matthews. She was elected suffragan bishop in the Diocese of Toronto on 19 November 1993 and was ordained to the episcopate on 12 February 1994. She later was the first woman elected as a diocesan bishop in Canada when she was elected as Bishop of Edmonton in 1997, an office she held until 2007 when she resigned. She was subsequently elected Bishop of Christchurch in the Anglican Church in Aotearoa, New Zealand and Polynesia in 2008.

Since Bishop Matthews' election, as of March 2010, six more women have been elected to the episcopate in Canada. They are the Right Revd Ann Tottenham (suffragan, Toronto, 1997); the Right Revd Sue Moxley (suffragan, Nova Scotia and Prince Edward Island, 2004; diocesan, 2007); the Right Revd Jane Alexander (diocesan, Edmonton, 2008); the Right Revd Linda Nicholls (suffragan, Toronto, 2008); the Right Revd Barbara Andrews (Bishop Suffragan to the Metropolitan with responsibilities for the Anglican Parishes of the Central Interior, 2009); and the Right Revd Lydia Mamakwa (Area Bishop for Northern Ontario within the Diocese of Keewatin, with special responsibility for the predominantly aboriginal parishes of the area, 2010)

--------------


Note that Edmonton, Alberta, had TWO women bishops in succession.


Yes, a few churches left, or attempted to leave, their dioceses when women priests became common. Even more left when gay marriages became legal.



What really did disappoint me about this UK decision was that it was the LAITY that was responsible.


The clergy and the bishops both approved the change to allowing the ordination of women bishops.



so it is the stuffiness of the LAITY that you should be discussing, not that of the clergy.



sylvia

Researching:
it is safe and comfortable under the Christmas Tree ......... .............. .......... .......................................................... To help us and to get better results, please post as much detail as you can, especially name, date(s) and place. Also say what you already know.

JohnLovesFletcherofMadeley
Report
22 Nov 2012 19:35

Cynthia So few will understand what you have written. It is absolutely my personal experience and the experience of thousands and thousands of Christians in all countries and all denominations. I find if I am in a crowded room I almost immediately know my brothers and sisters in Christ.

When I went to church first back in about 1980 when I was 34 or so, it was very much as a result of Pascal's logic. I knew science would never get me to heaven, and I wanted one day to go. And if the world offered me no hope, perhaps religion might.

And I thought everyone in my church knew Jesus. But that is not necessarily correct.. It is an individual thing, isn't it. One day, you are trying to work everything out logically (and I am not totally ignorant as I studied logic at University in first year and got an alpha, Eldrick :-D). And I am also pretty good at statistics. But I am a duffer in most scientific areas, and readily admit that.

So one day your head rules your heart. The next minute you are lost in love - cpmpletely bowled over. You realise that everything in your life has changed. Everything is upside down. That is why it is called conversion. One moment you are conformed to the world with both feet firmly on the earth. Next minute you are turned right round and have one foot in heaven and you begin to enjoy the first fruits of what heaven will be like.

From then on you are a committed Christian - for the rest of your life here and beyond the grave. You are a brother or sister of the Lord Jesus and you know God looks on you as his child. Many will try to shake your faith but you have an anchor that keep the soul steadfast and sure, whilst the billows roll.

Nothing in the world was ever anything like that in my experience. And do I understand that you do not believe that eminent scientists argue over Einstein's theory of relativity. My great uncle was only one eminent scientist who believed he had disproved Einstein. Just google any of your "facts" and you will find scientists have opposing theories. And these are men and women with similar scientific knowledge and intellect to yourself. That is why I challenged you to state what your definition of an indisputable fact is.

For example, I would agree that carbon dating is a wonderful innovation and appears to be fairly accurate for some hundreds of years. But is it accurate 1,000 years ago? And if there is any skew, how innacurate might it be 10,000 years ago. :-S

Researching:
Whatever Rose says

JohnLovesFletcherofMadeley
Report
22 Nov 2012 22:14

It does seem there are a lot of successful woman bishops today - whether they are in Canada, NZ or wherever.

It seems very odd that the laity at Synod were not as enthusiastic about this change as their leaders.

But I can understand the laity moving slowly on this sensitive matter. The African Church in particular is very literal in their Bible interpretations and they are a very successful church. In the Philippines (5 million Anglican communicants and growing rapidly), a friend of mine was ordained as their first female Vicar about 8 years ago - and it was a difficult time for her. But now fully accepted.

And ecumenism and joint faith pursuits might be difficult. The Roman Catholics will not yet accept women priests, but I think it will happen one day. And even Muslims might one day have female Imams. I know there are female Jewish rabbis - Julia Neuberger is one, isn't she. It is always the right person in the right place at right time that changes attitudes.

My denomination has accepted women priests since 1807 - and the denomination is Bible based. :-)

Researching:
Whatever Rose says

SylviaInCanada
Report
22 Nov 2012 23:48

One of the parishes that wished to secede from the diocese that I live in, opted to put themselves under the wing of an African bishop who believed in the traditional, strict interpretation of the Bible

Their reason for cutting themselves away was because of gay marriage ............... our bishop had issued an edict that said that any vicar in a parish "that wished to" could conduct gay marriages

That does not say that they HAD to do it ............... but that is how it was interpreted by them.

Anyway, when all the furore was going on, this particular African bishop made it known that he was willing to become "their" bishop ............. even visiting Canada and the various parishes.

It is apparently a no-no to steal parishes from other diocese, but he did it.

It all fell flat when the bishop here got a court order that the buildings and effects of a parish belong to the diocese and not to the parish .............. so a seceding parish could not take them away, and would in effect have to start from scratch. It did take years, and went all the way to the Supreme Court of Canada, because of appeals, but every level of the courts agreed on who owned the church buildings and contents.


The African bishop lost interest at that point

Researching:
it is safe and comfortable under the Christmas Tree ......... .............. .......... .......................................................... To help us and to get better results, please post as much detail as you can, especially name, date(s) and place. Also say what you already know.

Cynthia
Report
23 Nov 2012 08:18

What happened to the parish Sylvia? Did they adapt or cut themselves off and become an independent church?


Both the Diocesan and Suffragan Bishops of my diocese have published statements stating their vast disappointment and sadness at the decision made this week, reminding us that we have some fine women priests working in the diocese.


The unease I mentioned earlier, stems from the fact that I have known some excellent women priests but, I have also come across those who are trying too hard to prove themselves as equals. They have gone OTT in trying to show that they can do the work just as well as a man, if not better (and yes, some do!) But, if they have a vocation and have the gifts, then their sexuality shouldn't matter.


Personally, I think it's right that both clergy and laity should discuss these issues, but would prefer that any decisions, whether one is for or against, should be accepted gracefully and without rancour by those concerned.


Cx

Researching:
ADVICE: Click on 'My Threads' over on the left to find your replies. Please respond to your replies by typing in the Add Reply box at the bottom of the page. Enjoy!

Eldrick
Report
23 Nov 2012 08:23

Yes, the church is succesful in parts of africa. It always flourishes amongst the poor and uneducated sections of society. Its not rocket science to work out why!

John your grasp of science is leading you to make some serious errors. Carbon dating....? Do you know how it works? If you did, you would know how the accuracy is acheived. There is no dispute over einstein apart from the metaphysical wishful thinking blue sky thinkers. I would genuinely be grateful if you could either explain why he was wrong or point me somewhere with a convincing argument. I'm willing to be persuaded. But it would take some doing coming from someone who thinks the earth is only 6,0000 years old hahahahahahahaha.

No, im afraid extraordinary claims require extraordinary evidence. A book of fairy stories and legends doesn't quite meet the required standard, so quoting from it is a waste of pixels that could be doing something far more useful like making pictures of gerbils wearing little hats.

Researching:
Windsor, Tudor, Cholmondely, Hanover, Smith.

JohnLovesFletcherofMadeley
Report
23 Nov 2012 09:09

Eldrick

So much criticism of Einstein's theory that it would take me all morning to cut and paste. And a lifetime to understand.

My great uncle was a Professor of Electrical Engineering from the time he left University with a double first in science in 1924 aged 21. He refuted Einstein on scientific grounds. He was the cleverest man I knew - I expect his analysis would interest you.

A collection of various criticisms can be found in the book "Hundert Autoren gegen Einstein" (A Hundred authors against Einstein), published in 1931. It has been translated into English. With my gt uncle that makes 101!!!!

Carbon Dating. http://www.answersingenesis.org/articles/nab/does-c14-disprove-the-bible

One of the conclusions after a lengthy scientific analysis (which you will probably understand - I don't) was:

" When the assumptions were evaluated and shown faulty, the results supported the biblical account of a global Flood and young earth. Christians should not be afraid of radiometric dating methods. Carbon-14 dating is really the friend of Christians, and it supports a young earth."

And these days I continually see things that confirm my (agreed biased) mind that the earth is youngish. And that it is devolving as the Bible predicted, not evolving. So-called old fossils lie on top of younger ones in strata, a boat found high on a mountain in Turkey had the same dimensions as the ark. Plenty of other stuff - most of which is available on internet.

As I said, I believed what you believed pre-1982. And my eyes have been opened very slowly since to Bible truths. And I now believe it possible that things happened that I would have thought TOTALLY impossible 30 years ago. It all fits together. Science doesn't quite do that for me, much as I admire scientists.

And no scientist yet has the ability to rise in the air and disappear behind a cloud. All these things were observed scientifically (I think they would be classed as facts, though you are reticent to say how you define a scientific fact) by men and women - nowhere does the Bible say "a fairy told me". And none of the codeces was written by Grimm or Andersen :-D ;-)

Researching:
Whatever Rose says

Guinevere
Report
23 Nov 2012 09:21

Anyone with any knowledge of crime and criminal trials plus a working knowledge of psychology will tell you that eye witness accounts are not reliable. Many, many studies have shown this to be so. Especially when recorded many years after the event.

So, no, they cannot be classed as facts. Delusions, mass hysteria perhaps. Facts. No.

Next we'll be hearing about intelligent design, invented by creationists who can't accept the truth.

I'm not an atheist, I'm an agnostic but the more illogical and irrational ramblings I hear from creationists the futher I move to the atheist camp.

Researching:
Lowestoft and North Suffolk, Monmouthshire, Breconshire, Somerset

Eldrick
Report
23 Nov 2012 09:25

Omg. I cannot believe that im reading this in the 21 st century. Ignorance is forgiveable but wilfull ignorance is appalling.

I cannot debate with someone who can only quote scripture. Enjoy your faith, just dont ask me to share it. Here endeth the lesson.

Researching:
Windsor, Tudor, Cholmondely, Hanover, Smith.