General Chat
Welcome to the Genes Reunited community boards!
The Genes Reunited community is made up of millions of people with similar interests. Discover your family history and make life long friends along the way.
You will find a close knit but welcoming group of keen genealogists all prepared to offer advice and help to new members.
And it's not all serious business. The boards are often a place to relax and be entertained by all kinds of subjects.
The Genes community will go out of their way to help you, so don't be shy about asking for help.
Quick Search
Single word search
Genes Extras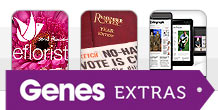 As a way of saying thank you to our subscribers, we have launched Genes Extras. You'll find exclusive competitions and discounts on family history magazines, days out and much more.
Icons
New posts
No new posts
Thread closed
Stickied, new posts
Stickied, no new posts
Diabetics
Profile
Posted by
Options
Post Date

Sharron
Report
29 Nov 2012 09:45

Please don't think this is sniping because truly,it is not.I really want to understand why but just about every diabetic I have ever met has thought to mention it to me.One man I met through my job, he was the chairman of a social club and I had never met him before and will probably never do so again, introduced himself by shaking my hand and saying"Hello,I am Harold and I am a diabetic."

People with other conditions are not as forthcoming and I am extremely furtive about anything I may suffer from so I wonder why diabetics are so forthcoming.

Allan
Report
29 Nov 2012 10:00

Hi Sharron

I'm Allan and I'm a diabetic :-D

Not extracting the urine, and while I don't introduce myself to total strangers that way, I do admit to the condition if I'm eating out, as people wonder why I will not order deserts, or if part of a three course meal, turn them down.

It's the same with drinks, if I'm out at a function I'll only drink water (wine at home..I'm not a total wuz :-))

People do think it strange if you don't indulge in all the good things and I've found that a straightforward explanation is the easiest

LollyWithSprinklez
Report
29 Nov 2012 10:05

Don't know the answer to that as I have never come across that kind of introduction

But maybe in case they have an episode when you are around and want you to be aware of it!

Just a thought

:-)

Sharron
Report
29 Nov 2012 10:05

But it is not their business. Why should people be so rude as to question what you eat or drink?

Allan
Report
29 Nov 2012 10:11

Because they do, Sharron.

If you pay $50.00 (say) for a set menu and you leave the sweets you do get comments. Most of my acquaintances are now aware of my condition and ask me to still have a sweet but give it to them..which I'm happy to do

Kay????
Report
29 Nov 2012 10:12

It stops people putting presure on you to eat things ,,,,,,,,

*go on its lovely,,,,,just have a small bit/piece /.drop etc*,,,,,,,once they know they dont pester you and you dont have to battle with them to take NO for an answer. :-D

Allan
Report
29 Nov 2012 10:16

lol Kay...Precisely, and you expressed it so much better than I did :-)

Kay????
Report
29 Nov 2012 10:51

Its so Allan,

Even people who know still insist,just a little wont do any harm.!

$50-00 for a set meal,,,,,,,,,,,!! can feed a family here for that........

feel guilt at giving your sweet away........ ;-) :-D :-D

Allan
Report
29 Nov 2012 11:00

lol Kay, prices in WA have risen out of all proportion to everywhere else.

A $50.00 set meal for me is, at most, an annual event. I prefer to eat at home where I know what goes into a meal, as I do enjoy cooking.

Nothing gourmet, and I'm no chef, but OH is busy looking after the garden, where we grow vegies, so I do my bit indoors

PollyinBrum
Report
29 Nov 2012 11:03

My OH is newly diagnosed as borderline diabetic, he does not mention it to strangers, however, he has done so to people we know when they wonder why he is now eating smaller portions and saying NO THANK YOU to his beloved puddings.

Island
Report
29 Nov 2012 11:09

In that case.......Maybe Harold was angling for an invitation to dinner :-S


The follow on from stopping friends pressure can become pointing out things on the menu that you can have - just in case your condition/choice means you can't read either. :-S

JoyBoroAngel
Report
29 Nov 2012 12:05

maybe its because at the diabetic clinic its drumed into diabetics heads
that there are millions at risk out there not been diagnosed
i myself had masive babies 35 years ago a sure sign of diabetes

but it wasnt picked up i may be diabetic till 15 years ago
when it put my life at risk

so take the comments with a blessing
and get yourselves a test free at lloydes the chemists

IT JUST COULD SAVE YOUR LIFE XX :-D :-D

Researching:
the birth of Middlesbrough

DazedConfused
Report
29 Nov 2012 12:46

I worked wtih a lad who was diabetic and he would regularly have episodes. We would be aware something was wrong. One of us would indicate to start calling the ambulance and the rest of us would get him lying on the floor, get hime comfortable and then give him a sip from a bottle of lucozade which we kept in the office for these occassions. By which time the ambulance would have either arrived or be due shortly and he was safe.

I do think it odd to say 'hello, I so & so and I am diabetic' But on the other hand better safe than sorry.


Researching:
We are all of us in the gutter, but some of us are looking at the stars, Oscar Wilde New avatar, my dad age about 3/4 months, could have been worse, it could have been the awful nude on a rug!!

Iris
Report
1 Dec 2012 19:27

Sharron
hi, i'm iris ,and i am diabetic type 2 , and like allan said if i'm eating out i do let them know ,i ask to look at the pudding menu first to see if there is fruit on it , if there isn't any then i have a small starter and main course,

Robert
Report
1 Dec 2012 20:14

My name is Bob

i am an acoholic........ sorry wrong thread

Researching:
Burrows from Northamptonshire and Smiths who wont stay in one place.Finchams, Flacks, Rutherfords. Barretts co Cork Ireland, Greens from Eye Sufolk

Tecwyn
Report
1 Dec 2012 21:20

My OH has been Type 1 insulin dependant diabetic for over 20 years. I have never heard her introduce herself in this way.

The only time it is ever mentioned is possibly at a social function when questioned why she is not eating this or that, and then a quiet "I can't, I'm diabetic"

Tec.





Huia
Report
1 Dec 2012 21:30

Tec, dont let her drink vodka. A kiwi diabetic recently had some vodka and it reacted with his medication to poison him. He was rushed to hospital where the doc realised what the problem was and went out and bought an expensive bottle of whisky, returned to the hospital and gave it intravenously to the patient and saved his life! Apparently it counteracted what the vodka had done, something about one producing ethane and the other producing methane, if I remember the report correctly.

Researching:
Avatar: Red poppy holding a yellow poppy.

Carol 430181
Report
1 Dec 2012 21:33

I am diabetic type 2 but on insulin for last 13 yrs after having a heart attack.on Friday 13th. Friends and family know and leave me alone to get on with it, I would never tell strangers.

Carol :-D

Researching:
Vosper Cornwall /Devon. Courtney Cornwall. Arundel Cornwall. Godolphin Cornwall. Tremethick Cornwall. Langdon Cornwall/Devon. Buley Devon. Parsons Cornwall. Bains(wish I knew) Samuels London.

GinN
Report
1 Dec 2012 21:50

I was diagnosed as type 2 diabetic two years ago, and since a year ago take a Metformin tablet once a day. It is under control, and I have no problems. So, I never feel the need to broadcast the fact, though do decline most desserts. I love a drink, but am careful to avoid sweeter ones.
I agree with Carol, just let us deal with it in our own quiet way

Researching:
Anything and everything that takes my fancy.