General Chat
Welcome to the Genes Reunited community boards!
The Genes Reunited community is made up of millions of people with similar interests. Discover your family history and make life long friends along the way.
You will find a close knit but welcoming group of keen genealogists all prepared to offer advice and help to new members.
And it's not all serious business. The boards are often a place to relax and be entertained by all kinds of subjects.
The Genes community will go out of their way to help you, so don't be shy about asking for help.
Quick Search
Single word search
Genes Extras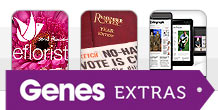 As a way of saying thank you to our subscribers, we have launched Genes Extras. You'll find exclusive competitions and discounts on family history magazines, days out and much more.
Icons
New posts
No new posts
Thread closed
Stickied, new posts
Stickied, no new posts
Nurse in Hoax Call Found Dead
Profile
Posted by
Options
Post Date

Muffyxx
Report
8 Dec 2012 23:58

For my part I lay NO part of the blame at the door of the nurses........controversially I don't at the door of the DJ's either..but i think we'll have to agree to disagree on that one flower lol. I think ultimately the nurses were VERY badly served in this..I firmly believe that procedures should've been in place and I hope that if nothing else security is tightened up so this never can happen again.

I still maintain that no one individual could be held responsible for anothers actions...and feel it's harsh that others are being scape goated for something where no one could've foreseen the dire consequences....pranking has gone on for years without this outcome so there was no reason to believe it would happen in this case.

It was a crap prank as it turned out......but professionals should be well able to be able to detect them.....again not the fault of the nurses involved.....imo a failure from management in the training and understandings of procedures.None of this of course will restore this poor ladies life.......but I hope that as a result of the discussions no one else is ever put into this impossible situation x

Researching:
All comments made by me are all mine unless otherwise stated. Any resemblance to real persons, living or dead, or real life events unless otherwise stated is purely coincidental.

supercrutch
Report
8 Dec 2012 23:35

I appreciate that you are exactly the same as me Muffy with a 'nose' for some press reports and we have both colaborated and agreed on many cases.

I'm just sick to the back teeth of some people perpetuating the untruth (that's mild) that the poor woman was responsible for breaching anything, she wasn't!

We all know the press would have got hold of her name at some point and I'm not even going to speculate that they already had. Money prises many sealed lips apart!

The woman is dead, her family have enough to deal with without some 'sheep' bleating on about her betraying her patient when there has been NO confirmation of this and, in fact, entirely the opposite.

We both know the press will be digging for dirt 24/7 and if they find she underapid her taxes by £1 in 2008 they'll will be on it PDQ.

I would like people to show her the respect she deserves until and if anything official is released which may alter my view, which appears to be the minority at the moment.

x

Researching:
Jones!!!!!!!!!!!!!!

Muffyxx
Report
8 Dec 2012 23:04

Agree with you to a degree Sue..there's no doubt in my mind that this lady was the one who had a very brief discussion initially and put the call through to the ward.....I have no idea about hospital procedure but it doesn't seem to me that she could have breached security just by doing that..or breached patient confidentiality.

If she wasn't being disciplined..hadn't been publically named......then I struggle to understand the eventual outcome even more....we'd probably never be aware of who she was to this day had this not happened..we fortunately don't know the name of the other nurse.

I don't trust the press.or what they report..so I take much of it with a pinch of salt..don't trust the media as far as i could throw them...it's that old thing though.....if something smells wrong and it doesn't make sense......then .there's probably something rotten being hidden..and sue you know i'm like a jack russell down a rat hole once i get the scent...it may just be the press doing what the press does best..but i'll always question stand alone anomalies when they're presented to me x

Researching:
All comments made by me are all mine unless otherwise stated. Any resemblance to real persons, living or dead, or real life events unless otherwise stated is purely coincidental.

supercrutch
Report
8 Dec 2012 22:49

SHE DIDN'T BREACH PATIENT CONFIDENTIALITY FGS!!!

Nurse Jacintha Saldanha was found dead days after taking the hoax call and putting it through to a nurse on Kate's ward, who divulged private information about her treatment.

CAN YOU READ???

Please get your facts straight before jumping to conclusions and slapping them all over GR. There are other sites you can do that on and they will welcome you with open arms.

Researching:
Jones!!!!!!!!!!!!!!

AnninGlos
Report
8 Dec 2012 22:35

No doubt we may learn more after the inquest.

Researching:
Photo, Luke and Adam 4 May. Researching Somerset, Dorset, Hampshire, Derbyshire, Staffs, Devon, Glamorganshire. Ingram, Masters, Tamblyn, Knight, Warner, Bate, Allen, Riggs, Dominey, Duffin

Muffyxx
Report
8 Dec 2012 22:32

Agree Berona.......with what we've been told it really doesn't add up at all...

Researching:
All comments made by me are all mine unless otherwise stated. Any resemblance to real persons, living or dead, or real life events unless otherwise stated is purely coincidental.

Berona
Report
8 Dec 2012 22:15

Having had more time to reflect on this, I now have questions.

With both hospital and royal security in place, how was it that a call was put through? The nurse would have every reason to believe that it was passed by Security.

Also - the nurse would have been very embarrassed once she knew what had happened, as she would be well aware that she had breached patient confidentiality and she was experienced enough to not do that. However - to even contemplate suicide (which seems to be accepted, even before the Coronor has issued a statement), it makes me feel that we have not been told the full story. This leads me to ask another question.

Who told her that she had been duped into betraying the confidentiality? and HOW did they tell her?. For her to take her own life over it, I would really like to know the answers to this - and the name of the person who said it.

I'm still not defending the DJs - I think they were twits to attempt the call - but I feel that something else needs to be known. The facts as they are now, just don't seem to fit together.

supercrutch
Report
8 Dec 2012 22:15

Thank you Mersey :-)

x

Researching:
Jones!!!!!!!!!!!!!!

Mersey
Report
8 Dec 2012 22:00

Sue I have to completley agree with your posts .....there is no way I could have put it better myself. At the end of the day a person has lost her life...

supercrutch
Report
8 Dec 2012 21:26

Well I can cast the first stone, candid camera was not on my watch list, I don't watch those stupid programmes where viewers send videos in of people falling over (including babies and children) and seem to find enjoyment in watching babies and toddlers cry.

I will take delight in watching self-publicising A or Z listers making utter idiots of themselves, some by just opening their mouths! They set themselves up on a pedestal, they are there to be knocked off if it's through their own stupidity. Same with politicians who the public have put their faith in. Major misdemeanours need to be publicised, we pay their bloody wages!

Altogether difference scenarios.

Researching:
Jones!!!!!!!!!!!!!!

Porkie_Pie
Report
8 Dec 2012 20:45

Also Jeremy Beadle and Candid Camera was done in a controlled way and with cooperation from family and or friends of that person

Ive never played practical joke on anyone who i am not very good friends with and i have never listened to radio programmes where they do this sort of thing,

pranks and jokes are only ever a good idea with family and friends but only when you no they will not take offence,

Roy

Rambling Rose
Report
8 Dec 2012 20:22

"Why did we laugh at Jeremy Beadle? At Candid Camera?"

I didn't, ...but the people pranked in those shows had to then give permission for broadcasting, this is different.

Researching:
Fishlock, and the lost Harriet Louisa Whetman. These are my research interests and do not constitute part of any reply I may post on your thread :-)

JustJohn
Report
8 Dec 2012 20:05

Why did we laugh at Jeremy Beadle? At Candid Camera?

Why do we laugh when people in public life are pilloried?

That is probably why whoever it was phoned Andrew Sachs on air. That is why these two young DJ's tried to make their audience chuckle.

Let he or she who has never caused grief indirectly by watching these progarmmes or listening to practical jokes on radio cast the first stone. Our amusement was because somebody else was feeling uncomfortable :-(

Researching:
Amelie my granddaughter's ancestry. My ban until 1 Jan 2021

supercrutch
Report
8 Dec 2012 19:54

Thank you, Jude and Mummo

Sue x

Researching:
Jones!!!!!!!!!!!!!!

*** Mummo ***
Report
8 Dec 2012 19:45

Hallelujah someone writing the truth ( Dangersprout ) :-D

~`*`Jude`*`~
Report
8 Dec 2012 17:52

Well l could'nt have put it better myself......:)

Basically we don't know what happened!!

jude

Researching:
Meninsky, Menin, Heather, Pettit, Butler, Ratcliffe. Russia.USA, Sussex,Kent, London.

supercrutch
Report
8 Dec 2012 17:28

For gawd's sake I wish people would READ the reports, LISTEN with open ears and keep mouths CLOSED!

You can speculate all you like, I have no idea if she had other problems or if was death by overdose (accidental or deliberate).

Until the inquest all we know is: nurse put call through to ward, nurse found out it was a hoax, nurse was devastated, hospital was offering support, nurse has died and the police are saying suspected suicide.

DJs should be ashamed of this stunt and should their radio station, not for the attempt at embarassing the royal family but for the humiliation they knew would be heaped on the nurses. Any one of us would feel the same for being the target of a very dubious prank.

Researching:
Jones!!!!!!!!!!!!!!

Eldrick
Report
8 Dec 2012 15:41

And another thing - i dont see any of the media sharing any responsibility for cynically whipping up the frenzy of outrage over the call in the first place. Nor will we see the sanctimonious holier than thou rags commenting on that aspect.

Once they get their grubby little digits round a story, its game on for that lot.

Researching:
Windsor, Tudor, Cholmondely, Hanover, Smith.

Kay????
Report
8 Dec 2012 15:29

The BBC news featured two hospital suited staff....they stated this lady put the call through to the relevant ward.,,,,,,she was not part of the team taking care of Catherine. and online BBC that there is no receptionist on duty during the night as it was just after 5 am uk time,


She did become a victim of that hoax,she as its *suspected* took her own life......doesnt mean she divulged any details to the callers,, only they will know how the conversation went,,,media rags will always print just what they presume to be right.......a written word here,a word there can soon mislead to no fault of the reader.

sad sad case.

Eldrick
Report
8 Dec 2012 15:28

Its the media who made it into a circus.

Might i ask just exactly what anything has to do with anyone outisde of the poor womans family, the police and the hospital?

Why she took the call, what she said and who should have been on the switchboard is nobodies business but the above.

The media, as normal, are assuming the role of judge, jury and executioner. How many more experts on everything from morning sickness to hospital procedures are going to be wheeled out in front of the cameras to add more fuel to the rumour and speculation mill?

Researching:
Windsor, Tudor, Cholmondely, Hanover, Smith.