General Chat
Welcome to the Genes Reunited community boards!
The Genes Reunited community is made up of millions of people with similar interests. Discover your family history and make life long friends along the way.
You will find a close knit but welcoming group of keen genealogists all prepared to offer advice and help to new members.
And it's not all serious business. The boards are often a place to relax and be entertained by all kinds of subjects.
The Genes community will go out of their way to help you, so don't be shy about asking for help.
Quick Search
Single word search
Genes Extras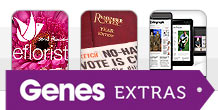 As a way of saying thank you to our subscribers, we have launched Genes Extras. You'll find exclusive competitions and discounts on family history magazines, days out and much more.
Icons
New posts
No new posts
Thread closed
Stickied, new posts
Stickied, no new posts
Civil Partnerships
Profile
Posted by
Options
Post Date

Claddagh
Report
11 Dec 2012 16:52

2 of my adult children are in a 'civil partnership', the other 3 are married. It is often the norm over here (Holland).It's up to them, I don't mind either way.I makes no difference at all.

Kay????
Report
11 Dec 2012 16:26


Its now official BBC online breaking news,,,,, that The Church of England and The Church of Wales will not conduct *marriages* between same sex couples.

And without doubt the RC wont ever.

It will be up to other faiths to do what they wish.

Will we see more converts to other religions in order for same sex couples to fulfill their wish.

~Lynda~
Report
11 Dec 2012 09:15

On Radio 5 live now , they are discussing the subject "Would gay marriage strengthen the institute of marriage" and someone has just asked the question that I have on this thread.

So I wasn't the only one to wonder as to why heterosexuals, can't have a civil partnership :-D

Researching:
Love London, Love Life~ It's the law

wisechild
Report
11 Dec 2012 07:39

Civil partnerships between heterosexual couples are both accepted and legal in Spain. As far as I know, the couple have the same rights as ones who are married, although what the difference is between them and a registry office wedding I´m not sure.
OH & I had a registry office wedding because the church wouldn´marry us because we were both divorced & I am a non catholic.

Hayley Empress of Drama
Report
10 Dec 2012 22:30

Dam :-D

Researching:
Same as Muffy says ;)

~Lynda~
Report
10 Dec 2012 22:29

From what I understand Lolly, marriage in a registry office, is marriage as we know/knew it. A Civil Partnership is not a marriage as we know it, but a legal contract of some sort.

So you are married, no getting out of that :-D

I probably haven't explained myself properly, but what's new :-D

Researching:
Love London, Love Life~ It's the law

LollyWithSprinklez
Report
10 Dec 2012 22:13

Now I am totally confused :-S

So as I married in a registry office are you saying that I am wedded but not married?

BrianW
Report
10 Dec 2012 21:49

Religion keeps being brought into this question but as I see it that is a side issue.
From time immemorial marriage has been defined as the union of a couple of opposite sex in a place of worship and recorded by the priest/rabbi or whatever which gave the partners legal rights and obligations. From 1837 the union has been notified to the civil registrar.
Civil weddings in a registry office were introduced at the beginning of the last century for those who wished their union to be legally recorded but not in a place of worship.
Civil partnerships were introduced a few years ago to give gay couples the same legal rights as heterosexual couples.
Note the term LEGAL in each case.
Redefining civil partnerships as marriages will introduce severe complications in legislation (estimated at well over one thousand) where the terms "marriage"; "husband"; wife"; and so on are included and will have to be re-written and passed back through Parliament.
The present definitions of marriage and civil partnership seem to be perfectly clear and adequate to fulfil their purpose: why try to muddy the waters?

Researching:
Sherwood (Kent); Jesson (London); Worboys (Herts)

Hayley Empress of Drama
Report
10 Dec 2012 21:01

I was of the same opinion as Lolly I thought partnership was the new PC for marriage like life partner is the PC word for husband :-D

Researching:
Same as Muffy says ;)

LollyWithSprinklez
Report
10 Dec 2012 20:00

BTW love new avatar

~Lynda~
Report
10 Dec 2012 19:46



No problem about going off topic Sue and Meercat, I just didn't want a Civil Partnership discussion, being turned into a discussion on what God thinks about them :-D

I used to think that too Lolly -D

Amanda I'll get my hat ready :-D :

Researching:
Love London, Love Life~ It's the law

JustJohn
Report
10 Dec 2012 19:45

Meerkat I did say that rules are for the guidance of wise men. It often happens now in churches that one partner is not a Christian at all.

Lynda Sorry to mention dreaded word. But I have thought about this issue quite a bit and most marriages today are very different to marriages 50 years ago, as we know from family history.

Many people want to dress up and have photos taken outside a church still. And the prettier churches rake in quite a lot of wonga for weddings (with value added products like choirs as well). And they rely on that income, which must be dwindling fast these days.

Would it not be just as magical if couples exchanged promises to each other in a civil ceremony in a registry office, hotel, wherever registered cilvil marriages can take place. Then - as an optional extra - go to a beautiful church to have their union blessed and take lovely photos, if they want that.

Win-win? :-)

Researching:
Boanerges of Caesarea

supercrutch
Report
10 Dec 2012 19:32

Sorry Lynda, off topic again.

The problem with not tying up the estate is: any debts will be considered as joint with the partner, therefore the creditors will immediately chase him/her for recovery. The nett value after tax and legal fees will go directly to next of kin.

This is really relevant if property is included in the estate. Much of someone's wealth is just on paper but debts are high priority with creditors and they will not wait for sale of property or probate. They will aggresively chase the surviving partner whether in any arranged union or not. If they both used the account the survivor is stuffed and the NOK are laughing their socks off!

Researching:
Jones!!!!!!!!!!!!!!

Kay????
Report
10 Dec 2012 19:01

Thanks Sues,,,,,,,I know its not an automatic right of a partners assetts Det in same sex civil partnerships.NOK have all the legal rights unless a detailed Will is made.

all should be able to have access to what ever marriages they wish.,,,and to who they want.

But certain religons will most certainly not ever allow this,,,,,,so many will become ex-comunicated.



LollyWithSprinklez
Report
10 Dec 2012 18:56

An interesting Question...I had never considered before, having imagined a civil partnership was on a par with a registry office wedding

So I suppose there is still an element of discrimination

+++DetEcTive+++
Report
10 Dec 2012 18:47

If they have no Civil Partnership (with a bit of paper) perhaps they ought to lie and say they have? There's bound to be loads of hetrosexual couples who aren't married who say they are!

Really, the hospital needs to train its staff to be more understanding although we can guess it can be a minefield if a blood relative tries to cut the Partner out of the information loop.

:-(

Researching:
I am NOT an employee of GR, just a paying member. Any advice, guidance or suggestion offered is given in good faith.

supercrutch
Report
10 Dec 2012 18:37

I have gay friends and they face prejudice when it comes to data protection re their health.

One goes into hospital and partner phones for update and as they are not married in any sense of the word they cannot get information.

An acknowledgement of a civil partnership agreement would mean the person closest in their lives can get important information.

I know the inheritance problem can only be solved by making a very clear will which cannot be challenged.

It will probably be a legal minefield for some years to come.

Researching:
Jones!!!!!!!!!!!!!!

The Meercat
Report
10 Dec 2012 18:32

Lynda, please excuse me for talking about christians but christian marriages do not have to be two believers in christ.
My daughter an atheist was married in church to a christian.She told the vicar she was an atheist but wanted her day to have bells ringing and a choir singing.
The vicar said that was ok.

Amanda2003
Report
10 Dec 2012 18:14

If the option ever becomes available Lynda , I'll be sure to send you an invite :-)



+++DetEcTive+++
Report
10 Dec 2012 18:09

Are you certain about that Kay?? :-S

Looking at a site http://www.civilpartnershipinfo.co.uk/ seems to suggest differently, but it was created in 2006 so could be outdated.

If Civil Marriages could be renamed as Civil Partnerships, it would be an even better step towards equality. There really would be a one size fits all for non-religious couples.

Researching:
I am NOT an employee of GR, just a paying member. Any advice, guidance or suggestion offered is given in good faith.