General Chat
Welcome to the Genes Reunited community boards!
The Genes Reunited community is made up of millions of people with similar interests. Discover your family history and make life long friends along the way.
You will find a close knit but welcoming group of keen genealogists all prepared to offer advice and help to new members.
And it's not all serious business. The boards are often a place to relax and be entertained by all kinds of subjects.
The Genes community will go out of their way to help you, so don't be shy about asking for help.
Quick Search
Single word search
Genes Extras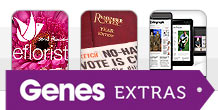 As a way of saying thank you to our subscribers, we have launched Genes Extras. You'll find exclusive competitions and discounts on family history magazines, days out and much more.
Icons
New posts
No new posts
Thread closed
Stickied, new posts
Stickied, no new posts
Christian Thread
Profile
Posted by
Options
Post Date

Cynthia
Report
3 Apr 2014 08:42

Good morning..... :-)


Thank you for those words kandj......it is very true that we are never alone.

Tonight we have the church AGM where officers are elected or re-elected or stand down or..........sit down :-

We are due to elect two new churchwardens. One wishes to stand down after several years of office and the other left the parish some time ago. It's quite a demanding and legal responsibility so my prayers are with those who are willing to take the role on. Also, the Parochial Church Council will be elected as well as those who are willing to take on the role of sidespeople.

There is so much that goes on in a church besides the taking of services and community events. Most lay roles are taken up entirely on a voluntary basis with no income attached - mainly just the organist and the verger who receive a small amount. Just hope and pray that it all goes well tonight.


A traditional Celtic prayer for today:


God with me lying down,
God with me rising up,
God with me in each ray of light,
Nor I a ray of joy without him,
Nor one ray without him.

Christ with me sleeping,
Christ with me waking,
Christ with me watching,
Every day and night,
Each day and night.

God with me protecting,
The Lord with me directing,
The Spirit with me strengthening,
Forever and forevermore,
Ever and evermore, Amen.
Chief of chiefs, Amen.


Take care all....Cx :-)

Researching:
ADVICE: Click on 'My Threads' over on the left to find your replies. Please respond to your replies by typing in the Add Reply box at the bottom of the page. Enjoy!

kandj
Report
2 Apr 2014 13:10

A lovely prayers Cynthia and so appropriate when we are worried and anxious.

Our children are our flesh and blood and age has nothing to do with not worrying about them. I think being a Mum it's inevitable to feel their pain and it come with the job title!

It isn't easy to be still when our mind is elsewhere and prone to racing ahead. That is the natural human way of thinking. I personally find this verse from scripture calms me, and reminds me I am never alone and God is walking beside me too.

I, the Lord your God hold your right hand
It is I who say to you
Fear Not. I will help you
Isiah 41: 13

Cynthia
Report
2 Apr 2014 08:19

Good morning everyone :-)

Haven't sung 'Beauty for Brokenness' for a while.....the words are good and I love the melody.

My son is in severe pain at the moment as he is also waiting for a back operation - fusion of discs. I think the way he has been limping with the knee injury has affected his posture. Dear oh dear - we still sorry about them even when they grow up don't we? I will put myself on 'standby' mode in case needed :-)


Our prayer or today :

God, who is with us
in the midst of traffic chaos and noisy commerce,
remind us to stop and listen to the sounds of longing hearts.
In the dark loneliness of crowded living,
remind us to look for glimpses of your light.
When tempted to see only struggle and bad news,
remind us that the city is full of stories of hope and human flourishing.
Help us to be the human agents of your divine grace. Amen.

- Michaela Youngson


Take care......Cx :-)

Researching:
ADVICE: Click on 'My Threads' over on the left to find your replies. Please respond to your replies by typing in the Add Reply box at the bottom of the page. Enjoy!

kandj
Report
1 Apr 2014 11:33

I'm pleased that you liked the Beauty for Brokenness hymn Vera. I often find that after church I drive home singing the last hymn which sticks in my mind for ages.

Amen, to your prayer Cynthia, such wonderful words that help to heal and strengthen our body, mind and spirit. I hope that your son's knee pain is less and he is improving.



Cynthia
Report
1 Apr 2014 09:13

Good morning and what a beautiful morning it is..... :-)

It has taken me almost an hour to get on here this morning....not the fault of the site but of my laptop........ :-(

I have resorted to using my desktop for the moment.....I should really be cleaning bedrooms whilst I am up here... :-)

I was asked to help at Vestry hour last night......2 baptisms and 2 weddings....it's lovely to know that people are still wanting God's blessing in their lives...



A brief prayer for today:

Eternal God,
the light of the minds that know you,
the joy of the hearts that love you,
and the strength of the wills that serve you:
grant us so to know you
that we may truly love you,
so to love you that we may truly serve you,
whose service is perfect freedom;
through Jesus Christ our Lord.
Amen.


Enjoy your day Cx :-)

Researching:
ADVICE: Click on 'My Threads' over on the left to find your replies. Please respond to your replies by typing in the Add Reply box at the bottom of the page. Enjoy!

SuffolkVera
Report
31 Mar 2014 17:18

One of my favourite hymns kandj and it will now be going round and round my head for days! It seems to me that we should all be aiming for a bit more compassion and, rather than give up anything for Lent, I decided to challenge myself to be a generally kinder person (and to keep it up after Lent). As my poor OH has borne the brunt of my irritability and moods more than he should, I am afraid I have not been completely successful, but I am still trying.

Edit: I'm sorry Cynthia, I forgot to say that I hope your son is free from pain soon. I'll keep him in my thoughts

kandj
Report
31 Mar 2014 11:50

Your prayer for today Cynthia has reminded me of the hymn Beauty for Brokeness with meaningful words written by Graham Kendrick and worthy of sharing I feel:

Beauty for brokeness
Hope for despair
Lord, in your suffering
This is our prayer
Bread for the children
Justice, joy, peace
Sunrise to sunset
Your kingdom increase!

Shelter for fragile lives
Cures for their ills
Work for the craftsmen
Trade for their skills
Land for the dispossessed
Rights for the weak
Voices to plead the cause
Of those who can't speak.

God of the poor
Friend of the weak
Give us compassion we pray
Melt our cold hearts
Let tears fall like rain
Come, change our love
From a spark to a flame.

Refuge from cruel wars
Havens from fear
Cities from sanctuary
Freedom to share
Peace to the killing-fields
Scorched earth to green
Christ for the bitterness
His cross for the pain.

Rest for the ravaged earth
Oceans and streams
Plundered and poisoned
Our future, our dreams
Lord, end our madness
Carelessness, greed
Make us content with
The things that we need.

Lighten our darkness
Breathe on this flame
Until your justice
Burns brightly again
Until the nations
Learn of your ways
Seek your salvation
And bring you their praise.


Cynthia
Report
31 Mar 2014 08:28

Good morning everyone...... :-)


I had a very busy Mother's Day indeed and was totally exhausted last night.

The Mothering Day service went very well. A large congregation; lots of children; the youth group played their instruments and a new Rose Queen was chosen. At the end of the service, the present Rose Queen gave everyone a prayer card for their mothers as they left church. It was reminiscent of the fans of the winning football team leaving the stadium as people milled about after church. so good to see.

My family came round but my son was in a lot of pain with his poorly back and knee. He brought his recently widowed mother-in-law with them and it was good to be all together.

It sounds as though you had a good morning at church too kandj and I'm sure the daffodils were much appreciated by those who received them.

Our prayer for today:

Come Holy Spirit, fill our thoughts that we may see all things through your eyes; awaken our souls that we may love all things with your tenderness; and melt our hearts that we may feel all things with your compassion; through Christ our Lord. Amen.

Johann Freylinghausen (1670-1739)


Enjoy your day everyone.....Cx :-)

Researching:
ADVICE: Click on 'My Threads' over on the left to find your replies. Please respond to your replies by typing in the Add Reply box at the bottom of the page. Enjoy!

kandj
Report
30 Mar 2014 23:46

I hope all Mothers have felt blessed on this special day.

Our Rector gave out 3 daffodils wrapped in a paper lace pattern doily and tied with ribbon during the Mothering Sunday service to all ladies present within the congregation. We were remembering the Mother church and the many blessings we receive daily as part of our church family.

A very good amount of money from your Spring Fayre yesterday Cynthia.
You were obviously very well supported and seemingly everyone gave generously.
A blessing indeed..

Cynthia
Report
30 Mar 2014 08:04

Good morning and a very Happy Mothering Sunday to all mums on here. <3


This day has become such a commercial event that many people, especially of the younger generation, are possible totally unaware of the religious significance and history behind it.

Mother church - young people working away - honouring both church and mother.....so much more than many realise.

Today, I have been asked to do a presentation for the church service. I have arranged for a young boy, who has remarkable reading and intonation skills, to narrate a pertinent story. His mum and another young mum are going to portray the action words in mime. I will then lead into the prayers which will include words for those who find this day difficult.


The Fayre went extremely well.......a great crowd of people of all ages, all happily wandering around without a cross word. I know what you mean about stallholders kandj. When the school building was altered, some stalls had to move their position....my word, it really flummoxed some of them :-)
So many people working hard together for a common cause is a joy to behold and, to add to the sense of purpose, we raised £1650. We have a very happy Treasurer.... :-)



This morning, after a candle has been lit by another young mum, the prayers will begin with the following words by the two young mums who took part in the presentation:

We light this candle to remind us that the love of God is like a light in our darkness.

We praise you, our God, for all mothers who have loved and laboured as they cared for their children.

We praise you, our God, for all mothers who have wept in sorrow and joy for their children.

We praise you, our God, for Jesus, born of a woman and nurtured in her love, and for Mary, a reminder of your patient, waiting love.


Love to you all...Cx :-)

Researching:
ADVICE: Click on 'My Threads' over on the left to find your replies. Please respond to your replies by typing in the Add Reply box at the bottom of the page. Enjoy!

kandj
Report
29 Mar 2014 09:36

Oh that is sad news about Jonesy Cynthia, I remember his Avatar and the dry sense of humour in his postings. Prayerful support to his family at a sad time, and the Christina Rossetti words say it all.

Is is good that your son is home and recovering from his knee operation, a huge relief for your family.

At events in my church the stalls are placed in the same order at every annual function and although this makes it a little bit regimental, it is so much easier to set up.
I often see village folk who come regularly to support the church events and strangely, I rarely see them in the streets at any other time.

It is a dry, bright sunny day here in Yorkshire after a foggy start to the morning and so I do hope that your Spring Fayre will be well attended Cynthia and that folk will dig deep and be generous today.

Cynthia
Report
29 Mar 2014 08:41

Good morning my friends..... :-)


Thank you kandj, my son is now at home complete with white stockings. As you can imagine, he is getting a certain amount of teasing from his many friends.... :-)


I popped into school last night to see how things were going for today's event. All was calm and organised and everyone seemed to know what they were doing. The stallholders were busy setting up their stalls and those who help in the kitchen were busy peeling and cutting potatoes ready for the hot pot lunches. I will be going back there soon........

Yesterday was another sad day for these boards as we heard of the death of Jonesey, a regular contributor and much admired for his commonsense, knowledge and wit. He will be sadly missed by those of us who chatted regularly with him.

We occasionally chatted off line, about faith issues and, although he readily admitted that he had no particular faith, he was always very respectful and supportive of me with that subject. I admired that and was grateful.

Just a few words for today:

Remember me when I am gone away,
Gone far away into the silent land;
When you can no more hold me by the hand,
Nor I half turn to go, yet turning stay.
Remember me when no more day by day
You tell me of our future that you plann'd:
Only remember me; you understand
It will be late to counsel then or pray.
Yet if you should forget me for a while
And afterwards remember, do not grieve:
For if the darkness and corruption leave
A vestige of the thoughts that once I had,
Better by far you should forget and smile
Than that you should remember and be sad.

- Christina Rossetti


And now I must get my skates on............................Cx :-)

Researching:
ADVICE: Click on 'My Threads' over on the left to find your replies. Please respond to your replies by typing in the Add Reply box at the bottom of the page. Enjoy!

kandj
Report
28 Mar 2014 11:09

Thank you. I pray that all will go well with your son's knee operation today Cynthia.

Church events are much needed to raise funds towards the high costs it takes to keep the church doors open and provide services for the local Community.
I do hope that many will come along and support your Spring Fayre tomorrow and spend generously. These functions are good fun, hectic and usually happy times but obviously tomorrow's event will be tinged with sadness now that your old Vicar has sadly passed away. There are sure to be lots of smiles as you all recall much happier times of shared fellowship together. It's also exhausting too, but with everyone pulling together, and hopefully the generosity of the Community it will make it all worth while.

Cynthia
Report
28 Mar 2014 08:28

Good morning..... :-)


It's our Annual Spring Fayre tomorrow, so I will be popping down tonight to the school to see if I can help. It's another difficult 'first' after the death of our vicar and he will be much missed. He worked so hard at these events and would be there from early morning and be the last to leave. Hopefully, we will be able to do his memory justice and have a good day.


Our prayer for today:


A prayer used by the Iona Community in Scotland

Bless to me, O God, the earth beneath my feet,
Bless to me, O God, the path whereon I go,
Bless to me, O God, the people whom I meet,
Today, tonight and tomorrow. Amen



Love to all....Cx :-)

Researching:
ADVICE: Click on 'My Threads' over on the left to find your replies. Please respond to your replies by typing in the Add Reply box at the bottom of the page. Enjoy!

kandj
Report
27 Mar 2014 13:13

Well done Cynthia...... we Mum's do have our uses and come in handy!

It's a blessing to have a close family and never feel alone in time of need.

I never walk alone, Christ walks beside me;
He is the dearest Friend I've ever known;
With such a Friend to comfort and to guide me,
I never, no, I never walk alone. S.Ackley.

Cynthia
Report
27 Mar 2014 08:33

Good morning friends... :-)


My taps are fixed - no more water torture thanks to our young church plumber. :-)


I spent yesterday morning with my son which was lovely. He has to have an operation on his knee tomorrow, so it was mum's taxi service to the rescue for an appointment he had. :-)

OH stayed at son's house watching TV with teenage grandson, who was off school due to the industrial action and, when I got back, I cooked everyone some lunch and then came home for a rest...... :-D


Our prayer for today:


Christ, be our hope
when sadness overwhelms us.
Christ, be our strength
when testing times are near.
Christ, be our light
when darkness would engulf us.
Christ, be our cornerstone
when quaking in our fear.
Christ, be our victory
when we lay our lives before you.
Christ, be our all-in-all,
today and evermore. Amen.

- Alison Judd


Love to all....Cx :-)

Researching:
ADVICE: Click on 'My Threads' over on the left to find your replies. Please respond to your replies by typing in the Add Reply box at the bottom of the page. Enjoy!

GoldenGirl1
Report
26 Mar 2014 13:55

Thank you Cynthia for He Was One Of Us by HSR <3

kandj
Report
26 Mar 2014 11:22

Thank you Cynthia. We also have a plumber in our congregation and as he is self employed he is always happy to do jobs for anyone in church and we are pleased to have someone that we all know we can trust.

This has reminded me that many years ago when we had a thriving church of all ages our vicar back then suggested we make up our very own church directory and add skills that we all could swap with one another for no payment.
This idea worked really well. I offered to babysit for young couples who were happy to have a night out for free and in return they would offer to do heavy digging and such like, being young and fit.

We all have very different skills and talents and this was an excellent opportunity to help each other in a practical sense which also brought the whole church together bonding young and young at heart so creating a church family unit with one another

This idea wouldn't work now as my church congregation is quite small and we are mostly elderly with the aches and pains that come with "mature years!"
However, now that we recently have a new Rector we are all hopeful that young families will be drawn to attend regularly after baptisms as we desperately need young folk to become involved and take on the commitment to move our church forward into the future.
We always try to be welcoming to newcomers and how blessed we would be if new younger people chose to become regular members of our church family.

Dear Lord, I want to be a person who is kind and loving to others. Please help me to use words that will build others up and bring ultimate praise and glory to Your name.

Cynthia
Report
26 Mar 2014 08:32

Good morning my friends.

Thank you for your words kandj. So many people mourning the loss of loved ones in such tragic circumstances.

We have one of the young chaps from church coming tonight to look at a problem with our taps. He is a plumber with his own business and has a young family. It made me think of the congregations I have known over the years and how varied they were.

Teachers; police; shop workers; medics; lorry drivers; clerical staff; housewives; tradesmen; lawyers; manual workers - the whole gambit of employment and work and yet, when we kneel side by side at the altar rail, we are all equal in the sight of God. What a humbling thought.


He Was One Of Us

He was born as little children are
and lived as children do,
So remember that the Saviour
was once a child like you.

And remember that He lived on earth
in the midst of sinful men,
And the problems of the present
Existed even then.

He was ridiculed and laughed at
in the same heartbreaking way,
That we who fight for justice
are ridiculed today.

He was tempted ... He was hungry ...
he was lonely ... He was sad ...
There's no sorrowful experience
that the Saviour has not had.

And in the end he was betrayed
and even crucified,
For He was truly "One Of Us,"
He lived on earth and died.

So do not heed the skeptics
who are often heard to say:
"What does God up in Heaven
know of things we face today?"

For, our Father up in heaven
is very much aware
Of our failures and shortcomings,
and the burdens that we bear.

So whenever you are troubled,
put your problems in God's Hand;
For He has faced all problems,
And He will understand!

~ Helen Steiner Rice


Enjoy your day Cx :-)

Researching:
ADVICE: Click on 'My Threads' over on the left to find your replies. Please respond to your replies by typing in the Add Reply box at the bottom of the page. Enjoy!

kandj
Report
25 Mar 2014 10:18

Cynthia, that must be a relief to have had a good hospital consultation yesterday.

Such heartbreaking news about the Malaysian airplane and loss of life for so many on board.and those poor folk in Washington coping with the landslide..... many prayers needed for so much devastation and loss in our world today.

We can help the weak and weary in positive thought and prayers. God reaches out to us in our deep pain and we must reach out to others in this prayerful way.

Father, open my eyes to those struggling to have enough love, enough strength, enough hope today; then open my heart and mind to find ways to help them to receive love, using my own hands in service to them, and through them, to You..