General Chat
Welcome to the Genes Reunited community boards!
The Genes Reunited community is made up of millions of people with similar interests. Discover your family history and make life long friends along the way.
You will find a close knit but welcoming group of keen genealogists all prepared to offer advice and help to new members.
And it's not all serious business. The boards are often a place to relax and be entertained by all kinds of subjects.
The Genes community will go out of their way to help you, so don't be shy about asking for help.
Quick Search
Single word search
Genes Extras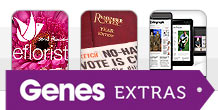 As a way of saying thank you to our subscribers, we have launched Genes Extras. You'll find exclusive competitions and discounts on family history magazines, days out and much more.
Icons
New posts
No new posts
Thread closed
Stickied, new posts
Stickied, no new posts
Christian Thread
Profile
Posted by
Options
Post Date

kandj
Report
25 Jan 2014 13:19

Wishing A Happy Burns Day/Night to all in Scotland.

JustJohn
Report
25 Jan 2014 09:19

By coincidence, I was also thinking about Robbie Burns this morning. Never forget today, as it is wife's birthday :-D :-D No Scots blood in either of us, but always think of our Scottish friends today.

Just wiki'd Burns and he was voted in 2009 the most important Scotsman ever in an STV poll.

Brought up from age of 7 on a rented farm Mount Oliphant, southeast of Alloway. "Here Burns grew up in poverty and hardship, and the severe manual labour of the farm left its traces in a premature stoop and a weakened constitution.

He had little regular schooling and got much of his education from his father, who taught his children reading, writing, arithmetic, geography, and history and also wrote for them A Manual Of Christian Belief."

What incredible parents he must have had. It makes us all realise how fortunate we probably were with at least one of our own parents. Do we do as much for our own children and grandchildren?

At the end of this week of prayer for Christian Unity, the last few verses of the Bible reading are:

"18-21 The Message that points to Christ on the Cross seems like sheer silliness to those hellbent on destruction, but for those on the way of salvation it makes perfect sense. This is the way God works, and most powerfully as it turns out. It's written,

I'll turn conventional wisdom on its head,
I'll expose so-called experts as crackpots.

So where can you find someone truly wise, truly educated, truly intelligent in this day and age? Hasn't God exposed it all as pretentious nonsense? Since the world in all its fancy wisdom never had a clue when it came to knowing God, God in his wisdom took delight in using what the world considered dumb—preaching, of all things!—to bring those who trust him into the way of salvation.

22-25 While Jews clamour for miraculous demonstrations and Greeks go in for philosophical wisdom, we go right on proclaiming Christ, the Crucified."

(The Message - I Corinthians Chapter 1)

Concludes in AV with familiar words of St Paul "We preach Christ, and him crucified".

Researching:
Boanerges of Caesarea

Cynthia
Report
25 Jan 2014 09:02

Good morning everyone and I hope you are all well.



Today is a special day for those of our friends who live in Scotland........Burns Night!


I thought we would remind ourselves of one of his most famous pieces.....

Some hae meat and canna eat,
And some wad eat that want it,
But we hae meat and we can eat,
And sae the Lord be thankit.



A short and sweet thought indeed!!



Enjoy your day.........Cx :-)

Researching:
ADVICE: Click on 'My Threads' over on the left to find your replies. Please respond to your replies by typing in the Add Reply box at the bottom of the page. Enjoy!

JustJohn
Report
24 Jan 2014 18:25

Cynthia. Yes, it is good to be of good cheer. :-D :-D

Very happy about your situation kandj. Your new Reverend sounds a wonderful leader :-D

From the Message translation of First Corinthians Chapter One (tgext for this week of special prayer for Christian Unity).

The Cross: The Irony of God's Wisdom

10 I have a serious concern to bring up with you, my friends, using the authority of Jesus, our Master. I'll put it as urgently as I can: You must get along with each other. You must learn to be considerate of one another, cultivating a life in common.

11-12 I bring this up because some from Chloe's family brought a most disturbing report to my attention—that you're fighting among yourselves! I'll tell you exactly what I was told: You're all picking sides, going around saying, "I'm on Paul's side," or "I'm for Apollos," or "Peter is my man," or "I'm in the Messiah group."

13-16 I ask you, "Has the Messiah been chopped up in little pieces so we can each have a relic all our own? Was Paul crucified for you? Was a single one of you baptized in Paul's name?" I was not involved with any of your baptisms—except for Crispus and Gaius—and on getting this report, I'm sure glad I wasn't. At least no one can go around saying he was baptized in my name. (Come to think of it, I also baptized Stephanas's family, but as far as I can recall, that's it.)

17 God didn't send me out to collect a following for myself, but to preach the Message of what he has done, collecting a following for him. And he didn't send me to do it with a lot of fancy rhetoric of my own, lest the powerful action at the centre —Christ on the Cross—be trivialized into mere words.

Researching:
Boanerges of Caesarea

GoldenGirl1
Report
24 Jan 2014 15:41

Cynthia thank you <3

Emma :-)

Cynthia
Report
24 Jan 2014 08:32

Good morning and some words from a favourite writer......



Be Of Good Cheer - There Is Nothing To Fear


Cheerful thoughts like sunbeams
Lighten up the "darkest fears,"
For when the heart is happy,
There's just no time for tears.

And when the face is smiling,
It's impossible to frown,
And when you are "high-spirited,"
You cannot feel "low-down."

For the nature of our attitude
Toward circumstantial things,
Determines our acceptance
Of the problems that life brings.

And since fear and dread and worry
Cannot help in any way,
It's much healthier and happier
To be cheerful every day.

And if you'll only try it
You will find, without a doubt,
A cheerful attitude's something
No one should be without.

For when the heart is cheerful,
It cannot be filled with fear,
And without fear the way ahead
Seems more distinct and clear.

~ Helen Steiner Rice ~



Have a lovely day.....Cx :-)

Researching:
ADVICE: Click on 'My Threads' over on the left to find your replies. Please respond to your replies by typing in the Add Reply box at the bottom of the page. Enjoy!

kandj
Report
23 Jan 2014 22:22

A more stable setting with Rev Jan at the spiritual helm and her kind and friendly nature is endearing her to us golden oldies and the faithful few elderly who are blessed to have new Rector that we can relate to and work with.

Jan is also keen to bring the village community and church family together given time so we all can benefit from fellowship and friendship to help and support one another.

Cynthia
Report
23 Jan 2014 08:35

Good morning...... :-)


Things sound very hopeful indeed for your church kandj. It must be very uplifting for all those of you who have continued to worship there through more difficult times.


John, I almost felt as though I were in the car with you - your description was so graphic and the place sounded very special indeed.



A thought for today:

God Is


To modern people, He's not logical;
Some don't believe He's true;
And yet they always seek Him
When an ill wind comes blowing through.

Beneath the surface of our mind,
Buried in our souls,
Is the ever-present knowledge
Of God's creative role.

You cannot deny our presence
Or the presence of our Lord;
We had to come from somewhere
And have something to head toward.

To declare that God is not
Is to deny our soul within;
And if that is denied,
We are doomed to sink in sin.

In everything that lives
And every gem or common rock,
The spark of God exists;
They are things that He has wrought.

- Betty Killebrew



Enjoy your day Cx :-)

Researching:
ADVICE: Click on 'My Threads' over on the left to find your replies. Please respond to your replies by typing in the Add Reply box at the bottom of the page. Enjoy!

JustJohn
Report
22 Jan 2014 11:48

Just catching up on the lovely messages. Drove son down to pick up his new shiny sports car yesterday. 320 miles round trip, and I thought retirement would be more restful. Saw a lovely small town for the first time - Stockbridge, I think. Quite near Winchester. Absolutely beautiful parish church built with pebbles - a bit like churches I am more familiar with in Norfolk area. And artists shops and antique shops. And some lovely restaurants and cafes. Only one cash machine and that is in the Post Office - so that tells you the village has a lot of class.

Another passage from the reading this week from 1 Corinthians. Verses 4-6:

"I thank my God always on your behalf, for the grace of God which is given you by Jesus Christ.
That in everything you are enriched by him, in all utterance, and in all knowledge.
As the testimony of Christ was confirmed in you."

What a reading to encourage our prayer in this week of prayer for Christian Unity. :-) :-)

Researching:
Boanerges of Caesarea

kandj
Report
22 Jan 2014 09:35

Thanks Cynthia for such familiar words this morning.

I shall no want

He restoreth my soul

I will fear no evil

My cup runneth over

I will dwell in the house of the LORD forever. Amen to that!

Our village church has Baptism services every fortnight, the families are returning to church for this important ceremony in great numbers now we have Rev Jan in our midst.

Funeral services are also increasing as relatives bring their loved ones into church again and not going straight to the town crematorium which has happened for years. All good and positive when our church family can provide support and comfort to village community at two very special times in their lives.

Cynthia
Report
22 Jan 2014 08:32

Good morning.....everyone. :-)


I spent some time yesterday sorting through the Baptism application forms. Bearing in mind that we are still in January, I counted that we have 22 families applying for Baptism up until June. Goodness knows how many more we will get in in the meantime, but it is heartening to know that we have the opportunity to touch so many lives with the Good News. :-)



Some familiar and soothing words for today :


The LORD is my shepherd;

I shall not want.

He maketh me to lie down in green pastures:

He leadeth me beside the still waters.

He restoreth my soul:

He leadeth me in the paths of righteousness

For his name's sake.

Yea, though I walk through the valley

Of the shadow of death,

I will fear no evil:

For thou art with me;

Thy rod and thy staff

They comfort me.

Thou preparest a table before me

In the presence of mine enemies:

Thou anointest my head with oil;

My cup runneth over.

Surely goodness and mercy

Shall follow me all the days of my life:

And I will dwell in the house

Of the LORD for ever.



Cx :-)

Researching:
ADVICE: Click on 'My Threads' over on the left to find your replies. Please respond to your replies by typing in the Add Reply box at the bottom of the page. Enjoy!

kandj
Report
21 Jan 2014 16:59

Emma, I second your sentiments and to Cynthia,... Amen... to this mornings words.

GoldenGirl1
Report
21 Jan 2014 13:28

Wonderful words Cynthia and I often take time
to look around me and also to smell the roses. :-)

We are all in a hurry to get things done that we miss
out on such a lot. Hopefully I will always remember to
take that time and be thankful to see and hear things
around me.

Emma :-)

Cynthia
Report
21 Jan 2014 08:26

Good morning. I was thinking along similar lines this morning kandj - I looked out o the bedroom window and the sky is a wonderful panorama of pink, blue and grey. Quite fantastic.


Take Time To See

It seems so hard to understand,
As I look across the land,
That all I view belongs to me,
I ought to take more time to see.

The distant hills and mountains high,
The rolling clouds and bright blue sky,
No one can take these views from me,
As long as I have eyes to see.

A timid deer with a haunting look,
Who stands refreshed by yonder brook,
Knows not that he belongs to me,
Oh, what a thrilling sight to see!

The song of birds so gay and clear,
That fill the morning air with cheer,
And fragrant flowers of every hue,
That stand erect bedecked with dew;
All these and more belong to me,
If I but use my eyes to see.

When evening shadows gather night,
And twinkling stars light up the sky,
I hear my Master say to me,
"I made it all for you to see!"
My heart grows warm with faith and pride,
To know that He is by my side.

~ Author Unknown



Cx :-)

Researching:
ADVICE: Click on 'My Threads' over on the left to find your replies. Please respond to your replies by typing in the Add Reply box at the bottom of the page. Enjoy!

kandj
Report
20 Jan 2014 10:52

A cold and frosty morning here in Yorkshire. Everywhere looks so different covered in the white frost. I drew the blinds and stood in awe at the wonder of God's work. My mind was filled with this old beautiful hymn:-

For the beauty of the earth
For the beauty of the skies,
For the love which from our birth
Over and around us lies.

Refrain
Christ our love to Thee we raise
This our sacrifice of praise.

There are several other verses, but this came immediately to mind. How blessed I am to have eyes to see such wonder and glory this morning freely given by God.

Cynthia
Report
20 Jan 2014 08:52

Good morning everyone...... :-)


Our late vicar would have been so pleased to see another packed church yesterday as we welcomed Year 3 from school who were giving a presentation during the service. We also welcomed the three babies who were baptised last week, with a simple prayer, their baptism card and a rousing round of applause!


I have to admit that it is years since I heard about a Covenant Sunday taking place so I had to google to find out more. Very much a Methodist based service where you renew your relationship with God which seems like a fine idea to me. The Church of England does have some services where we renew our Baptism vows, which would be a similar sort of thing.


A prayer for renewal from the Roman Catholic tradition.

Lord, We are Your people, the sheep of Your flock.
Heal the sheep who are wounded,
Touch the sheep who are in pain,
Clean the sheep who are soiled,
Warm the lambs who are cold.
Help us to know the Father's love through Jesus the Shepherd and through His Spirit.
Help us to lift up that love, and show it all over this land.
Help us to build love on justice and justice on love.
Help us to believe mightily, hope joyfully, love Divinely.
Renew us that we may renew the face of the earth.
Amen


Enjoy your day.....Cx :-)

Researching:
ADVICE: Click on 'My Threads' over on the left to find your replies. Please respond to your replies by typing in the Add Reply box at the bottom of the page. Enjoy!

JustJohn
Report
20 Jan 2014 08:06

The words are wonderful, kandj. It was an idea by a Church of England clergyman in 17th century - name of Alleyne, I believe. 100 years later, Wesley nicked all the best bits of Anglicanism for his new Methodist Society within the Church of England. And so the Covenant Service became known as a Methodist tradition.

Wesley also nicked the best bits of the Quakers, the Baptists and the Independents. Never a man to invent something when there was something good already to be adopted. It is not generally known that both Wesley's grandfathers were ejected from the Church of England in 1662. One (Rev John Wesley) became an Independent Minister in Dorset. And the other (Rev Dr Samuel Annesley) became a leading Puritan writer). :-) :-)

Researching:
Boanerges of Caesarea

kandj
Report
19 Jan 2014 23:42

Covenant Service in our church last Sunday John.
Interesting and a surprise too, as it is years since we had this service and the booklet stated the words were taken from the Methodist faith.
All very different with our new Rector. It was good to be able to renew our faith in words shared by so many over the past years. Good and thought provoking!

JustJohn
Report
19 Jan 2014 09:03

Pleased to get that news about Sylvia, Cynthia. It must have been a very stressful week for her.

Education Sunday eh? That sounds good. We have our Covenant Service today, which is not a set day. It is an Anglican tradition started in mid 17th century but only practised in Methodism today as far as I know. Used to be the first Sunday of the New Year, but as it includes Communion and there are only 3 ordained Ministers for 15 chapels, it is now a "Sunday in January"

Chapels would be pretty full on my old circuit in Northamptonshire, but in the Valleys of South Wales it does not seem to have the same significance. It is my favourite service of the whole year and gives me a stark reminder of all the woeful service I have given in the last year and that I must try to do much better in 2014.

It is probably similar to returning to a church or chapel and repeating your wedding vows. :-) :-)

Researching:
Boanerges of Caesarea

Cynthia
Report
19 Jan 2014 08:11

Good morning.......I don't know if Sylvia will be posting herself, but I had a brief word from her to say that all went well with the memorial. I will let her fill in the details as and when she is able to - it's the internet connection and all the travelling she is doing which is causing the problem. I am sure she is aware that we are all still holding her and the family in our thoughts and prayers.


Regarding the hymn John was so merrily singing..... - I have a feeling we are singing that today! :-) It is Education Sunday and our church school will be leading the service. :-)


The Collect for today:


Almighty God, in Christ you make all things new: transform the poverty of our nature by the riches of your grace, and in the renewal of our lives make known your heavenly glory; through Jesus Christ your Son our Lord, who is alive and reigns with you, in the unity of the Holy Spirit, one God, now and for ever. Amen.



I hope everyone enjoys their day....Cx <3

Researching:
ADVICE: Click on 'My Threads' over on the left to find your replies. Please respond to your replies by typing in the Add Reply box at the bottom of the page. Enjoy!