General Chat
Welcome to the Genes Reunited community boards!
The Genes Reunited community is made up of millions of people with similar interests. Discover your family history and make life long friends along the way.
You will find a close knit but welcoming group of keen genealogists all prepared to offer advice and help to new members.
And it's not all serious business. The boards are often a place to relax and be entertained by all kinds of subjects.
The Genes community will go out of their way to help you, so don't be shy about asking for help.
Quick Search
Single word search
Genes Extras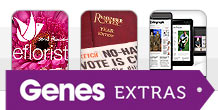 As a way of saying thank you to our subscribers, we have launched Genes Extras. You'll find exclusive competitions and discounts on family history magazines, days out and much more.
Icons
New posts
No new posts
Thread closed
Stickied, new posts
Stickied, no new posts
renewal fees - 5TH UPDATE - page 9
Profile
Posted by
Options
Post Date

Wend
Report
19 Jan 2013 20:46

Oh, please don't Jax - too many people going. It's getting SO depressing on here :-(

Researching:


SylviaInCanada
Report
19 Jan 2013 20:43

Ollie


Your post is still there on FB ................ or else someone called Olwen has posted the same question.



I'm quite in agreement that an increase was to be expected for those of us still paying the very low subs .............

...... but it is the underhand way that it has been done.


There should have been a general announcement .................. on Announcements, General Chat, and Genealogy Chat (at the very least) ................. that as of Jan 1 2013, the subscription rate for all Basic members would be xxxxxx

.......... and that announcement should have appeared at least as early as December 1st, allowing for more than the required 28 days notice.


I don't think there would have been one-quarter the upset if they had only done that


As it is, they are once again taking advantage of long-time, supportive, and supporting, members.


Those who have in many cases helped to make the name of GR over the years.




However ............... the way they have done it, all fits in with my long-time theory that GR is for the garbage ..................... BS will do away with it.

In which case, complaints need to be made to the Competition Board of the UK, because their agreement to the purchase of GR by BS HAD to include an agreement that GR would be maintained as a separate entity.


Of course, BS rationale (ie, excuse) for doing away with GR will undoubtedly be the fact that membership numbers have dropped, and it is no longer economically feasible to maintain it as a separate entity.




gawd .......................... I should have been a business person :-D



but I couldn't live with myself if I was that unethical!!!





sylvia

Researching:
near Blue River, northeastern BC ........................................ ......... ............................................................ To help us and to get better results, please post as much detail as you can, especially name, date(s) and place. Also say what you already know.

Kense
Report
19 Jan 2013 19:57

I can't explain that Chris.

OllietheOwl
Report
19 Jan 2013 19:35

I queried the renewal price on their facebook page yesterday, pointing out that some people had renewed at the discounted rate and others were being charged the new rate, however, they have deleted my post.

Researching:


ChrisofWessex
Report
19 Jan 2013 17:02

Kense - how do you explain that even on this thread there are those members who renewed in December and January and this past week at the lower rate?

They only gave me 28 days when I said I complained about 14 days, that they were in contempt of their own T & C and they promptly moved the goalposts and made it 28 and then said I was eligible for the higher rate!!!

I have no complaint had they issued a statement saying that as from a specific date, all renewals would be at the increased rate - BUT THEY ARE NOT - GR appear to be picking and choosing.

I am awaiting an explanation as to why they are doing this.

Kense
Report
19 Jan 2013 16:53

It's only long term basic members who are affected because they have been paying the same low rates for several years with no increases.

Genes are trying to standardise the rate for basic membership to be the same for everybody.

Unfortunately for them they seem to have forgotten their promise to give 28 days notice of an increase, so those who haven't been given that notice have been able to argue.

The question is whether anyone has yet been given the required 28 days notice?

wisechild
Report
19 Jan 2013 16:39

Don´t see how they hope to get away with pulling the wool over everyones eyes when clearly, not just one, but numerous members are reporting huge disparities in what they have been charged.
It only seems to be basic members who suffer.
haven´t heard of anything similar going on with the full members.
What does that tell you?.

Island
Report
19 Jan 2013 16:30

Exactly, Chris and Wisechild!

It came out in a thread nearly two years ago that they had been giving discounts to some members for a long time - regardless of length of membership.
When queeried, whoever drew from the lucky bag that day responded with a fib.

wisechild
Report
19 Jan 2013 15:54

Divide & rule perhaps?
i still think that like so many things with Genes, the response you get depends on who is dealing with it.
"Take away the number you first thought of & divide by 2"

ChrisofWessex
Report
19 Jan 2013 15:48

It is if they played 'eeny miney, mo' to pick out who paid the higher rate. They are lying though their teeth about it beginning in December as renewals came up, so many members are saying they have renewed at the lower rate. It is definitely not alphabetical as if it was I would be one of the last to renew!

Elizabeth - that is not the point, a hike of double is not fair and certainly not the way they are applying it. OK 20% brings it down but it is still a large hike.

jax
Report
19 Jan 2013 15:21

KenSE

My comment about the 20.12% was about the discount we all got last year...not what they are giving now

I got the infomation from Jonesey, where he got it from I have no idea

Researching:
Nothing much

tinkers
Report
19 Jan 2013 15:08

i recentely renews my subs in beginning of jan and i paid £7 something

Kense
Report
19 Jan 2013 15:00

Jax, the discount is 20% not 20.12% otherwise the amount would be £15.94 instead of £15.96.

wisechild
Report
19 Jan 2013 14:47

Let me get this straight.
Genes want basic members to pay twice as much as before for the privilege of using their time & subs to other sites to help full Genes members who can´t find the information they want on this site.
Or am I just confused?

Elizabeth2469049
Report
19 Jan 2013 14:42

You know, I don't think less than £2 a month is bad value! I know the IT connections have been somewhat chaotic recently. I now have my main tree on A--y as being much easier to manage, but I still get interesting feedback and connections from my original basic tree on here. I do get help from other members, I enjoy some of the word games, and indeed this Chat thread - I don't use facebook or other chat sites, I get a valuable little bit of socialising here!

I think you are right in suggesting that GR really want everyone to pay extra for the newer access to records, so that they can afford to improve further access to such information. They coujld be a bit more professional in keeping us properly briefed.

Researching:
Dominy & Croom in Dorset, Rutherford & McElhatton in Northumberland. Dendy and Thorp

TheBlackKnight
Report
19 Jan 2013 12:46

Chris you probably won't get a reply untill at least Monday, they say they work at the weekend but I have never seen evidence of this in all the years I have been here.

Researching:
Kelly, Kelley, Kellie, O'Kelly, O'Kelley, Johnson, Phillips, First, Deffenbough, White, Kramer & Williams in USA. --- Kelly, Richards, Turner, Wyatt, Davison, Branch, Harper, Harvey, Plantagenet, & O'Hanlon in UK. If you have any info Please PM me

Island
Report
19 Jan 2013 11:23

It's a shambles and always has been with the current owners.

I queeried the randomness of discounts a couple of years ago and was lied to.

They make it up as they go along :-|

AnninGlos
Report
19 Jan 2013 11:00

Glad you decided to bite the bullet and renew Chris.

And I don't remember anything about the olympics being the reason for the discount.

Researching:
. Photo Adam 13 months. Researching Somerset, Dorset, Hampshire, Derbyshire, Staffs, Devon, Glamorganshire. Ingram, Masters, Tamblyn, Knight, Warner, Bate, Allen, Riggs, Dominey, Duffin

ChrisofWessex
Report
19 Jan 2013 09:53

Just renewed and I have been charged the amount of £15.96. How can they defend the difference in renewal fees? Awaiting a reply with bated breath!!

SylviaInCanada
Report
19 Jan 2013 01:11

may be he did :-D

Researching:
near Blue River, northeastern BC ........................................ ......... ............................................................ To help us and to get better results, please post as much detail as you can, especially name, date(s) and place. Also say what you already know.