General Chat
Welcome to the Genes Reunited community boards!
The Genes Reunited community is made up of millions of people with similar interests. Discover your family history and make life long friends along the way.
You will find a close knit but welcoming group of keen genealogists all prepared to offer advice and help to new members.
And it's not all serious business. The boards are often a place to relax and be entertained by all kinds of subjects.
The Genes community will go out of their way to help you, so don't be shy about asking for help.
Quick Search
Single word search
Genes Extras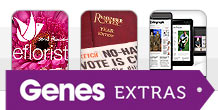 As a way of saying thank you to our subscribers, we have launched Genes Extras. You'll find exclusive competitions and discounts on family history magazines, days out and much more.
Icons
New posts
No new posts
Thread closed
Stickied, new posts
Stickied, no new posts
A Classless society?
Profile
Posted by
Options
Post Date

BarneyKent
Report
9 Jan 2013 18:54

Thanks John, everyone should be proud of their roots.

JustJohn
Report
9 Jan 2013 17:56

Good for you, Staffy.

I have strayed into some upper crusts via marriage and they are not worth it. Usually made their money and titles from slavery, ridding Ireland of revolting Irish in 17th century, or part of that cruel trading company that raped the east of its wealth and treasures (East India Company).

My wife comes from loads of Welsh princes. They were great - basically war mongers who fought hard and played hard.. But most of mine were yeoman stock from the Marches (with some Welsh, Irish, Cumbrian and Manx thrown in) and I feel so proud of them :-D :-D :-D

Researching:
Amelie my granddaughter's ancestry. My ban until 1 Jan 2021

BarneyKent
Report
9 Jan 2013 16:27

If there is one thing that I am pleased about in the decade since I started to research my tree it is the fact that I am 100% working class.

I am back to 1545 on Dad's side and 1680 on Mum's. I have found not a trace of upper class, blue-bloods, famous people or the like. My tree contains dockers, miners, farm labourers, domestic servants, railway workers, millers, bricklayer's, paper-hangers and painters, foundrymen, shipyard workers, blacksmiths, general labourers, potmen, char-ladies, gypsies, carpenters, etc. etc.

I am VERY VERY proud of the fact that I am of pure yeoman stock.

PollyinBrum
Report
9 Jan 2013 16:16

@John. I don't think the girl you describe was my friend, Anne married around the same time as me (1967) Her husband was an electrician and eventually had his own electrical contracing business in the Walsall/Bloxwich area. They had no children. I know her married name, but prefer not to post it on here.

Merlin
Report
9 Jan 2013 13:58

I,m Classless,I mix with anyone no matter who,I I think they,re getting too cocky I,m not afraid to tell them no matter who.Everyone who works for a living is Working Class What ever they do, and as for Tax Avoidance being just for the well heeled,Have a look at the "Black Economy" they do a pretty good job of it.**M**.

Researching:
Vlad the Impaler and Dracula. Wend,Prickly,Island,GG.+CC.+DIZZY & Mersey.

JustJohn
Report
9 Jan 2013 13:49

Paula :-D Was she the girl with red hair who had 4 children in her teens by different fathers? Was it her mum who had verukas and always used to take her stockings of so that we could see them? Ask he if she remembers the Sheldricks. 27 year old mother, 72 year old father. Seven children. All with what we would now call mild learning difficulties.

I could write a book about Hollemeadow Avenue. My favourite was one chap who had never passed an O level. But was bright, very well spoken and very presentable and had read a Psychology book. He landed a job at Birmingham University as a Senior Lecturer in Psychology with a raft of pretend quals. Took them 6 months to rumble him.

I think your friend was probably from the more refined end of the street;-)

Researching:
Amelie my granddaughter's ancestry. My ban until 1 Jan 2021

PollyinBrum
Report
9 Jan 2013 12:57

@ John I had a friend who lived in Hollow meadow Avenue . Her name was Anne and for the life of me I can not recall her maiden name. I think she worked in the Insurance Brokers in Bloxwich for a long time.

It is still a pretty avenue the trees are still lovely, some of the houses are past their best, but seem to fit in well.

I am just off to my Keep-fit class, and will try to remember Anne's last name. :-S

JustJohn
Report
9 Jan 2013 12:49

Paula. If you know Leamore, you can confirm what a beautiful little rural village it was. And how very privileged I was to live in leafy Hollemeadow Avenue (no 80). I believe today the house is signposted from J10 as the youthful home of Coco, BA (Hons) Bangor and most classy man of his generation :-D ;-)

Researching:
Amelie my granddaughter's ancestry. My ban until 1 Jan 2021

PollyinBrum
Report
9 Jan 2013 12:42

@ John I am smiling at the Little Ars'ton reference, I am not too far away from there. Some are very very nice and decent hardworking people. Some are so far up their own bums you can not see the soles of their shoes, but I take them all in my stride. My Mother had several members of her family living in Leamore. There seemed to be lots of sweet shops and I can remember "The Four Crosses" pub, and I was sad to see that I has now been demolished.

JustJohn
Report
9 Jan 2013 12:13

Paula. Important to accept these nicknames in right spirit. Take Duchess as a compliment.

I had a friend at College in Walsall who lived in a place called Little Arse-ton. Somewhere near Sutton Coalfield (a big mining area and definitley very working class). But Little Arse-ton was very posh. And that was when I first realised I was an inferior species :-( :-( :-(

We lived in a beautiful Staffordshire village called Leamore at the time in a fairytale castle - but even that was not good enough for the people of Little Arse-ton ;-)

Researching:
Amelie my granddaughter's ancestry. My ban until 1 Jan 2021

PollyinBrum
Report
9 Jan 2013 11:46

AnnC I agree with you,you cannot buy class when I worked full time one of my male colleagues introduced me to someone as "The Duchess" I was so surprised at this and later asked him why,., he said that he thought I had "Class. I had never even thought about how people percieved me. All of my colleagues and students continue to call me Duchess, I think(hope) it is a term of endearment. I also think that people who talk about how much they are worth, name drop, and try to be above themselves in my opinion show little "Class" . ;-)

Mersey
Report
9 Jan 2013 11:34

Here Here LG :-D :-D

Researching:
When all else fails take a nap !!!;)

LaGooner
Report
9 Jan 2013 11:25

I am just me, I never pretend to be anything else. My old Dad's words were if people cannot accept you for you they ain't worth knowing. :-D.

Researching:


Muffyxx
Report
9 Jan 2013 11:05

I really hadn't given it a thought...I don't think *class* is as relevant now as it was in years gone by.



Researching:
All comments made by me are all mine unless otherwise stated. Any resemblance to real persons, living or dead, or real life events unless otherwise stated is purely coincidental.

JustJohn
Report
9 Jan 2013 10:24

There was a Scottish student at University in 60's. Son of a laird. But probabaly the poorest student I knew. He had a very large and cold room in a house half way between Menai Bridge and Beaumaris and used to walk in to Upper Bangor each day for lectures.

He had something like beans on toast or egg on toast for his "dinner". But he would dress up always, put on his academic gown and follow his dinner with a glass of port always. We thought he had class.

In Wales, class is quite different, I think. In olden days, it was respectable vs not respectable. Usually based on whether you were chapel or tafarn (pub). Today we look up to rugby players, singers, poets, writers, teachers. Anyone who suggests they are better because of money, education, size of house etc is soon ignored and they often complain how unfriendly their unworthy Welsh neighbours are.

Researching:
Amelie my granddaughter's ancestry. My ban until 1 Jan 2021

AnnCardiff
Report
9 Jan 2013 03:08

too right - you cannot buy class - I feel I have class, although I am working class and do not have money to speak of

Researching:
Breakspears of Berkshire and Cardiff, Williams and Harman of Whitchurch, Melingriffith &Tongwynlais,Glamorgan WE HAVE NO CONNECTION Do not share your tree with me

eRRolSheep
Report
9 Jan 2013 01:02

Sadly, class has come to be interpreted incorrectly. It has absolutely nothing to do with money - you cannot buy decent breeding

When companies "knock VAT off" they aren't really - they are just giving a discount but say that because it is something tangible we can understand

Researching:
Soooo glad that I am finally rid of the mad one from Liverpool after she tried to make trouble with my family

Annx
Report
9 Jan 2013 00:26

No Maggie, they aren't fools. A small trader can benefit from being registered for VAT voluntarily. The services or goods they sell may be zero rated for VAT, so VAT isn't added, but they can claim back the VAT they pay themselves on the goods and services they purchase. In other words HMRC give them a refund. That is why my dad became VAT registered.

Researching:
Staffordshire, Warwickshire

JustJohn
Report
8 Jan 2013 23:59

Maggie. I am getting a bit confused. Late and need to keep my little mind simple.

Whatever a trader's income, if registered for VAT s/he must charge it and pass it back to Exchequer.

A customer can decide who to buy a product or service from. If it a low turnover business and trader not registered, no VAT is applied to the price.

But if trader is registered, the price is, say, £500 plus VAT = £600.

If a VAT Trader fails to charge VAT and puts job through without paperwork, he is breaking the law, I believe. And, if the customer is proven to know he is a VAT trader, the customer is aiding him in that crime.

That is my reading - having been a VAT registered trader for 6 horrible years. The type of work I was doing, all clients were corporate and expected to be charged VAT - so never a problem.

Researching:
Amelie my granddaughter's ancestry. My ban until 1 Jan 2021

maggiewinchester
Report
8 Jan 2013 23:45

John,
1) Fraud and theft are indeed similar, but the amount they cost the country is very different, Were the MP's putting in excessive claims innocent, or the same as someone from a council estate working for cash?
2)Small businesses who register voluntarily to pay VAT are fools unto themselves. This doesn't make those who don't pay as their income isn't enough criminals.

Who are knocking VAT off their price? Those who register when they don't need to, or those who don't earn enough to pay? VAT is paid by the purchaser, not the seller.

Researching:
Dad and Bohartum. Riyadh Zoo 1972 Yes, I am a cat person. I went in the cage and stroked this big boy! He wasn't 'tame', and spent his life in this awful cage, but dad befriended him, helped him, and he knew.