General Chat
Welcome to the Genes Reunited community boards!
The Genes Reunited community is made up of millions of people with similar interests. Discover your family history and make life long friends along the way.
You will find a close knit but welcoming group of keen genealogists all prepared to offer advice and help to new members.
And it's not all serious business. The boards are often a place to relax and be entertained by all kinds of subjects.
The Genes community will go out of their way to help you, so don't be shy about asking for help.
Quick Search
Single word search
Genes Extras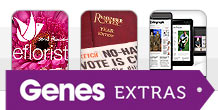 As a way of saying thank you to our subscribers, we have launched Genes Extras. You'll find exclusive competitions and discounts on family history magazines, days out and much more.
Icons
New posts
No new posts
Thread closed
Stickied, new posts
Stickied, no new posts
Computer HELP/ UPDATE
Profile
Posted by
Options
Post Date

ann
Report
2 Feb 2013 22:39

Last night i got a pop up that said "Windows 7" Build 7601 Then it says "This copy of windows is not genuine" ??I have done a full scan that took a few hours and only i item found and deleted.Even after this i am still getting this message.Anyone else had this?


Laptop proved useless after trying to get back to factory settings.Thought i might have had a virus?.Bought a new laptop tonight and told the salesman about my old lappy.He thinks something illegal was done on it.Norton anti virus is now on this one. Windows 8 and different again from windows 7

♥†۩ Carol Paine ۩†♥
Report
2 Feb 2013 22:42

Was Windows 7 installed when you got your computer, as it sounds as if you may not have got the full one just a trial.

You could try asking Errol he could advise you better.


aivlyS
Report
2 Feb 2013 22:43

googled it ... you will need to read it

ann
Report
2 Feb 2013 22:44

Thanks i will google it x

eRRolSheep
Report
2 Feb 2013 22:49

it is possible that you have a pirate copy of Windows - difficult to say more based on what you have said

Researching:
Why I keep getting telephone calls from Liverpool in the middle of the night. Most strange.

MrDaff
Report
2 Feb 2013 22:52

G, are you getting any other problems?
This error can be quite serious, but only in conjunction with other 'happenings'.
Couple of questions:

Can you confirm the copy of Windows 7 you are using is genuine? * (i.e. was preloaded on your computer)
Do you use Norton as security?

Rgds,
Mr D

ann
Report
2 Feb 2013 22:57

I dont know anything.I had a very bad virus on it about 14 months ago.The screen all blue with red writing saying Warning.I looked up someone in the paper who took my laptop and cleared the virus and put on another anti virus.Never had any trouble until last night?

eRRolSheep
Report
2 Feb 2013 23:04

this may sound like a stupid question but are you actually running Windows 7?

Researching:
Why I keep getting telephone calls from Liverpool in the middle of the night. Most strange.

ann
Report
2 Feb 2013 23:08

Errol how would i know?I have a sticker on my laptop that says windows 7.I think i could be hard work as i know nothing?


♥†۩ Carol Paine ۩†♥
Report
2 Feb 2013 23:11

Sounds like they may have installed a pirate copy when they restored.

It may work out cheaper in the long run to get a genuine copy & install it yourself.

I run Google Chrome & know that the .Microsoft Utility Essentials free security package filters out just about everything & 'shouts' loudly if you even dare to try to go somewhere they do not like.. even warn you if a site is unsafe

MrDaff
Report
2 Feb 2013 23:30

Do a quick check (not 100% but an indicator)

Bottom left of your screen is the 'start' globe = right click on that.
In the screen that comes up it says, in italics, 'search programs and files'.
In that, type Windows7
What do you get ?

If it says at the top of the screen that appears WillowEngine.ini you probably don't have a copy of Windows 7 :-S

eRRolSheep
Report
2 Feb 2013 23:33

MrDaff I think you mean left click

Researching:
Why I keep getting telephone calls from Liverpool in the middle of the night. Most strange.

ann
Report
2 Feb 2013 23:47

MrDaff cant find Willow Engine? Think my laptop may not be here soon.Think i have been had over.I have got 30 days going by the pop up ??

MrDaff
Report
3 Feb 2013 00:17

Errol, yep, your right ..... its left :-S sigh....

G ... get the feeling you're not in a good place, unless the pop-up is saying you've 30 days to validate your copy of Windows 7 ? For that you'll need a validation code .....?

Ref other posts above, you may have a pirate copy....suggest that, if you can,you make a back-up copy of your hard drive before going any further with Windows! Suggest contacting Microsoft - though hopefully someone on the boards with good IT skills can help more.

There's also the 'alternative' of downloading a different OS, such as Fedora, but not sure, sorry, how computer savvy you may be regards this ?



LadyScozz
Report
3 Feb 2013 00:53

Get Microsoft Security Essentials - it's FREE!!

:-D

Make sure you go to the Microsoft site.

If you have a pirate copy of W7, you won't be able to down load MSE.

eRRolSheep
Report
3 Feb 2013 01:12

An alternative operating system is a bit drastic - check the existing copy is genuine before doing anything else

Researching:
Why I keep getting telephone calls from Liverpool in the middle of the night. Most strange.

Jean
Report
3 Feb 2013 01:15

sounds like its a pirate copy to me. i had the same thing years ago and payed £150 to get the proper microsoft key password.

Mayfield
Report
3 Feb 2013 09:21

Just a thought, but although it's quite likely the repairer put a non standard copy on, it's just possible it's one of those scareware scams that say you have illegal / pornographic material on your computer.

Try a windows update, if your copy is a pirate the update will flag it up straight away.


Mayfield

Researching:
Moribus facit homo,

ann
Report
3 Feb 2013 09:54

Thank you for all your posts.I will try any new updates.This morning it has given me more information to go and get the genuine microsoft.I am no good with computers so have wrote everything down and i am going to pass it over to my son.Will let you all know if i still have a laptop.

OneFootInTheGrave
Report
3 Feb 2013 11:25

I found this online and it may help:-

There are a couple of different ways to check and make sure that your Windows 7 copy is genuine.

Method 1 – Activate Windows Dialog

The first way to validate that Windows 7 is genuine is to click on Start, then type in activate windows in the search box.

Method 2 – Validate Online

The second way to determine if you have a valid copy of Windows 7 is to use the validation tool on the Microsoft website.

If you ever tried to download updates from Microsoft, you've probably noticed that sometimes your copy of Windows has to be validated before it allows you to start the download.

Well, you can use that tool independently of downloading an update by going to the following address:

http://www.microsoft.com/genuine/validate

Then click on the Validate link at the top. Make sure that you visit the site while in Internet Explorer, otherwise it will ask you do download a small program onto your computer in order to validate.

Method 3 – Control Panel

The third way to check for genuine Windows 7 is to go to the Control Panel. Click on Start, then Control Panel, then click on System and Security, and finally click on System.Then scroll all the way down to the bottom and you should see a section called Windows activation, which says "Windows is activated" and gives you the Product ID. It also includes the genuine Microsoft software logo.

Good Luck Grannie of 13 soon to be 15, hope you get it sorted out

Researching:
I am losing the plot researching the Wotherspoon family from Blantyre in South Lanarkshire who moved to Fife. I have established at least one of them married a John Johnston at Orwell near Milnathort. I am also trying to establish how the various Wotherspoon families in Fife are related - I would really appreciate help in resolving this issue. Avatar is of me in the cloisters of the Abbey on the Island of Iona. My motto "Vita non est vivere sed valere vita est"