General Chat
Welcome to the Genes Reunited community boards!
The Genes Reunited community is made up of millions of people with similar interests. Discover your family history and make life long friends along the way.
You will find a close knit but welcoming group of keen genealogists all prepared to offer advice and help to new members.
And it's not all serious business. The boards are often a place to relax and be entertained by all kinds of subjects.
The Genes community will go out of their way to help you, so don't be shy about asking for help.
Quick Search
Single word search
Genes Extras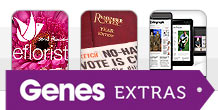 As a way of saying thank you to our subscribers, we have launched Genes Extras. You'll find exclusive competitions and discounts on family history magazines, days out and much more.
Icons
New posts
No new posts
Thread closed
Stickied, new posts
Stickied, no new posts
This week I discovered (UPDATE of info)
Profile
Posted by
Options
Post Date

ChrisofWessex
Report
24 Sep 2013 16:17

Thank you Elizabeth - it is a boon.

Elizabethofseasons
Report
23 Sep 2013 22:48

Dear Chris

Hello

Very pleased you have got your portable oxygen sorted out.


Take gentle care <3
Lots of good wishes
Elizabeth
xx


Gwyn in Kent
Report
23 Sep 2013 12:38

Great news Chris. I'm really pleased for you that you now have more opportunity for getting out and about.
I love the idea of you personalising the bag to suit your needs.

Have a great time enjoying your increased freedom.

Gwyn

ChrisofWessex
Report
23 Sep 2013 11:37

Maggie - OH is to organise that. Getting there slowly...........

maggiewinchester
Report
22 Sep 2013 23:19

Chris - that's wonderful!
Have you got a couple of hooks to put on the stroller to hang it from?

Researching:
Dad, about 1942

ChrisofWessex
Report
22 Sep 2013 22:50

It is good, I have taken it out of its case with shoulder straps and spare batteries dangling from it and put it in a cheap crocheted bag from Matalan (unpicked the lining so there is plenty of air for machine) and looks so much better.

Just thought that perhaps NHS portables are there for the use of patients - if we are told about them in the first place.

The technician recommends the liquid oxygen says his mum is very happy with it.

Sylvia
Report
22 Sep 2013 22:42

Hi Chris.
So happy for you in managing to get your portable oxygen. It is very expensive but so worth it for you to take out.
Take care xx

ChrisofWessex
Report
22 Sep 2013 13:07

It has been a long time - however - after applying for and oxygen co. receiving consultant's request for a portable concentrator for me - I went on the list end May. Kept asking every couple of weeks and each time told the same thing- awaiting new delivery. End of August technician arrives. He knows me well and said no trolley was ordered but I brought one.

No good for me - I need my stroller to hang on to so cannot pull a trolley with concentrator on it (about the size of a cabin luggage case).

He has in his van a liquid oxygen portable - however this is fairly heavy and has handle incorporated in the case - no good for me.

There may well be plenty of people out there who could benefit from these NHS concentrators.

About two weeks ago bit the bullet and hit the inheritance! Making a big difference - did order two extra batteries. If driving any distance the machine can be switched off the battery and will run from the cigarette lighter. It is not noisy - had a meal out last week and OH kept asking me was it working as he could not hear it!

Next plan is that later today I try taking it out of its carrier and using a crocheted handbag to carry it in. Rep did say it should be OK as plenty of air with crochet.

There is a bit of good news - cost is now £1660 - every little helps.

Anyone wishes details to send off for brochure - either google portable concentrators or pm me.

Hope this helps someone out there.

ChrisofWessex
Report
12 Apr 2013 21:50

The one I would really like is the private one which is less than a bag of sugar and costs £1800.

I will do Gwynn

Gwyn in Kent
Report
12 Apr 2013 20:13

Chris
Do let us know how you get on with this please.

Gwyn

Diamonds-R-A-Girls-Best-Friend
Report
12 Apr 2013 15:30

My friends mum has one and they paid over £3000 for hers. :-(

Researching:
The Family

Lyndi
Report
12 Apr 2013 15:25

I think cost may be a factor as well :-(
Have seen a few about now, whereas I always used to see the small cylinders. I have only seen people with nasal canulae, not a full face mask.

AnninGlos
Report
12 Apr 2013 15:12

Laziness/lack of time or easier to deal with the lowest common denominator.

Researching:
Phot Magnolia Batsford. Researching Somerset, Dorset, Hampshire, Derbyshire, Staffs, Devon, Glamorganshire. Ingram, Masters, Tamblyn, Knight, Warner, Bate, Allen, Riggs, Dominey, Duffin

ChrisofWessex
Report
12 Apr 2013 15:08

Takes ages to get info - the oxygen company I get my oxygen/concentrator would not speak to me about these, I only wished to know what weight/size the portables were.

After chasing up - the Respiratory Nurse at surgery today got the info I asked for.

Two options -

1. Liquid oxygen - you get a tank which must be stored in a garage etc - not in house. A portable liquid oxygen lasts for about 7 hours and can be topped up from the main tank.
(My objection is you are still tied as to how far you can go or stay out of home.)

2. There is a portable concentrator (weighs about 5 lbs) but can be recharged from a cigarette lighter in car so greater mobility.

3. Both of these work on the pulse mode (oxygen released when breathing in - not on constant flow).

These are both available on NHS - the good news is that the surgery can arrange this for me so I have asked for the portable concentrator and see how that works for me. If it is too heavy well then I shall have to spend son's inheritance and buy the private one!!!!!!

Will let you know how I find it - when I receive it!.

Why does no one ever inform you of these options or anything else when you are infirm or disabled?



ChrisofWessex
Report
11 Feb 2013 18:13

Lyndi - OH saw a man with backpack at the races and full face mask on some months ago.

The brochure I have is the smallest one (which I could carry) is 6" high and can be worn on a belt or over shoulder.

Matron called in today and I showed her - she was very interested as she had not been aware of the very small ones. Mind you they are not cheap but if they give back some mobility etc., be well worth it. Prices are minus VAT. Can be recharged with mains, battery and car lighters.

Will keep informed as I find it! Waiting for an oxygen delivery and pick the gentleman's brains. They also give an hours demo.

Lyndi
Report
11 Feb 2013 07:56

I have no personal experience, but have recently seen a gentleman out and about on the bus into Great Yarmouth with a portable concentrator in a backpack.

I was interested as before I retired I had a lot of experience at work with the regular concentrators and the portable cylinders.

It will give a lot more freedom to people who need to use oxygen when they go out.

Gwyn in Kent
Report
11 Feb 2013 00:04

Interesting.... I wonder if that's to be widespread.

In the past we have transported him and his small oxygen cylinder in our car and we were told that this was OK as the amount of oxygen didn't need elaborate precautions re. safety, but larger containers might be a whole different issue, especially for when he needs to phone for community transport for hospital visits.

Will post if I hear an update on your original question.

Gwyn

ChrisofWessex
Report
10 Feb 2013 23:52

Yes Gwyn - in our area anyway.

Gwyn in Kent
Report
10 Feb 2013 23:46

Chris, I will keep an idea on this thread, as the information will be useful to a family member.
I didn't know about the discontinuation of the smaller oxygen cylinders.... Is that a very new thing, as I know they had the smaller size ready for replacement when we visited recently.

Gwyn

ChrisofWessex
Report
10 Feb 2013 23:33

I have been googling everywhere on and off past couple of days Sylvia. There is one which weighs less than a bag of sugar!

I was given a small oxygen cylinder for going out - lasts 4 hours but now they have done away with this size (and it was heavy) and issuing larger one. I could not carry the small one anyway.

Have asked fro prices (bad idea when they do not show them) and if price excludes VAT.