General Chat
Welcome to the Genes Reunited community boards!
The Genes Reunited community is made up of millions of people with similar interests. Discover your family history and make life long friends along the way.
You will find a close knit but welcoming group of keen genealogists all prepared to offer advice and help to new members.
And it's not all serious business. The boards are often a place to relax and be entertained by all kinds of subjects.
The Genes community will go out of their way to help you, so don't be shy about asking for help.
Quick Search
Single word search
Genes Extras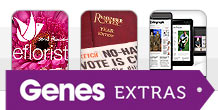 As a way of saying thank you to our subscribers, we have launched Genes Extras. You'll find exclusive competitions and discounts on family history magazines, days out and much more.
Icons
New posts
No new posts
Thread closed
Stickied, new posts
Stickied, no new posts
Help us rename our packages!
Profile
Posted by
Options
Post Date

Sonia
Report
21 Mar 2013 10:14

Johnlovescocoa you are right about the comparisons.
Family research is my hobby and compared to drinking and smoking its worth every penny.
Ramblingrose I agree that the FB page needs to be more pro active.I have posted on there and have failed to get a reply.So consequently do not bother now.
As for what the packages are called.Who cares as long and they are clear what they are offering and good value for money.
I personally am a member of Ancestry,Findmypast and Genes.All have positives and negatives.None are perfect.It is all down to personal choice.

Averil
Report
21 Mar 2013 09:37

Community Share and Research Records

James
Report
20 Mar 2013 16:41

If GR are going to charge more for the Gold or Platinum then you should have public members tree as well as privacy trees
Like you get on Ancestry this my help member find the right info quicker.
The other thing I have found is that when you are viewing the full tree they slow right down the bigger the tree gets

Roger
Report
20 Mar 2013 14:31

Change it back to what it was a year ago - trees and all.

WHY well it was a Damned sight better than it is now.

But GR call it progress - I call it a backward step.

TheBlackKnight
Report
20 Mar 2013 10:30

If GR read each & every post on here so far they must see that something is very wrong by what some members are posting, I just wonder are they going to do what is needed to make the site the way the paying members would like it?
If they would what would you like to see done or changed on this site? & why?

Researching:
Kelly, Kelley, Kellie, O'Kelly, O'Kelley, Johnson, First, Deffenbough, White, Kramer & Williams in USA. --- Kelly, Richards, Turner, Wyatt, Davison, Branch, Harper, Harvey & O'Hanlon in UK. If you have any info Please PM me

Barry
Report
19 Mar 2013 21:08

How about diverting your energy into something that really matters ie sorting out the numerous problems with the "new" tree
For instance I have been waiting coming up 16 months to print a tree of just 214 names
Until a couple of months ago I was able to print ancestors /descendants but even that facility has disappeared
One just gets fobbed off every time one raises the problem with GR

Roger
Report
19 Mar 2013 12:44

Bronze - free

Silver - £10 (some of us are paying £7.96 currently,m others are paying vastly more)

Gold - £50 for BMD's

Platinum - £100 for all other records



I would pay !00 membership for all other records if they were on here.

and the how about double platimum of £250 for three years and include Scotr=tish people records as Bright solid have these as well.

KenSE
Report
19 Mar 2013 10:40

They still have but it's not available for anyone who isn't already on it. See the T&Cs.

JustJohn
Report
19 Mar 2013 08:14

Errol. Please
1. Read OP again properly
2. Don't diss suggestions, just cos you don't like them
3. Put up your own suggestions

A new Platinum package (above Bronze, Silver and Gold) would be quite acceptable imho. But name needs to reflect product, and I don't think current use of Platinum for not a very attractive product would detract from this.

If I was Genes, I would work hard to produce a Gold package that is better than what we now call Platinum. And market that hard. And transfer Platinum subscribers to that Gold package.

Then develop an ever better package and reintroduce the name Diamond with a fanfare. It needs to be a package to challenge best the opposition has to offer.

Edit. Do I have confidence that Genes are up to that challenge. No, not really. But neither was I confident that little Wales could slaughter England at rugby at weekend.

Researching:
Boanerges of Caesarea

eRRolSheep
Report
19 Mar 2013 00:49

I wish people would read the OP
For example, they have asked for an alternative to Platinum and John has suggested, erm, um Platinum lol

Black knight I am inclined to agree with you there

Researching:
The Future

TheBlackKnight
Report
18 Mar 2013 22:41

IMHO, GR should firstly sort out all the problems/errors the site have, before worrying about things like renameing membership packages & altering membership fees.
GR should listen to what the paying members want from the site & not keep second guessing or telling the members what they want, after all we are all adults paying for a service that is of late suffering a lot of errors that the paying members had not asked for or had not been consulted with about them.
If you have a car that runs well you don't then go & strip the engin, revamp it & put it back together do you?

Researching:
Kelly, Kelley, Kellie, O'Kelly, O'Kelley, Johnson, First, Deffenbough, White, Kramer & Williams in USA. --- Kelly, Richards, Turner, Wyatt, Davison, Branch, Harper, Harvey & O'Hanlon in UK. If you have any info Please PM me

Kay????
Report
17 Mar 2013 22:15

Rosemary,,,,,,Find My Past have a 14 day free trial ,which you could use....just remember to cancel it in time.

Rosemary
Report
17 Mar 2013 20:49

I do think that if you are on platinum package you should be able to access all records without having to pay more money to find out family records. I have been a member for some time and recently had to pay extra subscription to gain access to newspaper archive. You get this automatically with Find My Past. Maybe next time time I will subscribe to them instead of genes reunited. Roz.


Gins
Report
16 Mar 2013 23:31

:-D :-D :-D

Researching:
You fill up my senses Like a gallon of Magnet Like a packet of Woodbines Like a good pinch of snuff Like a night out in Sheffield Like a greasy chip butty Like Sheffield United Come fill me again....Na Na Na Naa Naa Naaaaa, ooo! Sung to 'Annies Song' (Tune)

JustJohn
Report
16 Mar 2013 22:58

RTB Don't agree. You need to sell Genes clearly. In clear boxes, clearly labelled. And clearly priced.

And contents of each box need to be good and improving.

Costs and pricing is not part of this consultation - just possible names for the boxes (or products).


Researching:
Boanerges of Caesarea

RTB
Report
16 Mar 2013 22:48

If it ain't broke don' fix it. Change for change sake or for putting up prices is not the answer. Customers always suspect by altering things is 'something underhanded' instead of being up front and telling the truth, as somethimes is painfull, is better and the need for change is not necessary. Just make the service function efficiently.

Kay????
Report
16 Mar 2013 19:38


What record would be placed in,

Bronze.Silver.Gold and Platium

GR dont carry that many sections of records to have them in boxes,

A package should give access to x records,

and a higher package should give access to x and zy.....but they must be as competitive to other sites and easy to use,

There has already been upgrade Gold membership that failed....



VIVinHERTS
Report
16 Mar 2013 17:12

I agree with John's suggestion of Bronze, Silver, Gold and Platinum.

I've been a member for years and do have a tree on here and use the boards. I don't use the records on here, much prefer other sites who have a better selection.


Researching:
Researching Tucker in London/Australia. Cliff in U.S.A. Fuller, Eaton & Sa(u)nders in Bedfordshire. Turner, Morley, Blythe & Webb in Cambridgeshire/Suffolk. Want in Hertfordshire.

JustJohn
Report
16 Mar 2013 17:12

PP. It breaks my heart to say this, but I quite like Island's suggestion of Cliquy, Beaky and Geeky. Something like that (thinking out of box) could catch on.

But each Genes package, once they have a name for it, needs to be a solid offer. If 30 years ago, we were asked to spend £2 on a packet of rabbit food, we would have resisted. But call it Alpen, give it a lovely packet and market it hard and it becomes a best selling breakfast cereal.

Researching:
Boanerges of Caesarea

DazedConfused
Report
16 Mar 2013 16:55

Must say that having read all this thread through and taking into account all people comments it breaks my heart to agree on any point with John but his suggestion of the Bronze, Silver, Gold and Platinum is really good, especially if our type of membership is added to the bottom of our profile photo.

No comment on the prices as I am only a basic member and if they decide to up my membership I shall be leaving anyway.

:-)

Researching:
We are all of us in the gutter, but some of us are looking at the stars. Oscar Wilde New avatar, my dad age about 3/4 months, could have been worse, it could have been the awful nude on a rug!!