General Chat
Welcome to the Genes Reunited community boards!
The Genes Reunited community is made up of millions of people with similar interests. Discover your family history and make life long friends along the way.
You will find a close knit but welcoming group of keen genealogists all prepared to offer advice and help to new members.
And it's not all serious business. The boards are often a place to relax and be entertained by all kinds of subjects.
The Genes community will go out of their way to help you, so don't be shy about asking for help.
Quick Search
Single word search
Genes Extras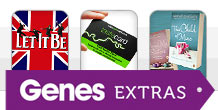 As a way of saying thank you to our subscribers, we have launched Genes Extras. You'll find exclusive competitions and discounts on family history magazines, days out and much more.
Icons
New posts
No new posts
Thread closed
Stickied, new posts
Stickied, no new posts
Help us rename our packages!
Profile
Posted by
Options
Post Date

Rambling Rose
Report
6 Apr 2013 13:30

I don't see any point describing the basic package as "novice, new or just starting" you might as well call it "fully experienced, done my tree and don't need to do any more, I'm only here to help or chat" ...that's the thing, NOT using the full records doesn't mean you are 'NEW' to genealogy in any way.

Nor does paying the full whack necessarily mean you 'have a clue' what you're doing

Free
Basic access
Full access

with a clear statement of what each provides.


Woodward
Report
7 Apr 2013 09:38

I was wondering if a possible to have something like a way to export of your tree and keepsafes into a book. I know you can do it via a print into a pdf or export into a template. Some family members don't have a computer or are signed up. I thought an export to a pdf or even a book that you could have delivered to an address and pay via the usual means. It could have your website address and details on the back cover when printed out - so would encourage people to check out your website etc



ChrisofWessex
Report
7 Apr 2013 21:32

Basic, Better, Best.


First of all get the act together and sort out the problems your members are complaining about and as for the sub row - that is still ongoing with cheap rate and £15.

Sidami
Report
17 Apr 2013 16:19

My membership is up in June I think I hav ben a member for 10 years how much will it cost to renew for the year please?

Researching:
Ringrose from Countesthorpe Lord and Burley from Countesthorpe...Dixon Dawson Wood and Wilkinson from Caistor ,Starkey and Wood from Edendam. Hare from Horncastle.

SylviaInCanada
Report
18 Apr 2013 01:34

Please NOT Novice or New for the basic packages


as RR says there are lots of us who are far from "novice" or "New" ...........................

anyone who joined before about 2009 would have joined as either a Free or a Standadr member. There were no other classifications.

The first "new" class to be added was Gold, in about 2009 or 2010.

Then Platinum was added about a year later.

Gold no longer exists, except for those who already had that membership.


Those of us who joined before 2009 have mostly completed our trees, or are far beyond the records available on GR. We continue to be members largely because we enjoy helping others, and also for the friendships developed over past years.

I am NOT about to pay more that my current Standard sub for the privilege of paying out even more money to help others!



Suggestions such as ............

Free

Basic

Full Package


............ would seem to me to answer the problem ......... as long as each is fully explained.

Members spend far too much time now in explaining to other members what they might get in each subscription level.





sylvia

Researching:
it is safe and comfortable under the Christmas Tree ......... .............. .......... .......................................................... To help us and to get better results, please post as much detail as you can, especially name, date(s) and place. Also say what you already know.

Caldervale
Report
22 Apr 2013 08:37

All comments made have been noted. All reflect the disillusion being experienced with Genes Reunited. My first comments (05/04/2013) included. I totally agree with those who state it was more useful prior to the promise of , and I quote, "A much improved tree". What a disaster that turned out to be.
If the present trend continues there will be no members available to assist with the naming of any package deals on offer. All will have sought and migrated to pastures
new. Whatever the decision may you all enjoy, "Happy Hunting",. .Caldervale :-) :-) :-)

Researching:
Bacon, & Hughes Sussex , Finch, Lancs/Yorks. Giddys Lincs, Jennings Yorkshire. Otleys, Silverwood, Yorkshire, Towell,Yorks,Notts, Lincs Wilson, from Felkirk, Yorks., or from Wortley. Yorkshire.

Victor
Report
28 Apr 2013 17:26

How about 'BASIC' and 'COMPREHENSIVE'?
or just STANDARD and PREMIUM which other software uses?

Martin
Report
12 May 2013 21:09

Rip off time is here again.

Researching:
Asher, Batson, Brown-John, Cohen, Eady, Fobbester, Grove, Hart, Holdgate, Keenan, Young, Sutton

Caldervale
Report
14 May 2013 01:38

Another day, another look and another comment yet all just the same. Reminds one of the expression from that well known comedian, Alfie Bass, remember him?
"It's all argie bargie".
Adding sobering thoughts after becoming aware of one enterprising family history business quoting membership fees of £46 plus a few pence, per month makes our subscriptions pale into insignificance. £46 multiplied 12 times = £552, do not forget your community tax, electricity, gas and water , household and personal insurance
plus dining & wining, and the new "bedroom tax" where applicable, new clothing,
bed linen, etc., Those who use a road vehicle will have more expense. (Thank heaven I consider myself too old for that being issued in 1926 - me not the car)
"Nil Desperandum", press on regardless and "Happy Hunting". Caldervale :-) :-) :-)

Researching:
Bacon, & Hughes Sussex , Finch, Lancs/Yorks. Giddys Lincs, Jennings Yorkshire. Otleys, Silverwood, Yorkshire, Towell,Yorks,Notts, Lincs Wilson, from Felkirk, Yorks., or from Wortley. Yorkshire.

Maureen
Report
18 May 2013 01:56

Family package and unlimited research package. :-)

VIVinHERTS
Report
28 May 2013 11:38

So GR, have you decided on the new names yet or is this a complete waste of our time?

Researching:
Researching Tucker in London/Australia. Cliff in U.S.A. Fuller, Eaton & Sa(u)nders in Bedfordshire. Turner, Morley, Blythe & Webb in Cambridgeshire/Suffolk. Want in Hertfordshire.

Heathergs
Report
28 May 2013 15:46

Could I suggest that unnecessary changes do not help to improve GenesReunited?

I have been through many changes since I first joined, and can't think of any that have really improved my experience. I find it harder to negotiate back and forth, to record my information, and seem to spend a lot of valuable time trying to find the screens I want.

Let people have the time to consolidate. I don't think genealogy needs novelty. When I think how simple the display was, and that I could concentrate on my tree, and the direct messages I exchanged with members, I long for the old days!!

Researching:
McKinnon (Ayreshire)McKenna (Ireland?) Stirton/Straiton (Fifeshire) Kendall (Leicestershire and Victoria, NSW AUS) Edinburgh orphanages

Roger
Report
29 May 2013 15:28

Well GR please get off your backside and state that you have read these comments.

Why - well we are going round in circles.

You started this thread so do the decent thing - REPLY to it.

Because I for one will not be renewing my membership because of your inapt way of doing things.

It used to be a good site but NOT anymore because of the way you treat you paying member.

So as I said get off your backside and take control of your site pronto

wisechild
Report
29 May 2013 17:20

Looks like it´s died the death as far as the GR team are concerned.

FamilyBones
Report
31 May 2013 10:42

IMHO, having read some of the nonsense on this thread, I fail to appreciate the necessity of change for change's sake. The current terms for subscripton packages have been adequate for a very long time so why alter them?
Is it merely a case of someone in your office needing to validate his/her value as an employee? - make a name for him/her self? Perhaps, but I always advocate a policy of 'if it ain't broken, there's no need to fix it'. The existing terms for the packages are understood by all the millions of members - a change will merely introduce confusion. The only time that a revision of subscription package names may be necessary will be if and when the actual packages themselves are changed.
A labourer of yesteryear may now be called a 'pick and shovel operative', but nevertheless he will still be a labourer! Keep it simple - leave it as it is and has been - and devote your energies to something more productive for the membership's benefit ... ;-)

Community
Report
31 May 2013 16:41

Hi everyone, thank you for all of the suggestions so far. This is an ongoing project so we haven't made a decision yet. We'll update you when we have.
Keep the suggestions coming!
Natasha

Researching:
Community Manager for Genes Reunited. I'm a big fan of history and discovering less known events from the past. In my spare time I am busy tracing my own family history.

~`*`Jude`*`~
Report
31 May 2013 17:43

Seems there are'nt any reply's worth adding, not many peeps are happy with the site:((((
Perhaps some are right in what they say "sort out the problems you have before adding anymore"

jude ;-)

Researching:
Meninsky, Menin, Heather, Pettit, Butler, Ratcliffe. Russia.USA, Sussex,Kent, London.

Kay????
Report
31 May 2013 20:10

Thanks for the up-date Natasha.

Lavinia
Report
3 Jun 2013 14:06

Call it the never never view your tree, because that is how it is for me, having waited three quarter of an hour to view,my tree but still could not wait any longer,tried several times to see,but always ther same.


Lavinia
Report
3 Jun 2013 14:06

Call it the never never view your tree, because that is how it is for me, having waited three quarter of an hour to view,my tree but still could not wait any longer,tried several times to see,but always ther same.