General Chat
Welcome to the Genes Reunited community boards!
The Genes Reunited community is made up of millions of people with similar interests. Discover your family history and make life long friends along the way.
You will find a close knit but welcoming group of keen genealogists all prepared to offer advice and help to new members.
And it's not all serious business. The boards are often a place to relax and be entertained by all kinds of subjects.
The Genes community will go out of their way to help you, so don't be shy about asking for help.
Quick Search
Single word search
Genes Extras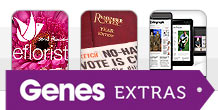 As a way of saying thank you to our subscribers, we have launched Genes Extras. You'll find exclusive competitions and discounts on family history magazines, days out and much more.
Icons
New posts
No new posts
Thread closed
Stickied, new posts
Stickied, no new posts
Idont believe it
Profile
Posted by
Options
Post Date

JustJohn
Report
3 Apr 2013 21:59

SueC. I was pleased to see you had read the fat thread I put up. I do have an opinion that there is a correlation between overweight and laziness. I expect I will get RR'd again for saying that, but that is what I currently think.

I thought that article was interesting. It did not support my opinion. Though it is obvious that some doctors do agree with my opinion, otherwise that article would not have been writen.

It would make a good debate, i think. But someone wil just rr it, I feel sure. Shame imo

Researching:
Amelie my granddaughter's ancestry. My ban until 1 Jan 2021

KittytheLearnerCook
Report
3 Apr 2013 22:07

Personally I don't care what shape, size or lifestyle anyone has as long as they have a kind soul.

Kindness and empathy go a long way to make life enjoyable both for ourselves and those whos lives we touch <3

*wonders if the word whos needs an apostrophe somewhere* :-S

Researching:
Brockhurst Newman Pelham Parsons West Sussex Birth information for Thomas Parsons born in Cork 1818 mother Mary father ?Charles

supercrutch
Report
3 Apr 2013 22:09

Please try not assuming, guessing or estimating?

In order to get a valid point across you'd be taken more seriously using facts. They aren't hard to find with some searching. You leave yourself open to criticism by posting a comment that could wrongly encompass many GR members.





Researching:
Jones!!!!!!!!!!!!!!

SheilaWestWilts
Report
3 Apr 2013 22:12

Yes, some people are overweight and eat too much and don't exercise. Some people are overweight and can't do anything about it. Some people are dieting, some are trying to, some are happy with the way they are. You could ditto all that for skinny people.

But does it really MATTER. As Kitty says, it's the person that counts. I've met a few 'fattist' people and just don't get their attitude...

Researching:
Gloucestershire, Dorset, Hampshire, Derbyshire, London, Lithuania, Russia

Suzanne
Report
3 Apr 2013 22:21

for all of you that know me,you will know that my son had the cheek to park in a disabled bay at our local hos at 3am when his 3yr old son was rushed to hos in a serious condition,he was fined,he went through certain guidlines and the fine went up to over 600 pounds that we had to pay to the county council.i know people hate non disabled people parking in their spaces but this was 3am and the 32 spaces were empty and opposite the AE where his son was taken,
ive seen disabled people park in their spaces and walk around their cars and lift their scooters out and get into them,the first time i saw that,i thought i was seeing things,
today i went into my local hos to do a resus course,while i was there i decided to ask personal how many disabled parking spaces the hos had,i was gobsmacked when they told me they had four bays totaling 125 spaces :-(

of course lots of people are disabled and rightly so.but a lot take the pi**
just like everyone else :-(

Researching:
price,lambert,goodlass,mcdonald

eRRolSheep
Report
3 Apr 2013 22:26

Kitty don't worry about the apostrophe - it's whose
Anyway you are far too busy with your new found love of the kitchen to bother about such trivialities's's's
However, I agree wholeheartedly with what you say

Researching:
Are we nearly there yet?

KittytheLearnerCook
Report
3 Apr 2013 22:30

Oh thank you Errol.......... :-D :-D <3

Researching:
Brockhurst Newman Pelham Parsons West Sussex Birth information for Thomas Parsons born in Cork 1818 mother Mary father ?Charles

jax
Report
3 Apr 2013 22:36

Suzanne

Are you saying a disabled person should not be able to get their own scooter out of their car? I have met a few who do this, would be a bit tricky not to, as they live on their own.

Oh these people have MS

Researching:
Nothing much

eRRolSheep
Report
3 Apr 2013 22:37

you are more than welcome Kitty - just save some of your souffle for me

Researching:
Are we nearly there yet?

supercrutch
Report
3 Apr 2013 22:45

I wish the three hospitals I use had 125 disabled bays. We rarely find one so it's drop me off whilst himself parks anywhere he can! Not great if I'm having a MH attack which mimics a stroke and my left side is useless.

Researching:
Jones!!!!!!!!!!!!!!

Eeyore13
Report
3 Apr 2013 23:08

I now have "bay envy" :-(

AnnCardiff
Report
3 Apr 2013 23:14

you can get ointment for that I think :-D

Researching:
Breakspears of Berkshire and Cardiff, Williams and Harman of Whitchurch, Melingriffith &Tongwynlais,Glamorgan WE HAVE NO CONNECTION Do not share your tree with me

MR_MAGOO
Report
3 Apr 2013 23:21

Seems we have the "Parking Bay City Rollers" on here now..... :-D :-S

Eeyore13
Report
3 Apr 2013 23:58

:-D

Suzanne
Report
4 Apr 2013 00:01

check out disabled bays at my local hos;

jax

disabled scooters weigh a ton((and ive tried to lift one) if you can lift one out of your boot how can you be disabled,i cant do it,and noting wrong with me,

:-(

Researching:
price,lambert,goodlass,mcdonald

jax
Report
4 Apr 2013 00:19

I know they weigh a ton and three years ago when I first got one I probably could lift it in and out of the car if I needed to. I could'nt walk more than 50 mtres with out having to rest, that is the point of having a scooter. One of the people I know who has a scooter plays wheel chair basketball, so there is nothing much wrong with his arms for lifting it in and out of his car

Researching:
Nothing much

SylviaInCanada
Report
4 Apr 2013 00:31

Suzanne ..........


you are being just as ignorant about some aspects as others on this site.

I thought you were a nurse??? So you should have known about this.



Of course people can move their scooters around, if it is a mobility problem that they have.

If it is MS, or another nerve and muscle disability, then it might be more of a problem.


You can even buy lightweight, folding scooters over here that make it even easier for someone to have access to the outside world.

Researching:
Springtime, and the cherry trees are in full flower ........................................ ......... ............................................................ To help us and to get better results, please post as much detail as you can, especially name, date(s) and place. Also say what you already know.

supercrutch
Report
4 Apr 2013 03:05

As it's my legs that are a problem, now I have had my shoulder surgery I probably could lift out one of the Luggie range of folding scooters.Maybe with a lot of cursing. I think they weight about 52lbs. If I was a man I don't think it would be a problem at all if upper body strength was good.

If the boot of the car has a straight floor and no raised perimeter that would be very easy to deal with as in estate cars and some saloons.

I don't care whether they can lift half a ton as long as they have a genuine reason for their blue badge that's fine by me. It's the selfish swines that don't or use someone else's blue badge or don't have one at all I could cheerfully throttle.

No blue badge...no use of a disabled bay! and slap them with a £60 or £80 fine.



Researching:
Jones!!!!!!!!!!!!!!

Guinevere
Report
4 Apr 2013 07:20

On the same subject but from a different angle.

Some years ago I broke my leg in 3 places and was in plaster up to my knee. I was not allowed to put any weight on it for at least 8 weeks and struggled for several more weeks. We bought a wheelchair so I had some mobility. Crutches weren't much use because I was waiting for a carpal tunnel op so couldn't trust my hands using them.

We checked with Tesco, where we used to do our weekly shop, and they said it was ok to use a disabled bay. So we did. We got a few dirty looks about the lack of blue badge but when people saw us getting out of the car and the wheelchair being lifted out they were fine.

We also parked in a disabled bay on a street when we went on holiday so I could go into my favourite shop in Cardigan. A traffic warden said we really shouldn't have done. Now, at that point in our lives I maintain we were as entitled as any permanently disabled person to use the bay. And we would have fought it all the way if the traffic warden had given us a ticket.

Perhaps there should be more flexibility within the rules to take into account people who have restricted mobility for a short time. As Tesco did.

Researching:
Lowestoft and North Suffolk, Monmouthshire, Breconshire, Somerset

ChAoTicintheNewYear
Report
4 Apr 2013 08:28

On another site that I go on the possibility of a 'pink' badge has been raised for those who, for various reasons, find themselves with restricted mobility at some point in their lives.

Researching:
Kids with special needs are not weird or odd. They only want what everyone else wants...to be accepted.