General Chat
Welcome to the Genes Reunited community boards!
The Genes Reunited community is made up of millions of people with similar interests. Discover your family history and make life long friends along the way.
You will find a close knit but welcoming group of keen genealogists all prepared to offer advice and help to new members.
And it's not all serious business. The boards are often a place to relax and be entertained by all kinds of subjects.
The Genes community will go out of their way to help you, so don't be shy about asking for help.
Quick Search
Single word search
Genes Extras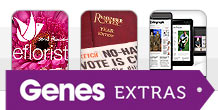 As a way of saying thank you to our subscribers, we have launched Genes Extras. You'll find exclusive competitions and discounts on family history magazines, days out and much more.
Icons
New posts
No new posts
Thread closed
Stickied, new posts
Stickied, no new posts
Where in the world are you looking in from.......
Profile
Posted by
Options
Post Date

AnnMarieG
Report
1 Apr 2013 10:25

I live in quite a big 'new' town in essex. Have lived here all my life but it was countryside when I was growing up.I would love to live in the real country side but alas my oh is a townie but we have a motorhome so go away to the countryside often. :-) :-)

Researching:
arthur,tucker,king,harridine,robertson

Hayley Empress of Drama
Report
1 Apr 2013 10:29

I am guessing that I live about 10 mins away from Ollietheowl ;-)

Researching:
Same as Muffy says ;)

~Lynda~
Report
1 Apr 2013 11:09

Hayley I have a nephew who could live near you :-D

It's quite thought provoking to think that while posting on here, some have views of the ocean, and others the view of a roof.

Sometimes the internet is amazing innit :-D

Researching:
Love London, Love Life~ It's the law

SheilaWestWilts
Report
1 Apr 2013 11:17

Semi-rural, on the Wiltshire/Somerset border. Love the house but not the location, ideally would like to be near one of the nicer towns in the area. Also on a main road, although set well back with a large-ish garden.

Researching:
Gloucestershire, Dorset, Hampshire, Derbyshire, London, Lithuania, Russia

JustJohn
Report
1 Apr 2013 11:20

When Lynda said some have beautiful views of the ocean, some are looking at a roof - it made me think.

Sun here is struggling to come out and I can look up or down the valley and see beautiful views. I am as fortunate as anybody. Yet I am staring at her post on my computer. Lynda's post has captured my attention more than the large bird on the hillside opposite looking for prey (quite serious, not poking any fun at all).

Just saying Internet is also a great leveller.

If I was stuck at my computer (either health or financial reasons) I could go on google earth and imagine I was in a particular place. Put some restful music on (Pastoral Symphony as I scroll through Herefordshire, Fingals Cave as I move round the coast of north west Scotland). I can be in any place my heart desires. :-D :-D

Researching:
Boanerges of Caesarea

DazedConfused
Report
1 Apr 2013 11:22

Plumstead, Sth London and if I stand in the street and look downhill I can see across the river and also the roof of Belmarsh Prison. Not quite so glamourous!!! :-)

Researching:
We are all of us in the gutter, but some of us are looking at the stars. Oscar Wilde New avatar, my dad age about 3/4 months, could have been worse, it could have been the awful nude on a rug!!

Chrissie
Report
1 Apr 2013 11:33

I live in a terraced street in a big town and from my window I can see back yards and grey sky! But the countryside is only a few minutes drive :-)

Claddagh
Report
1 Apr 2013 11:34

Holland, in a so-called village, with a population of more than 45,000.
Am jealous of some of the lovely-sounding places that a lot of members mention.Lol.

~Lynda~
Report
1 Apr 2013 12:05

Never be jealous Claddagh, I bet there are places that maybe you see everyday that lots of people on here would find fascinating :-D

Having seen that there are a good few people from all over the world who have posted, I wonder apart from where we live being so different, how our lives differ? Me for instance, I can get in the car, be in the City in the hour, the Countryside in five minutes, I can be at a bus stop in 4 minutes, go out late at night without worry, and I am mostly free to do as I please.

What about you?

Researching:
Love London, Love Life~ It's the law

George
Report
1 Apr 2013 12:26

I now live near the top floor of a new apartment block in a reasonable sized town in Hampshire.
From my balcony I have views across the fields in the distance.
I used to, until recently, lived in a village, again in Hampshire that is what some people call picturesque, full of thatched cottages and quaint houses. much prefer the town. :-) :-)

George :-) :-)

Hayley Empress of Drama
Report
1 Apr 2013 12:28

I have always seen myself living in a little rural village, just a post office and gen store , a church , a school , a pub and a bus that runs to the nearest villiage once a week... tight knitt community weekly dances on a saturday night full of village gossips, we all live in very pretty cottages wtih wonderful colourful gardens, OH says I would be bored stiff with in 10 mins and I also think that is pre WW2 but its nice to dream :-D

Researching:
Same as Muffy says ;)

~Lynda~
Report
1 Apr 2013 12:39

1950'S inner London would do it for me Hayley, everyone was your auntie, doors were left open, people looked out for one and other, everyone in the street had the same, sod all, and you had the time of your life :-D

Researching:
Love London, Love Life~ It's the law

Muffyxx
Report
1 Apr 2013 12:39

Semi rural I'd say......on the outskirts of a large town in East Anglia.....about 20 mins away from the beach and a royal park/estate....40 mins away from a major city.

Researching:
All comments made by me are all mine unless otherwise stated. Any resemblance to real persons, living or dead, or real life events unless otherwise stated is purely coincidental.

+++DetEcTive+++
Report
1 Apr 2013 12:52

Don't think I could stand living in an urban area, especially a large city.

Little greenery unless in manicured parks
Traffic fumes and the noise

Although things are not as rosy as they might have been, we still have children playing together in side roads, where each set of parents look out for them.

Public transport isn't ideal, especially for the teenagers, but at least you know they aren't going to be stop-outs and know where they are as they need a lift home.
They don't hang around on street corners as there aren't any street lights!

Yes, there are ciminal break-ins, but with most houses having living rooms at the front, you tend to notice if a stranger walks down next door's driveway. It's many the larger older houses sheilded from the road which get hit.

We know our immeditate neighbours quite well, and though them other people in the raod. We have commented that we all have a tendency to live in brick boxes then climb into metal boxes on wheels, but when there is something like clearing drives and the road of snow, we all pull together.

The best thing that ever happened to our area, was at the planning stage of the Channel Tunnel rail link - it brought us all together to march in protest. 'Middle England' at its best. :-D

Researching:
I am NOT an employee of GR, just a paying member. Any advice, guidance or suggestion offered is given in good faith.

Iris
Report
1 Apr 2013 13:32

in a village on the sussex ,kent boarders, station about 5 miles away ,I hour to London ...it was a small village when we came here ,30 +years ago ,they haven't stopped building since...and less shops than then.

Merlin
Report
1 Apr 2013 13:47

Small Town within 4/5max.mins from the Channel Coast.Nice Quiet place and can see the Channel from most windows.At the moment the sun is shining but there is a very nasty cold wind blowing,however the birds are bathing and feeding,very pleasant watching them,almost queueing to take their turn,I suppose thats Pecking Order. :-D

Researching:
Vlad the Impaler and Dracula. Wend,Prickly,Island,GG.+CC.+DIZZY & Mersey.

GinN
Report
1 Apr 2013 14:10

Muffy, looks like you live not far from me, think I'm about 12 miles to the South South East!
Lynda x



Researching:
Anything and everything that takes my fancy.

Sharron
Report
1 Apr 2013 14:10

We had a lot of smallholdings in the village.It was one of the Land Settlement Association Estates with the packing shed just up the road and giving summer work to most who wanted it.Everybody's mum was there in the tomato season and then we were in the holidays, either being looked after by one of the mums or working ourselves.

The LSA was a quango and was disbanded about thirty years ago. Some of the growers struggled ontrying to keep the packhouse running and all the other things but it never did work like it had before so the smallholdings were sold to people for different things.

What I have noticed over recent years is the hedges. It used to be that we knew eachother,chidren came out of the different houses along the road to walk to school together and they were often cousins too, so we all had low hedges and walls that you coud see over and wave.

Then the smallholdings were sold and the hedges went up high with big tall gate to hide themselves behind. It is like walking beside a very high wall,a prison wall even, when you walk down my road now. It is dull and lonely,quite intimidating really.



Gwyn in Kent
Report
1 Apr 2013 19:26

I live on the edge of a coastal town about 20 minutes from Channel Tunnel.

We have the sea and beautiful countryside nearby. Walked for 6 miles earlier today enjoying the fields and country lanes and watching newborn lambs with their mums.

Gwyn

Paula+
Report
1 Apr 2013 19:54

Ten minutes from Birmingham City centre and ten minutes in the opposite direction lovely countryside, best of both worlds in my opinion.