General Chat
Welcome to the Genes Reunited community boards!
The Genes Reunited community is made up of millions of people with similar interests. Discover your family history and make life long friends along the way.
You will find a close knit but welcoming group of keen genealogists all prepared to offer advice and help to new members.
And it's not all serious business. The boards are often a place to relax and be entertained by all kinds of subjects.
The Genes community will go out of their way to help you, so don't be shy about asking for help.
Quick Search
Single word search
Genes Extras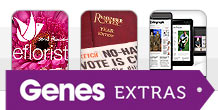 As a way of saying thank you to our subscribers, we have launched Genes Extras. You'll find exclusive competitions and discounts on family history magazines, days out and much more.
Icons
New posts
No new posts
Thread closed
Stickied, new posts
Stickied, no new posts
Grand National
Profile
Posted by
Options
Post Date

Paula+
Report
6 Apr 2013 14:41

Rose & Sue may I join you please?

Rambling Rose
Report
6 Apr 2013 14:39

follows Kay meekly off thread :-) ... coffee and cake Kay?

Kay????
Report
6 Apr 2013 14:34

come on Rose,,,,,,,,we had best leave before we let a ripper of ********s and get sent to a cave.

Rambling Rose
Report
6 Apr 2013 14:26

Sorry Sue I missed your post re insurance, thanks found the answer via google in the meantime .

Rambling Rose
Report
6 Apr 2013 14:24

"Cruelty to animals is a vexed and complicated subject, imho."

No John it's quite simple...and that is as much as I can say without being truly offensive...



Kim Annette
Report
6 Apr 2013 14:24

.....john certainly some mixed reactions to your thread....

A question I have is if jumps racing and/or flat racing do people understand that most if not all the horses will have to be shot.....
Also the breeding horses.. mares foals yearlings stallions etc and all the people that have anything to do with racing breeding or training will be unemployed..
Also all the staff that work at racecourses will be unemployed.....

The racecourses can be turned into housing or parks...

There are two sides to this as there is with most things.....

Kay????
Report
6 Apr 2013 14:20

No---No tips

and a most def NO to placing a bet,,,,,,,I have never placed bet or took part in a sweepstake that involves animals......

an injured horse is a dead horse,

Horses do love their freedom to run and jump at their own leisure,in a race its done under control,no freedom of choice,,,,,,,

I would ban all racing that involves an animal.......

JustJohn
Report
6 Apr 2013 14:13

Cruelty to animals is a vexed and complicated subject, imho. And I can clearly see what most of you are saying. I did once go to a bull fight and had a mixture of emotions. A little bit of Ernest Hemingway, a lot of disgust. I never went again.
Never been to cock fighting or bear baiting or a fox hunt, but I did see hare coursing as a boy in the black country (with whippets) at a gymkhana.

I happen to think it is cruelty to have a pet like Mrs Pumphrey's Tricky Woo in "All Creatures Great and Small". Dogs are not meant to be dressed up and fussed over as your favourite child.

I think it is cruelty to destroy any animal for food when it is stressed (and stressed meat tastes awful anyway). Not many cattle, sheep, horses, lambs, chickens live a long life with a natural end.

Millions watch these top races. Horses are the stars and they know it. It seemed to be what Red Rum lived for. Are we accusing Ginger McCain and his son and Clare Balding and her dad Toby or being cruel people?

Researching:
Boanerges of Caesarea

♥†۩ Carol Paine ۩†♥
Report
6 Apr 2013 13:49

There is big money in horse racing... owners, trainers, race courses, betting shops. People will flock to race courses all season, it is their sport of choice, the same way Football/Rugby is to others.

John as I do not have any interest in lining a bookies pocket, I cannot say I know of any horse that is racing today.

I may be a country 'girl' but have never felt the need to own or even ride one. Once they were not needed as a means of transport, or to work on the farm, they became an expensive ornament that ate fodder better fed to the other animals,



supercrutch
Report
6 Apr 2013 13:48

Rose,

http://www.lloyds.com/news-and-insight/news-and-features/market-news/industry-news-2013/thrill-of-the-race


re your insurance question.

Researching:
Jones!!!!!!!!!!!!!!

Rambling Rose
Report
6 Apr 2013 13:04

Carol, will there not be an insurance payout for a dead horse?

♥†۩ Carol Paine ۩†♥
Report
6 Apr 2013 12:58

Race horses are valuable assets to their owners, a dead horse is worth nothing to them. Unless these same people boycott the race courses where there is a high mortality of horses nothing will change.


Rambling Rose
Report
6 Apr 2013 12:55

For those who forget the ratio of horses that finish to those that don't

http://en.wikipedia.org/wiki/2012_Grand_National

Cynthia
Report
6 Apr 2013 12:44

My answer to your question John is ....No.

I don't gamble.

I don't even do raffles, but will donate to the chosen cause willingly.

Certainly won't be watching the Grand National for all of the excellent reasons given above.




Researching:
ADVICE: Click on 'My Threads' over on the left to find your replies. Please respond to your replies by typing in the Add Reply box at the bottom of the page. Enjoy!

Rambling Rose
Report
6 Apr 2013 12:42

"All he ever wishes is that his horse comes home safe and sound - as all owners do."

Not the owners who, if the horse does not prove productive, send them off to the knackers yard Chris. I don't doubt there are good owners who keep their horses cared for until they die...but it's not 'all owners'.

And even if it were, the jumps and the number of horses running at the National are not comparable to other races I don't believe? The owners are willing to risk the lives of their horses in an 'extreme' race. I have no time for them.



Hayley Empress of Drama
Report
6 Apr 2013 12:39

I am certainly not pro racing just this one race and this is the first year I have refused to place a bet on it, I think the lay out needs to be looked at and the number of horses cut down however I wouldnt turn me nose at anyone else who doesnt wish to follow suit.. It must be one of the most back races iof the year. Most of your regular betting people wont even bother to place a bet the odds are rubbish Just MHO :-D

Researching:
Same as Muffy says ;)

supercrutch
Report
6 Apr 2013 12:33

I expect those that grew up with cock fighting and bear baiting thought the same John!

I have a tip: don't support it.

Researching:
Jones!!!!!!!!!!!!!!

ChrisofWessex
Report
6 Apr 2013 12:30

Has anyone here been close to a racehorse? Racing is in their blood - herds of horses in the wild - race/jump.

They know when they are going to a meeting and get excited, watch them in the enclosure, sometimes the jockeys are hard pushed to control their mounts.

We have a friend who owns three racehorses and has four in retirement. They are loved, treated as part of the family.
When they no longer race he does not put them down but they go
in the country for retirement and again looked after.

All he ever wishes is that his horse comes home safe and sound - as most owners do.

My OH adores horses ever since he was a little 'un' and his grandad used to take him to visit polo ponies etc. He pays a DD to the Protection League for Horses etc.

It is our anniversary tomorrow and to surprise him I have given him membership in a syndicate. Not sure if I have purchased an 1" of tail or a bit of a hoof.

Yes there are incidents at Aintree which are heard about as this meeting is so widely reported. However there are always meetings up and down the country where these things happen.
It is always upsetting.





~~ Jules in Wiltshire~~
Report
6 Apr 2013 12:26

I don't bet on the Grand national as I think it is cruel...Infact im not a betting person...

Jules x

Researching:
Madgwick, Champion, Pont, Ramus, Hall, Pitt, Rudland, Coates, Wheatley, Collins, Van Staaden, Filmer....

PricklyHolly
Report
6 Apr 2013 12:19

I couldn't care less if i put anyone off answering the main point of the thread or not to be honest.

It is just plain cruel and sickening in my opinion. :-( :-( :-(

Researching:
If i don't see you through the week............I will see you through the window.