General Chat
Welcome to the Genes Reunited community boards!
The Genes Reunited community is made up of millions of people with similar interests. Discover your family history and make life long friends along the way.
You will find a close knit but welcoming group of keen genealogists all prepared to offer advice and help to new members.
And it's not all serious business. The boards are often a place to relax and be entertained by all kinds of subjects.
The Genes community will go out of their way to help you, so don't be shy about asking for help.
Quick Search
Single word search
Genes Extras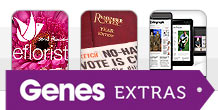 As a way of saying thank you to our subscribers, we have launched Genes Extras. You'll find exclusive competitions and discounts on family history magazines, days out and much more.
Icons
New posts
No new posts
Thread closed
Stickied, new posts
Stickied, no new posts
'Murder by anachronism on the Home Front'
Profile
Posted by
Options
Post Date

Paul Barton, Special Agent
Report
9 May 2013 22:02

Good story - hopeless historical accuracy in tonight's ITV drama.

The opening credits featured aircraft flying over London in 1944 D-day markings even though it was meant to be the 1940 blitz.

A hospital is shown with no protective tape over the windows.

A nightclub has a bright neon sign -in the middle of the blackout???

Somebody mention's Churchill's secret bunker, even though its existence was not revealed until the 1970's.

Oh dear.

Joeva
Report
9 May 2013 22:34

Paul Barton .........

Oh dear, I echo that. When the pathologist was asked for time of death of the victim he said 'I cannot give you the exact time, only a 'window' for when it happened.

As far as I know a window is a modern day expression of a time scan. Unless someone can tell me otherwise.

Silly Sausage
Report
9 May 2013 23:14

Long time no see Paul , must admit I picked up on the window thing but not the other stuff, however I did wonder about the disco glitter ball :-D

And the new assistant didnt wear a hat !!!

I did enjoy it though :-D

maggiewinchester
Report
10 May 2013 00:17

I enjoyed it too.
It must be difficult for the 'youff' in television to get things right, but at least they're trying. :-)

Silly Sausage
Report
16 May 2013 22:35

How come everyone else was runing the tube station, yet the band carried on playing and people carried on dancing, why did he want the gas mask, DNA testing hadnt been invented then? And to catch a killer by ear wax...Purleaseeeeeeee I was very disappointed :-(

maggiewinchester
Report
16 May 2013 23:36

The Metropol was virtually bomb proof - according to the owner.

It was based on a true story. Simpson was (eventually) a renowned pathologist, and he was a pioneer of forensics.

+++DetEcTive+++
Report
16 May 2013 23:44

Hope they do a series, even if there were some inaccuracies.

I think I've read that a lot of the nightclubs were in cellars, so as safe as anywhere was.

There was a dedication in the closing credits for Molly someone. Any idea who she was?

Researching:
I am NOT an employee of GR, just a paying member. Any advice, guidance or suggestion offered is given in good faith.

maggiewinchester
Report
17 May 2013 01:00

Molly Lefebure was Molly Cooper in the programme.
It was based on a true story, written by her.
The pathologist, Collins, was, in reality Keith Simpson.

DazedConfused
Report
17 May 2013 12:27

Got about 20 minutes into the first episode and just gave up

By this time police officers usually had a 'murder bag' which contained all the kit they needed (pretty basic by todays standards) to start a murder investigation.

And I do not believe that many departments in any hospitals would have had their own coffee machines. In fact I doubt if many people even drank it then apart from in some Italian cafes etc., most people lived on tea.....

I have read Keith Simpsons biography (did own it once but lent out and never got it back) and it was excellent.

It was dire ...... :-( And I had so been looking forward to it... oh well

Researching:
We are all of us in the gutter, but some of us are looking at the stars, Oscar Wilde New avatar, my dad age about 3/4 months, could have been worse, it could have been the awful nude on a rug!!

Paul Barton, Special Agent
Report
17 May 2013 16:27

You're absolutely right Pigletspal - every single coffee bean that arrived in this country came via merchant ships that ran the gauntlet of German submarines. Although it wasn't rationed it was too expensive for the average punter and anyway the British addiction to tea wasn't overtaken by coffee until the 1970's.

The Vendolator Co in Fresno, CA introduced the first coffee vending machines in 1946. Modern day espresso in the commercial establishment is attributed to the Gaggia piston lever Crema Caffe machine, first introduced in 1947. The first commercially available drinks vending machine in the UK was introduced in the 1950s, the Rank "teaMatic".

BarneyKent
Report
17 May 2013 16:42

This is not the only wartime series that is historically inaccurate. In "The Village", the local boy who had shell shock was taken away from his home by two Military Policeman and later "Shot at Dawn".

This just did not happen. Over 300 poor men were shot for desertion of cowardice during WW1 but they were all were tried by Field Court Martial and executed in the area of conflict. No executions for desertion or cowardice took place in Britain during the First World War.

Paul Barton, Special Agent
Report
17 May 2013 18:04

In my family tree there is a chap who was a serial deserter from the front line and he was not shot. There's a bit of a myth grown up about Tommies being shot for desertion.

By the way, my grandfather was in the trenches in the first world war and he was wholeheartedly in favour of deserters being shot beceause he felt that if he put his life on the line why should others be let off. It's an opinion that I think was shared by many brave soldiers - not, perhaps reflective of modern feelings but certainly the feeling at the time.

There were in fact whole communities of deserters from all sides living in the woodlands of France - read 'The Monocled Mutineer'. Every so often, bands of military policemen would attempt to round them up and were often met with fierce resistance.

Joeva
Report
17 May 2013 18:23


Maybe it was 'Camp Coffee' in the flask ? Caught this scene just before I dozed off !

Even so the flask looked a bit on the modern side to me, bright red plastic. :-|

SheilaWestWilts
Report
17 May 2013 18:30

Bernard Spilsbury 'invented' the murder bag in the 1920s, so it would have been in use by this period.

Researching:
Gloucestershire, Dorset, Hampshire, Derbyshire, London, Lithuania, Russia

Paul Barton, Special Agent
Report
18 May 2013 20:47

Just seen the second episode and it gets worse. Last week people were talking openly about Churchill's top secret bunker. In this week's episode people in a pub blithely discuss 'Station X', the ultra-secret codebreaking establishment at Bletchley Park. This didn't become public knowledge until 1974.

This show is a weird version of World War Two where nobody observes the blackout regulations, few people bother to carry a gas mask case and railings are everywhere in the streets, despite the fact that the government were ripping them up for the armaments industry. Pubs serve beer in straight glasses, not dimpled mugs and searchlights sweep the sky even when there's no air-raid on... presumably on the lookout for unmanned drones!



Joeva
Report
18 May 2013 21:07

Ah Well, maybe those of younger generations watching this will gain some information as to how it was during WW2, even if it is historically incorrect. :-)

+++DetEcTive+++
Report
18 May 2013 21:08

Made with the US market in mind? Just go with the flow :-D

Researching:
I am NOT an employee of GR, just a paying member. Any advice, guidance or suggestion offered is given in good faith.