Find Living Relatives
Welcome to the Genes Reunited community boards!
The Genes Reunited community is made up of millions of people with similar interests. Discover your family history and make life long friends along the way.
You will find a close knit but welcoming group of keen genealogists all prepared to offer advice and help to new members.
And it's not all serious business. The boards are often a place to relax and be entertained by all kinds of subjects.
The Genes community will go out of their way to help you, so don't be shy about asking for help.
Quick Search
Single word search
Genes Extras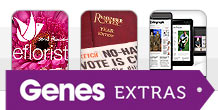 As a way of saying thank you to our subscribers, we have launched Genes Extras. You'll find exclusive competitions and discounts on family history magazines, days out and much more.
Icons
New posts
No new posts
Thread closed
Stickied, new posts
Stickied, no new posts
Our hunt for John Howson
Profile
Posted by
Options
Post Date

Lynda
Report
21 Jul 2013 16:47


I am trying to help My Husband B Brighton 1943 and his Sister B Brighton 1942
to find the family of thier Father.
His name was John Howson. born 1908/9 somewhere in the north of England?
The famliy left for Canada while he was still quite young,. We think they settled in the Hamilton area. He returned to England ( leaving a wife and two daughters)With the Canadian Army based in Aldershot and met my Mother in law. a Widow.with young Children from her marriage.and talked of them all going Canada with Him. But when my sister.in law and then my Husband arrived. he left. I know its an old story. But both of them would love to have some contact with any of thier half siblings. they know very little about father, as thier mother did not like to talk about Him. except He had a Garage Business.
We have been .looking for the last six years. but with so many John Howson`s born in England and living or lived in Canada. I do not know what to try next. any Advice please

Gwyn in Kent
Report
21 Jul 2013 17:28

Was John named on their birth certificates...?

If so I was wondering if you could apply to have Army records.

Do you have a name of a regiment?

Did John live in Brighton too.?

Gwyn

patchem
Report
21 Jul 2013 17:33

There are only these born in North of England, if birth years correct:

Births Mar 1908
Howson John Leeds 9b 420
Howson John Cheadle 6b 377
Births Jun 1908
HOWSON John Blackburn 8e 359
Births Sep 1908
Howson John William Haslingden 8e 146
Births Mar 1909
HOWSON John Burnley 8e 164
HOWSON John W Derby 8b 279
Howson John Robert Sheffield 9c 518
Births Jun 1909
HOWSON John Whitehaven 10b 765
Births Sep 1909
HOWSON John Bolton 8c 355

With patience, you can probably eliminate several of them.

Added:
Deaths Mar 1909
HOWSON John 0 Burnley 8e 153
Deaths Jun 1909
HOWSON John Robert 0 Sheffield 9c 364
Deaths Sep 1909
HOWSON John 0 Bolton 8c 179

KathleenBell
Report
21 Jul 2013 17:37

There is this record on Findmypast:-


Name: John HOWSON
Date of departure: 25 July 1930
Port of departure: Liverpool
Destination port: Quebec
Destination country: Canada
Date of Birth: 1909 (calculated from age)
Age: 21
Marital Status:
Sex: Male
Occupation: Farm Conductor (I'm not sure this occupation is transcribed correctly)
Notes:
Passenger recorded on: Page 1 of 11

The following people with the same last name travelled on this voyage: -
John W HOWSON

Ship: LETITIA
Official Number: 148847
Master's name: David Taylor
Steamship Line: Anchor-Donaldson
Where bound: Montreal, Canada
Square feet: 6952
Registered tonnage: 8161
Passengers on voyage: 165

The last address in England is given as 191 Leeds Road, Huddersfield.

Kath. x


patchem
Report
21 Jul 2013 18:09

?
John Howson
Gender: Male Age: 11 Estimated Birth Year: abt 1907
Date of Arrival: 29 Apr 1918
Vessel: Aquitania
Port of Arrival: Halifax, Nova Scotia Port of Departure: Liverpool, England
Roll: T-4757

Travelling with Edith, 31, and both been in Canada before.

Added:
This is when they travelled before, cannot read the information about the husband
Edith Howson
Gender: Female Age: 24 Estimated Birth Year: abt 1886
Date of Arrival: 11 Aug 1910 Vessel: Victorian
Port of Arrival: Montreal, Quebec Port of Departure: Liverpool, England
Roll: T-4770

but John is 4, so 1906/1907 looks consistent for birth year, so too old?

Edith was a weaver.

Lynda
Report
22 Jul 2013 10:48

Thanks you all
Gwyn
Both My Husband and His Sister Have only the Short birth Certificate,. having checked on the Birth records i was Surprised to find they both have double entries. my husband has Father Howson, Mother Parkes. Then Father Pay and Mother Parkes again, The same for his Sister.Thier Mother was married to Mr Pay but Widowed in 1938 they were born in 1942 and 1943?
I am now waiting for the full birth certificates to arrive.
as to John Howson, They know he was stationed in Aldershot, with the Canadin Army and think they recall being told He was with the Engineers.
Kathleen Bell and patchem.
Thank you both for the look ups.We think that John W Howson May be the Man . as Last night I found the Death of a John W Howson born England in the right area of Canada aged 76. So we will try to follow that line first. unless we find out more when the Certifcates Arrive

Gwyn in Kent
Report
22 Jul 2013 15:30

It does sound like John is named then on the full certificates...That's good.
They may also show an address or regiment or perhaps a middle name for him.

Please do update us if possible when the certificates arrive, then we might be able to suggest more leads.

Gwyn

Lynda
Report
30 Jul 2013 07:33

Hallo again
I have an update.. yesterday we had a phone call from the Brighton Register office
asking for information as to where in Brighton my husband was born.
It seems that they Have not So far been able to find the certifacate?
Even though they are in the GR BMDs and We gave them the Vol page and line numbers, they are going to continue for a few more days, then if they still cant find them refund the Payment !
Not sure what we can do if they don`t trace them.
Although I did Watch lost Famliys last night. and wonder if we can try social services as my husbands sister Seems to think .that Her mother did recive some payment s for her from thier father..

patchem
Report
30 Jul 2013 08:12

Have you given the gro details to the local office, as the details are different - read here for information:
http://www.freebmd.org.uk/Certificates.html

Extracted information from that link
'Note that the GRO reference, that is volume and page number, is not relevant to ordering from a local office. This can be seen as a benefit as it means that possible errors in the GRO reference do not impact getting a certificate, offsetting the extra effort in finding the right office. '


Lynda
Report
1 Aug 2013 07:52

SUCCESS !

We have the certificate. Many thanks for all the help.And advice
And the Father is listed as JOHN WILLIAM HOWSON..
Lance Corporal B.37269 R.C.O.C
(Master Builder). Now we just have to locate his Army Records, and Famliy, I think We should be able to do that, In the next 5 or 10 years.

Johana
Report
14 Apr 2014 22:01

I believe this is my grandfather. Please contact.

Click ADD REPLY button - not this link!
Report
14 Apr 2014 23:13

How exciting!

Beal,

You will need to click on Lynda's name and send her a message.

Rose

Researching:
I am not related to you and I'm not your husband's first wife!

Johana
Report
15 Apr 2014 00:13

I am new, sorry about that. I will figure out how to private message. Thanks

+++DetEcTive+++
Report
15 Apr 2014 00:21

Goody - you found your way back.

To send a private message (aka PM) click on Lynda's name. As long as she is still an active researcher and hasn't changed her email address, GR will let her know that you are trying to contact her.

You can check at any time to see if she has read your message by looking in your GR 'sent messages' box. An envelope icon against the message indicates that it hasn't been read. If it has then the icon disappears.

Good luck to you both

NB - if she hasn't opened or replied in say a month, come back to the thread. We may be able to track down a postal address for her.

Researching:
I am NOT an employee of GR, just a paying member. Any advice, guidance or suggestion offered is given in good faith.

JoonieCloonie
Report
15 Apr 2014 19:35

in case this helps either of you I wonder whether this was a brother of John

https://familysearch.org/pal:/MM9.1.1/KSZY-CWD

> Name: Herbert Howson
Event Type: Marriage
Event Date: 26 Mar 1910
> Event Place: Hamilton, Wentworth, Ontario, Canada
Age: 23
Birth Year (Estimated): 1887
> Father's Name: John Howson
Mother's Name: Margaret Parker
Spouse's Name: Rosaline Antionette Wunder
Spouse's Age: 23
Spouse's Birth Year (Estimated): 1887
Spouse's Father's Name: Anthony Wunder
Spouse's Mother's Name: Christina Jantz

there is a possible passag for him to Canada in 1937
travelling with Roselene Howson both born c1887

also daughter Elizabeth Grace 1890 married in London Ontario Canada 1915
https://familysearch.org/pal:/MM9.1.1/278H-PVD

and daughter Margaret May 1892 married in London Ontario Canada 1917
https://familysearch.org/pal:/MM9.1.1/278L-317


ah yes indeed, Lynda has Herbert in her tree

... but ... this is that household in 1911 in England in Ingleton Yorkshire ... ?

John Howson 54
Mary Margrad Howson 54
Anthony Howson 27
Elizabeth Gace Howson 20
Maggie May Howson 18
John Howson 14
John Anthony Emily 3

this seems to be the household Lynda has in her tree in 1911 in Darlington

Barbra Howson 34 married (poss husband away in military?)
Barbra Ann Howson 13
> Elizabeth Hallburn Howson 12
John William Howson 10
Sidney Spens Howson 6
Lucy Howson 2

?


aha, this is Barbara from the above household

https://familysearch.org/pal:/MM9.1.1/JF95-B73

Name: Barbara Ann Howson
Event Type: Death
Event Date: 08 May 1923
Event Place: Hamilton, Wentworth, Ontario
Gender: Female
Age: 46
Birth Date: 18 Feb 1877 (matches 1911 census)
Birthplace: England
Birth Year (Estimated):
Burial Date: 11 May 1923
Burial Place:
Father's Name: Thomas H. Davison
Mother's Name: Jane Currie
> Spouse's Name: John Howson

so that seems to be the right family

I would expect the others are related!

Researching:
To get email notification of replies to your post, click WATCH THIS at the top of it! .........Researching Hore/Hoar/Hoare esp. St Austell/Roche Cornwall.