Suggestions
Welcome to the Genes Reunited community boards!
The Genes Reunited community is made up of millions of people with similar interests. Discover your family history and make life long friends along the way.
You will find a close knit but welcoming group of keen genealogists all prepared to offer advice and help to new members.
And it's not all serious business. The boards are often a place to relax and be entertained by all kinds of subjects.
The Genes community will go out of their way to help you, so don't be shy about asking for help.
Quick Search
Single word search
Genes Extras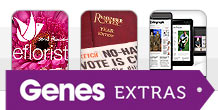 As a way of saying thank you to our subscribers, we have launched Genes Extras. You'll find exclusive competitions and discounts on family history magazines, days out and much more.
Icons
New posts
No new posts
Thread closed
Stickied, new posts
Stickied, no new posts
GR Team - error messages
Profile
Posted by
Options
Post Date

LadyScozz
Report
29 Mar 2012 01:04

Agree with you Sylvia.

I'm NOT removing old messages from my Inbox either. Very useful for replying to people who keep sending me the same message..........and there are a lot of them!

As for my Contacts. I can't remove them. They have to untick the box, not me!!

My Updates?? Ask GR techies, they fixed it - good and proper - all I get now is an Error Message. They DO know about this, as I have sent several emails. Responses have been pathetic.

I'd like to know which college/uni these techies got their qualifications

My subs expire in August.

SylviaInCanada
Report
28 Mar 2012 22:31

for years we have advised people NOT to remove posts, especially posts that give results of look-ups


This has been predicated on ................

a) the requester might want to re-check information at a later date

b) the information might be helpful to someone else lookign fro the same person, or person with a similar name

c) that GR's server was large enough to hold all these messages.



NOW you are telling us that is all wrong ....... and to get rid of all the information.



ARE YOU SERIOUSLY SUGGESTING THAT I GO INTO 335 PAGES ON MY THREADS ...................... AND SEARCH THROUGH EACH AND EVERY THREAD FOR EVERY POST OF MINE????

OR SEARCH THROUGH 130 PAGES OF MESSAGES .................... WHEN EVERY MESSAGE THAT I OPEN MEANS THAT I THEN HAVE TO LEAVE THE MESSAGE CENTRE AND RE-ENTER BECAUSE I CANNOT OPEN MORE THAN 1 MESSAGE IN SEQUENCE?



I have suggested several times that it would be good if you would install some way in which we can remove threads from My Threads without having to delete posts from the threads themselves.



Sorry Estelle ........................ there has to be another way.


If not ................ then I will be outta here when my sub runs out in July.




sylvia

Researching:
Mum and Dad at my brother's wedding, 1952 ........................................ ......... ............................................................................... To help us and to get better results, please post as much detail as you can, especially name, date(s) and place. Also say what you already know.

Thelma
Report
28 Mar 2012 17:39

Estelle
You have my permission to delete this post of mine.
Now look at my "my threads" and the thread will still be there.

Estelle
Report
28 Mar 2012 17:00

Hi everyone, we really are as frustrated as you are at the continual problems some of you are having using the site.
You may have seen our other posts where we have suggested you try removing old messages and unwanted contacts. You may find this improves the site performance for you. I can assure you that we are trying to get to the bottom of this. Even without Phil this week we have a team of very experienced developers looking at this for us.
Kind regards,
Estelle

Researching:
Working on all things tree-related. Looking for Tooley in Lincolnshire, Sadler in Derbyshire, Rogerson in Yorkshire, Goldstein in Liverpool/Poland.

LadyScozz
Report
28 Mar 2012 11:48

Doesn't matter which one I use Thelma........... I still get the PURPLE ERROR MESSAGE

YES, I delete cookies etc etc etc,

Also.......... I'm facing west, not wearing anything magnetic, not wearing a hat or socks.......... the room is painted cream.... I'm near a window.....maybe it's my four ear-rings?

LadyScozz
Report
28 Mar 2012 10:19

I tried that too Joy - the US flag gave me the UK site...... funny about that, I thought there was a war of independence............ :-D

No matter which one I use, I get Error Messages :-P and I'm still signed in to all of them :-\

Joy Kentish Maid
Report
28 Mar 2012 08:54

".. at the bottom you will see 4 flags marked under
Genes Reunited International Sites. Click on each and log in, do not log out of any."

- as suggested, I clicked: going right to left - had to log in again clicking on the third and fourth :-S

Researching:
Sadd - Suffolk, Newton - Buckinghamshire, McCusker - Galway and Fermanagh, Brooks - London, and many others

RolloTheRed
Report
28 Mar 2012 07:50

you can always email them in the usual way support@genesreunited.co.uk from yr mailer.
the phone number is available by 118118 or on the BrightSolid web site.
and then there is fb, twitter....


Researching:
Rollo Rognvaldsson, Roger de Busli, Eu, Wath upon Dearne, Rutland, Framland

LadyScozz
Report
28 Mar 2012 02:43

and there's more..........

I received an email from the support team on 13th March, letting me know "My Updates" had been moved to the Messages box.

Every time I clicked on My Updates I got the Error Message, so I notified GR.

No response.

I sent another email referring to my preveious email.

This is the response:

Thank you for taking the time to report this problem. I have passed the details of this specific issue to our technical team to look at and investigate. Your patience while we work to resolve this is much appreciated.

Deja vu .............. Yet another generic response.

GR should issue a list of responses. It would save them time..........

we'd get .......... See No 1........... See No 47.......... See No 56 etc etc etc

I don't believe they read our emails.

:-P :-P :-P :-P

LadyScozz
Report
28 Mar 2012 02:07

That Purple Error Message is driving me MAD :-P

It took three attempts to get to GR - ERROR MESSAGE

I found a match on the listings, typed a contact, clicked send and got ERROR MESSAGE

Was the message sent? Check Sent Messages......... and got ERROR MESSAGE :-P

Looked for the name again.......... NO next to the name, so I guess the message wasn't sent........ but ....... with this system you never know!!

If the ERROR MESSAGE is logged, the list must be a million at least :-P

It's about time the ERROR MESSAGE was changed.

This line: If you repeatedly experience the same error, please contact Support via the Contact Us menu under Help.

If the ERROR MESSAGE keeps showing, please explain how do we get to Contact Us under Help? :-S ? :-S ?

This line: To return to the home page, click on the Genes Reunited logo.

Please explain "return to the home page" - I'm not "returning" I'M TRYING TO GET THERE!!!! :-P

Sometimes clicking on the GR Logo will take me to the Home Page, sometimes not. It is usually three tries; sometimes I just give up.

And......... I STILL can't see my updates. I STILL have not received a reply from GR. I sent an email OVER TWO WEEKS AGO letting them know their FIX" :-P didn't work.

My membership expires in August. Seriously, is it worth renewing?

Margee
Report
27 Mar 2012 12:26

I don't believe for a minute that the error messages are actually logged or that they are investigated. I still get the error message without fail every single time I try to access "My Threads". I usually get access on the second attempt. Why?

Researching:
Gt. grandfather Thomas Turnbull 1849-1894

GlitterBaby
Report
26 Mar 2012 13:16

ErrorSorry. An error has occurredThe page you were trying to load has experienced an error. This error has been logged and will be investigated.

If you hit the back button on your browser, it will return you to the page you were on, and you may like to try the action again. If you repeatedly experience the same error, please contact Support via the Contact Us menu under Help.

If you were following a link from your favourites, an email or from another site, the link may have changed. We recommend returning to the home page of the Genes Reunited site, and following the existing menu options to navigate to the same content.

To return to the home page, click on the Genes Reunited logo.




I have asked this question before but got no response as per usual

BUT how many times does an error message have to be logged before the Team look at the problem?

OR does it depend on how many are logged per member etc ?

Researching:
PLEASE DO NOT: send me information concerning your thread on the board as it should be posted on your request where all members can see it. PLEASE DO NOT: ask me for help with lookups as they should be placed on the boards to get the best possible result. PLEASE DO NOT: open your tree just because I have posted information on your thread as I will not be related. THANK YOU. Researching Carter, Cass and Walker in England. Researching Caven, McKill, Sutherland and Will in Scotland.