Suggestions
Welcome to the Genes Reunited community boards!
The Genes Reunited community is made up of millions of people with similar interests. Discover your family history and make life long friends along the way.
You will find a close knit but welcoming group of keen genealogists all prepared to offer advice and help to new members.
And it's not all serious business. The boards are often a place to relax and be entertained by all kinds of subjects.
The Genes community will go out of their way to help you, so don't be shy about asking for help.
Quick Search
Single word search
Genes Extras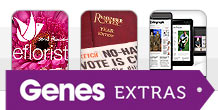 As a way of saying thank you to our subscribers, we have launched Genes Extras. You'll find exclusive competitions and discounts on family history magazines, days out and much more.
Icons
New posts
No new posts
Thread closed
Stickied, new posts
Stickied, no new posts
IF YOU HAVE ANY COMPLAINTS RE THE MAKEOVER
Profile
Posted by
Options
Post Date

CupCakes
Report
7 Aug 2012 05:35

ginat37 - All your stuff has not gone.
The info slides from the right.

In tree view click on any name
In the right hand last column at the top there is a little box with double arrowa.
Click on this and all your details about the person will slide out. It is exactly as the old tree.
Click on this again and it will slide back.

You can leave it open while you are working on differnent names. The detail will change as yout click on the names :-D :-D

JackBunion
Report
7 Aug 2012 02:16

Sorry Detective and Sylvia. Attributing mumbers to wrong person. I am struggling with terminology as I am typing everything out in Welsh and my translator does not acknowledge "thread". It translates cotwm as site. Twpsyn rydwi - translates as "I am very clever".

Sylvia, not worth debating retail with you. You are wrong on that one. Well off topic. Waste of time.

What a lot of sense from Detective. Very good idea, methinks. Sounds like you understand customer led companies.

Owain Glyndwr's Mate

Researching:
Free the Pontypandy One

SylviaInCanada
Report
7 Aug 2012 01:31

DET ..............


and John ................


It was ME, Sylvia, who came up with my estimation of the number of paid members who visited the BOARDS ............................. and that was on John's own thread on the General Chat Board.


Good idea to remember who said what, where and when :-D :-D



............. and there are, to my certain knowledge, a couple of hundred (at least) of long-term members who have left GR over the last several years .............. after an impasse in 2006, after the changes in 2007, and since August last year.


The good thing about changes is that it encourages members who previously had no interest in anything but building their tree to the exclusion of everything else on the site, to venture onto the Community Boards, and find out what else is available.



Unfortunately, this Board, Suggestions, has lost the rationale for which GR set it up in August 2011 .................. it was supposed to be for suggestions on how the site could be improved.

In point of fact, it has for months been the place for people to complain .......... and GR rarely have time to plough through all the various threads and postings to find the nuggets of wisdom.


Hence ...................... my suggestion, along with others, that one should complain directly to GR via theteam@genesreunited.co.uk

They are keeping records of those emails


.......... I certainly am doing emailing re the colour scheme!



John ........

.............. please be wary of making comments such as "An efficient retail industry (and Britain is the best in the world) .....".


It is so not true ........................ I could quote you evidence that is far to the contrary!

Britain might once have been "the best in the world at retail", but it has been overtaken by many other countries, where the customer base will not put up with what I hear Brits putting up with!

Or with what I have experienced on my periodic, if rare, visits to Britain as a tourist ........ customer service in shops, museums, etc has often been about as bad as in France!

Don't even mention the NHS ................ which was once the best in the world, as I well know, but not so these days from what I hear.


I've threatened to sue GR a couple of times over the last 8 or 9 years .............. because their T&C's and some activities concerning privacy clauses are so far behind what is legally allowed in Canada, yet they are allegedly up to the British standard.




sylvia



Researching:
my maternal uncles, Jack (left) and Frank (right), with friends, Scarborough, ca 1927 (Frank died 1928) ........................................ ......... ............................................................................... To help us and to get better results, please post as much detail as you can, especially name, date(s) and place. Also say what you already know.

+++DetEcTive+++
Report
7 Aug 2012 01:00

Don't think it was me coming up with the membership numbers John, but not to worry.

PS - it was another THREAD not site. You'll get there eventually ;-)

ginat37, if you do decide to take legal advice, best to print off the terms and conditions to show your solicitor. If you scroll to the bottom of the page, the link is there.

Sylvia and others who visit the various boards on a daily basis are trying to encourage the newer posters in particular to send their comments to GR rather than assume that GR read each and every post/thread.

I'd much rather GR staff (12 office based employees + some 'home' workers) spent their time collating the reported problems and difficulties encountered, and devizing a way to fix the ones most complained about, (Edit typo -than not then) spend all day reading our comments to each other. .

Researching:
I am NOT an employee of GR, just a paying member. Any advice, guidance or suggestion offered is given in good faith.

JackBunion
Report
7 Aug 2012 00:25

Have we stood back and realised how ridiculous this "head in the sand" attitude of only considering the few customers who know their way round the complaints/suggestions procedure.

On another site, Detective gave some idea of the numbers subscribing to Genes. It is not far short of the number of customers visiting Tesco every week. How many of them know the finer points of GR etiquette? Or want to know?

And I can tell you for an absolute fact that, if there was a letter of complaint sent to the Dingwall Advertiser or a group of shoppers complained about the Dayglo posters in Aberytstwyth Tesco, the Operations Director and the Chief Executive would have that information and would be responding to it immediately. No way would they demand that the shoppers in Aberystwyth sentt their complaint to a certain Tesco department in both Welsh and English, cc'd to Welsh Government in Cardiff Bay. The papers would eat them for breakfast.

And they get far more moaning than GR. Everyone thinks they can run Tesco better. An efficient retail industry (and Britain is the best in the world) means literally life and death to many. Family history is a hobby, though we sometimes think it is more important than life and death.

Researching:
Free the Pontypandy One

ginat37
Report
7 Aug 2012 00:11

I also came onto the site for the first time after a couple of months being away, and found the site totally changed. All the details I had entered on my old tree on each of my ancestors - dates of their birth, marriage, death, occupations and notes of further information- have all gone. It has taken me 5years of hard research and quite a sum of hard cash to collect my research and place it all into my tree and now it's all gone, I've lost it all because GR has wiped it all from my old tree when they done a site makeover. I will certainly be seeking legal advice on this matter, and I will not be renewing my membership. I have also informed the " GR Team" about this matter.

Michelle
Report
6 Aug 2012 21:53

I came onto the site today for the first time in a couple of weeks (been away), after looking at it for a few minutes I had to close the page down. It's way too white/bright and causing me headaches. I have e-mailed to let them know and asked they put it back to the colour it was. As I can't use the site for more than a few minutes at a time I will not be renewing my premium membership here if something is not done about the colour scheme. :-(

Researching:
Corben, Mitchell, Joyner, Warr (Pulham/dorset) Nash, Lewis, Evans (Nantyglo, Blaina,Wales), Spencer, Sawyer (Gloucester), Mitchell (Fulham)

SylviaInCanada
Report
6 Aug 2012 21:20

Rose


if we all keep sending emails, then there is no way they can say "we have only had a few responses, and they have been positive'!



I don't use the tree ......

.................... but I do find the background colour glaring, and uncomfortable for long term use.




sylvia

Researching:
my maternal uncles, Jack (left) and Frank (right), with friends, Scarborough, ca 1927 (Frank died 1928) ........................................ ......... ............................................................................... To help us and to get better results, please post as much detail as you can, especially name, date(s) and place. Also say what you already know.

Rambling Rose
Report
6 Aug 2012 21:17

Sylvia, I have just sent another email, just reiterating what I have said previously about the background colour and text etc, but also adding some comments re difficulty with my tree when using IE8, particularly not being able to scroll to the 'save' button unless I alter the zoom down to 50% where I cannot then read the words at all lol.

SylviaInCanada
Report
6 Aug 2012 20:27

PLEASE, PLEASE ........... send an email to theteam@genesreunited.co.uk


This is the only way in which to ensure that the team at GR knows about your problem.


This includes problems with your tree, the colour, text size, etc etc etc.


There are only about 12 GR staff members, and they very rarely have time to read ALL the threads on ALL the Boards, and even less time to respond to them.


This was posted on another thread on this Board on Aug 1, re the Makeover .........................


I'm very sorry that you feel we did not take your initial round of feedback on board. As a result of the feedback we received from the beta testing, we darkened the background of the boards from white to off grey, as well as made the text a size bigger and darker. We then sent an email to all those who had sent feedback and asked them to look at the changes we had made and feedback again. Only a small number of people did this and it was mostly positive.

If the light background continues to be a problem for people, we will look into other solutions, but of the 5000 people who we invited to test the beta site, only a small percentage sent feedback and this was a real mix of positive and negative, so now that the site is visible to everyone, we will be able to gather more feedback and see what the wider reaction is.

Katie



NOTE that Katie is saying that they had few responses ......... that means responses by email to "theteam".

The Boards were FULL of threads complaining about the glaring effect of the background colour.

The Boards have similarly been full of threads re tree problems for months and months.


All that starting a thread, or posting on threads started by others, about your problems achieves is some relief of your angst, and the knowledge that you are not alone.


Please ALSO email GR at theteam@genesreunited.co.uk ........... then Katie can no longer say "we had only a few responses, and they were mainly positive"!




and keep on sending the emails!!





sylvia

Researching:
my maternal uncles, Jack (left) and Frank (right), with friends, Scarborough, ca 1927 (Frank died 1928) ........................................ ......... ............................................................................... To help us and to get better results, please post as much detail as you can, especially name, date(s) and place. Also say what you already know.