Gift subscriptions
Do you know someone interested in discovering their family history?
You can now buy a gift subscription to Genes Reunited so they can research their family tree.
Welsh roots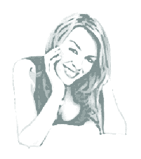 The ancestry of Kylie Minogue and her pop-singer sister Dannii has received a lot of attention since her own revelation that 'my roots will also be in Wales, in a little town called Maesteg'. Born in Melbourne on 28 May 1968, Kylie Ann Minogue achieved international fame playing the part of Charlene Mitchell in the Australian soap opera Neighbours. She was signed by leading 1980's pop-impresarios Stock/Aitken/Waterman in 1987 and has enjoyed a sensationally successful career in pop music ever since. But were Kylie and Dannii's musical talents, wondered genealogists and journalists alike, genuine genetic throw-backs to the legendary Welsh love of singing?
My own enquiries quickly confirmed Kylie's Maesteg connection. Ray Lewis, who used to live in Maesteg, told me that Kylie's family 'once ran the Post Office in Bridgend Road... I used to speak to one of her cousins on a regular basis, he was a Cardiff City Supporter (Football) and used to go to Ninian Park regularly'. And in June 2005, the South Wales Echo contacted Kylie's great uncle, Ronald Riddiford, a 73 year old retired factory worker, who still lives in Maesteg. 'My grandfather's name was Morgan Riddiford', he told the journalist, 'and I think he was English'.
Migration to Australia
Ronald's father, George Riddiford, was Kylie's great grandfather. He lived in Nantyffyllon for most of his adult life 'driving steam lorries with solid wheels and filled with Macadam up to London'. Research, mainly using censuses, revealed that George's father, Morgan James Riddiford, was a train inspector from Bristol. He was still there in 1901 - prior to the family's migration into South Wales - living with his wife Mary, 28, and his young children George, 2, and Millicent, aged only 4 months. Morgan's father George, Kylie's 3 x great grandfather, was a labourer from Thornbury, a little market town 11 miles north of Bristol, in Gloucestershire. Born in 1824, he was the illegitimate son of Maria Riddiford, who later married William Longman. Research by Paul Blake in Your Family Tree (January 2006) suggested that Maria may have been the daughter of a Dinah Riddiford, who may herself have been related to another Dinah, wife of Abraham Riddiford, whose son Luke was found guilty of theft at Gloucester right back in 1816. Luke was transported to Australia whilst Dinah herself, also guilty of theft, was hanged!
Kylie's great grandfather George Morgan Riddiford settled in Wales and married Margaret ('Megan') Hughes at St Michael's, Llangynwyd, on 21 January 1920. Their daughter Millicent Riddiford, who was actually born on 16 December 1919 (!) married Denis Evan Jones. They migrated to Australia - unconsciously following the trail of Milly's probable relative Luke Riddiford - and it was here that their daughter Carol Ann Jones married fifth-generation Australian Ron Minogue, whose family were from Co. Clare, Ireland. Their children were Kylie, Dannii, and a son Brenden.