The British Newspaper Archive
Read about historical events at the time they were happening. Perhaps you'll discover your ancestor in their local newspaper?
Tracing ancestry through Genes Reunited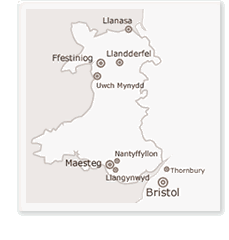 Kylie's Welsh roots were less easy to trace than her English ones. Her grandfather Denis Evan Jones was born in 1915 in Bolton, Lancashire, but came from a long line of slate quarrymen in Blaenau Ffestiniog, traced by Paul Blake. Genes Reunited commissioned me to explore another Welsh line of Kylie's, derived through her great grandmother Megan Hughes, and which we can reveal here for the first time.
Born on 25 June 1897 at 81 Manod Road, Ffestiniog, Megan Hughes was one of the seven (or six surviving) children of Elias Hughes and his wife Margaret, daughter of John Ellis, a slate miner. Blaenau Ffestiniog was the centre of the slate quarrying industry. Go and look at the roof of any Victorian house anywhere in Britain and, if the original roof is still there, you'll most likely see the slate tiles that Kylie Minogue's kith and kin mined out of the ground around Ffestiniog. Elias had probably gone to Ffestiniog to seek work, for he was born on 4 January 1860 much further inland, at Tannyfordd, Llandderfel near Bala in the southern slopes of Snowdonia. Elias's father, Moses, was a clogger there - making clogs for his fellow villagers. He married Elias's mother Elizabeth Evans at the Calvinistic Methodist Chapel in Bala on 13 May 1857.
Moses the clogger, who was Kylie's 3 x great grandfather, was born in nearby Llanycill in 1833, one of the children of Elias Hughes and his wife Mercy. As we go back up this line of Kylie's family tree, we find social conditions improving, for Elias was a farmer of 50 acres at Nantyrhelfa in the township of Uwch Mynydd in the Merionethshire parish of Llanycil, where he employed 3 labourers. Mercy his wife was born about 1794 in Wrexham and Elias himself was born further east in Llanasa, Flintshire, and was baptised there on 26 May 1793, the son of Robert Hughes (who was buried there on 13 August 1793) and his second wife Margaret Owens. Robert and Margaret, Kylie's 5 x great grandparents, married at Llanasa on 24 August 1789 - the furthest back any of her lines of ancestry have so far been traced.
We can learn a lot about Kylie's ancestry from original records. What they don't tell us, though, is perhaps what we'd really like to know most. Could they sing?
By Anthony Adolph