The British Newspaper Archive
Read about historical events at the time they were happening. Perhaps you'll discover your ancestor in their local newspaper?
How to build your family tree on Genes Reunited
Your family tree is the main tool for your family history research. At the same time it's a genealogy filing cabinet, a narrative of your family and a device to set you off on new branches of discovery. Family trees come in all shapes and sizes. On GenesReunited people's trees range from just two generations up to 150,000 relatives in one family tree.
A family tree is a diagrammatical approach to laying out your family history, making it much more accessible than a written list which will end up resembling the Book of Genesis. There are various different layouts of family trees which you will come across in family history books including: Ancestors (which only shows your parents, grandparents, etc), Descendants (which shows your children and grand-children), Full Tree (everyone) and many more. Most commonly they display your tree vertically (pedigree trees) with the eldest atthe top and boxes and lines linking all the generations down to the bottom. But the best and easiest approach is to use an online family tree builder, which will take the relations you enter and display them in any layout you wish. You can register on the Genes Reunited site and start building your tree for free.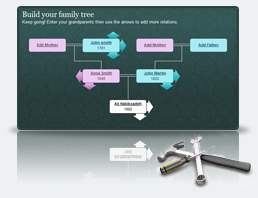 The tree starts in the 'Immediate Family View' with just you in it.There are buttons for you to add partner, children, parents etc. This means you grow your tree quickly with the relatives you know or have discovered through asking your family. You can then move around your new tree by clicking on a person and then adding in their immediate family. You save each new relative as you add them meaning you aren't going to lose your tree if your computer crashes or you lose your internet connection.
To enter a family member into your tree you need to enter their name, year of birth and place of birth. Where possible you want this to be accurate but if you are not sure of a piece of information, enter it anyway as you can verify the information later. An online tree programme breaks up the information you enter on an individual into simple fields or boxes, so it's easy to read and you can see what information you are missing on your relatives.